The top cryptocurrencies all began as cryptos under 1 cent. As you've started so low, you may think it can only get better from there, right?
Now that we have all this information together, even the average investor knows how Bitcoin and cryptocurrencies work. Many people, however, may not be aware that Bitcoin isn't the only cryptocurrency around. There are plenty of alternative options for those who prefer to steer clear of the big names. Do not invest in speculative products without consulting with your financial advisor first. Read on to find the best under 1 cent coins.
What are crypto coins? 
A coin is a native part of the blockchain and stores value and trade currency. Coins can be viewed as proposed mediums of exchange. Blockchain transactions handle crypto coin transactions, while tokens rely on smart contracts to facilitate trading.
Investments in cryptocurrencies are attracting investors seeking diversification of their portfolios. In addition, many growing companies accept bitcoin and many other cryptocurrencies as legitimate payment methods. Therefore, this is a great time to invest in cryptocurrencies based on your budget. The following guide will help you decide which coins are the best ones to invest in right now.
Top 5 crypto coins under 1 cent to trade & invest
The following altcoins have so far shown excellent performance, and their value hovers under or around $1 with a large market capitalization. In addition, there are major cryptocurrency exchanges that accept the majority of these cryptocurrencies.
VeChain (VET)

VeChain (VET) is one of many companies taking advantage of blockchain technology to improve their supply chain performance. In 2018, the company debuted its mainnet.
The company's products target business applications in logistics and supply chains that use blockchain technology for inventory, tracking, and quality control. VeChain's greatest strength is the partnerships and supports since it was established.
PricewaterhouseCoopers (PwC), an auditing firm among the largest globally, is included in its incubator program. The company is also collaborating with European auto giants Renault and BMW.
Most special aspect
In VeChain, the consensus is achieved via Proof of Authority (PoA), where nodes must first be authorized. As a result, they also don't consume a significant amount of resources, which leads to less bandwidth usage.
VeChain has established various partnerships to demonstrate the potential of cryptocurrency and its technology for applications in supply chains in particular.
Supply chains are multiple industries in themselves, so Vechain could track everything from luxury goods to autos. In addition, as a result of its existing partnership with LVMH, the company will track authentic limited edition luxury products.
Price-performance
The price performed quite well over the last year, rising from $0.01, closing the year at $0.05.
Price prediction 2022
The VET price is predicted to reach 0.090 USD at the end of 2022.
Request (REQ)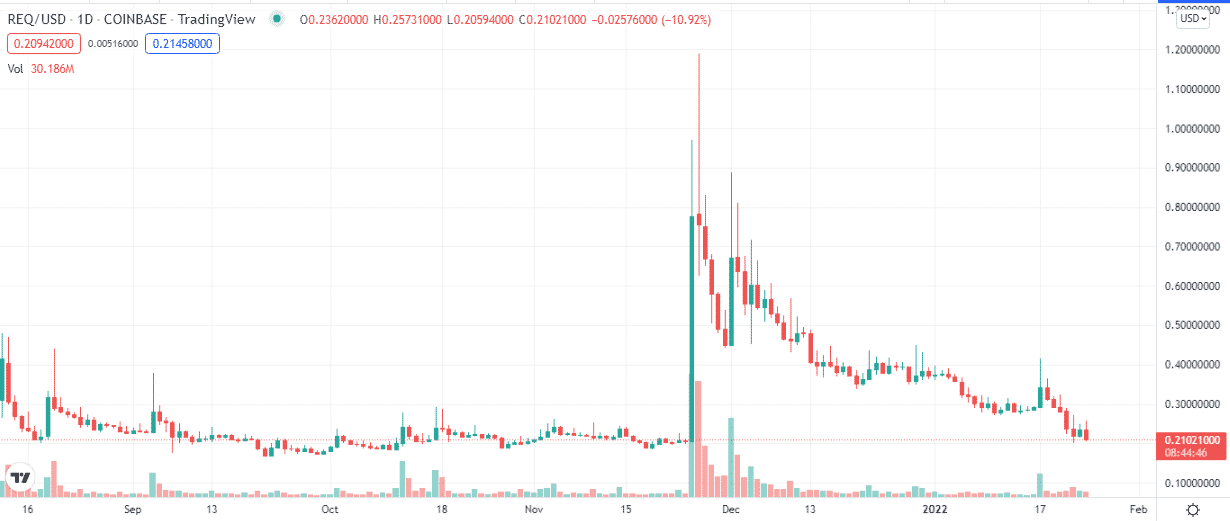 Requests are programs that let anyone make payments, share them, and fulfill them. An individual makes a payment request by specifying either which address the payment request should be sent to or how much the user owes. The REQ token powers Request Network's payment requests and hold an ERC-20 status.
Most special aspect
Payment requests can be enhanced with contract terms, transforming them from simple payment requests into invoices. To ensure that it gets paid, users can share the Request for billing with another person after it is created. In addition, several stages of these transactions are logged and saved on the Request network, so it's easy for people to keep track of their payments, receipts, and invoices for (personal) record-keeping purposes.
Based on the statistics, it would seem profitable to invest in REQ over the long term. However, the Request network's long-term prediction is at least five years into the future.
Price-performance
The token performed negatively over 2021, but the potential for future growth is quite high.
Price prediction 2022
At the end of 2022, REQ is expected to reach a maximum level of $0.41.
Dogecoin (DOGE)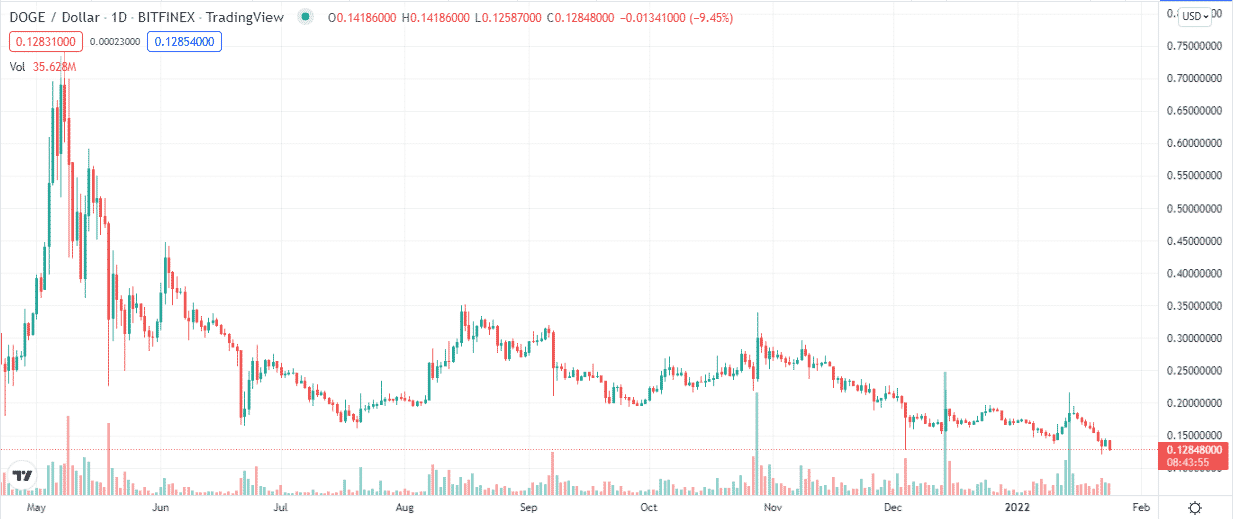 Dogecoin started as a joke, but it has grown into a real money maker for those enjoying it.
A satirical take on Bitcoin, Dogecoin was intended to be used as a replacement for many other cryptocurrencies. However, based on Elon Musk's tweets and message boards, the crypto price rose sharply earlier this year. GameStop stock went up more than 400% in a single week earlier this year due to the same type of speculation.
Most special aspect
However, for those generating real profits and looking for "cheap" cryptocurrencies, this probably does not matter. There is a possibility this one will be profitable next year. Musk tweeted toward the end of December that Tesla would make some merch available with Doge and see how it went."
Price-performance 
DOGE is a negative performer as the entire market followed the BTC. However, the potential for hitting all-time highs is quite high.
Price prediction 2022
DOGE is expected to trade at greater than 0.33USD by the end of 2022.
Shiba Inu (SHIB)
Shiba Inu is a cryptocurrency created anonymously to playoff Dogecoin – which was made to play off Shiba Inu – meaning the Japanese breed of dog – memes circulating online. According to CoinMarketCap, Shiba Inu has a market cap of $18 billion, despite its whimsical beginnings. Although several dog-themed cryptos are available, this is the most popular.
Most special aspect 
The crypto has grown a community around it, which makes it appealing to investors. Around the Shiba Inu coin, this community developed a project involving non-fungible tokens. The Shiboshi game website says the NFTs, known as Shiboshis, have traits with the upcoming Shiboshi game. Shiboshi will be available to Shiboshi owners for playing in-game. Consequently, Shiba Inu could follow in the footsteps of game coins like Decentraland, broadening its appeal and perhaps seeding its growth.
Price-performance 
Shiba marked all-time highs in 2021 but could not sustain the rally. However, the token closed the year with positive gains.
Price prediction 2022
Shiba Inu is expected to reach $0.00006484 by the end of 2022.
TrueFi (TRU)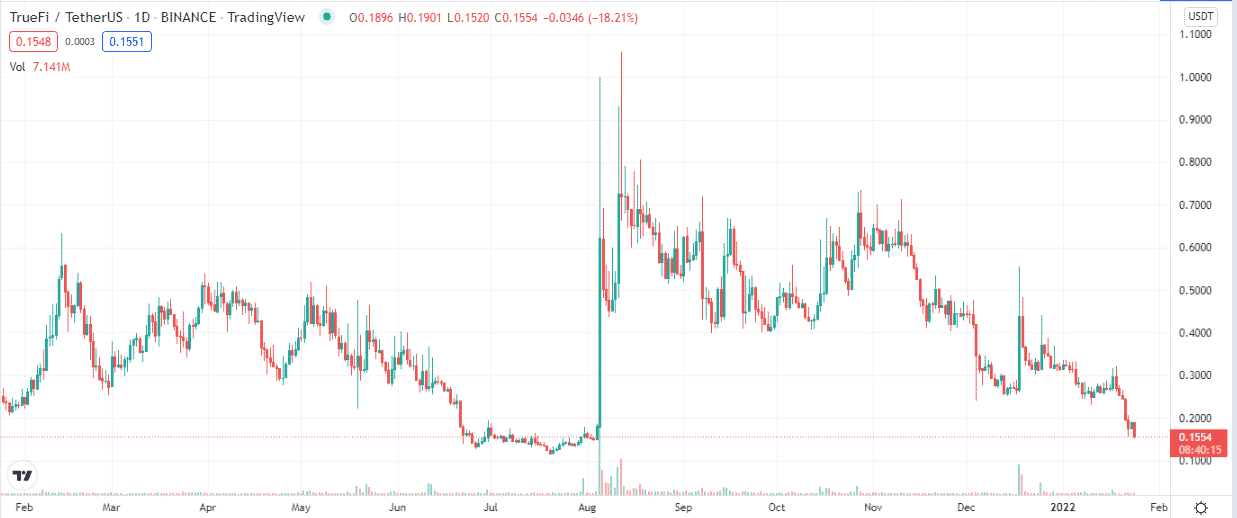 TrueFi pioneers are decentralized, automated lending and credit rating systems. In addition, a protocol has been established for lenders and borrowers to increase transparency.
Most special aspect
As lenders, it gives them visibility into the location of their money and allows them to earn reasonable returns. Taking out a loan with no strings attached and no collateral is a quick and easy solution. TrueFi is the crypto used to secure the TrueFi loan.
Borrowers apply for loans by submitting their requested amount, our percentage APY, and the Ethereum account where the TRUs will be sent once they're approved. Legal consequences are imposed on those who default on their loans.
TrueFi serves as a bridge between conventional finance and decentralized finance by integrating fiat-pegged stable coins worldwide. With a market cap of $77 million, the TRU coin has a smaller market cap than other coins. However, it is expected that the coin could soon reach half a dollar, meaning the future looks bright for the coin.
Investors who already own crypto assets are better suited to TrueFi since they can leverage this asset to get a high rate of return on their lending.
Price-performance 
The price for TrueFi started the year at $0.11 and closed at $0.17, indicating a positive gain.
Price prediction 2022 
It is expected that the TRU price will reach $0.31 at the end of 2022.
Final thoughts 
These cryptocurrencies and the networks which support them are all entirely legitimate. Even with the rapid growth of the cryptocurrencies market in the last few months, many promising crypto projects and altcoins can be purchased at attractive valuations. They could increase in the next 12-18 months. Some coins under 1 cent provide the same prospect as those in the above list.