A popular meme coin concept has emerged as one of cryptocurrency's most talked-about investment opportunities. Shiba Inu's 50,000,000% price gain in the last 12 months illustrates the potential for these internet trend-inspired coins to be profitable.
These assets are hard to ignore, with their seemingly innocent animal-centric mascots and huge upside potential. However, meme coins are a hazardous investment that can often lead to massive losses through fraud, hacks, or exploitation.
Furthermore, you have the risk of losing money when jumping on the bandwagon out of fear that you will miss out and watch your investment plummet once the meme mob moves onto other shiny objects. Hence, the question arises: how can you safely invest in these coins, and what are the best ones among them?
What is the meme coin? 
They are cryptocurrencies based on memes. The cryptos that are often referred to as pranks are sometimes viewed as dismissive of mainstream cryptos. However, they have experienced a rapid rise in value in recent years.
More than 250 meme coins are currently braving the competition for investors' attention. Around 100 of these have "inu" as a component. Many meme-inspired cryptocurrencies look legitimate, but they are scams intended to take advantage of the growing meme coin trend. Ensuring that the project is not susceptible to rug pull scams will reduce the risks involved.
The recent meme coin disputes over squid token and snowdog were allegedly caused by alleged rug pulls. When the development team suddenly sells all their coins after driving the prices up, this is known as a rug pull by those unfamiliar with the term. Investors are the ones who suffer sharp losses when the coin's price plunges abruptly to zero, leaving them flat broke.
Top 5 meme crypto coins to trade & invest
Following are the top five meme crypto coins to trade and invest in.
Kitty Inu (KITTY)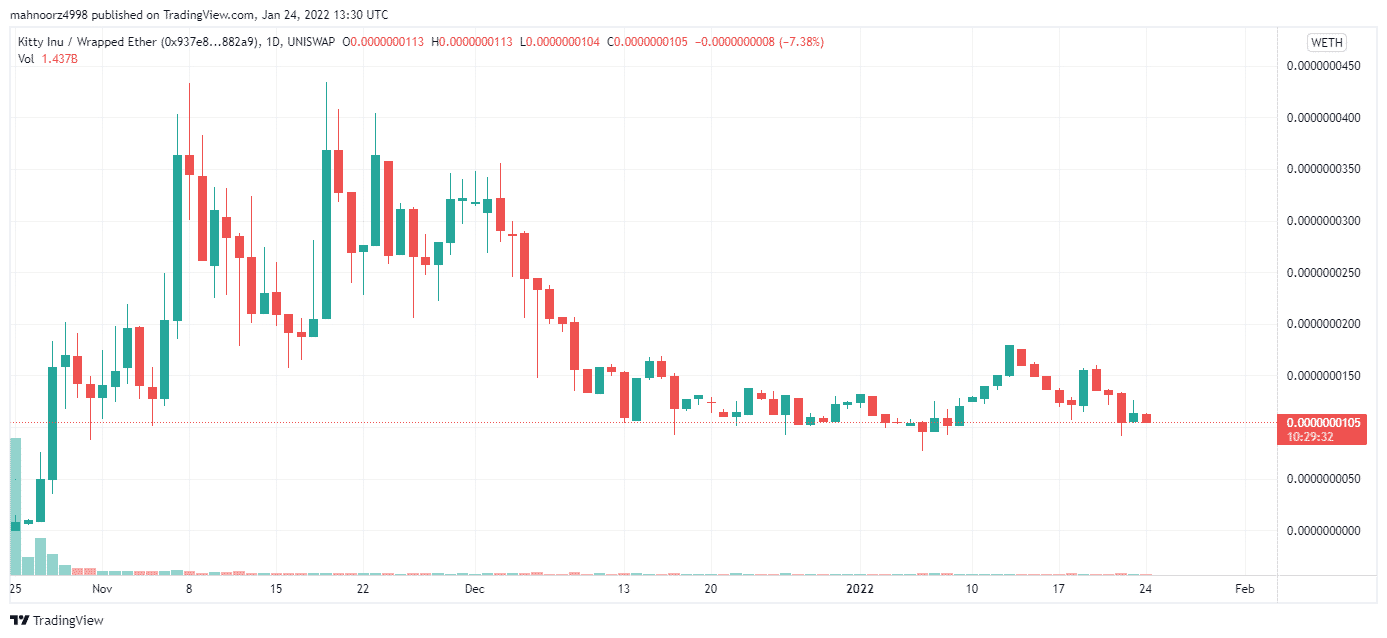 The Kitty Inu cryptocurrency is a member of the Ethereum-based blockchain community. Taking cues from Floki and Shiba Inu, Kitty wants to level the playing field. There are many dog-themed coins available. In the crypto space, though, there isn't quite as much interest in our feline friends. Thus, Kitty Inu should be able to satisfy the needs of this niche.
Kitty is a crypto asset that powers Play-to-Earn (P2E) ecosystems. The currency is not only the most popular choice for gamers but is also preferred by developers who want to enhance their gameplay through non-fungible tokens (NFTs).
With a vision to build the most reliable decentralized finance (DeFi) protocol, Kitty intends to provide the best platform for gamers with a team of well-experienced team members available from around the world with experience in this field.
Most special aspect
To buy Kitty Inu, you'll need Bitcoin or Ethereum. Investing in this type of coin is not without risks, and we need to emphasize that before we proceed. It's not guaranteed that KITTY-USD's value will rise this year, just like several other meme currencies. As a result, buying this one is comparable to buying a lottery ticket. Therefore, invest wisely.
Price-performance
The price saw a rise in 2021 but closed on a positive node. We expect a strong performance from the token in the coming years.
Price prediction 2022
At the end of 2022, the Kitty price is projected to reach a maximum of 0.00006394 USD.
Loser Coin (LOWB)

Two people developed the Loser Coin from China. One of the two guys who created Loser Coin is a parent with children and lives in rural poverty while working 60 hours a week in his job, just like everyone else; the other is a coder who also suffers through it all. As the founders of Loser Coin were preparing to lose everything, they took a considerable risk.
Meme coins fully embrace the spirit of the concept. On the other hand, the other meme coin hopes to maintain relevance by adopting developer upgrades. One of the aims of Loser Coin is to gather all losers in this world and remind them that victory only tastes sweet when we are at our lowest points in life.
Price-performance 
Loser Coin is a beginner in the market. We expect the price to consolidate and then rise slowly.
Price prediction 2022 
At the end of 2022, Loser Coin is expected to reach a minimum price of 0.00007172 USD and a maximum fee of 0.00008719 USD.
Ariva 
A newcomer to the market, ARV debuted in May 2021 for $0.000002661 per token. However, according to Coinmarketcap, it is ranked among the top four coins, and the number of holders has already reached 110,862.
In the past week, Ariva (ARV) has rallied by almost 53%: the cryptocurrency with potential has seen its price rise. However, in the last 24 hours, Ariva has lost 2% relative to its peak of 8% and is currently open at $0.000442. ARV is presently available on Dsdaq, DodoBsc, SushiSwap, 1inch exchanges, and Lbank, Whitebait, Hotbit, and Azbit. These listings enable users to purchase utility tokens then exchange them for other cryptocurrencies and fiat currency.
The company aspires to become a leading player in the travel and tourism industry. The world economy relies heavily on this industry, the largest and most important globally. In the words of the Ariva team, the project does not focus solely on developing a cryptocurrency for token exchange. Instead, it aims to create a cryptocurrency that can be actively used in the tourism industry.
Price-performance 
The price-performance is slow around the starting point. But the overall strength indicates the potential to outperform in the future.
Price prediction 2022 
It is expected that the ARV price will reach 0.00070979 USD by the end of 2022.
Cate coin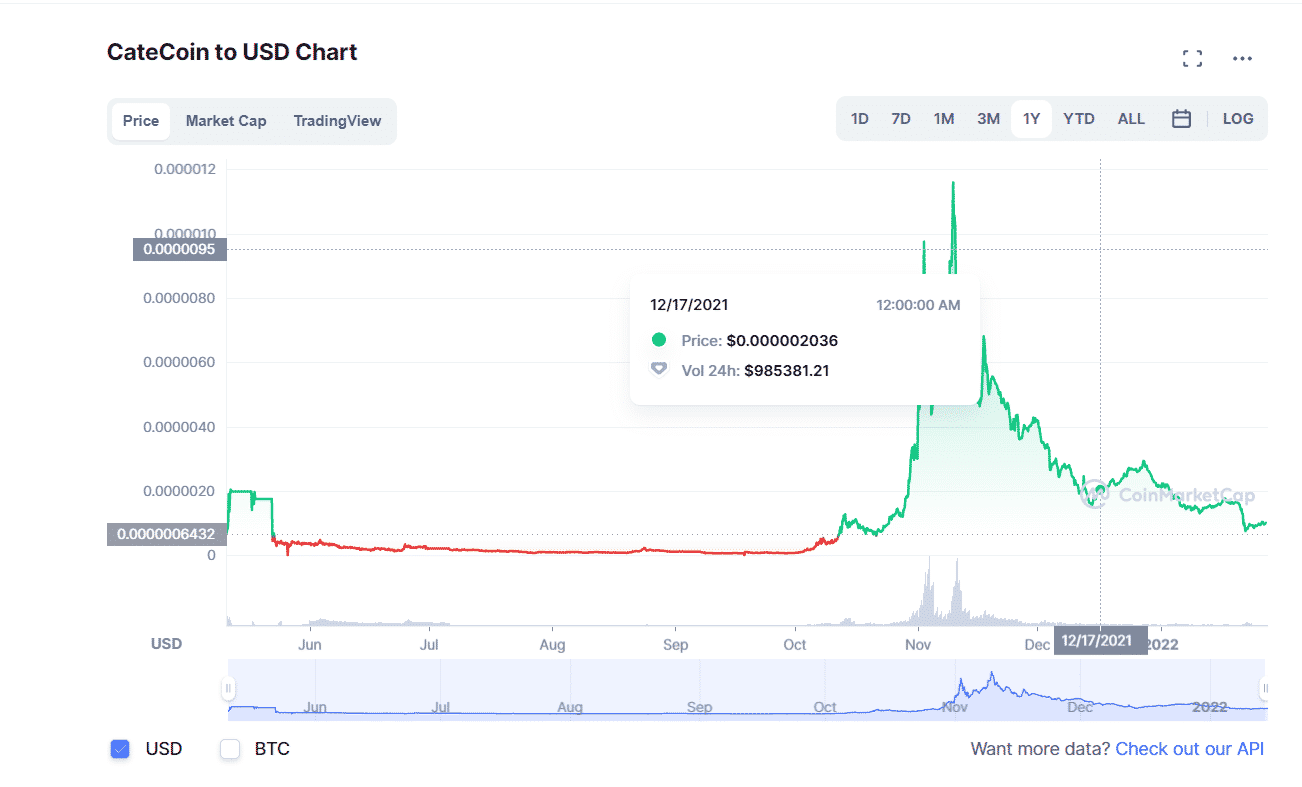 Cate Coin is one of the most popular cryptocurrencies on the Binance Smart Chain, both usage and turnover. In addition, it is one of the most decentralized cryptocurrencies.
The Cate Coin platform enables users to invest and earn decentralized. This unit was developed in the United States. However, several development centers have been established worldwide, including England, Japan, and Denmark. By holding the coins users receive from Cate Coin, they can win prizes. Similarly, every Cate Coin transaction is refunded at 1%.
Price-performance
CateCoin closed 2021 on a positive note as it closed near the all-time highs, indicating strong upside potential.
Price prediction 2022 
At the end of 2022, the CATE price is expected to reach a maximum of 0.00000139 USD.
Dogecoin (DOGE)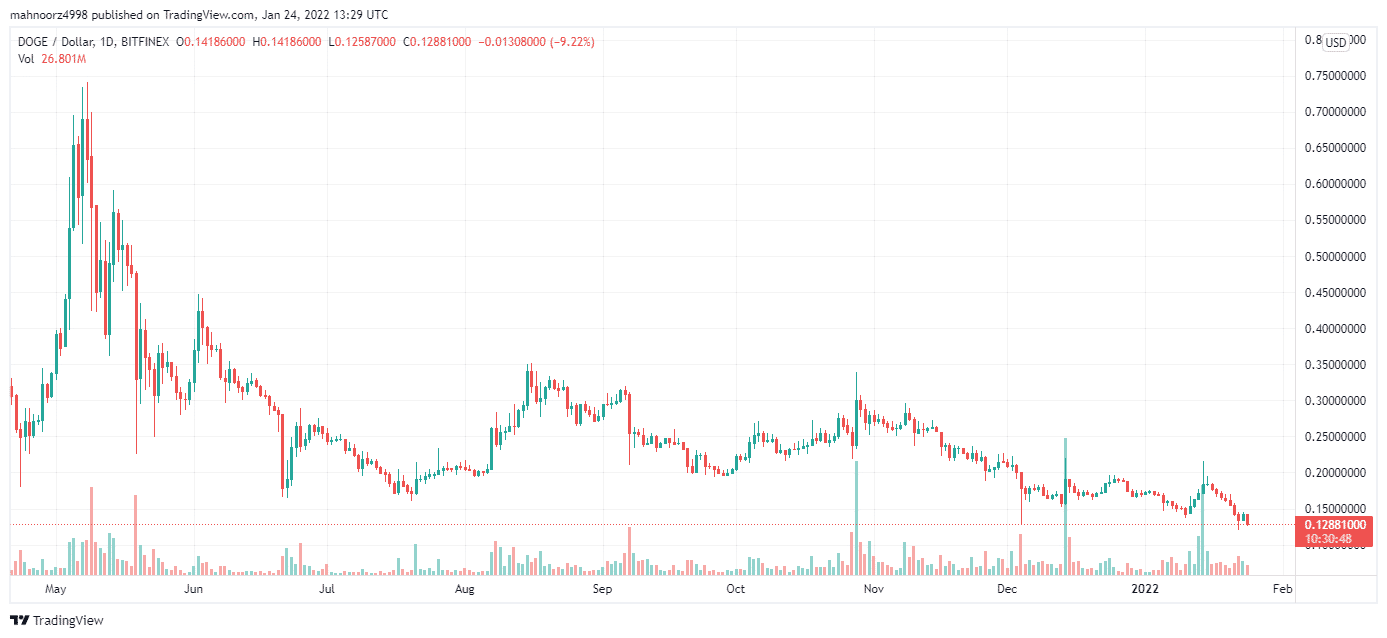 In December 2013, Dogecoin became the first cryptocurrency to launch. This coin is emblazoned with the image of an adorable Shiba Inu dog as its logo. The currency was designed to be playful and sarcastic. It's used to tip social media content by Dogecoin's community of loyal supporters. Dogecoin's rise can be attributed to another factor as well.
The CEO of Tesla and crypto enthusiast Elon Musk as a developer of Dogecoin, is working to improve transaction speeds and tweets about it relentlessly.
The DOGE/USD pair skyrocketed because of that. So the support for the project is unwavering.
Even Tesla's chief executive has announced that the company will accept Dogecoin as payment for merchandise.
Price-performance 
Dogecoin closed the year in losses as the entire market saw a bloodbath. However, the potential still exists to hit three times higher.
Price prediction 2022 
Dogecoin crypto DOGE is expected to trade at greater than 0.33USD by the end of 2022.
Final thoughts 
Ultimately, because meme coins are not widely known, many people managed to rise to the top overnight due to them. However, it would help if you remembered that for every successful meme coin investor, many others might lose their money as well.