The XMR token is currently ranked 32nd, with a market cap of $4,721,583,546. The maximum supply of XMR coins is not available, but the circulating supply is 18,110,200 XMR tokens. The current price of the token is $260.71, up by 2.58% in the previous 24 hours. It is trading with a market dominance of 0.25%. The trading volume of the last 24 hours has decreased by about 19.77% and stands at $277,972,231.55.
What is the Monero (XMR) coin?
In 2014, Monero was established with the single aim of providing anonymity for transactions. It is also known as a privacy-enhanced blockchain. It contrasts with the first cryptocurrency, Bitcoin, where there is a fully transparent structure of transactions. It is an open-source project that enables fast and private transactions between two parties. The main goal is to make the transactions and wallets completely anonymous. The transactions and wallets are anonymous to the network and its members, the developers, and miners.
Monero says that its most significant priority is privacy and security, and after that, ease of use and efficiency come. In this way, Monero aims to achieve the greatest level of decentralization as users do not need to trust anybody else, not even the network.
XMR advocates claim that each BTC in circulation can be monitored due to its serial number. However, XMR is entirely fungible. XRM provides complete privacy and claims to offer better services than its rivals like Zcash, which only provide selective transparency.
Monero (XMR) coin price history & monthly technical outlook
In the last 24 hours, the XMR's value has increased by 4.37%. When we compare the XMR's current market cap to the previous day's market cap, we can see that it is also increasing by 2.70%, and its fully diluted market cap stands at $4,721,583,545.

Over the last seven days, XMR has surged by 11.63%. The current price of Monero is $261.34, which is about 49.51% below its all-time high level of $517.62. It means there is a lot of room for improvement, and it could be a great time to buy XMR.
Monero (XMR) coin fundamental outlook
Monero is a privacy-oriented network with a native token of XMR. The network claims to provide guaranteed security and privacy to its users. It is because the protocol is highly decentralized, and this is the very thing that has attracted thousands of developers to its network. The best feature of XMR is that it is very difficult or impossible to trace. With the use of stealth addresses, the transactions become difficult to trace.
The Monero platform is trendy in the health care industry, where patient data needs full-proof security and privacy protection. In the advanced world, the demand for more private coins is increasing sharply, which is also a reason behind the extreme popularity of the XMR token.
Some people assume that XMR is becoming popular only among criminals. However, these private coins face high criticism from banks and other financial institutions. The reason is that the XMR token, being a privacy token, can easily be used for illegal activities, including money laundering.
Recently, central exchanges and financial institutions like banks have suspended XMR withdrawals due to a lack of transparency over Monero.
However, Monero coin XMR has been rising strongly recently as a hard fork-network upgrade is coming in July. The testnet is expected to be deployed in May. This hard fork will be its 15th version, which will enhance its network efficiency. Monero aims to launch second-layer solutions for speed and scalability in the years to come, which will only increase the demand and popularity of the token XMR. The general outlook for XMR coins is highly bullish.
Will the XMR coin price reach 1000 USD?
The Monero (XMR) price could hit $1000 in the long-term future as its popularity and demand increase day by day. Furthermore, the protocol team works very enthusiastically to develop the network. In just 2-3 months, a new hard fork is on its way to being released, which will push its prices higher. Similarly, suppose the network continues to improve its platform and modify it according to users' latest technology and demand. In that case, it will skyrocket to the $1000 level in just five years.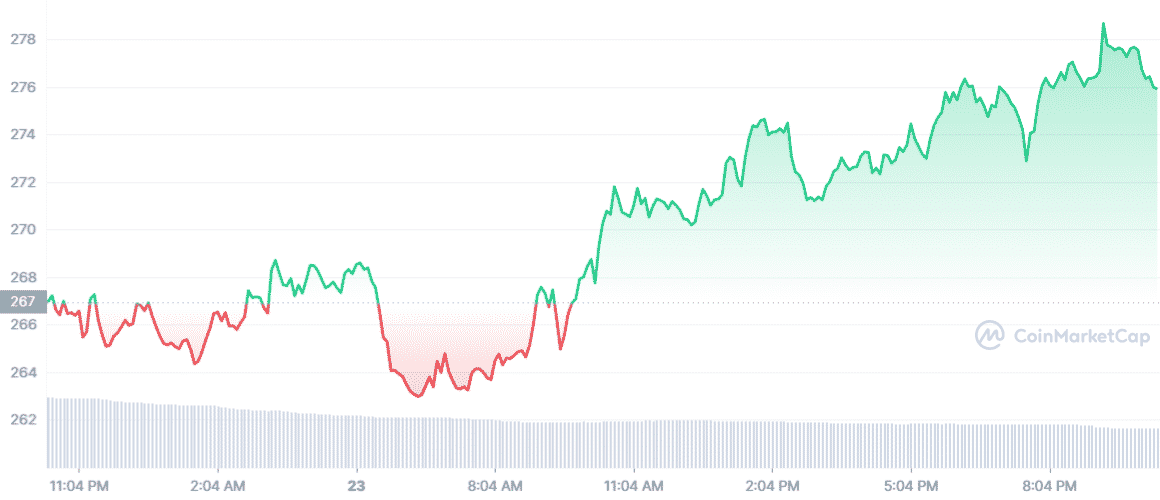 Monero (XMR) coin price prediction 2022-2025
Our analysts have forecasted the following prices for Monero coin XMR for this year and the coming years. The prediction has been made keeping in mind the technical, fundamental, and popular aspects of the coin.
Monero price prediction 2022
Analysts predict that the coin will continue to experience an extremely bullish trend in the coming quarter in 2022, even though it has recently been experiencing an extremely bullish trend. Our analysts believe that the crypto will hover around $350 by 2022. However, the maximum high level for the coin has been predicted as $400 for 2022.
Monero price prediction 2023
By 2023, analysts are more bullish about crypto because they believe that the network will grow faster after its latest upgrade, which will push its prices higher towards its all-time high level. Analysts have anticipated that the coin will reach $520 by the end of 2023 and could touch $580 in 2023.
Monero price prediction  2024
Our analysts are hopeful that Monero will secure more partnerships and integrations in 2024, which will automatically improve the price of the XMR token. The best the XMR token can reach in 2024 is the $620 level. And it could move in the range of $550 to $580 throughout the year.
Monero price prediction 2025
For the long-term projection of the token, our analysts hope that the whole crypto market will experience new highs in 2025. They believe that coins will see extreme adoption due to more awareness and, hence, they have predicted that XMR could surpass the $800 level in 2025. They are very bullish about this coin for the long term.
Top 3 questions & answers about Monero (XMR)
Will the Monero (XMR) coin crash?
There are very few chances that XMR prices will crash in the short term. Monero has been one of the best performing tokens recently. Last week, it posted double-digit gains and was continuously rising.
Will Monero (XMR) increase rashly?
It is seeing massive adoption due to its privacy and security features. At the same time, it is being criticized for the same features. However, the rapid increase in its prices and exceptional performance of the coin for weeks suggest that XMR could see a massive rally in the coming 2-3 months. It is because a hard fork is on its way in July, which will improve the price momentum of the crypto.
Will Monero (XMR) overtake BTC?
No, it is doubtful that XMR will soon overtake BTC as the leading crypto. The coin was recently ranked 32nd, and it still has a long way to go before becoming the leading crypto, which is not currently possible.