Waltonchain is a joint initiative of Chinese and Korean developers. It was started in November 2016 to improve the integration of blockchain with the Internet of Things (IoT) by merging blockchain technology and radio-frequency identification (RFID) to assist with supply management.
The recent market position is № 579 globally, with a live market cap of $47,385,633. It has a total circulating quantity of 78,761,854 WTC coins and a total issue of 100,000,000 WTC coins.
What is the Waltonchain (WTC) token?
Waltonchain aims to improve supply chain management by combining RFID (Radio Frequency Identification) and blockchain technology. WTC also wants to integrate blockchain with the IoT to build a decentralized connectivity ecosystem called the Value Internet of Things (VIoT), which the company refers to as a "decentralized ecosystem."
Waltonchain is a blockchain-based supply chain asset management system that incorporates the name Walton, the creator of RFID technology, and the blockchain-based serverless encryption security system. This is accomplished by using a decentralized network to provide a comprehensive and upstream data system for any asset. On November 30, 2016, the Waltonchain initiative was launched in Xiamen, China.
Waltonchain (WTC) token price history & monthly technical outlook
The current price of Waltonchain is $0.43, and WTC is now ranked #579 in the total crypto market, as per the most recent data gathered. Waltonchain has a circulation supply of 78,761,854 coins and a market capitalization of $47,385,633. Thanks to an increase in trading volume and market cap, Waltonchain's price has increased by 7.86 percent in the previous 24 hours.
This token is having trouble gaining traction with other cryptocurrencies. The WTC has dropped nearly -1.85% in the last seven days. There have been a lot of risky parts of the currency in the last few days, even if there are good things about the coin. So we don't think the currency will be a good short-term investment.
WTC's price has dropped by -19.950 percent in the last month, removing a staggering average amount of $0.15 from its present value. This rapid decline suggests that the coin is currently in a bear market, offering it an excellent buying prospect for an immediate profit.

In the last 90 days, the WTC price fluctuated 39.40 percent from an average price of $0.96 to a max average price of $1.04. Waltonchain has dropped by -38.26% in the last four months, with the max average price of the currency hovering around $0.95 and the lowest average price hovering around $0.88.
Waltonchain (WTC) token fundamental outlook
The token is among the most complete and practical projects with a strong use case and cutting-edge technology to distort several vital industries. WTC is especially appealing to long-term investors due to the usage of sub-chains and a node system since they can anticipate a natural surge in the WTC token price. However, because some people in the cryptocurrency world have difficulty gaining faith in the project, Waltonchain may be a good investment for people willing to perform their research.
First and foremost, through specialized collaborations and advancements, network developers and community investors may impact coin prices by growing the number of users and acceptance. The Waltonchain team has identified four distinctive growth phases, with phase 1.0 involving the creation of an RFID garment system integration scheme. In addition, the team is working on RFID tag technology and using its asymmetric encryption method.
Waltonchain's phase 2.0 entails establishing itself in the retail, logistics, and clothing industries. In contrast, phase 3.0 sees the team expanding its technology across the manufacturing business. There is a consistent and trustworthy record of the whole manufacturing process, from getting materials to making the product, packing it, and keeping track of inventory.
On the other hand, Bitcoin bans and new restrictions upset cryptocurrency users. Fears of a cryptocurrency crackdown affect all cryptocurrencies, including WTC. China first chose to ban initial coin offerings (ICOs), followed by the closure of domestic Bitcoin exchanges. Both pieces of information have sent blast waves through the global cryptocurrency community, with BTC supporters mainly wondering what will happen to the world's most popular cryptocurrency. After all, China has long been one of the most prominent cryptocurrency community members, hosting almost a third of all initial coin offerings and producing a significant number of new coins every day.
WTC coins have a solid tech with proprietary RFID chips, scanners, and trackers.
WTC has real-world usage and assists in supply chain management and logistics.
WTC token holders do not have any shares in the company.
Will the WTC token price reach 1 USD?
Considering the fundamental and technical outlook, the WTC token has the potential to grow in the coming years. By the end of 2022, WTC's average price might reach $0.85 before the end of the year. If we examine the token over five years, we can see that it has a solid potential to reach $3.00.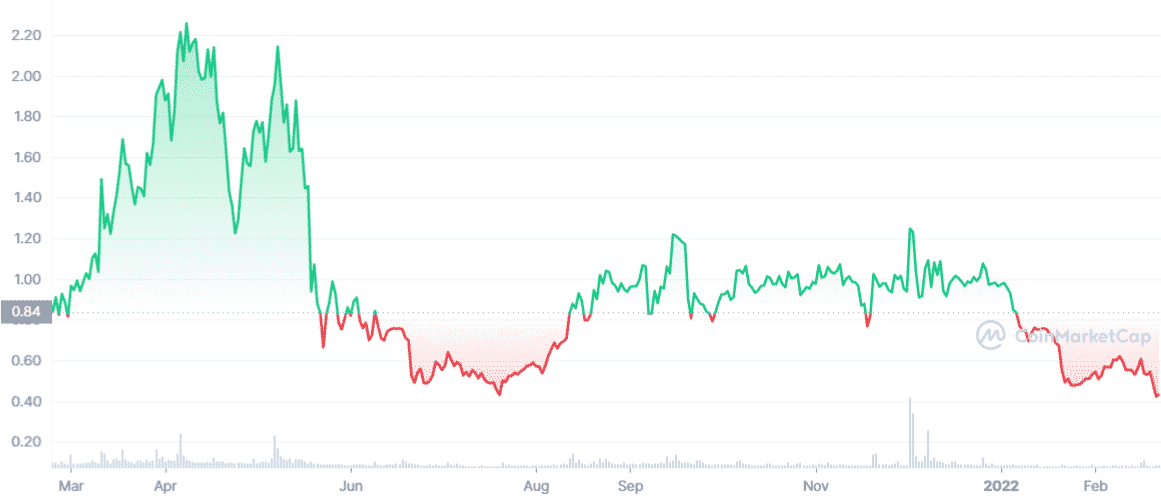 Waltonchain (WTC) token price prediction 2022-2025
We project future price predictions using deep advanced technical analysis tools on existing Waltonchain price data. We try to collect as much historical data on the WTC currency as possible, including things like prior price, market cap, volume, and a few more things.
Waltonchain price prediction 2022
According to our in-depth technical study of WTC's historical price figures, the price is anticipated to plummet to $0.85 in 2022. With an average trading price of $0.79, the WTC price has the ability to reach a maximum of $0.90.
Waltonchain price prediction 2023
In 2023, Waltonchain is expected to be worth $1.14. In 2023, the token has a potential to reach a high of $1.32, with an average of $1.17.
Waltonchain price prediction 2024
Waltonchain's price is anticipated to reach a low of $1.67 in 2024, according to forecasts and technical analysis. Further on the higher side, its price can achieve a high of $1.96 and a low of $1.71 on average.
Waltonchain price prediction 2025
In 2025, a Waltonchain is predicted to test the resistance of $2.30. In contrast, the continuation of uptrend and breakout of $2.30 resistance level can open further room for uptrend until $2.85.
Top 3 questions & answers about Waltonchain (WTC)
Will the Waltonchain (WTC) token crash?
Given WTC token's excellent fundamental and technical outlook, the chances of a sudden fall seem remote. However, before placing any wagers on the token, it is advisable to do your homework.
Will Waltonchain (WTC) increase rashly?
Yes, the Waltonchain price is likely to surge in the coming months. The WTC immediate price is $0.60, and WTC is expected to sum up the year with an average Waltonchain price of $0.76 WTC.
Will Waltonchain (WTC) overtake BTC?
Altcoins are becoming more popular, and there are now thousands of them, even though no single cryptocurrency will ever overtake Bitcoin as the most extensively used.