Exit points or edges of existing trades are vital to financial investors. Investors usually make trade decisions depending on the market context and trading strategies; any complete trading strategy usually suggests exit points by observing market data.
However, there is no guarantee that any trading strategy will work all the time. So it makes sense that expert crypto investors always follow specific methods to deal with unpredictable price movements beyond their strategy. This article lists the top five tips to exit from trades in time.
The top five crypto exit strategy tips
The crypto exit strategy refers to closing existing trading positions depending on various market contexts. The following part will discuss the top five tips to sell your assets quickly.
Tip 1. Close the positions at your targets
The primary way to exit from trades is by following specific trading methods. For example, you may use an HMA (50) line in your crypto assets chart. When the price reaches above the HMA line, the HMA line slops on the upside. When the price reaches below the HMA line, you close the position, and the HMA line starts sloping downside. Matching these conditions, you may open a buy order and vice versa.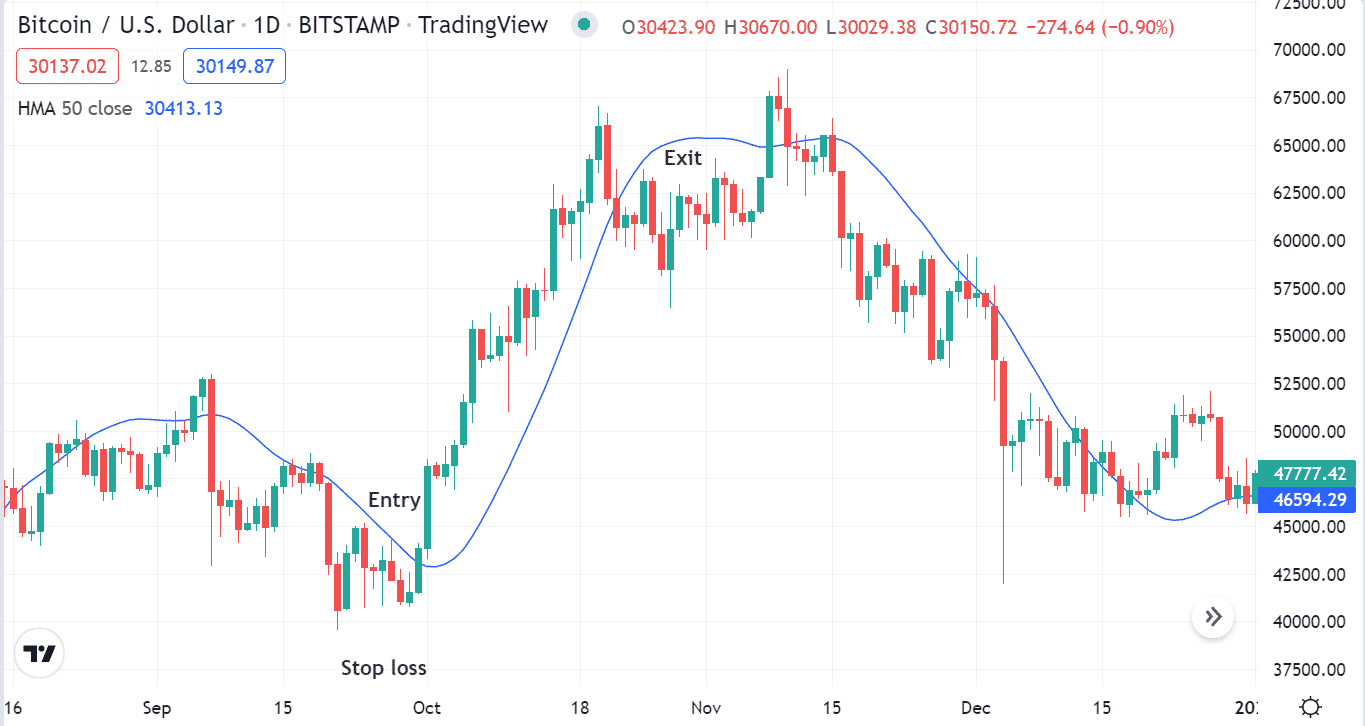 Why does this happen?
The HMA indicator reduces lags and shows authentic results through its unique calculation when the line slope upside indicates bullish momentum and vice versa.
How to avoid risk?
You can use many other indicators alongside the HMA or even crossovers with other HMA lines to identify permissive trading positions and reduce risks. Savvy crypto investors always follow specific trade and money management rules to catch profitable trades constantly.
Tip 2. Exit depending on the return percentage
Many crypto investors sell their assets depending on return amounts. In this case, investors usually seek potential investment assets, enter trades according to their trading strategies, and close the position when the market reaches its desirable level. For example, you may purchase any specific coin at $1 and close the position when the price comes to $1.50. A complete 50% gain.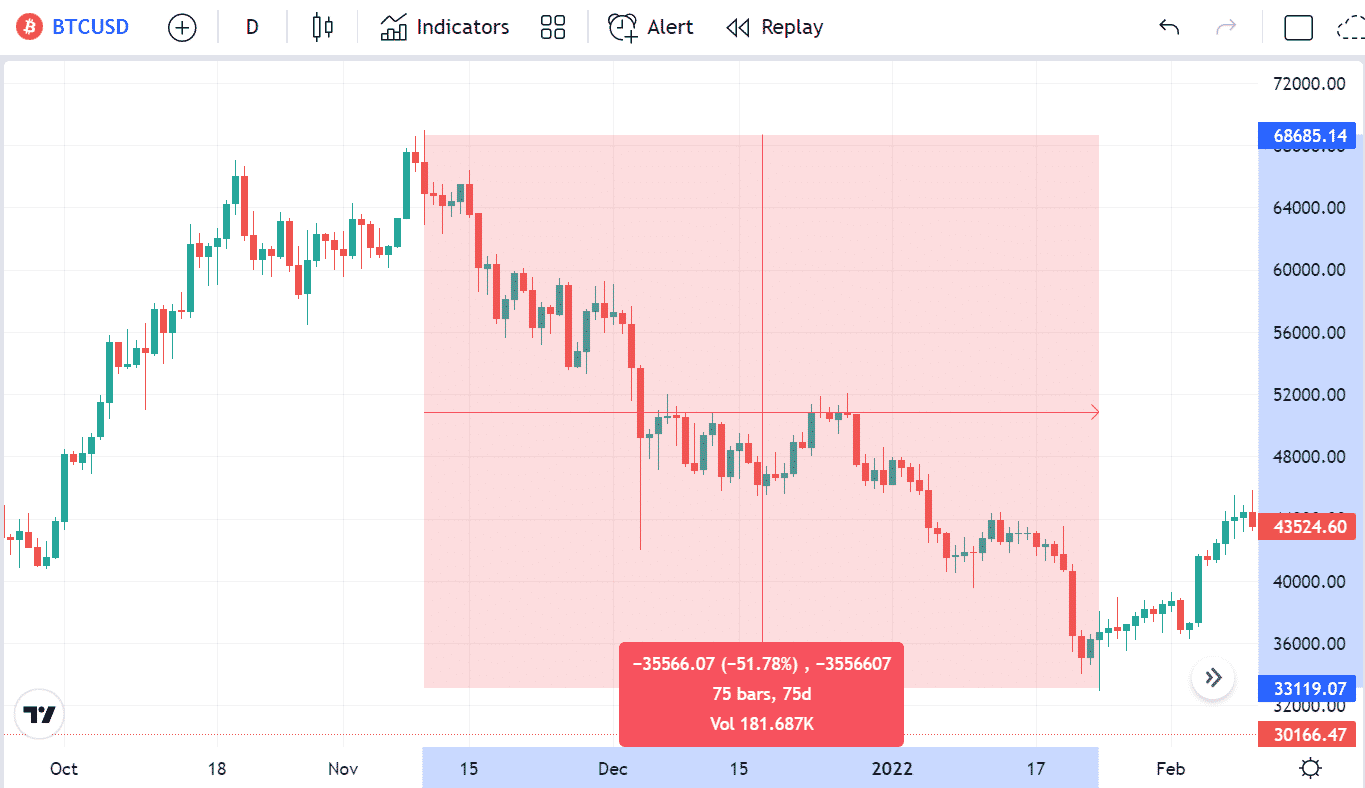 Why does this happen?
It happens as investors set a specific profit target on any investment asset depending on several relative factors, including investment amount, profit target, duration of holding, etc. Investors who have this profit target must conduct sufficient research before entering any trade.
How to avoid mistakes?
The market always moves depending on many fundamental factors. When you want to make a particular profit, you need to choose the asset carefully as it is potent to move in your desired direction. Moreover, expecting too much has led you to lose your money, keep track of the price performance, and exit if the price movement doesn't follow your desired direction.
Tip 3. Exit by portfolio
Another popular way crypto investors often follow is to close positions according to their desire or matching with their portfolio or individual goals. For example, someone may invest $10k in the crypto market, and he may need $20k to purchase something or a family tour. When the profit amount reaches his target, he closes the order, although the price may continue to rally. It may not be ideal for professionals, but you can consider it suitable for many crypto investors.
Why does this happen?
Every investor has plans to spend their earnings. It happens as the investor made his investment to make a particular amount of profit from the market palace. When the investment matches profit expectations, he exits from existing trade and participates or spends his money as he desires.
How to avoid mistakes?
It will help if you remain prepared for unexpected situations as there is no guarantee that the price will move according to your prediction. Moreover, you may gradually shift your stop-loss with the price to reduce your risk.
Tip 4. Exit by dollar cost average out
Another popular method that crypto investors follow when closing any existing trade is the dollar-cost average out. Any crypto investor can set a specific profit parameter to exit from the trade gradually. The time duration you can set for daily, weekly, or monthly. For example, you may select 5% a day. So your open position will reduce by 5% daily, and the total closing will be done within 20 days.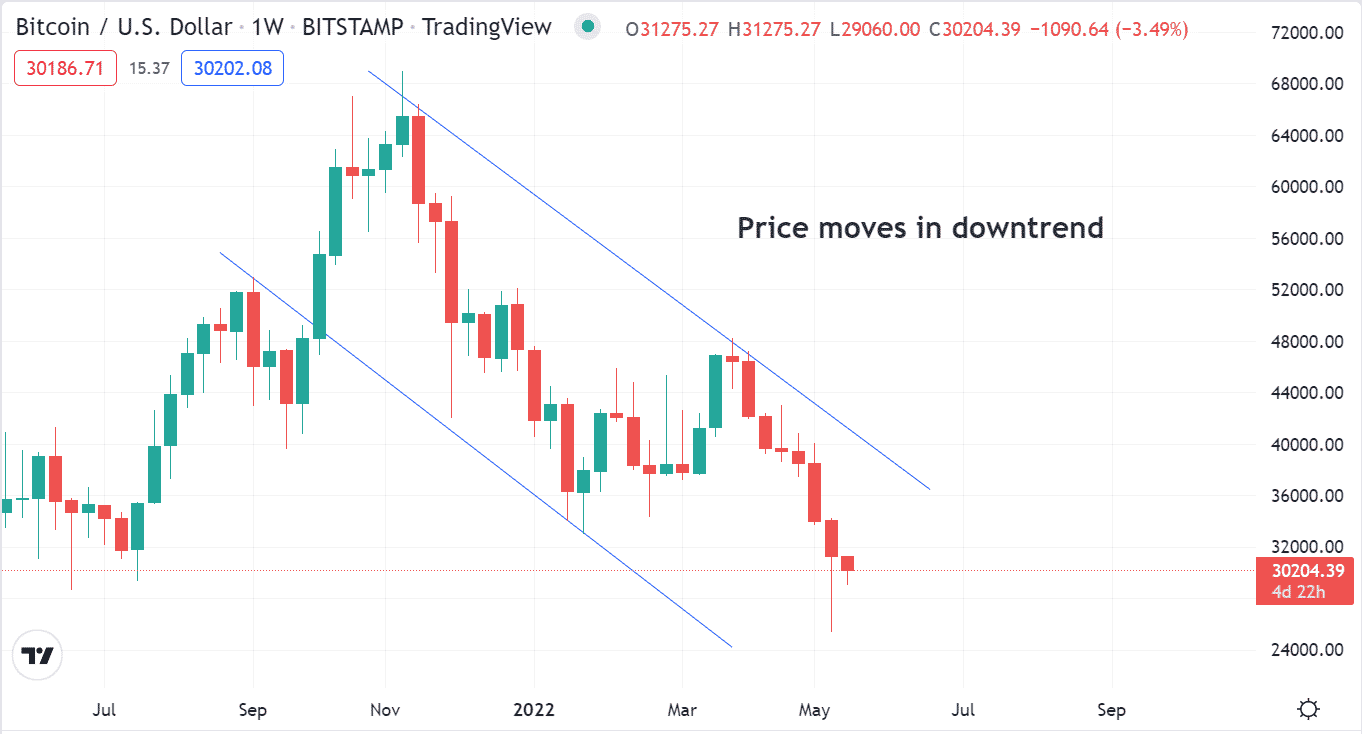 Why does this happen?
It happens as the investment platforms enable options to close your position gradually. You can modify the parameter and time. For example, you can set a 10% in each week. Then you will be entirely out of your order in ten weeks.
How to avoid mistakes?
Choose the parameter and time carefully so that you may not miss significant opportunities. Moreover, try choosing assets that may remain in a long-term trend as you may predict. This method suits trendy environments, so avoid ranging markets to apply this method. Otherwise, you may end up losing your capital.
Tip 5. Exit by cycle
The following popular way of closing positions is the exit by cycle. Many assets follow a cycle. For example, it is a common scenario in fiat currencies to follow cycles as they remain strong or weak during some particular months. So currency traders often exit from trades when the currency starts to decline. You can follow this method on cryptos too.
Why does this happen?
It happens as the price of financial instruments depends on several fundamental facts. For example, when farmers collect the crops from the field and start selling them, the supply increases, and demand fades, which may cause the price to drop as a reaction.
How to avoid mistakes?
Cryptos have no central authority to control, so there is some confusion about whether this cycling method will work or not on every crypto. However, conducting additional research about fundamentals and conducting technical analysis will help you catch the best opportunities.
Final thought
Any crypto trader should be smart enough to deal with many uncertain movements; better to have abilities to make decisions according to the market context. So thinking out of the box is essential to increase profitability and reduce risks. Finally, these are the top five tips to sell cryptos in time.