Intraday trading is supposed to have attracted many traders worldwide due to the availability of several strategies and time flexibility. Intraday trading is opted by many traders who depend on FX for their bread and butter. But often or not, such traders quit trading in just six months or 12 months of their trading journey. Their failure is because of the stress these traders go through to make money in that short span of a trading session.
When it comes to beginner traders, you would have heard from some market participants that trading does not work. Not all days end in green in day trading, and people often wonder why it does not work. But what they don't know is that intraday trading often needs a lot of research and patience and is time-consuming.
But suppose you see the other side of the coin. In that case, you will notice many successful traders making massive profits from day trading just by eliminating the mistakes, following the rules, and waiting for the perfect trade setup to enter to trade. Go through the below-listed mistakes to avoid as an intraday trader.
Understanding intraday forex trading
Intraday in forex trading is a style that is played out in one trading day. That is, the traders open a position and close it by the end of that particular day.
Some traders have their target say they may be to make 50 or 60 pips a day, and once they make the desired profit, they are out of the market. Here, traders take a trade every day, depending upon their setups and strategies.
Intraday trading has its pros and cons, and one of them is the risk. While in intraday trading, your transaction is fast, and you will see money quickly in your bank account by not having to wait for a long time for results. At the same time, there are many risks associated with it as people treat intraday trading as their job, which may be overwhelming for the traders and lead to overtrading.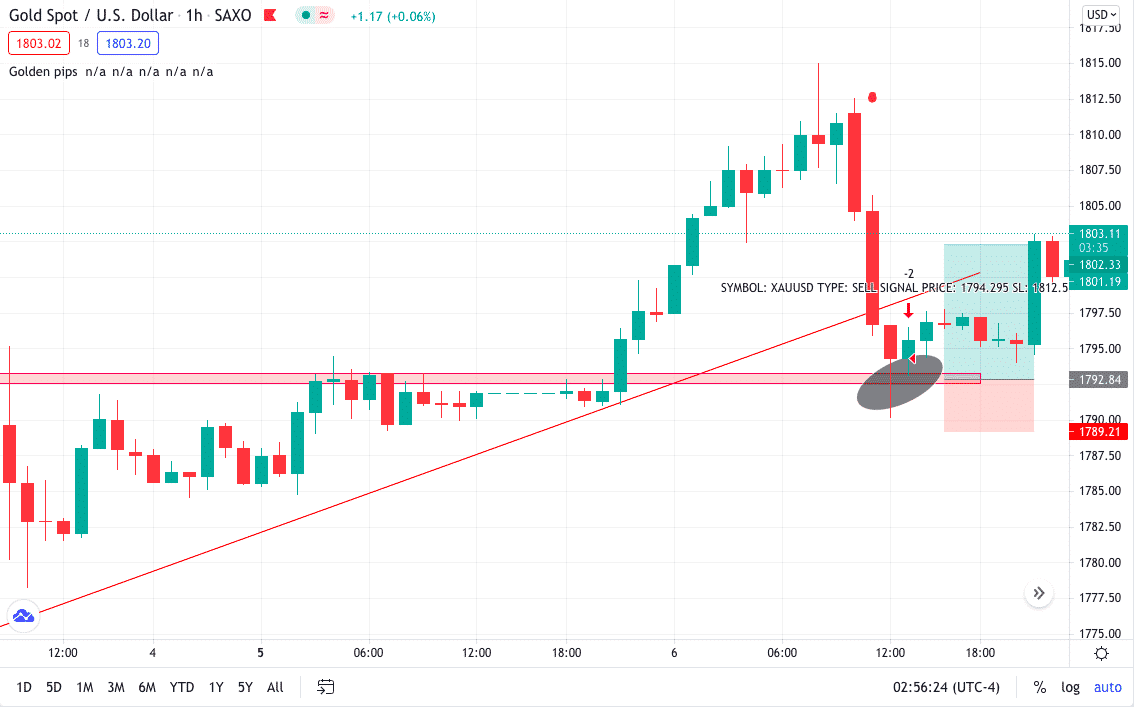 An example of intraday trading in gold above is the XAU/USD chart of 1hr, showing a break of resistance and retest. The fast price movement is unpredictable and hence does not always give a trading opportunity. Trading setups like break and retest, double-top, double bottom, and others are not typical to find. Therefore traders have to wait a long time, making them impatient, being the leading cause of commuting mistakes.
As an intraday trader, everyone should know the common mistakes that traders might make.
Mistakes to avoid as an intraday trader:
Intraday is a perfect trading style that would lead you to over-trading. You might have been in a scenario where you have lost 2 or 3 traders, and then you try to catch or recover the loss by taking one more trade and hoping the current trade would give you profit. If yes, then we are sorry to say, please do not do it from now on. Any trader must not keep hope in trading because the market does not go as you want, but we go where the market goes. So, this is one mistake that you must stop immediately.
Not putting your stop loss
A large pack of intraday traders come to the market thinking they will take some pips from the market and come out, and they do it by not following the fundamentals rules of trading, that is, by not finalizing their take profit and stop loss. For instance, not putting your 'take profit' is still okay because you can get the desired profit from the market and come out, but not having your stop-loss orders is very risky.
Not using risk reward strategy
The most critical aspect of trading is the risk: reward strategy. Traders do not give importance to this part in their wrong trading journey. As experts tell fellow traders, trading is not about winning more; it is about losing less and winning consistently by remaining in the market for long.
As a day trader, you must use a minimum of 1:2 or 1:3 risk: reward. By doing this, You will soon notice you are making money even if your winning strike is 50%.
Changing your strategy too often
We all know trading is a game of probability, and it is the same for every trading style, be it scalping, day-trading, or swing. But it has been seen that a lot of Intraday traders change their strategies too often, and it is because they do not backtest their strategy enough to try it on a real account. Every strategy must be used and backtested on a demo account and then into a real account. Traders go in loss some days frequently and then think their system is not working and change it.
So, the advice to take home is always to backtest the strategy and have patience.
Patience is the key, a proverb that I, as an intraday trader, have inherited to master my professional trading journey. Intraday is a stressful job; sitting in front of your system and waiting for that perfect trading setup needs a lot of patience. As an intraday trader, you must avoid jumping into the trade or exiting a trade too early. This rule of life will help you in your FX journey.
Being over-confident and greedy
After hope comes, the other emotion that is deadly in trading is being over-confident and greedy. The FX market does not care if you win or lose; you are angry or happy or have any emotion. Intraday traders sometimes do not close their trade thinking or wish to give them more profit, but this does not happen in real life. So, it is better to be emotionless and think like a robot when it comes to trading. Do not have hope, greediness, fear, and grudge.
Final thoughts
The above list of mistakes is the most common but important one. Every trader must try and stick to the fundamental rules of trading. In day trading, market participants are way too tight due to their environment. Sitting every day hoping to make money from trading can be stressful and challenging.
As a day trader, you must follow some strategies for entry and exit. Also, have a journal that can keep track of your trading. One of the risk management pieces of advice would be not taking any trades after two consecutive losses from the market.
Lastly, it would be best to manage your expectations according to the volatility and the market behavior.