Today's live FTX token price is $30,82 with a 24-hour trading volume of $37 234 145. We update our FTT to USD price in real-time. The current CoinMarketCap ranking is #22, with a $4 200 671 784 USD live market cap. It has a circulating supply of 136 304 476 FTT coins and a max. supply of 352 170 015 FTT coins.
What is the FTX Token (FTT)?
FTT is the native crypto token of FTX, a crypto-financial derivatives marketplace that debuted on May 8, 2019. The FTX team comprises several prominent crypto traders from the last few years. When they discovered issues with most mainstream cryptocurrency exchanges, they intended to launch their platform.
They claimed it was one-of-a-kind due to clawback prevention, a highly centralized collateral pool, and global stable coin settlement. Socialized losses have affirmed substantial customer funds on some other derivative exchanges concerning clawback prevention. FTX's three-tiered liquidation model reduces this.
FTX Token (FTT) price history & monthly technical outlook
Its price is down 0,05% in the last 24 hours. In the last seven days, the price of FTX Token has dropped by 17.73%. From its all-time high of $53.20, FTX has fallen 40.62%.

On the technical front, the FTT/USDT has formed a symmetrical triangle pattern, with a support level of $25 and a resistance level of $32. Violation of this trading range is likely to drive further FTX token trends. The RSI is below 50, indicating a selling bias, and the 50-day moving average is likely to extend resistance at $32. The short-term technical outlook appears to be bearish.
FTX Token (FTT) fundamental outlook
Partnership with AZA Finance
FTX, a worldwide digital currency exchange, recently announced a partnership with AZA Finance to boost Web3 and digital currency usage all across Africa. They will work together to link the Web3 economy to the growth that is coming to Africa.
Partnership with IndiGG
TX Gaming and IndiGG are proud to announce their formal collaboration to take on gaming in India. IndiGG is an approved sub DAO of Yield Guild Games (YGG) that intends to incubate and push Web3 gaming usage in India. FTX Gaming provides full-stack infrastructure technologies to incorporate digital assets into their games in a compliance environment and consultancy and finance through FTX Ventures to Web 3 studios.
How to stake FTX Token?
Staking cryptos with your FTX app is a simple process that requires only a few simple steps.
Make certain that cryptos are available in your app. Again, these can be purchased within the platform or deposited from your personal wallet. Then, go to the Invest Tab and tap Stake.
Following that, you must locate and tap the Stake your crypto button.
Finally, enter the stake amount and press the Start staking button.
As soon as a DeFi pool is available, the app will send digital currencies to it, and you will begin receiving rewards for the coins you staked.
Will the FTT price reach 100 USD?
Yes, considering the present bullish trend, FTT might easily hit $100 in the future. However, this will not occur within a year. No matter how much you think a crypto could grow, you should always do the necessary research before investing in it.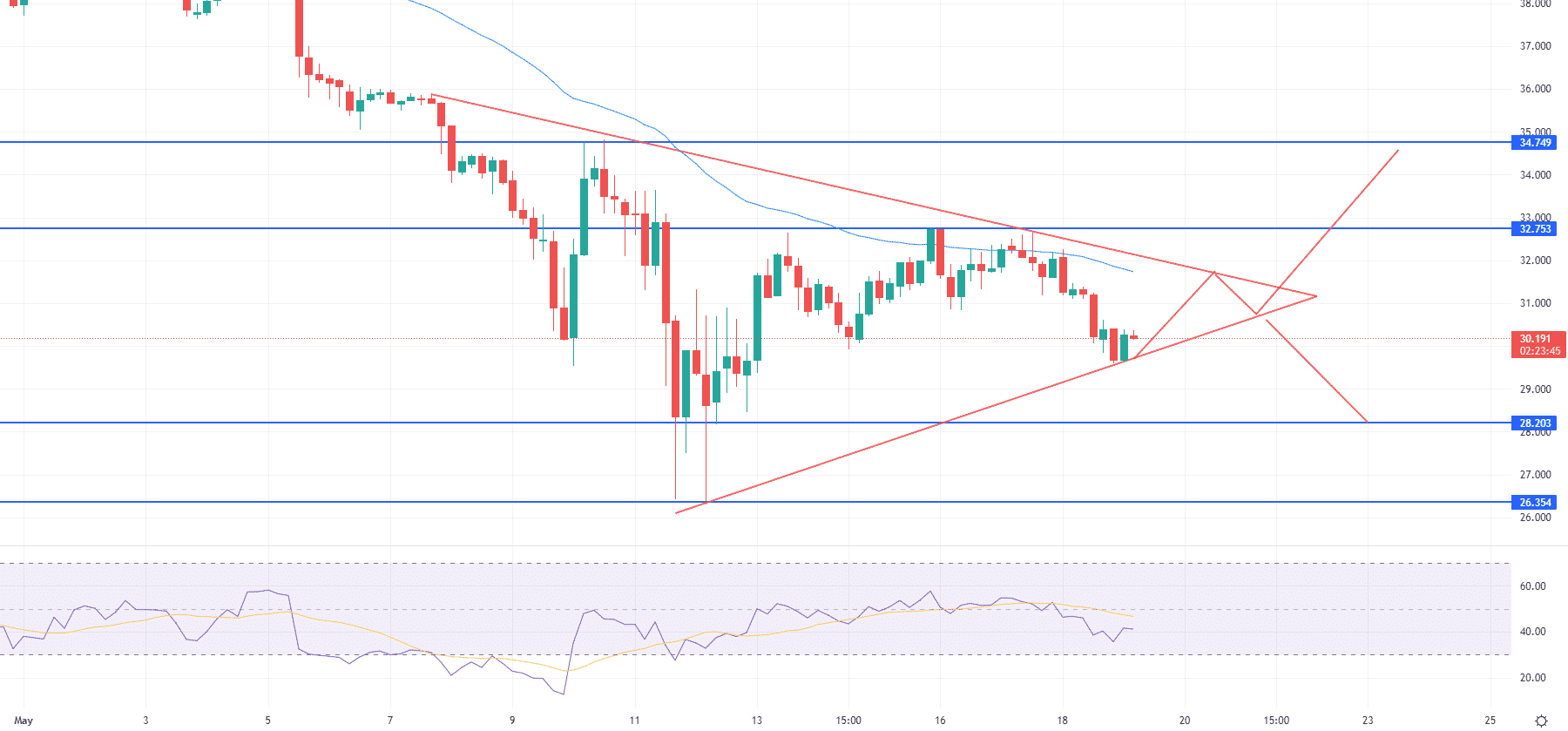 FTX Token (FTT) price prediction 2022-2025
The following is a five-year price prediction for the FTX token. These predictions are based on technical indicators, historical prices, market cap, fundamentals, and forthcoming projects, among other factors.
FTX price prediction 2022
In 2022, the average trade price could reach $59.31. Based on recent years' FTX pricing, it is estimated that the minimum price in 2022 will be roughly around $57.19. The maximum estimated price is roughly $66.22.
FTX price prediction 2023
In 2023, the average trade price could reach $84.51. Based on recent years' FTX pricing, it is estimated that the minimum price in 2023 will be roughly around $81.55. The maximum estimated price is roughly $99.73.
FTX price prediction 2024
Crypto specialists' technical study of token pricing is likely to have the following minimum and maximum values in 2024: around $117.38 and $144.62, respectively. The projected trading cost would be $121.61 on average.
FTX price prediction 2025
Crypto experts have researched token prices and their fluctuations over the previous few years. By 2025, the lowest FTT price is predicted to be $172.33, with a maximum of $203.01. The average trade cost will be around $178.41.
Top 3 questions & answers about FTX Token (FTT)
Will the FTX Token (FTT) coin crash?
Currently, the market is going through changes, and we cannot specifically say that it will crash. However, given the outlook of the price chart, our analysts believe that the token has vast growth potential.
Will FTX Token (FTT) increase rashly?
In keeping with the same bullish pattern, there are expectations that it is ready for an increase in the next year with sufficient volume and supply.
Will FTX Token (FTT) overtake BTC?
This will not happen in the predictable future. Despite its competitive characteristics, it has a long way to go before competing with the market's major brands.