ATOM token is currently ranked #29, with a live market cap of $2,945,436,365. Its price increased by 8.20% in the last 24 hours. The circulating supply is 286,370,297 coins, and the maximum supply is unavailable. And the current Cosmos price is $10.29, with a 24-hour trading volume of $218,395,935.
What Is Cosmos (ATOM)?
It is a network of proof-of-stake blockchains that enables communication across the several blockchains developed in the Cosmos ecosystem. It uses the hub-and-spoke design of many other chains to make it easier for chains to connect.
Cosmos is a coin that enables the ecosystem of blockchains built to scale and communicate with each other. The team's goal is to build an internet of blockchains, a network of decentralized blockchains capable of communicating with one another.
Another objective of the project is to make blockchain technology less confusing and challenging for developers by using a modular design that hints at decentralized apps. Finally, an inter-blockchain communication protocol makes it easy for blockchain networks to connect, reducing market fragmentation.
Cosmos (ATOM) price history & monthly technical outlook
The price increased by 8.20% in the last 24 hours. Over the previous seven days, Cosmos's price has fallen by 12.40%. The current price of ATOM is $10.37. It is 76.08% of the way down from its all-time high of $44.70.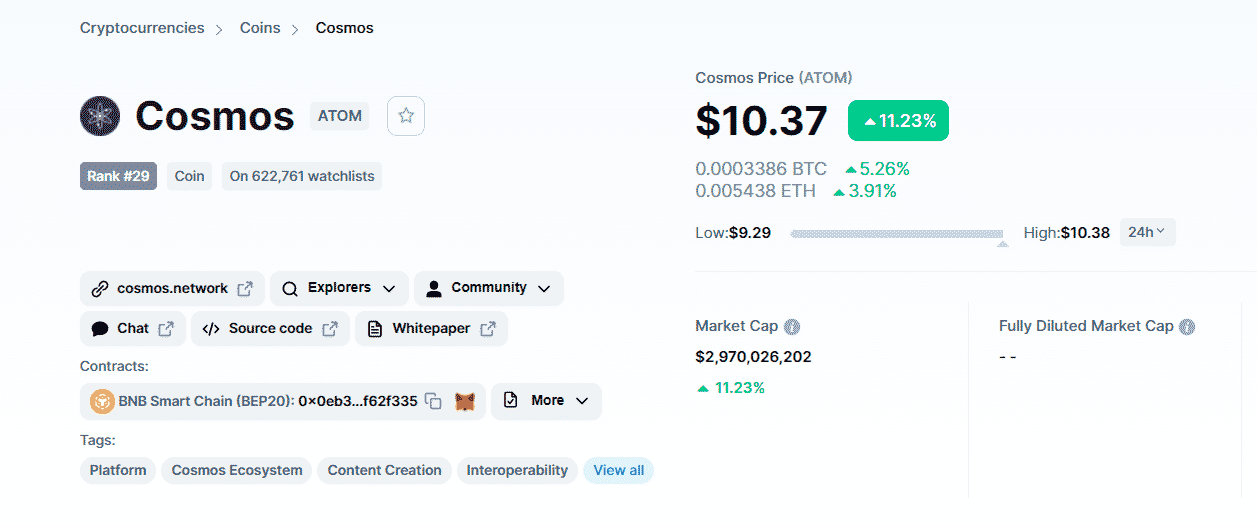 Price could swing up. On the technical front, it was approaching $10 support. Suppose broken could resume a downtrend. Previously, following a breakout of a falling wedge, the price was rejected at the $30-32 resistance zone (also 200-day MA) and broke below the critical $20 support.
The short-term analysis is bearish, as both the RSI and the 50 EMA indicate a selling bias. In contrast, increased demand and a break above 10.50 may signal the start of an uptrend for ATOM/USDT.
Cosmos (ATOM) coin fundamental outlook
Cosmos Hub Theta upgrade is on the way
The Cosmos ecosystem is quickly expanding, and the Cosmos Hub is working steadily toward becoming an Interchain service provider. Theta offers the first significant step toward Interchain Accounts by allowing the Cosmos Hub to serve as a host chain. The Theta Upgrade is the first big step toward an entirely new way for people to connect.
Interchain Developer Academy has officially launched
Its adaptability has significant benefits for blockchain technology, and as a result, demand for Cosmos developers is increasing. The Interchain Foundation is supporting a six-week, part-time online curriculum to assist in fulfilling the rising need for Cosmos developers. Within the next three years, the Interchain Foundation hopes to support training for 5,000 developers.
How to stake Cosmos (ATOM)?
The ideal approach for the common user to stake ATOMs is to delegate them to one of the network's validators. With a single click, users can delegate or bond their tokens in Ledger or several other wallets.
They must personally claim and assign the rewards if they want to reinvest them. Please keep in mind that collecting cash from staking usually takes 21 days.
Will the ATOM coin price reach 100 USD?
Cosmos is among the active cryptos that have been consistently bullish. It can reach $100 in the predictable future, but it will take a while, like a decade or so.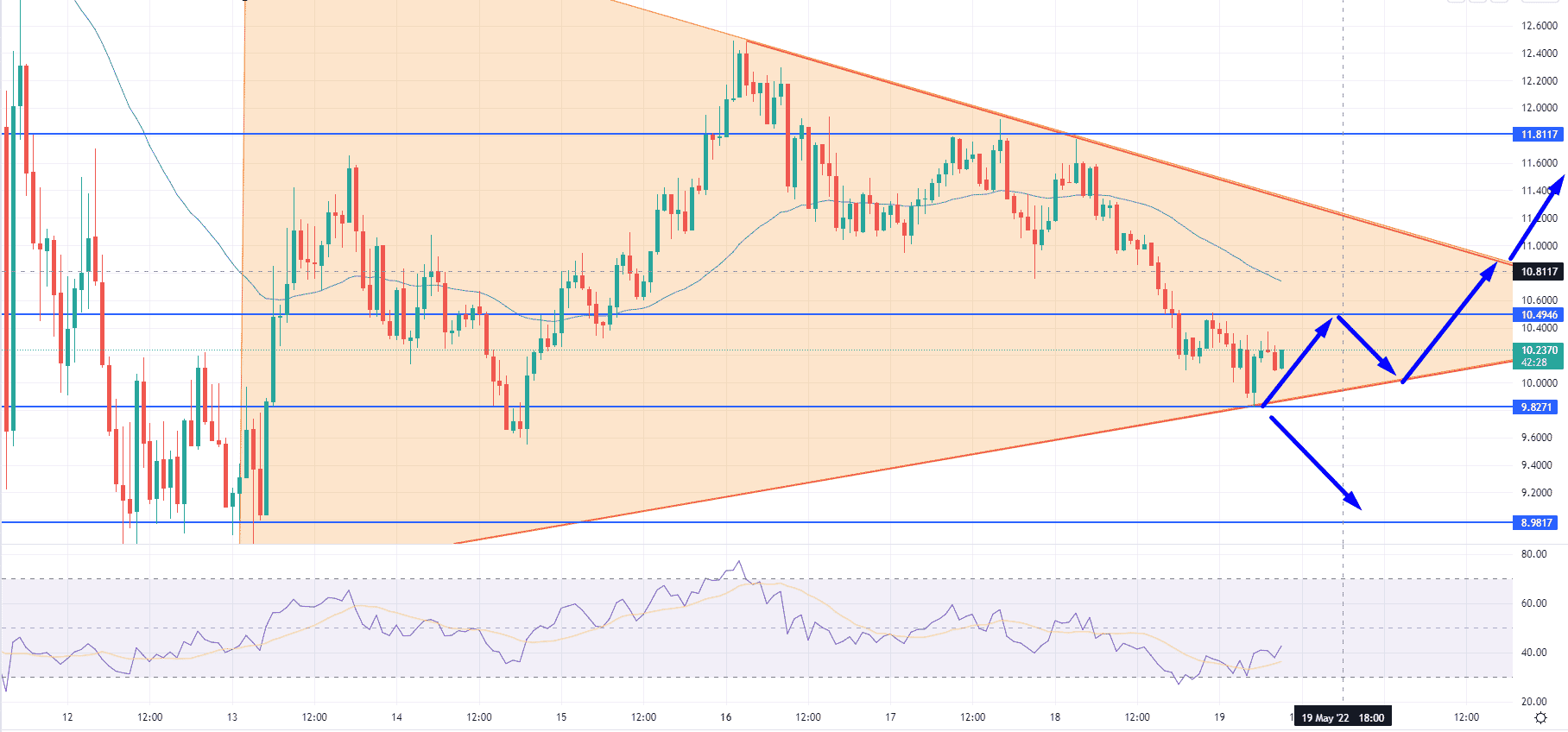 ATOM coin price prediction 2022-2025
The following is a five-year price prediction for the token. These predictions are based on technical indicators, historical prices, market cap, volume, fundamentals, and forthcoming projects, among other factors.
ATOM price prediction 2022
Based on Cosmos price changes at the start of 2022, crypto experts predict the average price rate will be $30.16 by mid-year. Its minimum and maximum prices are projected to be $27.58 and $31.03, respectively.
ATOM price prediction 2023
In 2023, the average trade price could reach $58.86. Based on recent years' Cosmos pricing, it is estimated that the minimum price of Cosmos in 2023 will be roughly around $57.19. The maximum estimated price is roughly $69.70.
ATOM price prediction 2024
According to crypto specialists' technical study of Cosmos pricing, it is likely to have the following minimum and maximum values in 2024: around $84.24 and $99.18, respectively. The projected trading cost would be $87.18 on average.
ATOM price prediction 2025
Crypto professionals have studied the values of Cosmos and their swings over the last few years. By 2025, the minimum ATOM price will be $117.19, with a maximum of $148.57. The average cost of trading will be approximately $120.67.
Top 3 questions & answers about ATOM
Will the ATOM coin crash?
It has been bullish since the beginning of 2022, and the rising trend has continued. It is unlikely that its prices will fall suddenly in the near future.
Will ATOM increase rashly?
Algorithmic forecasting tools like Wallet Investor, Digital Currency, and Price Prediction all indicate that the coin has the potential to increase in value. And that token is one of the top growing coins this year, and its recent record successes offer strong expectations for a price increase this year.
Will ATOM overtake BTC?
No, for the time being, ATOM is unlikely to overtake BTC. Cosmos' rapid rise has propelled it to the 29th largest crypto by market capitalization, according to CoinMarketCap. Despite its competitive advantages, it is still a long way from competing with the market's leading brands. The competition becomes even more difficult because we discover new tokens with new features every day.