You probably feel strange and wonder how to grow a small account. These days, every person is searching for a reliable and trustworthy platform for trading to gain a vast and safe return on investment in the future. For this purpose, the best practice is to trade in a small amount like $100, which later grows into a huge capital.
Is it a challenge to manage a small account?
How can we grow a small forex account?
What essential things do we keep in our mind while developing it?
We will explore all the answers to the questions in the following article.
How is it possible to manage a small account?
Let's assume you have some chickens worth $200. Now you have to choose between making a delicious chicken roast and eating it at the moment or feeding the chicken and breeding it. If you breed the chicken, it will lay eggs and give birth to chicks.
You sell eggs, grow the tiny chicks that will further lay eggs, and the process goes on. Within a few months, you can develop a sustainable business starting from a few chickens, resulting in a good return from $200 to $1000. Apart from getting profit, you will enjoy the courtesy of having as many chicken roasts as you want. Trading and growing small accounts are just like the above example.
So which strategy suits you: making a delicious chicken roast for one time or growing your small poultry business with the help of that single chicken for a lifetime?
What is a small account in forex?
It is a mini account that enables beginners to take up the currency market by trading a small amount, commonly known as a mini lot. So it is an estimated portion of the money, i.e., 1/10th of 100,000 units or 10,000 units. As a result, traders reduce the probable losses according to risk tolerance and affordability.
How to grow a small account?
Recent research reveals that almost 50% of new traders start trading with an amount of $500 in their very first trading account.
Initially, you trade in a small amount, and it will give you a fair return within a few years, and if you want to boost the return, you have to keep adding more units to the existing amount with every passing year.
If you acknowledge the above-assumed example, here are the top five tips to guide you on starting a small account and growing it.
Tip 1. Go slow
Everything takes time to grow. You have to be patient if you want your tiny forex account to grow.
Why does this happen?
Most traders fail because of their impatience and not because of their account size. Also, it would help if you distinguished between a recurring income and building your account at this stage. If you want a regular income, you may need a bigger deposit.
How to avoid the mistake?
It would help if you worked patiently. Do not rush into the process; if you force the process by trading it in the wrong place with the bad move, you can lose that traded amount. Keep a realistic target of 2-3% a month and never take significant risks.
Also, choose a trading strategy that limits your trading. In that way, you will avoid overtrading that mainly causes failure. You can select the minimum trading volume like 0.01 per position and restrict yourself to open no more than two positions simultaneously.
Tip 2. Cap risk
Do not let your risks remain uncapped. Instead, cap your risk with proper placement of stop-loss. You can use support or resistance for placing the stop-loss for your positions.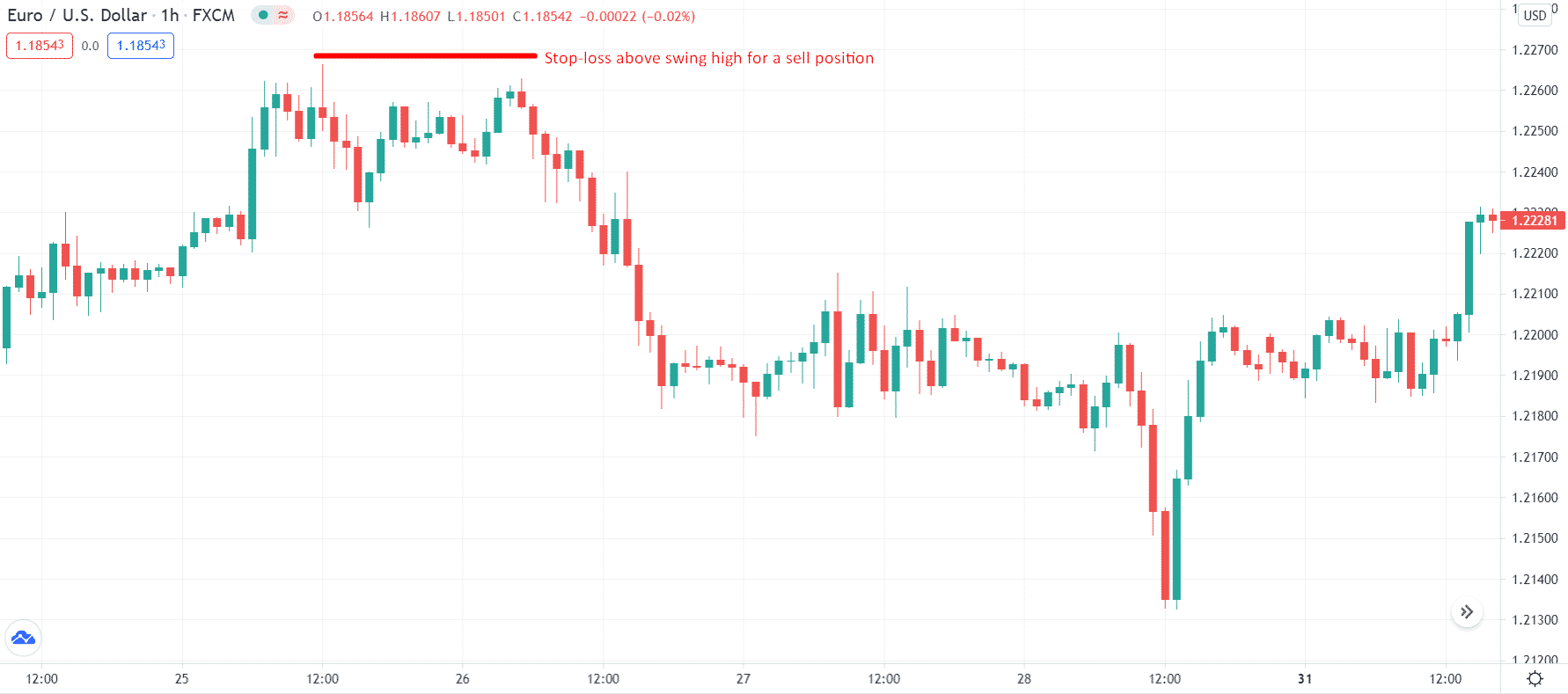 Your trading platform has the option to enter the stop-loss price for your position.
Why does this happen?
Most traders place their profit targets with each open position, but they are unwilling to accept the losses. So, they keep the risk undefined in the hope that the market will always favor them.
How to avoid the mistake?
You should not engage more than half a percent of the risk allocated for a single position as a beginner. So, even if you lose ten positions consecutively, you will still lose no more than 5% of your capital.
Tip 3. Define reward
Your efforts and strategies define your rewards. The more you organize your small accounts, the more you will get the rewards.
Why does this happen?
If you do not have a defined risk to reward ratio, you may fall victim even after winning several trades. For example, you win 8 out of 10 trades with a 1% gain, but you lose 20% each in two lost deals because of the undefined proportion of risk and reward.
How to avoid the mistake?
These incentives will be rewarded as a result of your brilliant work and patience. Once you know your risk cap, you are in an excellent position to define your rewards. Never take a position that does not have a probability of rewarding you twice the risk. Look at the chart below to understand.
The pink area is your risk, while the green space is your reward. You can see that the green area is way broader than the pink area. You can also read on the chart that the risk is 0.93% while the reward is 1.70%.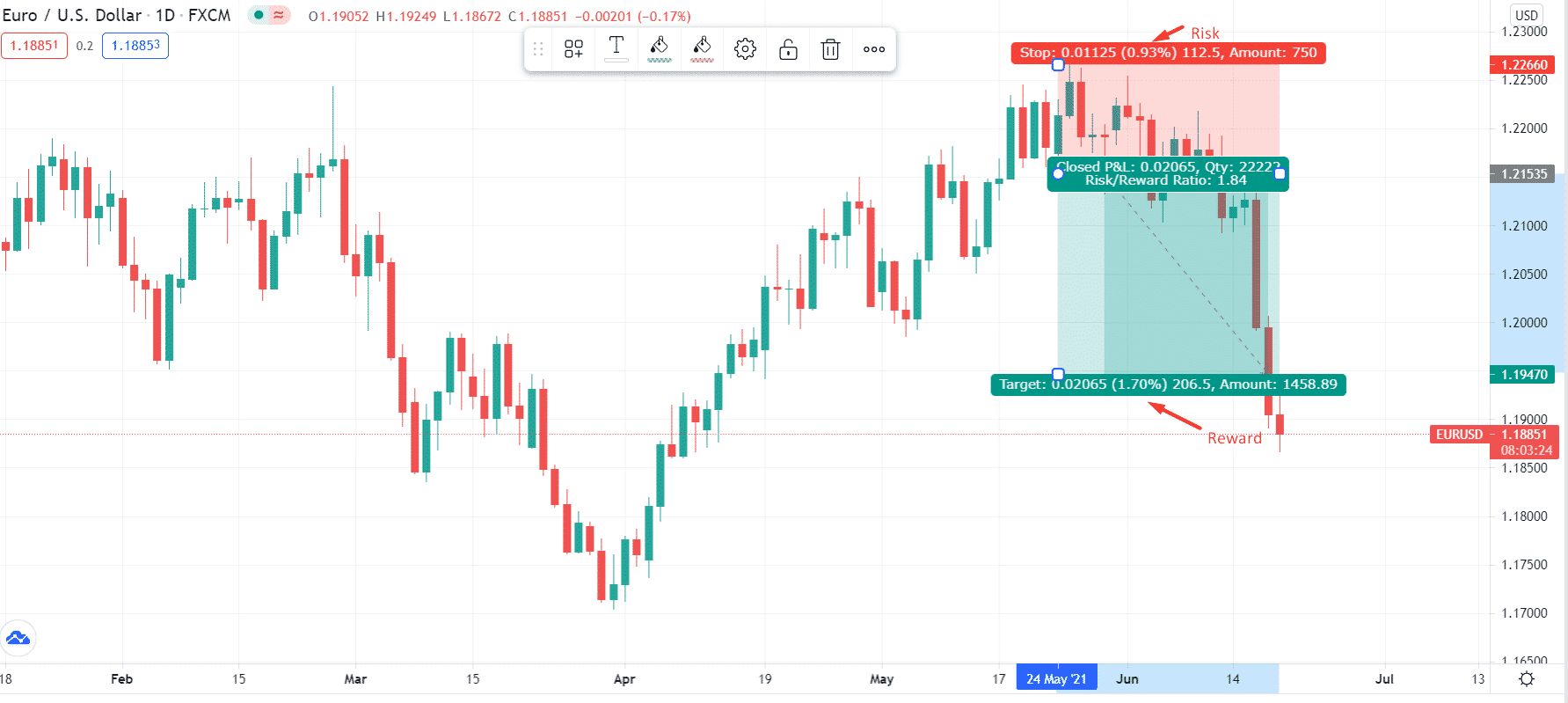 Tip 4. Trade less
Always start trading a small amount that you can afford to lose. The starting amount depends on your affordability. Trading in chunks is less risky. You will bear less loss at the time of loss.
Why does this happen?
Trading can become an addiction, and you may trade bad setups or trade when there is no setup. This will ruin your trading. For example, there is no need to deal when markets move in a small range. It is also called consolidation.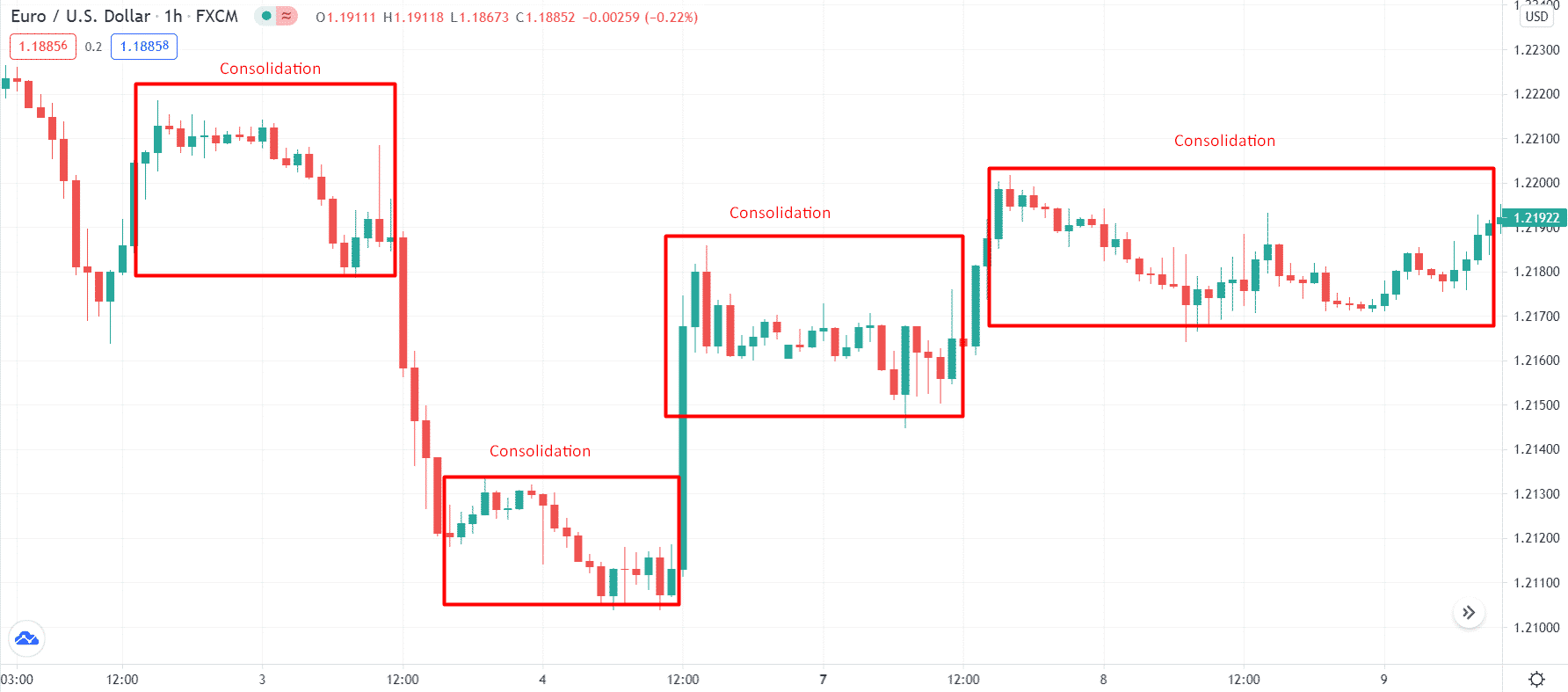 How to avoid the mistake?
It would be better to prefer trading less and start when you find a high probability setup using a tested strategy. For example, you can use a 20-period simple moving average and RSI to find a high probability setup. Look at the chart below.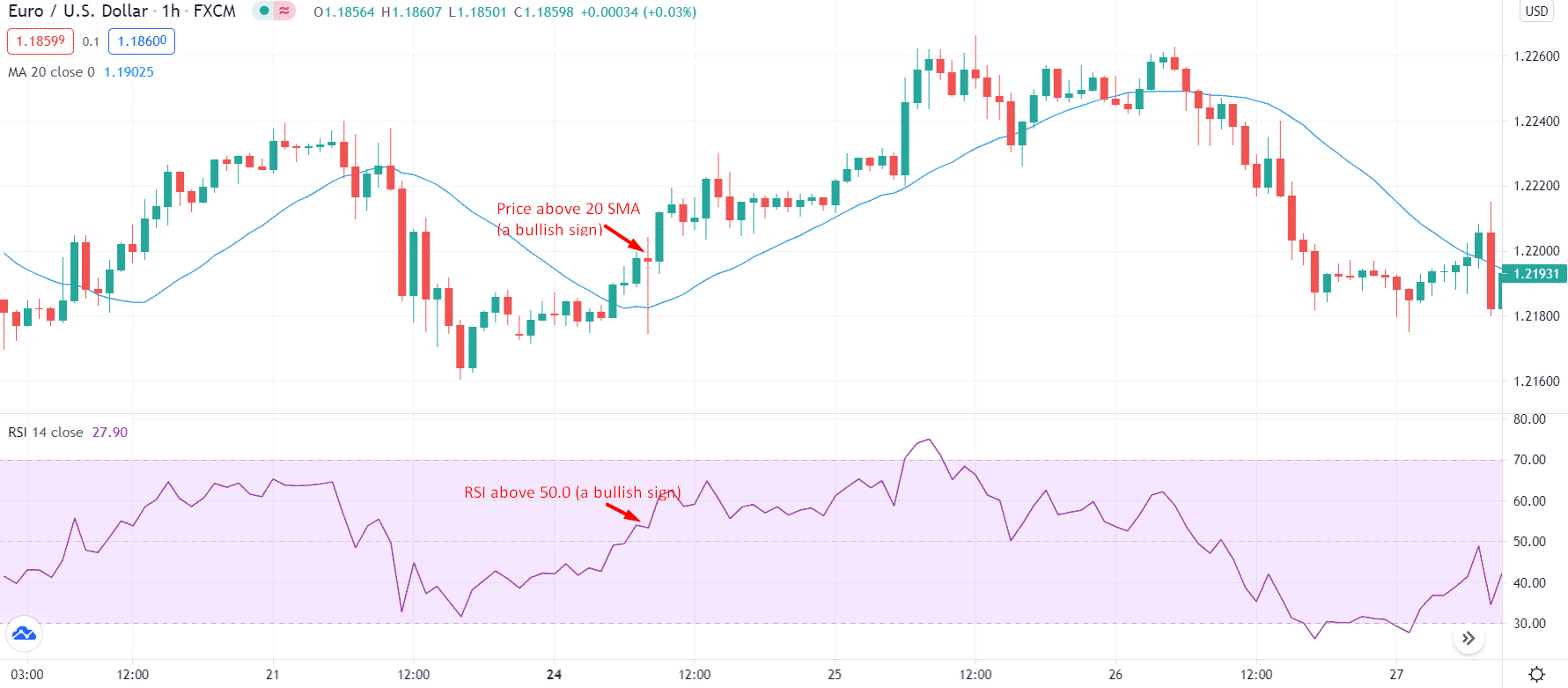 Sometimes more miniature trading may result in a better return, and it can reduce your stakes as well.
Tip 5. Compound profits
Do you know the power of compounding? If you double $100 a few times, you get a significant amount as a result. You can trade one currency pair with a daily target of 15 pips resulting in a monthly gain of 300-350 pips. Such a return is massive if you keep compounding your profits and gradually raise your trading volume as your buying power increases.
For example, you start with $1000. If you make 3% in the first month, your account will be $1030. The following 3% a month will make it $1060.90. If you keep compounding, you can double the account in 24 months.
Why does this happen?
Many traders withdraw their profits entirely and do not let the accounts grow. They miss the chance to raise their returns by ignoring the compounding.
Summing up how the above criteria affect a suitable deposit size, it is worth noting two areas. First, testing trading strategies allows you to limit yourself to a small amount. They work with it on the maximum available fractional lots or transfer the account to cents. It is not recommended to try new methods of making money on large deposits and trading for a permanent source of income. Here they select the amount that allows you to earn funds to ensure the usual lifestyle of the trader. Risk management calculations are often dispensed with. If you plan to open no more than one order simultaneously, and the profit from it should be 20 USD with a risk of 2%, the amount of 1,000 USD is sufficient.
Let's choose a conditional trading strategy with the following parameters:
Opening one trade daily
Lot 0.1 (its cost is 1 USD)
Closing:
profitable trades with 20 points of profit, and as a result, 20 USD from each order
unsuccessful trades with 10 points of loss (minus 10 USD)
profitable orders 60%
Strict adherence to the rules will allow you to receive up to 180 USD in profit. The calculation is simple. If there are only 14 profitable trades, they will bring 280 USD. Unprofitable orders will decrease the amount by 100 USD (10 trades at 10 USD). Without unnecessary risks, you can earn 18% of the initial deposit. If you want to receive 1,000 USD per month, the minimum amount of FX will be 5,560 USD.
How to avoid the mistake?
Small forex accounts may not be enough to provide you income for living. Hence, you have to grow your account rather than withdrawing your profits patiently. An alternative approach is to withdraw 50% of the profits and compound the rest in your account. Like, if you start with $200 and earn $25 in a month. The amount is so tiny that it is not wise to withdraw. Instead, you can have an additional buying power of $25 in the next month.
Final thoughts
You have to keep patience because this is the key to growing your small account. You may not find good trade setups for many days. So you do not have to force yourself to trade. Keep your targets realistic and compound your profits to build wealth.