The price movement of financial assets depends on several factors. Traders and investors buy or sell stock depending on market context, so they create many strategies to deal with the price movement and profit by participating with lower risks. The short squeeze is sudden price change and participants' dramatic actions over time.
Many trading assets go through this. Moreover, 2021 is the year of a short squeeze for many stocks. Many retail traders successfully built buying campaigns on social media platforms and Reddit, targeting heavily declining stocks to perform short squeeze. This article will introduce you to ten massive short squeezes of all time.
What is the short squeeze?
The traditional trading technique is "buy and hold" the asset, so choose stocks that have strong potentiality in the long run. Traders or investors seek to buy at low and sell at high prices. There are some more creative trading strategies to speculate on assets. The short squeeze is one of them. It occurs when a declining stock starts to rise rapidly in value. The concept is that a seller sells an asset for a specific price. When a short seller faces loss as the stock price rises, he forcefully buys that asset to cover losses. When they first sell, if the price reaches that level on the downside, they profit from the price difference. Otherwise, when the price rises, they exit from sell trades and start to buy to cover losses. This rapid buying makes that particular stock skyrocket.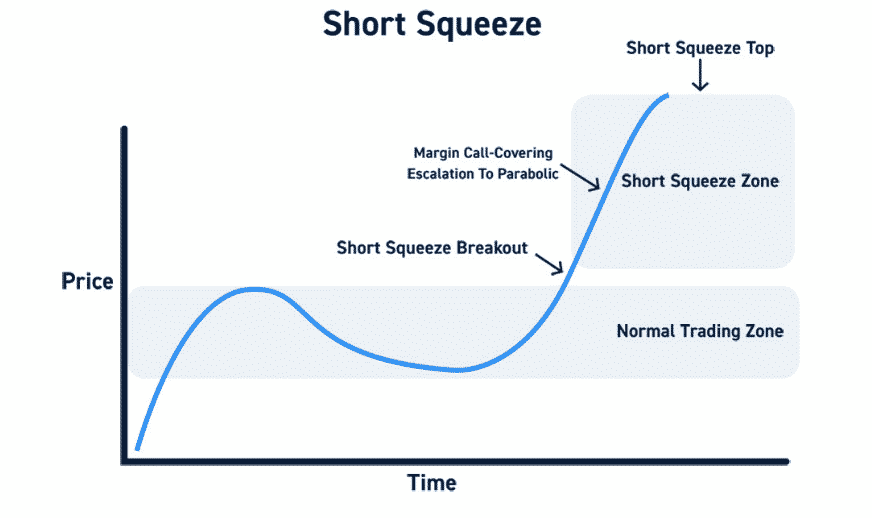 For example, suppose AA has an outstanding share of 25 million and 5 million belong to sellers. Means short interest is 20%, with a trading volume of 1 million shares per day. So it will take nearly five days to buy back all that shares for short-sellers.
Now the price of share AA may decline near 7$ from 20$ in a few weeks. Now some fundamental news comes that boosts the price, and the price may spike near 15$. Seller will lose money and interest to buy that stock. So speculators and short-sellers both may start to buy, which makes the price skyrocket of share AA.
For a better understanding, look at the figure below.
Top ten huge short squeeze of all time
Here we list the top ten huge short squeezes of history.
1. Swiss franc unpegging
It shares some similarities with the short squeeze concept. At the beginning of the first quarter of 2015, the Swiss National bank unpegged the Swiss franc from the euro. That makes a massive fall near 0.83 from a peak of 1.02. Before ending the quarter, the price reached back near 1.00. Many small firms and investors lost capital due to that decision.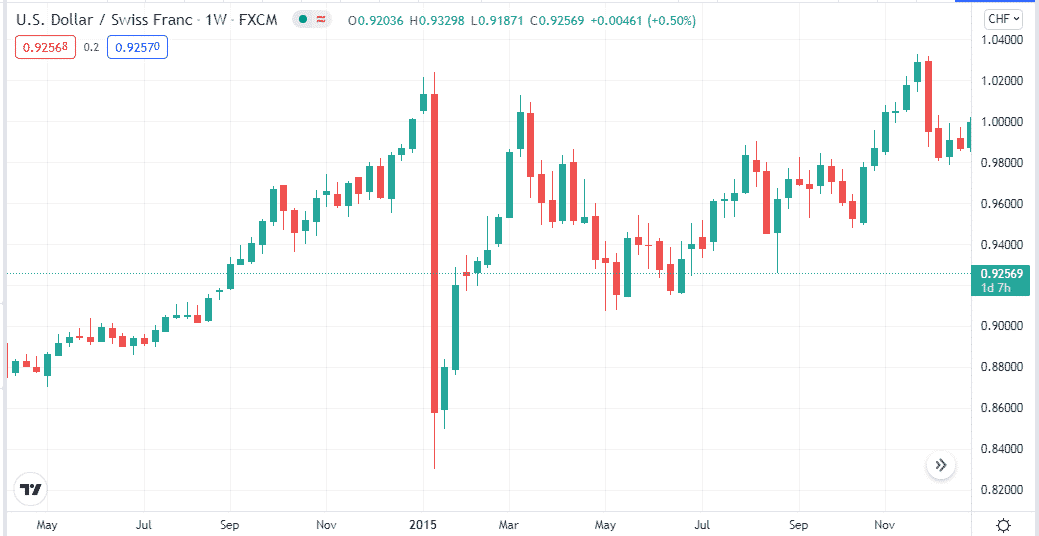 2. Bitcoin soar
The most famous cryptocurrency, Bitcoin, peaked at nearly 65k$ at the beginning of the second quarter of 2021. The price of this pair BTC/USD declines near 29K by the end of the second quarter of this year.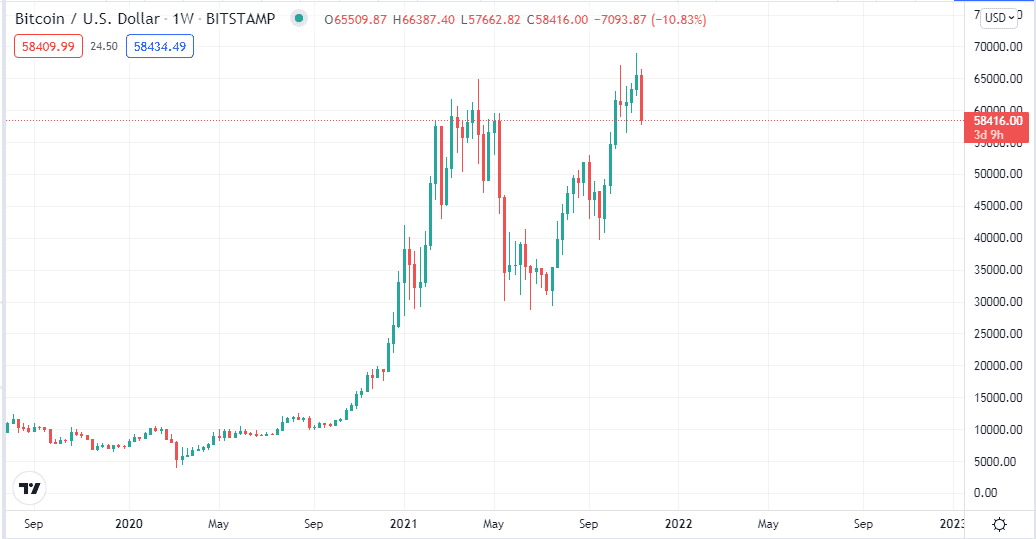 At the time of writing, the index is floating near 58K. Meanwhile, the top of this year is near 68k on 8 Nov 2021.
3. Piggly Wiggly
The first self-service grocery store in the USA started business in 1916. Within the next six years, they opened nearly thousands of shops in the country, and the company became public in 1922. However, it has crashed as some franchises went bankrupt.
Wall Street traders start to short squeeze the stock. Then, Clarence Saunders, the owner took the risk to buy back, so he purchased nearly 200,000 shares by taking a 10 million dollar loan from the bank. It sent the share to near 60$ from a low of 39$. Later buyers pushed the price near 124$.
4. Reliance Industries Limited
Manu Manek, the Cobra of the Bombay stock market, tried selling Reliance industries stocks in the late 1980s. Then this company was one of the emerging major players in the Indian business industry. That selling pressure was a matter of concern to chief Ambani, so he asked Anand Jain, a reliance association friend, to defend and purchase all shares. That settlement was at 30 million INR. Now the market capitalization of this company is nearly 3.1 trillion.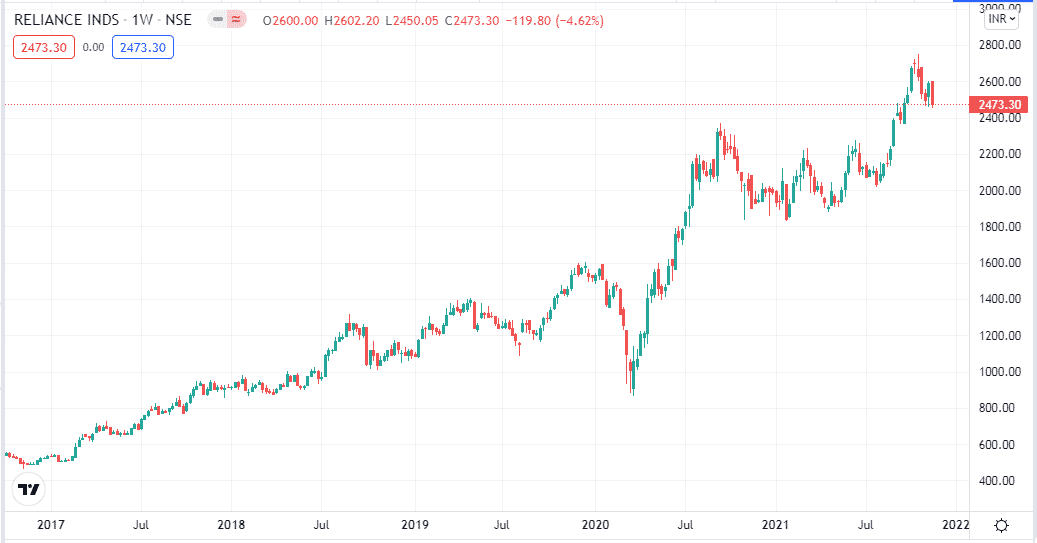 5. GameStop Corp.
The GameStop Corp. short squeeze is the third one on our list. Recently, in early 2021, the light touch investment apps, for example, Robinhood, allow traders to invest in stocks in tiny amounts. Means anyone can purchase GameStop Corp. stock that made the stock price skyrocket, which pushes the price near 500$ from near 20$.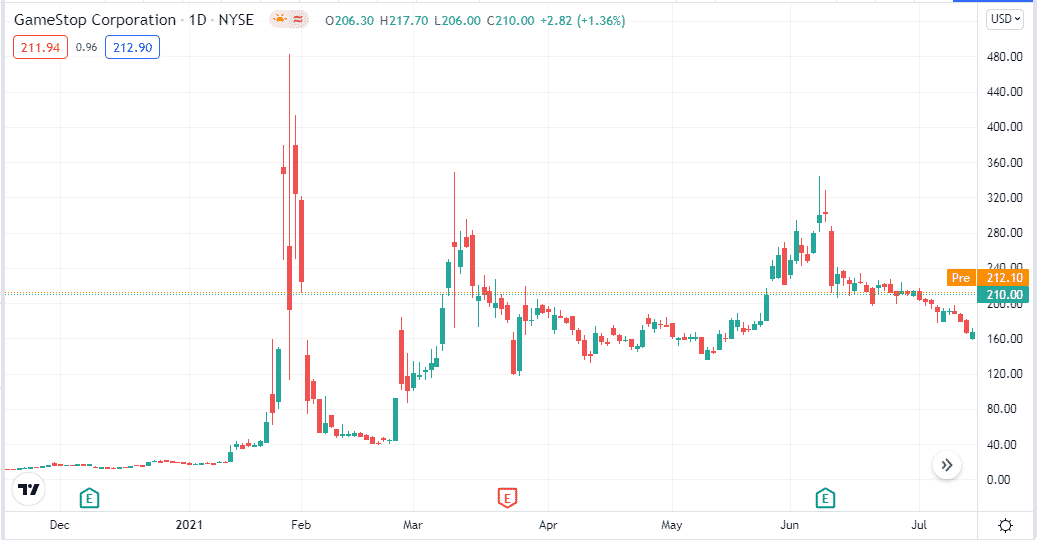 At the time of writing, the stock is trading near 210$.
6. Tesla stock price
Tesla's stock price was near 300$ at the starting of August 2020. That started to boom, and that month-end price was near 450$ for that stock. That is another huge short squeeze of all time. Electric vehicles are becoming more popular that is probably the reason behind the rally of Tesla stock price. It is maybe an example of the worst short squeeze, but the price is rising gradually.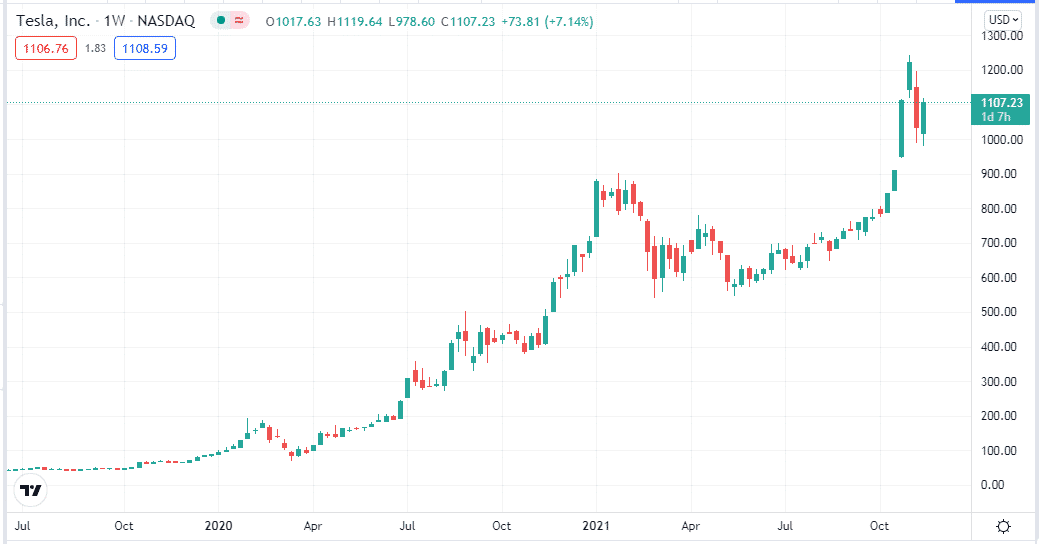 Tesla's stock price is floating near 1107$ at the time of writing.
7. Volkswagen vs. Porsche
Two companies, Volkswagen and Porsche, have a long history of working together. Porsche declares that it has nearly 74% of Volkswagen's voting shares in possession. And the year 2008 was a short-selling year at the time of the financial crisis. The share price reached approx.114$ from nearly 26$ in two days.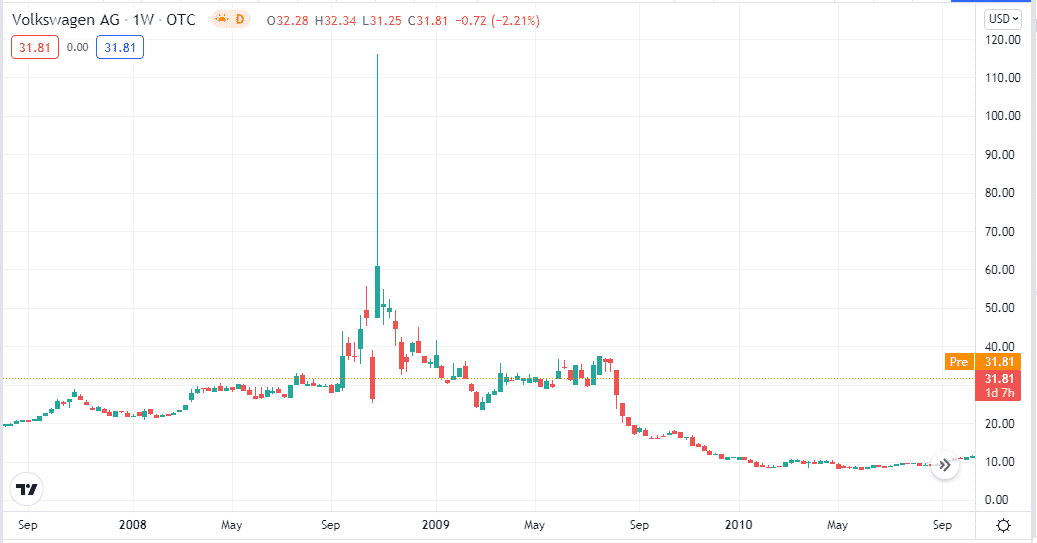 The Volkswagen share price is floating near 32$ at the time of writing.
8. KaloBios
The price in KaloBios stock price is one of the most prominent short squeezes of all time. KaloBios sold his firm at 6 million USD in private transactions. Now the name is going under Humanigen Inc. In the last month of 2015, the stock price hit near 226$ from a low of 3$.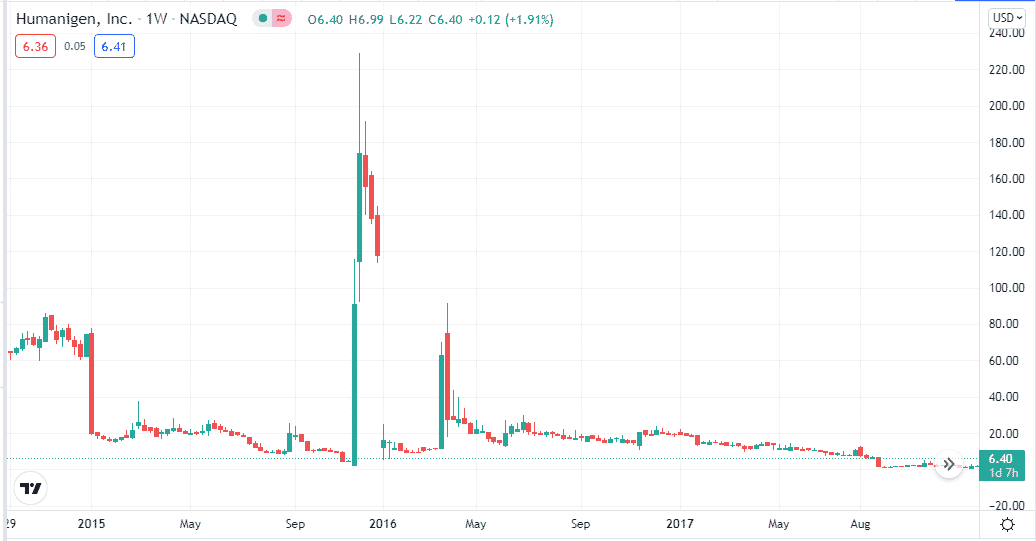 As of writing, the stock price is floating near 6.38$.
9. Herbalife Nutrition Ltd.
Ackman made short one billion dollars in Herbalife Nutrition Ltd. That makes the stock price from a peak of near 35$ to 12$. That is another huge short squeeze of all time.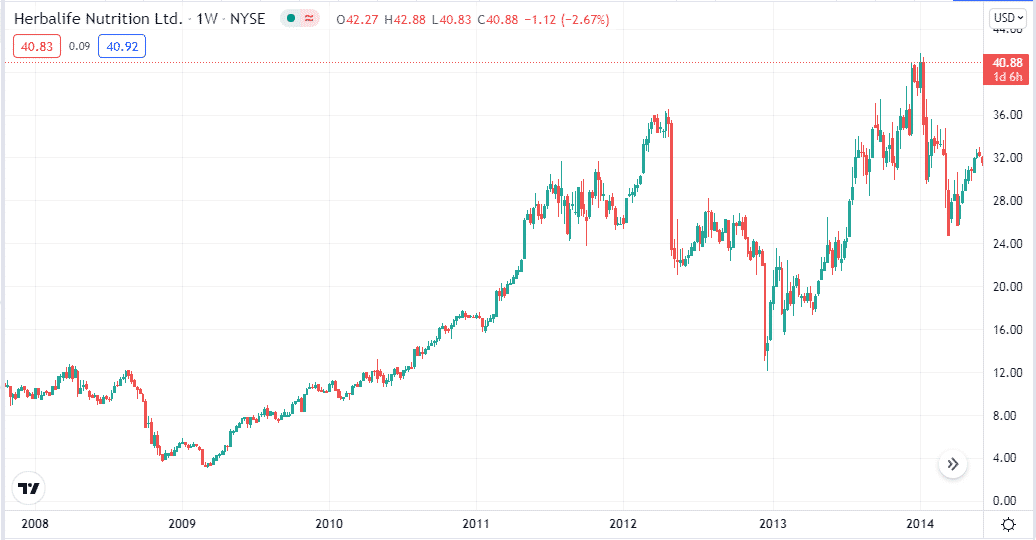 At the time of writing, the stock price is floating near 40.92$.
10. Brexit on GBP
The Brexit issue puts GBP under tremendous sell pressure. That currency declined and became weaker against many other currencies in 2016 through that decision. The figure below shows the GBP/USD price chart during Brexit. It is more like a short squeeze of stocks as currency price depends on several factors.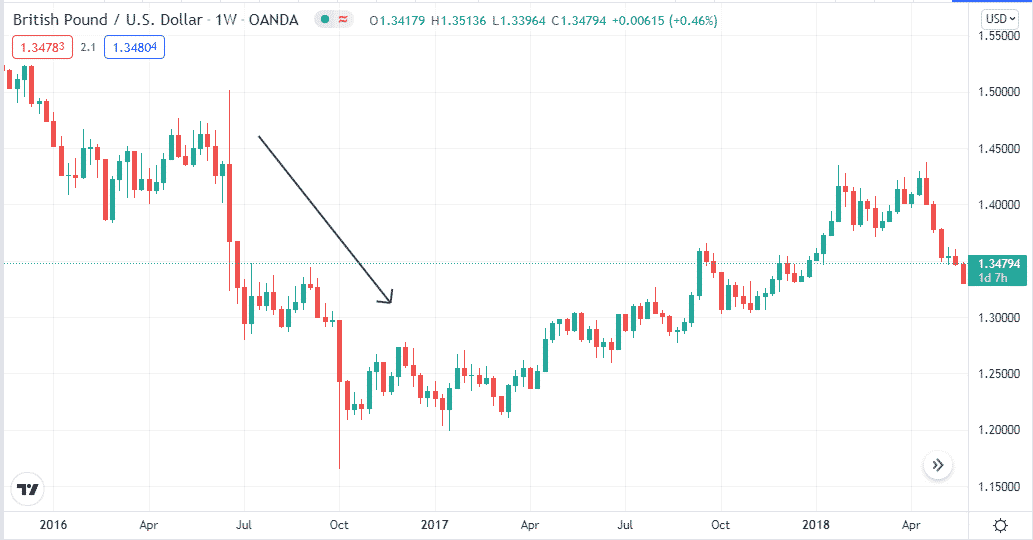 GBP/USD made a low near 1.17 from near 1.50 during that period. This pair has been floating near 1.34 at the time of writing.
Final thought
The short squeeze concept is well suited to any stock or other assets. It's not a common scenario for currency indexes, as manipulating a currency pair price is not a matter for some investors or groups. So it is possible to use other assets, such as stocks, indexes, commodities, or cryptocurrencies. Making a fortune with this concept depends on skills and find out the best potential assets.