Trading strategies are essential to make constant profits from the market palace, especially when it comes to crypto trading. A disciplined approach enables reducing risks in trading and increases profitability. Moreover, following specific guidelines enable avoiding emotional trading and making trade decisions more efficiently. So, it makes sense that professional crypto traders follow many invincible trading strategies to catch the most potent trades.
However, it requires following specific guidelines to generate the best trade ideas. This article lists the best five tips for ultimate crypto trading strategies, and you can follow these tips to be a successful crypto trader.
What is the ultimate crypto trading strategy?
The moving average is one of the financial traders' most famous technical indicators. Several types of moving averages use different types of calculations to determine the market context and work with the same concept.
Exponential moving average or EMA is one of the best types that helps traders determine the current trend, trend switching points, range, support resistance, etc. So it makes sense that these features make the technical tool attractive to crypto traders. Crypto traders frequently use different parameters to generate trade ideas and obtain the market context; EMA-50 is one of the most popular. Any crypto trading strategy involving the EMA-50 concept is an EMA-50 crypto trading strategy.
Top five tips for profiting using the EMA-50 trading strategy
There are several ways to generate trade ideas using the EMA-50 concept. These best tips below will help you to use the concept most effectively:
Tips 1. Identifying trends through EMA 50
The trend is vital for any financial investors, as it enables making money with the primary participants. Professional traders always seek trends to enter trades, and they use many technical tools and indicators to determine trends.
The EMA 50 line can determine trends of either an uptrend or a downtrend. When the price reaches above the EMA 50 line and moves above the line, it declares it remains on an uptrend. Meanwhile, it declares a downtrend if the price goes below the EMA 50 line.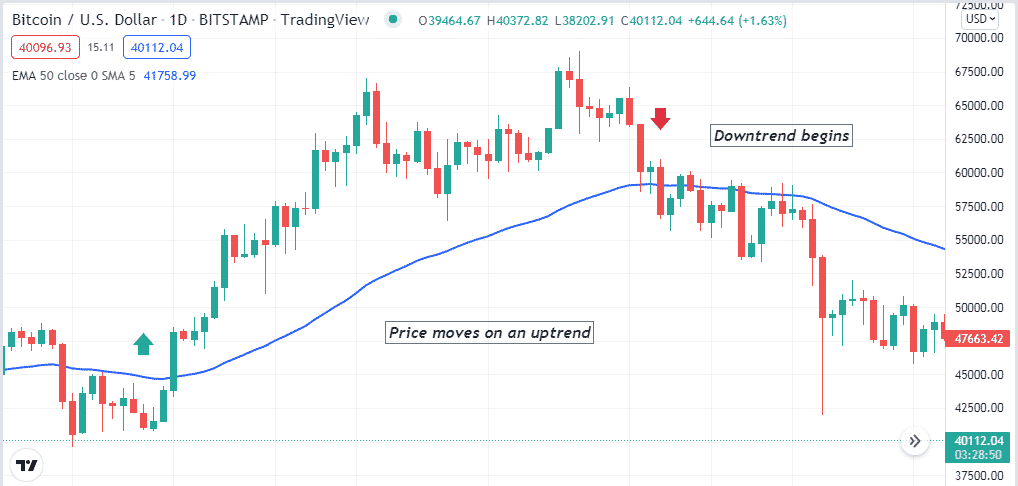 Why does this happen?
MA indicators usually move or calculate the average price of any trading asset. When the price reaches above or below the EMA 50 line and continues to move in that direction, buyers/sellers dominate the current price.
How to avoid mistakes?
According to participants ' actions, the price can reach above or below the line and come back or make spikes. So wait till the price movement starts continuing in any direction. When you are a short-term trader, better check upper timeframe charts to determine the actual price direction.
Tip 2. Determining support resistance through EMA 50
Determining support resistance enables trading opportunities for crypto traders. It allows making more accurate trading positions and participating in trades with low risks as the price usually respects those levels. You can use the EMA 50 line to determine dynamic support resistance levels. Check the chart below for a better understanding.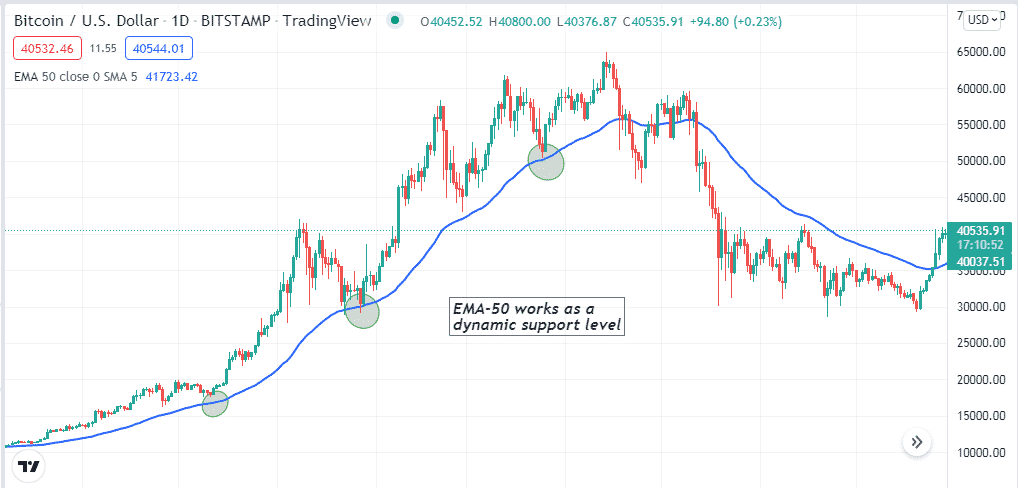 How does this happen?
The EMA 50 line shows the average price movement of 50 periods, so the price comes to that level and respects every time and bounces back on the upside.
How to avoid mistakes?
Many crypto bots use the same concept to execute trades. So you can manually use this concept but never make early entries and better use other supportive technical indicators or tools for confirmation before entering trades.
Tip 3. Using EMA-50 to determine trend switching point
Crypto traders seek trend switching points to identify more adequate trading positions. You can use the EMA 50 line to determine trend switching points. For example, use another EMA (21) line alongside the EMA 50 line. When the EMA 20 crosses above the EMA 50 line on the upside, it declares a potential bullish momentum and vice versa.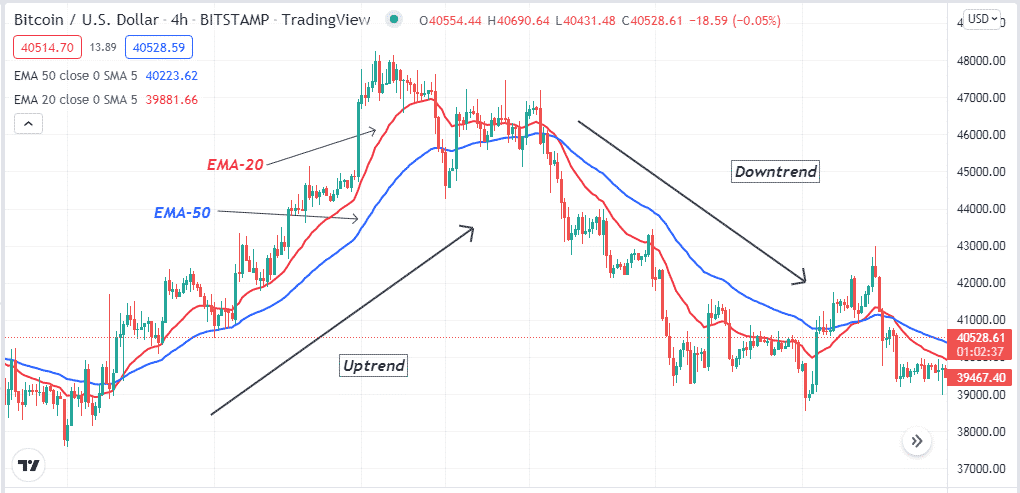 How does this happen?
As per the popular MA crossover concept, the minor MA crosses above or below the more extensive MA line to determine bullish or bearish momentum.
How to avoid mistakes?
It is better to check upper timeframe charts to confirm the price direction before entering trades. Both EMA lines are heading in a specific direction, declaring a potential trend direction.
Tip 4. Use EMA 50 to identify sideways
Determining ranging market or sideways is essential as the profitability decreases when the price remains in a smaller range. Although many trading methods can generate income from ranging market movements, it is better to seek trendy markets to generate considerable profits. You can determine the consolidating phase or ranging market through the EMA 50 line. When the EMA line frequently crosses above and below price candles, it declares the price remains in a range.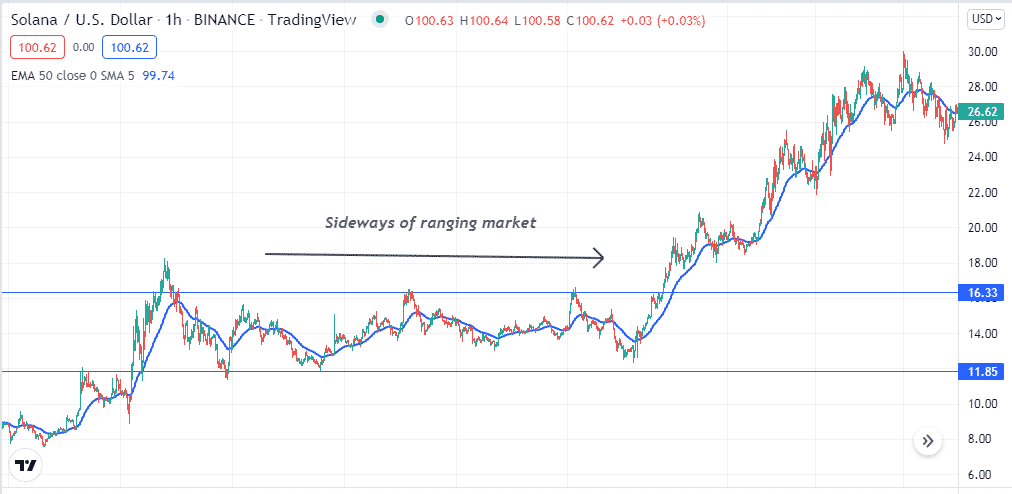 How does this happen?
The ranging market occurs due to indecisions or low volatile conditions. So the price moves a little according to the demand-supply fact. As the demand or supply increases or decreases considerably, the price start moving on a trend.
How to avoid mistakes?
We don't recommend entering trades using the EMA 50 line when you use this concept on any short-term timeframe charts. Using this concept on long-term timeframe charts, open buy positions at support levels and execute sell orders below resistance levels.
Tip 5. Combine EMA-50 with the RSI indicator
Crypto traders often combine readings of two or more technical indicators to generate more efficient trade ideas and participate in more profitable trades. You can use the RSI indicator alongside the EMA 50 line for confirmation before entering trades. For example, the price reaches above the EMA 50 line. The RSI dynamic line remains near the central (50) line and heading toward the upside; it indicates potential bullish momentum and vice versa.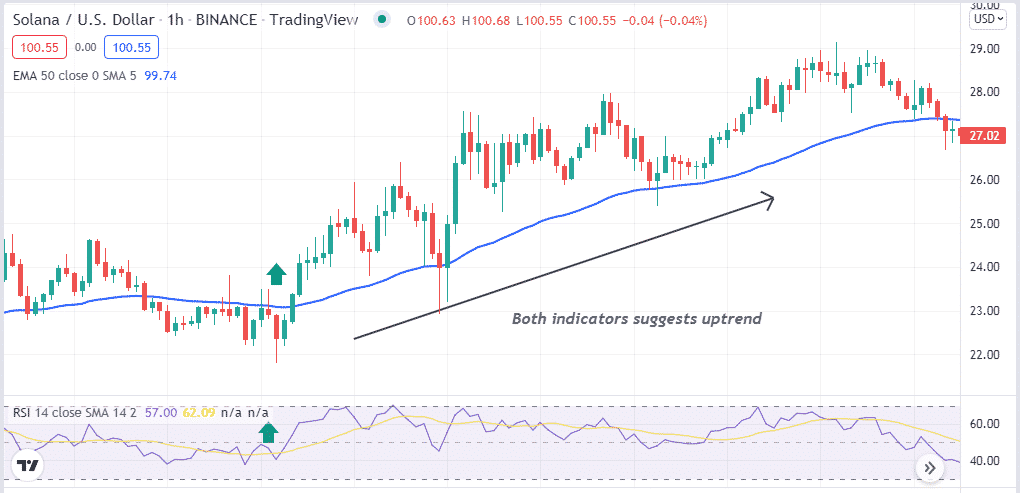 How does this happen?
When both indicators suggest price movement in any particular direction, opening positions according to those readings increases profitability and reduces risks on capital.
How to avoid mistakes?
Match both indicator readings before entering any trade. Place stop loss at reasonable levels to reduce risks on capital.
Final thought
Finally, when it comes to mastering any concept requires sufficient practice, and these tips above help any crypto trader use the EMA 50 idea most efficiently. Additionally, we recommend using adequate trade and money management rules to perform the most potential trades.