Every sector is gradually adopting blockchain technology. The emergence of a blockchain, to say the least, has had a profound impact on almost every business. Everything from decentralizing finance to monitoring supply networks may benefit from the technology. Blockchain technology is already making a difference in the gaming industry.
Over the last several years, blockchain gaming has been more popular among gamers. As a result, companies invest millions of dollars in developing blockchain-based gaming systems.
What is the Ethereum blockchain network?
ETH is a decentralized blockchain technology that establishes a peer-to-peer network for securely running and validating code for smart contracts. An independent central authority does not need to be involved in the transactions of participants. One of Ethereum's most significant benefits is its decentralization.
Ethereum blockchain technology is decentralized and transparent, and it was initially developed as a substitute for existing financial institutions. Smart contracts, dApps (blockchain-based apps), and various decentralized finance (DeFi) projects are just a few of the many advantages of ETH investment. It's also safe, which is a big plus. There is a worldwide community of Ethereum developers working on the project. It makes it more difficult for malicious users to take over the blockchain.
Top 5 Ethereum gaming projects to trade and invest 
Let's look at the few top Ethereum gaming projects, their details, particular aspects, and future price trends.
Illuvium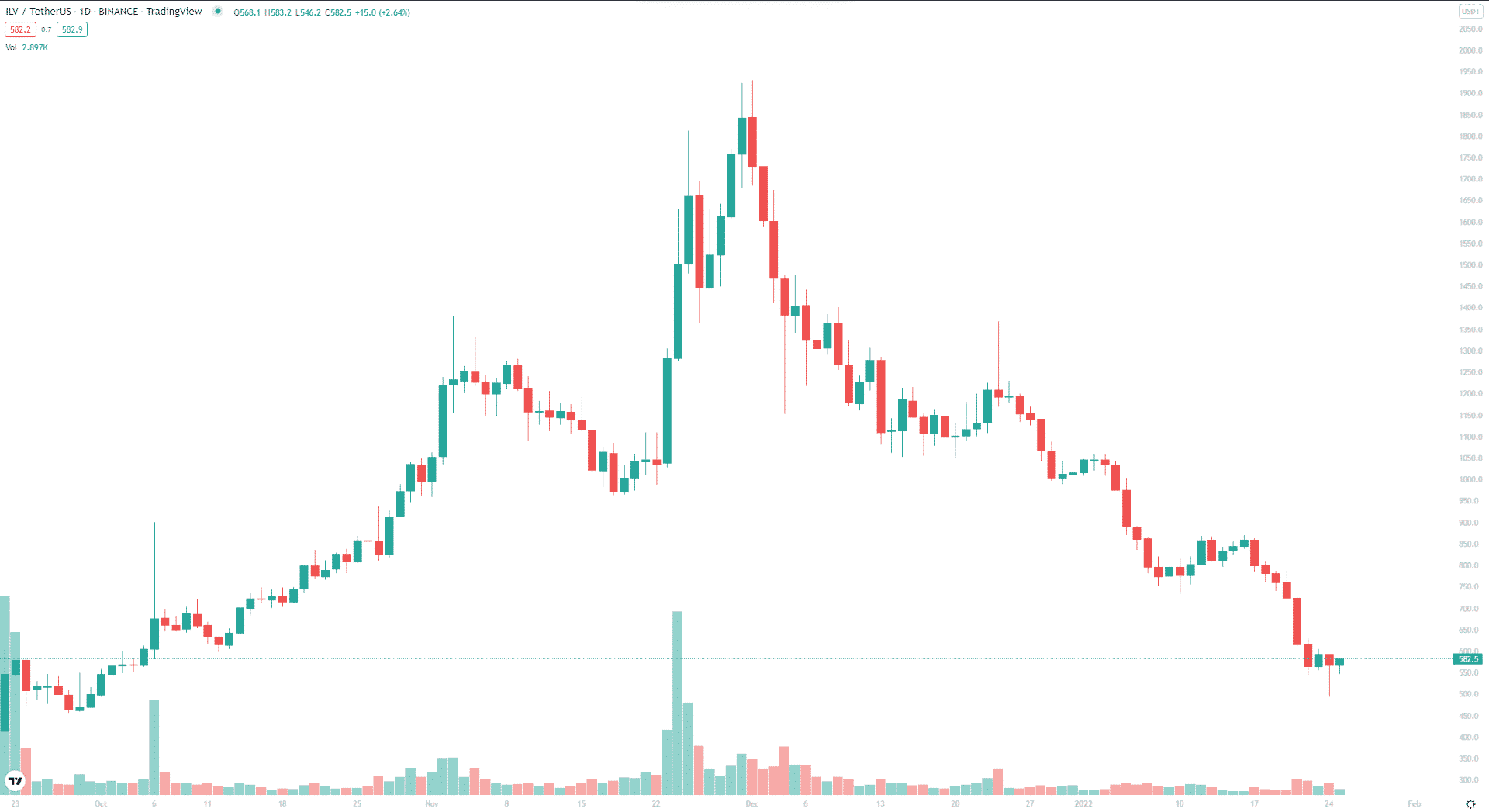 "Battle for ETH" is Illuvium's overall goal since it is based on the Ethereum network, clarifying what the project is all about. Many other ways to gather and trade items are available for players and investors in this game, billed as Ethereum's first AAA title.
Like Axie Infinity, the game focuses on amassing monsters known as Illuvials and using them in combat arenas where the player may gain triumphs and valuable rewards for his efforts. But the game's open-world exploration features, which have been displayed in the game's beautifully rich cinematic trailers, have captivated gamers.
Most special aspect
What sets Illuvium apart from other blockchain games is its entirely produced 3D sceneries, which promise to bridge the gap between blockchain and gaming.
Price-performance
Over the last three months, Illuvium's price has fluctuated between $861.63 and $562.44, implying a compound monthly growth rate of -13.25 percent and an extrapolated compound annual growth rate of -0.82 percent. A six-month price range of $154.49 to $562.44 has produced a compound monthly growth rate of 24.03 percent and an extrapolated compound annual growth rate of 12.25 percent for the cryptocurrency Illuvium.
ILV 2022 price prediction
Illuvium's worth will increase due to the efforts of network developers and investors. As a consequence, the price prediction for 2022 is upbeat. ILV is expected to reach a maximum price of $950.38 by the end of 2022, according to analysts. Illuvium's future's looking brighter and brighter.
CryptoSpells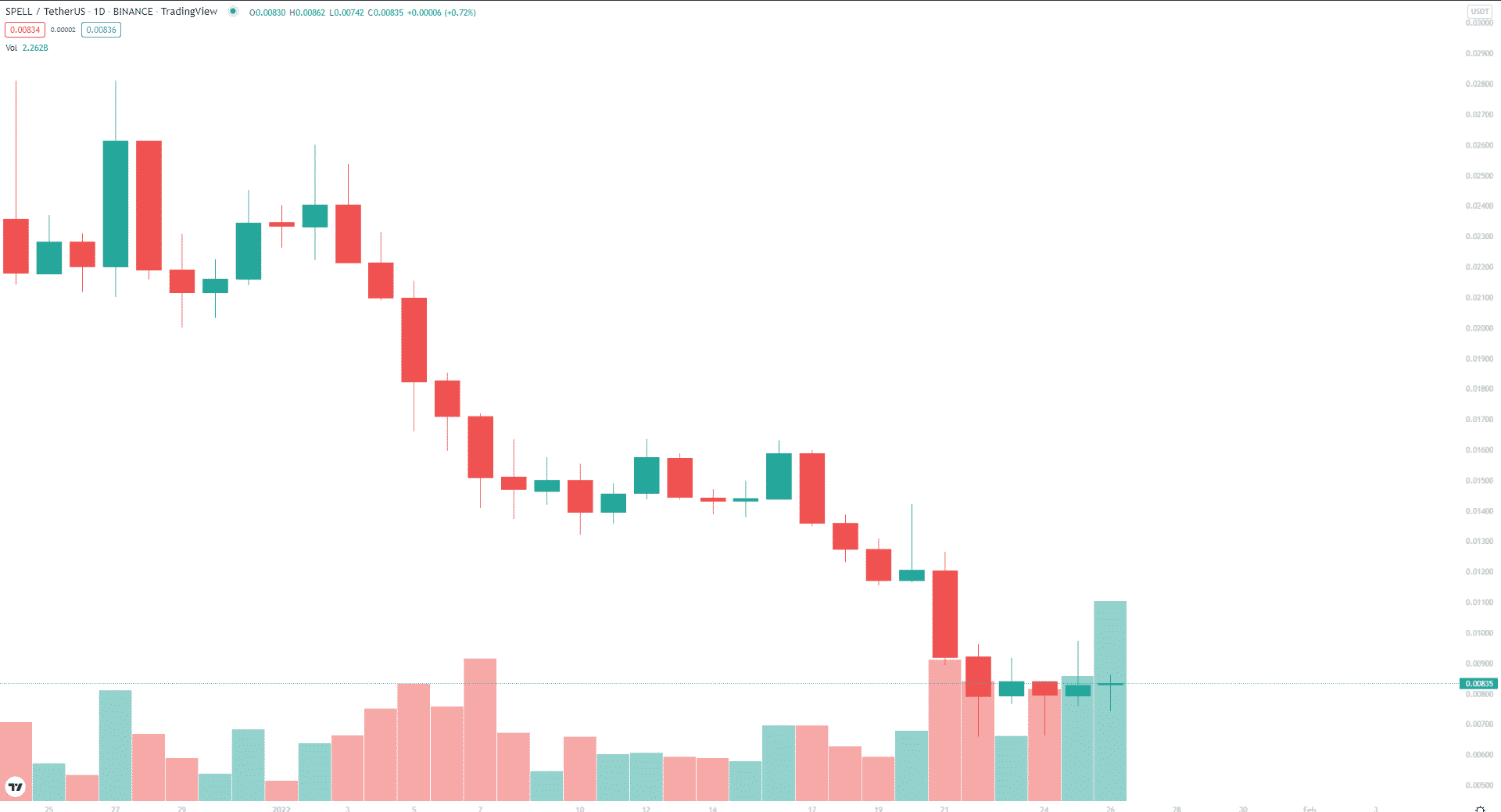 It's a digital "trading" card game that lets you own and trade digital things. In this card game, just a limited number of cards are utilized. There are four levels of rarity in the game, each having a limited supply of cards. You can keep track of your purchases and transactions on Ethereum by logging in to your account. The digital assets created by users of Cryptospells are theirs to keep. So even if our service were to be terminated, your cards would remain in your wallet. "Digital Trading" is the basis for the card game CryptoSpells.
Most special aspect
Everything in the game may be traded outside the game via a third-party service like OpenSea. Use the "issue right of a card" that you acquire during the game to create new and unique cards. It is expected that the original card issuer would collect half of the transaction costs.
Price-performance
The current price of the Spell Token is USD 0.008339, with a trading volume of $152,745,585. With a live market cap of $676,612,842 USD, SPELL is now ranked #222 on CoinMarketCap. There are 81,140,730,301 SPELL coins in circulation, with a maximum supply of 196,008,739,620 SPELL coins.
SPELL 2022 price prediction
Because of the significant community, SPELL will be seen as a better choice, and its price will soar. The market's extreme bullishness or bearishness makes it harder to predict price movements. A Spell Token will cost around $0.012 in 2022. In 2022, the Spell Token's average price is predicted to be about $0.013 per token. Prices are expected to rise dramatically within the indicated range of the crypto market.
Axie Infinity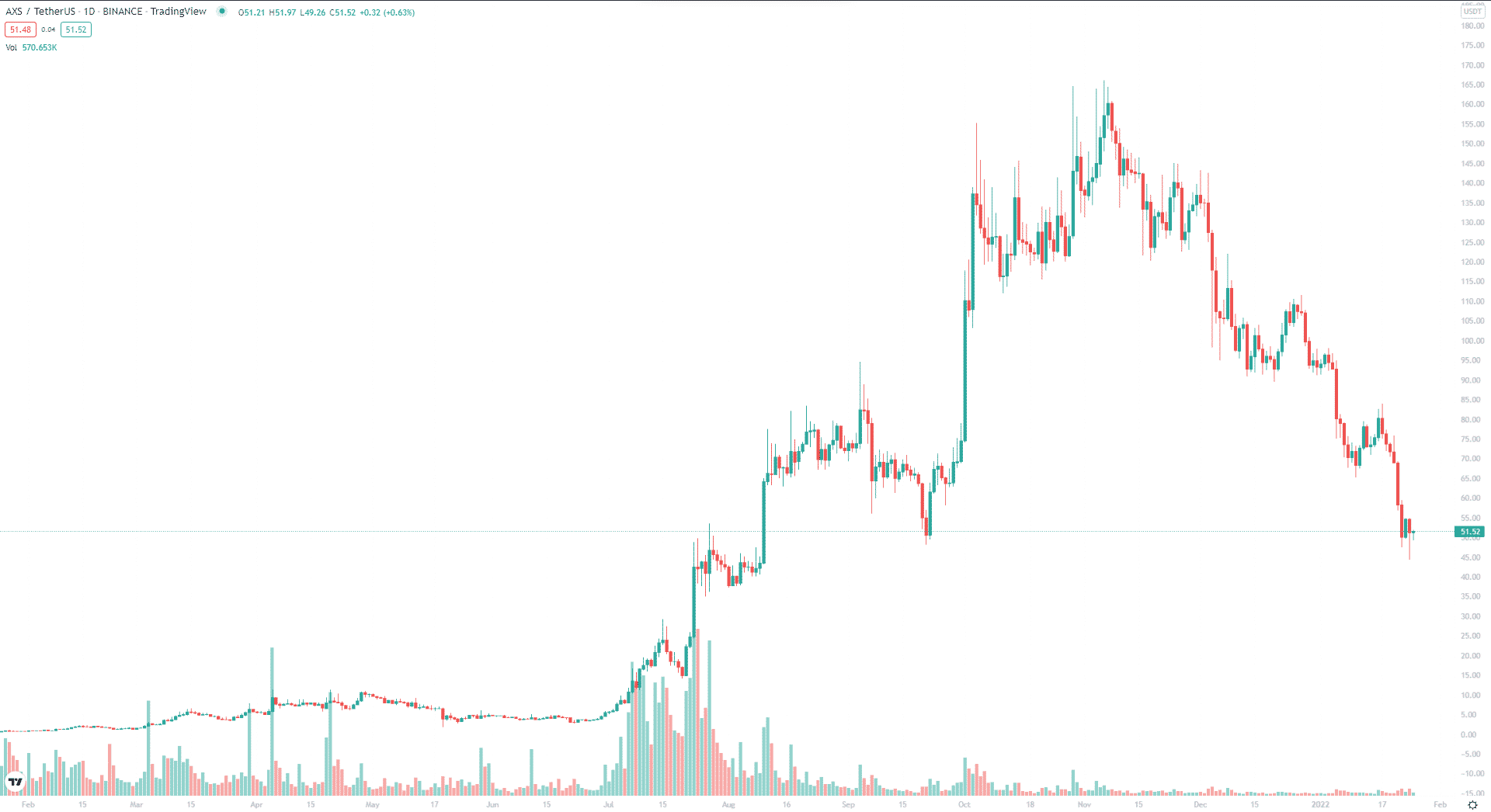 Another kind of game allows players to own beautiful animals as pets and train them to take on other pets in a dogfighting competition. Finally, Axie Infinity lets players make money by making their pets the last ones standing in the arena. In addition, gamers have a wide range of choices. Players may take their canines on a walk throughout the country of Lunacia, for example. They may buy property, dig for resources, create shops and buildings, go on adventures, and construct roads here.
Most special aspect
The blockchain allows for the game's whole economy to be monetized. Thus, all assets are available for trading. Everyone's standing and ability to advance in the game are enhanced by acquiring items with monetary value. It is done to make better pets sold in the arena for more money.
Price-performance
Between $133.52 and $50.88, Axie Infinity's price has ranged between a compound monthly growth rate of 27.50% and an extrapolated annual growth rate of -0.98% during the previous three months respectively. However, if we look at the last six months, then The price of Axie Infinity has fluctuated between $37.90 and $50.88, resulting in a compound monthly growth rate of 5.03 percent and an extrapolated compound annual growth rate of 0.80 percent.
AXS 2022 price prediction
Since cryptocurrency markets are unlikely to see any significant turbulence, the AXS token is well-positioned to cement its critical attraction for its users. Robust price growth for Axie Infinity Shards (AXS) has seen it burst past all barriers and reach the $80 level.
The Sandbox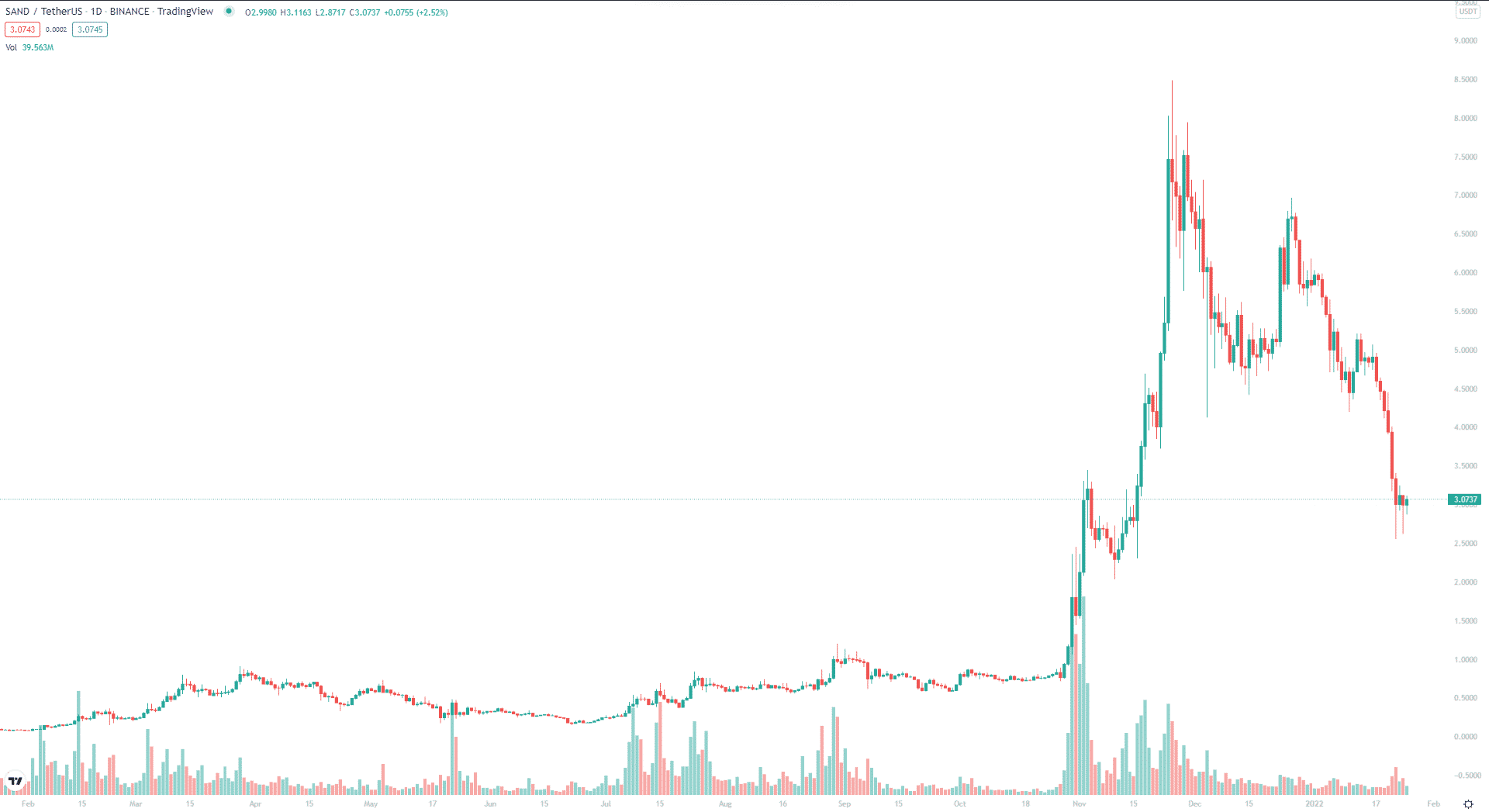 One of the most eagerly awaited projects on the blockchain was The Sandbox. The blockchain eventually made this enchanted world accessible to everyone. It is built on the Ethereum network and utilizes the SAND token.
Most special aspect
While playing in the Sandbox, which is an online metaverse in the vein of Minecraft, you may earn real money. Here, you may purchase real estate or even create your own game, which opens up additional potential for artists and game designers. Collecting items and leveling up in various video games is common for gamers and collectors. Several well-known video game companies already have a foothold in The Sandbox. The assets are owned by the players and maybe traded or sold to the highest bidder. SAND may be obtained through exploring and playing with the platform's different games.
Price-performance
Prices for Sandbox marked the yearly highs and all-time highs above $8.00 in 2021. It indicates a several hundred percent rises, making it an attractive investment opportunity. The asset took a jump from the yearly lows of $0.17. However, the price slumped to $2.55 during the end of 2021 drifted back to many investors. Still, the probability of recovering towards the previous highs is very high.
SAND 2022 price prediction
Due to an extensive user base, SAND will be viewed as a better solution, and the Sandbox price will soar. The market's extreme bullishness or bearishness makes it harder to predict price movements. In 2022, the Sandbox will cost $4.39. We can only receive a maximum price of $5.13. The Sandbox average price is predicted to reach $4.54 by the end of 2022. Prices are expected to rise dramatically within the indicated range of the crypto market.
Voxies
Voxies is a turn-based strategy game. Its combination of NFT and traditional gaming hopes to lower the barriers preventing many would-be gamers from participating. Their strategy seems to be working, as they've already been able to secure the services of several notable figures. For example, a former Ubisoft developer who worked on titles like Assassin's Creed and Far Cry is part of the team.
Most special aspect
Voxies's game features are exploration, combat, inventory management, and the ability to level up characters and equipment in non-crypto games like Diablo. Unlike many crypto games, Voxies may be played without a connected NFT, making it easier for newbies to get started. Even if you don't possess any Voxie NFTs, you can still use play-to-earn features to earn money for your time in the game.
Price-performance
The current price of Voxies is $1.56, with a trading volume of $8,707,764. The current CoinMarketCap ranking is 402, with a value of $89,557,819 USD. Currently, there are 57,449,187 VOXEL coins in use out of a total of 300,000,000 in circulation.
VOXEL 2022 price prediction
The price projection for 2022 is upbeat. By the end of 2022, analysts expect VOXEL will be priced at a maximum of $2.49. As an alternative, the Voxies' future seems brighter than ever. Based on the market, VOXEL's price in 2022 will be between $2.00 and $2.07 on average. There is a $2.00 to $2.49 maximum pricing range for the VOXEL in 2022, as stated in the same tagline.
Final thoughts
We may see more innovation in the blockchain gaming business in the future now that we understand all of the new possibilities that come with blockchain gaming. But even though many games are nearing their peak potential, the options remain limitless. A new generation of gamers is joining the fray all the time. It has a lot of potential because it is composed of enthusiastic and devoted people. Those who fall into this category look to the industry regularly for new and exciting content. Because of blockchain, it is now possible to meet their needs.