Every forex trader looks for strategies in the market because no one can succeed without them. Out of so many strategies, not all of them are complicated to learn and use; some forex trading strategies are easy to grab and can be used by beginners and even professionals.
Day trading especially is more stressful as making some good pips in a day is not always possible, as forex, like any other trading, is a game of probability.
For once, let us not talk about not more but just 25 pips a day in currency pairs. How will 25 pips a day in green affect you?
Just think it over and analyze. Here we will present you this 25 pips a day forex trading strategy that is simple yet effective. Also, we will help you how to use this strategy and how it works and what to keep in mind before you start trading.
What is a forex strategy?
It is a common word for every one of us, but for someone new to this trading industry, a forex strategy is a set of rules and protocols that a forex trader uses to profit in the market.
In technical terms, the traders use a forex trading strategy to determine the price movement of a market and decide when to buy and sell a particular asset.
You can use any forex strategy to trade the market, but every strategy does not work the same. Some work in a volatile market, and others do not. Some work only in commodities and others in indices, and so on. It all depends on how good you become over the period after using it.
How to grab 25 pips/day with the strategy?
This 25 pips a day forex trading strategy is nothing but a system or a technique to enter the market and exit immediately as soon as you are 25 pips in profit.
"Immediately" means scalping, and for that, you will need to trade a highly volatile asset. The best currency pairs to go for are GBP/JPY and GBP/USD. The reason for choosing them is their highly volatile, and seeing 70-100 pips in a trading session is expected.
Let's look into the criteria for using the 25-pips a day forex trading strategy:
The first important thing to do is to use the GBP/JPY and GBP/USD currency pair to trade this strategy as it's more volatile.
Now you need to select a 1hr time frame chart. The reason to do it is that you need to keep track of hourly candlestick as you will be placing the trade at the London session open at 7:00 AM GMT.
Now, wait for the last candle to close and the London session to open at 7:00 AM GMT.
Moving forward, as soon as the candle closes, you need to place two pending orders. These orders will be a buy and sell stop. Remember, you are putting two trades simultaneously, both in a different direction.
Once the London session opens, the price fluctuation will activate one of the orders; you immediately have to close the other order.
Your order will be open very soon because the market volume increases when the London session opens, and there is a sudden move in the market. This move now in GBP/JPY and GBP/USD is sufficient to fetch you 25 pips a day.
Managing your risk
Trading is risky, and we all know that, but if you trade wisely and make the right decision by keeping calm and following proper risk management, entering even the wrong trade won't harm you.
Once your trade is open and running, you must not be greedy and close the trade once you reach your profit target of 25 pips. Place your stop loss after ten pips below the previous low or high depending on the buy or sell open trade.
Remember to always go to a lower time frame from the daily time frame, say 4hr to place your stop-loss. If you have a floating loss or profit, you can close it by the end of the day and again wait for 7:00 AM GMT the next day.
Note: please do not trade when you have any major news event.
Bullish example
As you can see in the GBP/USD bullish chart below, the price made a bullish pin bar candle, pushing and rejecting the price from down. Here it would help if you placed your trade two pips away, both buy and sell. Immediately at 7:00 AM GMT, you can see an upward movement in the price as London opens with a large volume. You would have been entered into the buy trade, giving you a profit.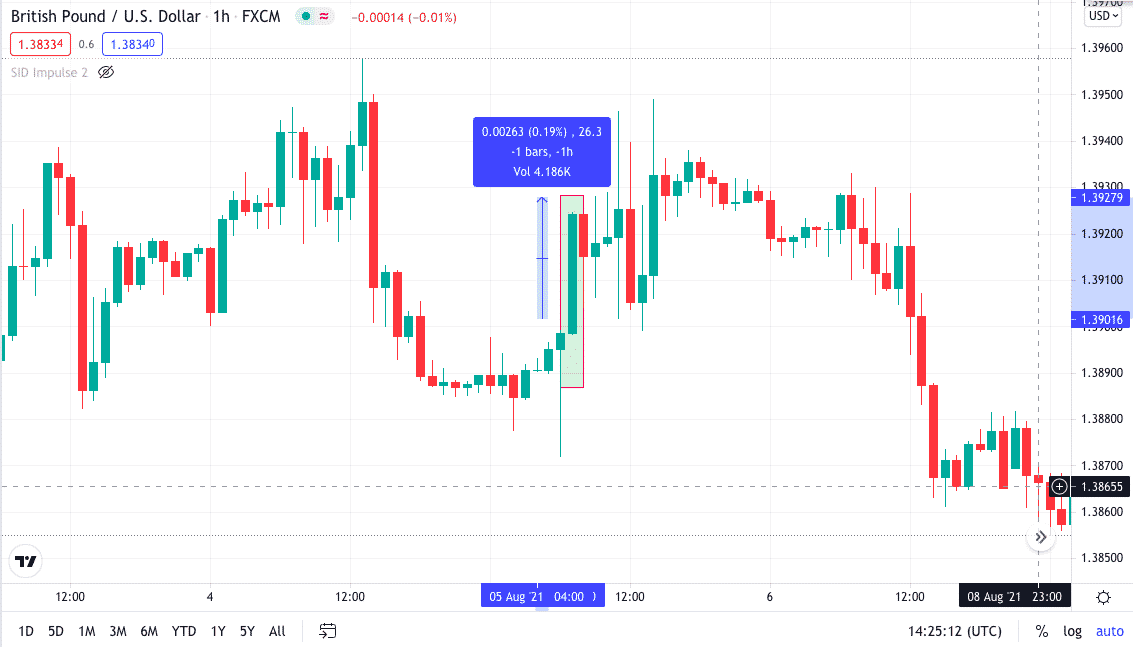 Bearish example
As you can see in the GBP/USD bearish chart below, the price was heading down and was making a swing low. There was a nice bearish candle made after the close of the one-hour candle. After the London session opened at 7:00 AM GMT, the market pushed more down in one direction, helping you fetch 25 pips easily. It was easy to grab 25 pips in a single candle, as you can see in the chart below.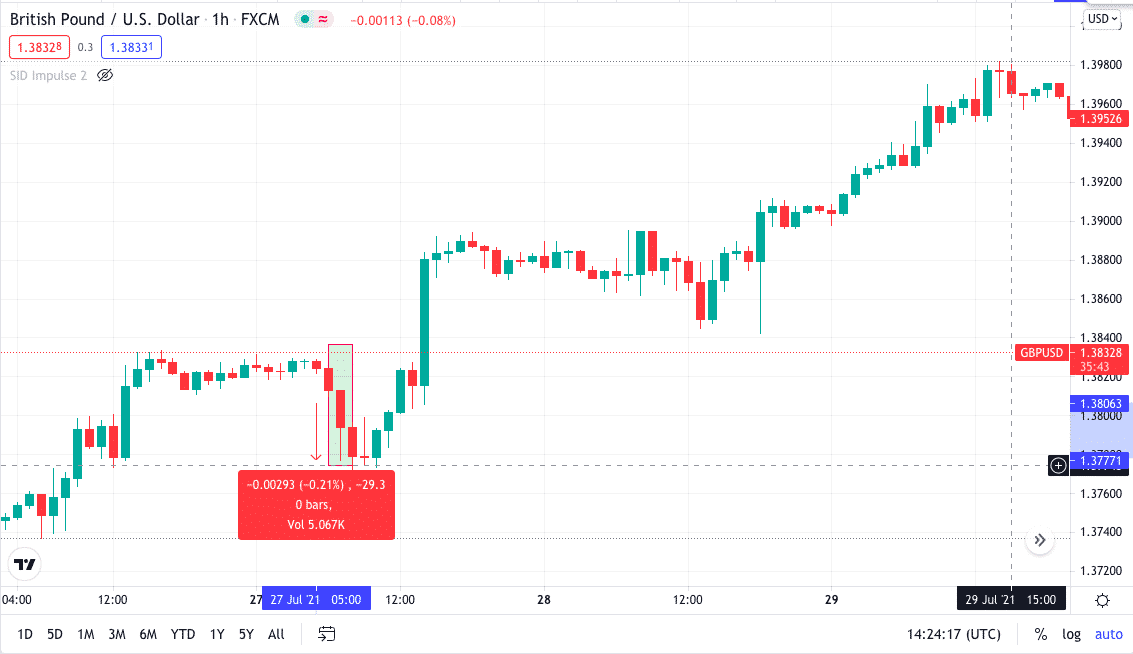 Final thoughts
The 25 pips a day is an excellent trial and tested strategy, but as we all know, forex or any other investing industry is risky. You must know how to manage your risk. Do not take big lot sizes and avoid trading them when there is significant news coming up.
The strategy is more beneficial for a trader looking into trading as a part-time or additional source of income or even for a full-time trader with a good trading account.