PZ Trend Trading is a FX trading indicator that has been in the market for some time now. Since December 2013, this tool has been helping traders to find trading opportunities from established trends. The vendor updated it to its current version 6.2 on April 25, 2021. In this PZ Trend Trading review, you will discover that this system is characterized by a huge drawdown, many losses, and a trading strategy that is ineffective. Therefore, you should not trust it.
Vendor transparency
Arturo Lopez Perez is responsible for creating this system. He is a programmer at PZ Trading Solutions where he is also the director. According to his profile, he has been creating properly coded FX indicators and EAs for the Metatrader for the last 10 years. Some of his other products include PZ Lopez Trend, PZ Order Block, PZ Day Trading, and PZ Turtle Trading among many others. However, we are still unsatisfied with this information. Arturo should have done more to convince us of his credibility by, for instance, showing us proof of his qualifications, the people he works with and their expertise, accolades, contact details, etc.
How PZ Trend Trading works
This indicator has several features which are described below:
This indicator is non-repainting
Implements a multi-timeframe dashboard
Executes email, visual and sound alerts
Has the ability to assess its quality and performance
Can identify lucrative pullbacks, breakouts and early reversals
Seeks to obtain profits from already established trends without getting whipsawed
Incorporates a multi-symbol and multi-timeframe scanner that scans all the instruments in the Market Watch
Works on both the MT4 and MT5 trading platforms
Traders should not to exit the trade at the best possible point, and can decrease the position management to a simple trailing stop
Trades daily and weekly charts
Timeframe, currency pairs, deposit
As per vendor claims, this indicator has not been created to trade trend changes on small time frames. Therefore, this means that it trades on large time frames. It works with many currency pairs and they include EURJPY, USDCAD, XAUUSD, EURUSD, AUDUSD NZDUSD, GBPUSD, GBPJPY and USDJPY. Traders are advised to trade weekly, daily and H4 charts.
Trading approach
PZ Trend Trading mainly tracks the trend and everything that occurs during a trend. The vendor says that this strategy particularly focuses on established trends. It then times pullbacks, breakouts and potential reversals to identify the best trading opportunities for the trader.
Pricing and refund
You can buy this product either on its official website or the mql5 market place at $299. This price is too high for an indicator. There is also the option of renting it at $49 for 1 month on mql5. The vendor offers a 7-day money-back guarantee which we believe is similar to no money-guarantee at all. This is because 1 week is too short to determine the efficiency of the system. Therefore, you can lose a lot of money in case you decide to buy it and are discontented with its services in the end.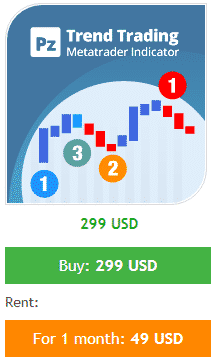 Trading results
Backtesting reports are not provided. We do not know why the vendor has decided not to post this data considering how important it is. Traders use these statistics to ascertain if the strategy being applied by a trading tool is effective or not. This way, they can know what to expect in the live market if they decide to purchase it.
Fortunately, live trading results for the indicator are available on myfxbook.com.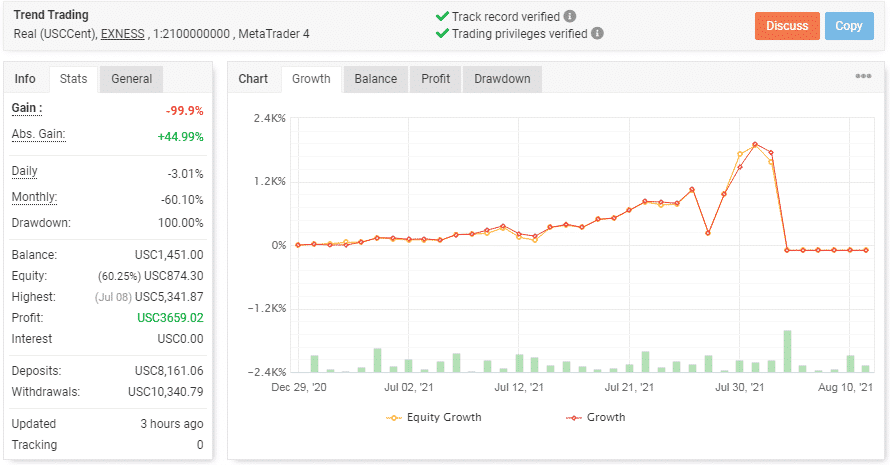 It is evident that this is a real USCCent account that works on the MT4 platform and is being operated under EXNESS brokerage. It was launched on December 29, 2020 and deposited at USC8161.06. The system has made a profit of USC3659.02. However, the gain value is negative (-99.9%), a sign that the account is not doing well. A total of USC10340.79 has been withdrawn, and the account balance has been reduced to USC 1451.
The indicator is making monthly losses at a rate of -60.10%. This is alarming to say the least. The drawdown which is 100% is scary. It will be very hard for the account to recover the losses made.

Up to this point, the indicator has executed 223 trades with 2240.4 pips. The average win is 108.54 pips whereas the average loss is -122.66 pips. Clearly, the account has a more likelihood of making losses than wins. The number of lots (88.08) is also relatively big, a sign that the indicator applies a high-risk approach. The profit factor (1.36) shows us that the system generates small returns. The win-rates of 52% for longs and 61% for shorts are also very disappointing.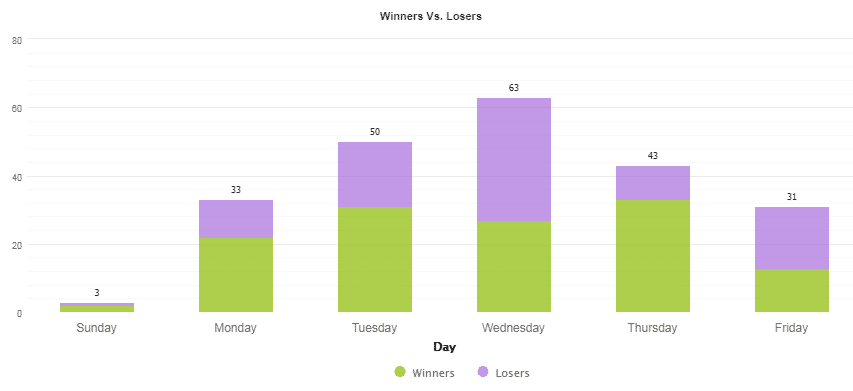 Wednesday is the most traded day (with 63 deals).

The account can be easily ruined. It will only take 8 consecutive losses for the account to be wiped out entirely.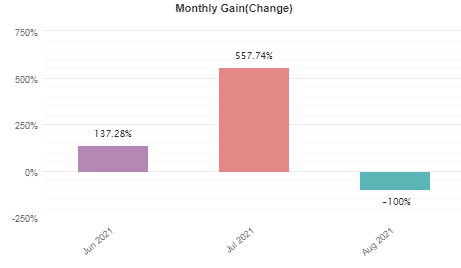 The account made unbelievably high profits in June and July. However, it has incurred huge losses (-100%) in August.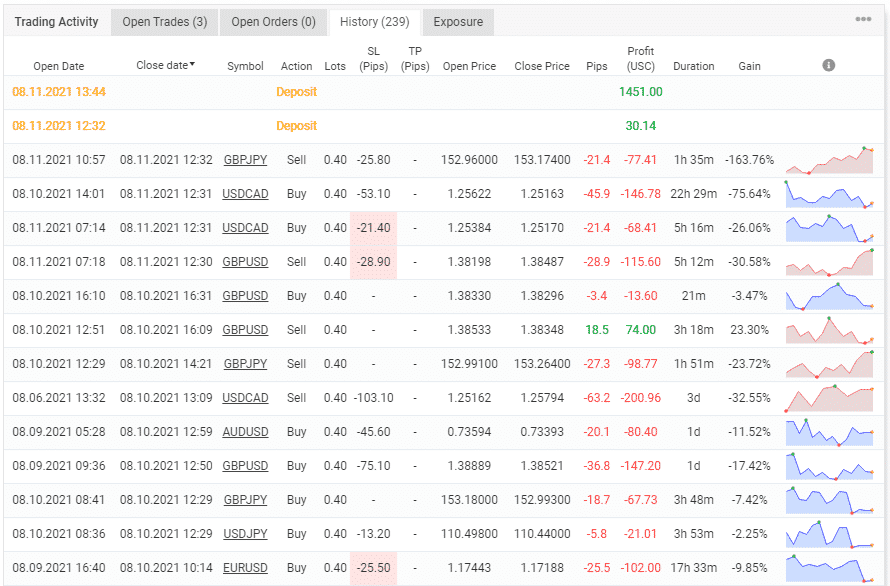 It is clear that the account made a series of losses. It only utilized trailing stop losses. It traded with fixed lot sizes (0.40) on large time frames.
People say that PZ Trend Trading is…
A good indicator. Nonetheless, we are reluctant to believe these claims for several reasons. Firstly, the reviews are only 3 and hence inadequate. Secondly, it is very suspicious that only 3 people have given their testimonials bearing in mind that the product has been in the market for almost 10 years. Lastly, the feedback may have been manipulated to suit the vendor's interests.
Verdict
Pros
Live trading results are available
Is fully automated
Cons
Massive drawdown
Backtest results are missing
Not profitable
Pz Trend Trading Conclusion
We can all see that PZ Trend Trading is unprofitable. You can only expect to make losses should you decide to invest in it. Its drawdown is very scary and can only mean one thing-this indicator can easily crash your account. The lack of backtest results also leads us to suspect that the system did not perform that well in the past and that's why the vendor did not post them. Therefore, we advise you to steer clear of this product if you do not want to cry foul.