4C-Trading offers automated crypto trading services that enable you to exploit every profitable opportunity. The platform offers trading on autopilot with its smart bots that are designed to identify and execute orders with precision. This platform is integrated with Binance and can trade on BTC, ETH, BNB, SOL, and LINK.
What Is 4C-Trading?
| | |
| --- | --- |
| Headquarters: | Belgium |
| Founded: | 2020 |
| Supported Exchanges: | Binance |
| Native Token: | N/A |
| Supported Fiat Currencies: | Yes (USD) |
| Trading Pairs: | N/A |
| Minimum Deposit: | N/A |
| Deposit Fees: | No fees |
| Withdrawal Fees: | No fees |
| Customer Support: | Email and online chat window |
Main features
The significant features of this service in the vendor's focus are:
Algorithmic smart bots work on various crypto coins ensuring your asset increases manifold
Accurate margin signals are generated by the bot
A professional dashboard makes it easy to manage your investment and trades
A trading community of professional traders that allows users to access daily BTC updates, on -demand analysis, and channel and community chat.
How does the bot trade?
The bot is fully automated and helps in protecting your capital and increasing it in a safe and progressive way. The stable monthly growth of your portfolio in USD is the chief objective of the platform. The bot works on the Binance exchange account you have and executes orders based on the market fluctuations.
Trading approaches of 4C-Trading
We could not find info on the strategies used by the service. The vendor claims that they cannot reveal the approach because of a confidentiality clause. However, the vendor states that the strategies are well-tested and reflect the market situation.
Is 4C-Trading profitable?
As per the vendor, the bots have a proven record of more than 30 months of high returns. However, the results are not third-party verified so we are unable to assess them properly.
How to get started on 4C-Trading?
Here are the steps needed to get started on the bots:
Subscribe to the service by visiting the official site and choosing a pricing package
Create an API key on your exchange
Use the API key to connect the exchange account to the dashboard of the platform
Now the smart bots will start working on your behalf
How beginner-friendly is 4C-Trading?
The interface is user-friendly and all features and functionalities are easy to access and use.
4C-Trading compatibility–exchanges and coins supported
Binance is the only exchange this platform integrates with. It can trade on BTC, SOL, BNB, LINK, and ETH.
Commissions, deposits & withdrawals
The bot is software for executing trades on your behalf. It does not hold or withdraw funds.
4C-Trading pricing details
Three pricing plans are present namely Beginner ($59/month), Advanced ($139/month), and Expert ($179/ month) packages. Full access to deep market analysis, channels, chat, smart bots, and Traders Trade signals are present for all plans. They differ in the maximum capital you can use per bot which ranges from $2,500 to $10,000. A free trial for 7 days is present. When compared to the market average, we find the pricing is expensive.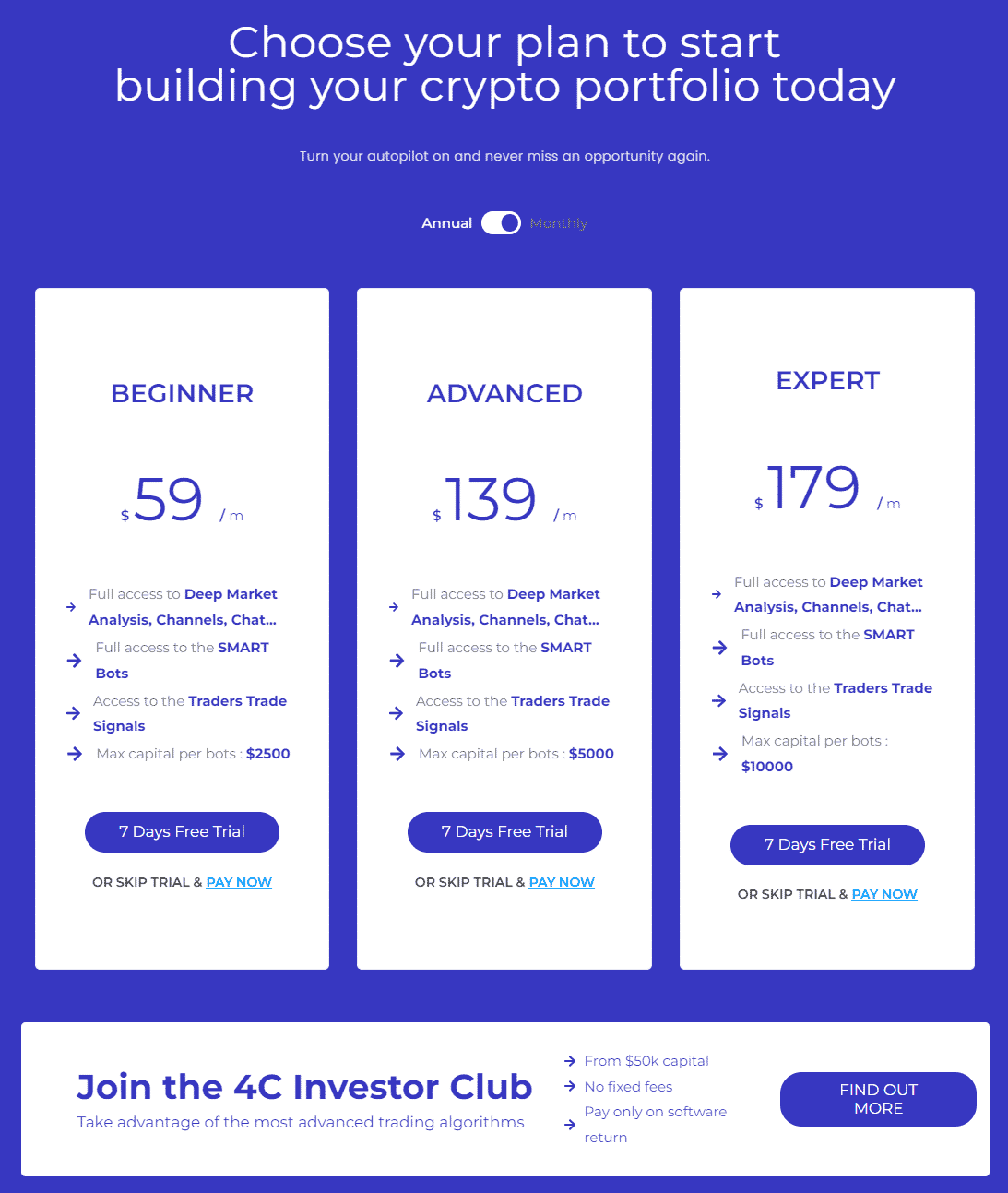 Performance and security
The vendor provides performance reports that can be accessed only by registered members. Further, they are not third-party verified results. We could not find info on the security methods the service uses other than the use of the API keys to connect to the integrated exchange.
Is 4C-Trading regulated?
We could not find info on the license and regulation details of the system as the official site does not carry the relevant information.
4C-Trading company reputation
As per the info present on the official site, the company was started in the first quarter of 2021 by Benjamin Duval. We could not find info on other team members, their experience, and their expertise.
Customer support 
For support, an FAQs section, an online messaging option, and links to Telegram, Twitter, Facebook, LinkedIn, YouTube, Medium, and Spotify are present.
Public reviews
Unfortunately, we could not find user feedback for this platform on reputed review sites such as TrustPilot.
4C-Trading review summary
4C-Trading promises trading on autopilot with successful returns. The traders' community, smart bots, intuitive interface, and free trial are benefits of the platform. However, the lack of a proven track record, limited exchange support, and expensive pricing are shortcomings you need to mull over before you decide on using the system.