Advanced Scalper is a fully automated trading system that has been built after years of development work. As per vendor claims, this robot is backed by 3 years' worth of live trading results.
This EA has a spread filter and a slippage control algorithm that, according to the vendor, lets it avoid major losses during heavy slippage. However, it is an exorbitantly priced system for which there is no money-back guarantee. Furthermore, it suffers from a lack of reputation, which makes us wary about investing in it.
Vendor Transparency
This robot has been developed by Wim Schrynemakers, a trader based in Malta who works for Profalgo Limited. We don't know what kind of experience this person possesses, and no contact details are provided for the company. So the only way to get in touch with this person is to send them a message via the MQL5 website. Mr. Scrynemakers has developed other systems in the past, such as Night Owl, Momentum EA, Grid King, Red Hawk, and Swing Trade Pro.
How Advanced Scalper Works
Advanced Scalper uses a stop loss with every trade. It has an advanced stop-loss management system and a spread filter that lets it avoid trading when the market conditions are not favorable. Although the system is fully automatic, you can adjust the trading entries as per your trading style.
It has an exit strategy that you can use with manual trading or for trades placed by other EAs. According to the vendor, the robot has survived high-quality backtests performed with 99% tick data. The vendor recommends that run this robot on brokers having low spreads, swift execution, and low commission. It is further advised that you use an ECN broker.
Timeframe, Currency Pairs, Deposit
Advanced Scalper trades in three pairs, namely EUR/USD, USD/JPY, and GBP/USD. For running the full setup, the vendor recommends a minimum balance of $150. Although the EA can run on any timeframe, you should H1 or H4 for the entry points to be secure.
Trading Approach
The vendor does not provide any explanation for the trading strategy used by Advanced Scalper. But from the name of the EA itself, we can assume that it is a scalping strategy. Scalper bots typically place a large number of trades every day, trying to make small profits from each trade. The strategy takes advantage of the small price shifts that occur throughout the day, and it requires the system to execute trades quickly and efficiently.
Pricing and Refund
Advanced is sold on the MQL5 website at the price of $290. We think this is too much for a scalping robot, and besides, the vendor does not provide a money-back guarantee. The vendor claims that the true price of the robot is $990 and that there are only 2 copies left to be sold before the price changes to $390. This seems to us like a cheap marketing tactic.
Trading Results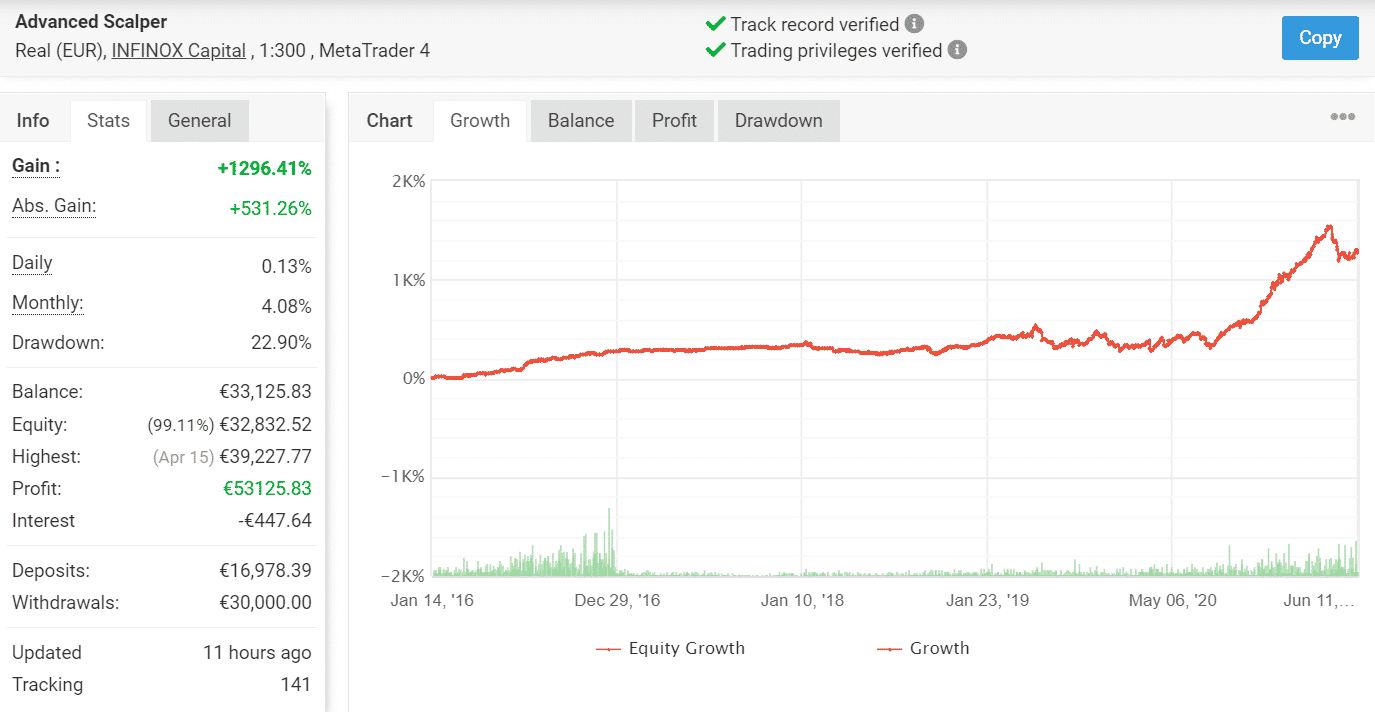 This is a live trading account on the Myfxbook website showing the trading results for Advanced Scalper. A total of 6167 trades have been placed through this account, out of which 4617 have been won. For this account, the robot has a win rate of 75% and a profit factor of 1.30. This tells us that this EA is not suitable for traders who wish to make large profits within a short span of time.
Another thing to note about this account is the drawdown of 22.90%, which is slightly high. Currently the daily and monthly gains are 0.13% and 4.08% respectively.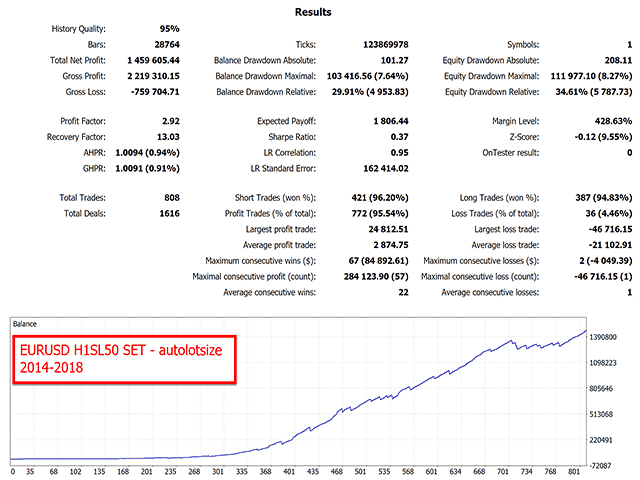 Here we can see the results for a backtest conducted from 2014 to 2018. We can see that here also the relative drawdown is a bit high. For this backtest, the EA had a win rate of 95.54% and a profit factor of 2.92. Thus, compared to the historical performance, the live trading results are not that impressive.
People say that Advanced Scalper is…


A scam. On the MQL5 website, there are a few customer reviews where the users have complained about high drawdown and low profit. This is in line with what we saw in the live trading results. There are no verified reviews on trusted third-party websites, which tells us that this robot does not have a good reputation.
Verdict
| | |
| --- | --- |
| Pros | Cons |
| Verified live trading results | Overpriced |
| | High drawdown |
| | No money-back guarantee |
Advanced Scalper Conclusion
Advanced Scalper is not an EA you should invest in, primarily because it is expensive and because th vendor does not provide a refund. Moreover, it has a high drawdown and is only capable of making small profits.