Belkaglazer EA is a system that enables you to trade with 10+ diverse strategies on various markets, including Crypto, Forex, Indices, and Forts. It is specifically designed for professional traders and comes with 10 activations. The developer assures us that the algorithm doesn't utilize the dangerous components of money management, but admits it can have a long stagnation period.
Vendor transparency
This robot was created by Dmitriy Shal, a Russian developer who describes himself as a full-time nerd and trader at Belkaglazer. He possesses programming skills and a bachelor's degree in economics. Shal says he began trading back in 2006 and took 10+ years to create this algorithm while researching the market and creating several trading models and strategies. BelkaMiner is the other product he has developed.
How Belkaglazer EA works
We have outlined some of the features of the system below:
It comes with a variety of filters like advanced news, trend, volatility, and range filters, meant to enhance the quality of trades.
All settings are fully customizable.
The system protects every trade using a stop loss.
You don't need low delay (latency) with your VPS or fast execution speed with your broker.
It does not utilize risky strategies like grid, martingale, or hedging.
The robot supports stop/limit/market orders and works with instant/market execution and automatically adjusts for 4 and 5-digit quotes.
It is based on these four models: Pivot, PriceChannel, PRNG, and PriceAction.
Timeframe, currency pairs, deposit
Belkaglazer works with the following currency pairs: AUDCAD, AUDNZD, EURAUD, EURCHF, EURNZD, EURUSD, GBPCAD, GBPCHF, GBPUSD, NZDUSD, USDCAD, USDCHF, USDJPY, and XAUUSD. The vendor doesn't state the timeframe or the deposit the system works with.
Trading approach
A collection of several strategies are used in trading. These include but are not limited to counter-trend, trade momentum, scalping, breakout, and mean-reversion. The vendor explains that the EA operates open positions utilizing stop-loss, take profit, trailing-stop, time-stop, and other tools. It also provides you with the chance to add different money management techniques like pyramiding, anti-martingale, and averaging to any strategy.
Pricing and refund
Belkaglazer is one of the most expensive EAs we have come across yet. As such, the vendor wants you to pay a whopping $19999 for it. Unfortunately, a money-back guarantee is not even offered.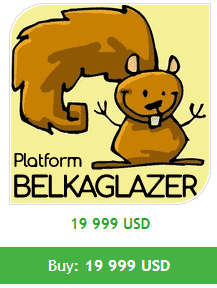 Trading results
A look at the above backtest results reveals that the EA traded with the EURUSD currency pair using the breakout strategy. A total of 490 trades were conducted on the M30 chart between the 2003 and 2019 trading period. As a result, a profit of $6081.01 and a drawdown of 9.95% were made. The latter parameter proves that the system engaged in safe trading activities.
The success rates for short (62.13%) and long positions (60.78%) were average and hence uninspiring. A profit factor of 1.90 was reported.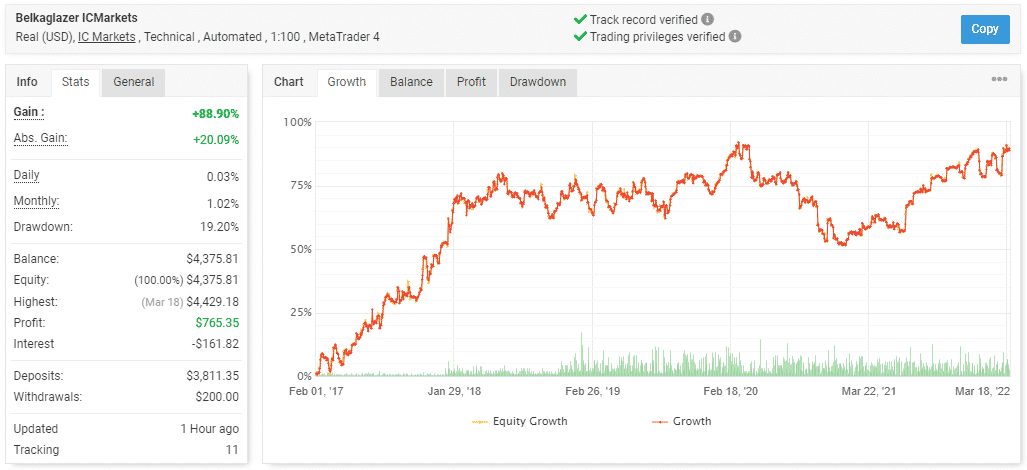 Belkaglazer began trading on the account about 5 years ago and has only succeeded in generating a profit of $765.35 for it. The daily (0.03%) and monthly profit (1.02%) values highlight the low return rate of the EA. Unfortunately, the losing streak (as illustrated by a drawdown of 19.20%) is considerably higher, which makes for a poor risk/reward ratio of 18.8:1. The overall gain is 88.90% so far.

We have 4302 completed trades that reported losses amounting to -5229.9 pips. The poor performance of long (60%) and short positions (65%) further demonstrates how the EA has a hard time spotting profitable positions. The lots traded are 152.75, while the profit factor is 1.07.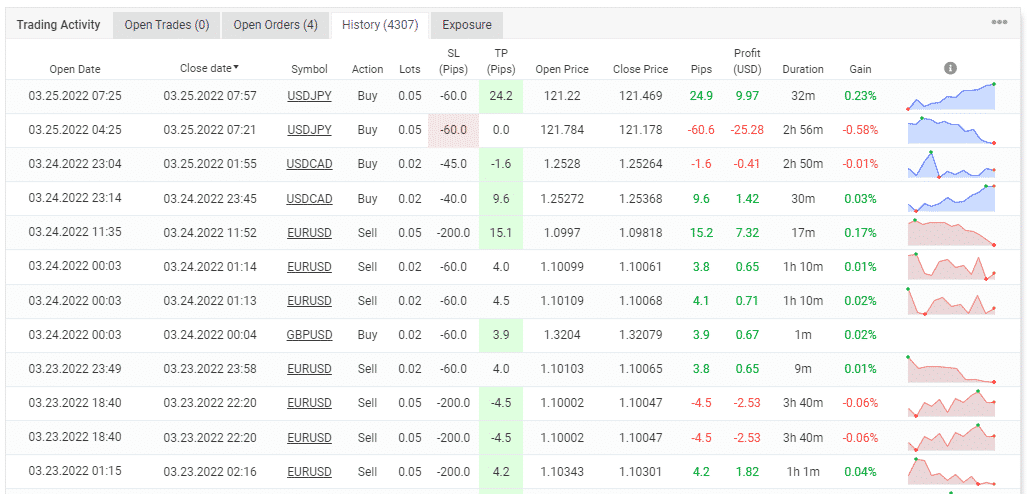 The EA traded with different lot sizes and currency pairs, attaining small profit amounts and losses from some trades in the process. SL and TP targets were attached to each order.
People say the Belkaglazer is…
We don't really know. There are no customer reviews for this system on the common Forex verification websites like Trustpilot and Forex Peace Army.
Verdict
Pros
Low drawdown
Support for many currency pairs
Customizable settings
Cons
Low profitability rate
Unfavorable risk/reward ratio
Costly
No people feedback
Belkaglazer EA Conclusion
If you are looking for a low-risk EA that has customizable functionalities and supports numerous currency pairs, then Belkaglazer might be it. However, the system is overpriced, and based on the small income it generates, we are concerned it may take you years to break even.