Bitsgap offers to help you discover the best trading opportunities in the crypto market to optimize your profits. It also promises to minimize your trading risks through the use of stop losses and other risk management approaches. Indeed, the system is good because it will improve your investment portfolio significantly.
What is Bitsgap?
Bitsgap is an automated trading system that connects to multiple exchanges, allowing the user to trade thousands of assets on a single platform effortlessly.
| | |
| --- | --- |
| Headquarters: | Tallinn |
| Founded: | 2018 |
| Supported Exchanges: | Coinbase Pro, Bitfinex, Binance, and Poloniex, Bybit, Okex, Huobi, HitBTC, Gate.io, Bithumb, Liquid, Gemini, Bittrex, FTX, and KuCoin |
| Native Token: | N/A |
| Supported Fiat Currencies: | Yes (EUR, USD) |
| Trading Pairs: | 20+ |
| Minimum Deposit: | Depends on the strategy used |
| Deposit Fees: | No fees |
| Withdrawal Fees: | No fees |
| Customer Support: | Email, Live chat, FAQs, Knowledge base |
Visit Bitsgap
Main features
These are the major features the bot offers:
It allows you to automatically trade virtually every coin in the market.
The system comes with predefined strategies.
It has fast TradingView charts for assessing bot performance.
A trading terminal is included to offer a view of the real-time performance of assets at a glance.
How does the bot trade?
Bitsgap connects to several crypto exchanges from where it accesses the coins it will use to trade. In essence, the criteria it uses to buy and sell orders will mainly depend on the strategy you choose to work with.
Trading approaches of Bitsgap
Bitsgap offers many bots to assist you in trading, including scalping, arbitrage, grid, futures, spot, and flat (sideways trends) bots.
Is Bitsgap profitable?
Yes. The platform can help you make profits as long as you set up the bots correctly and know what you are doing. Also, trying to capitalize on some of its features, such as take profits, trailing up and down, as well as trailing stops, will help optimize your income.
How to get started on Bitsgap
You can get started on Bitsgap with a few easy steps. Visit the official website. Locate the "Sign up" or "Get started for free" button and click on it. You will be taken to a page requiring you to provide your email address and password. Open your inbox and click on the link provided to confirm the registration. Once your email address is verified, you can begin using Bitsgap for your trading purposes.
How beginner-friendly is Bitsgap?
Beginners can easily learn to navigate the platform because all the registration and setup instructions are presented in a simple manner. A knowledge base is also available to make your interactions with the interface as smooth as possible.
Bitsgap compatibility-exchanges and coins supported
The team has integrated more than 10 major crypto exchanges, so you can work with market leaders like Kraken, Coinbase Pro, Bitfinex, Binance, and Poloniex. Other supported exchanges include Bybit, Okex, Huobi, HitBTC, Gate.io, Bithumb, Liquid, Gemini, Bittrex, FTX, and KuCoin. Working with these exchanges also means that you have access to a wide variety of trading coins, including BNB, Litecoin, USDC, ETH, BCH, XLM, ADA, AAVE, etc.
Commissions, deposits, and withdrawals
A minimum deposit is needed to begin trading the bot with the selected parameters. If you have inadequate funds, a notification message will pop up indicating the amount you should add. Though Bitsgap has a withdrawal option, users are advised to keep it disabled to keep their funds safe. If the software discovers that the API key you want to add permits the withdrawal of funds, then your API key will be declined automatically. Moreover, Bitsgap won't take any commissions from each trade you make on it or on your exchange.
Bitsgap pricing details
Here are the pricing plans the vendor is offering, along with the features included in each of them:
Basic —$29/month or $24/month
2 active trading bots
Grid bots
Unlimited smart orders
Advanced—$69/month or $57/month
5 active trading bots
Grid bots
Unlimited smart orders
Futures bots
Trailing up and down for bots
Pro—$149/month or $123/month
20 active trading bots
Grid bots
Unlimited smart orders
Futures bots
Trailing up and down for bots
Take profit for bots
Performance and security
The platform applies some measures to ensure your security while trading on the platform. For example, the software ensures that there's restricted access to your API key. So, you are the only person that makes decisions on the kinds of settings the key should have. Moreover, your API keys and passwords alike are always encrypted, and no one apart from you and your exchange can access them. Other security strategies in place include the use of firewalls, 2FA, RSA 2048 encryption for storing info, not sharing user's data with third parties, etc. This is great because it ensures that hackers won't be able to permeate your account and steal any data.
Is Bitsgap regulated?
Bitsgap is a legitimate platform with a strong team of entrepreneurs, investors, and software engineers backing the development.
Bitsgap company reputation
This app was developed by Bitsgap Holding OU with the registry code—14004763. The headquarters of the company are in Tallinn, Estonia. At the helm of the company is Maxim Kalmykov. He is the CEO and works closely with Dmitri Laush, Sergei Verbitski, and Jevgeni Avdeev, who carry the titles of Chief Strategist, COO, and CTO, respectively. The other vital members of the team include Anatoli Girenko (CFO) and Ervin Kougija (customer support).
Customer support 
To ask for help regarding the service, you are advised to email or chat live with the customer agents. But before you do that, it would be prudent to visit the platform's knowledge base and FAQs sections. They cover a variety of topics regarding the service that will help you find solutions to problems without asking for help.
Public reviews
Overall, customers have rated Bitsgap at 4.6/5 on Trustpilot. Clearly, a significant portion of the 400 traders who have commented on the service are very happy with it. Based on the few reviews below, you can see that the platform is easy to use and provides responsive customer service. So, you stand to gain from it.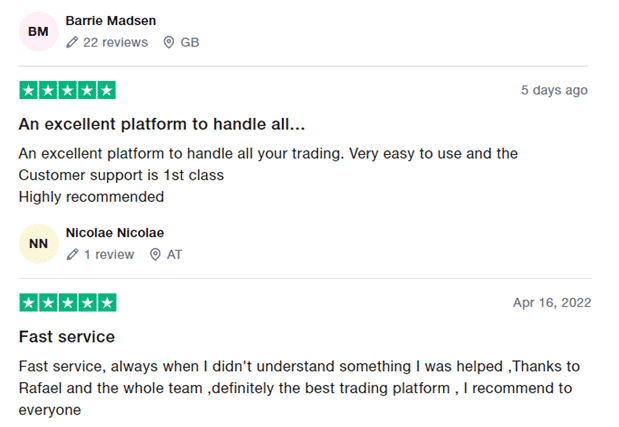 Bitsgap review: upsides and downsides
Upsides
Excellent rating on Trustpilot
Team members are introduced
Uses high-end encryption
Multiple predefined strategies
Regulated
Downsides
Some pricing plans are expensive
Visit Bitsgap
Bitsgap Crypto Bot Conclusion
Bitsgap offers a broad range of strategies that help you leverage different trading opportunities in the market. The excellent bot rating also suggests that these strategies work and can increase your investment. Furthermore, your money is safe with Bitsgap, thanks to the watertight security measures employed. Last but not least, the system is well-regulated by a team of highly qualified professionals. This reduces the likelihood of programming errors to a great extent.