Champion EA is a system that works with the various cross pairs to keep the account profitable. The presentation looks average and doesn't provide extended explanations about how the system functions.
Vendor transparency

The developer has an average level of transparency because we can read information about him. He's from Russia and he has 3 years of MQL5 trading experience. There are 48 products with 22 signals on the board. His portfolio is rated as 4.7 from 5 possible based on 838 reviews.
How Champion EA works
We have some details, features, and settings explained. So, we have grouped them up in the following list.
The robot can help us with automatic orders execution on our terminal.
There are possibilities to open orders on the five symbols.
It can reduce drawdowns if needed.
The current price is $799.
The previous ones were $499 and $1250 for a single real account copy.
The advisor opens orders based on NFA and FIFO rules.
It works with low drawdowns that are fewer than 10%.
It doesn't require us to have proper trading experience.
The owner provides a VIP channel for his clients.
There is a dashboard panel that provides information about account status.
We can trade from a single chart.
We can customize the robot as we want.
We have to work on the Hedge account only.
The advisor can handle average spreads.
We can work on an ECN account and a VPS service.
The robot opens orders on the market often.
Timeframe, currency pairs, deposit
We are allowed to trade on the H1 time frame.
There are five pairs to open orders: AUDCAD, NZDCAD, EURCAD, GBPCAD, and AUDNZD.
The balance should be over $100.
Trading approach
The advisor seeks for trading opportunities.
It calculates an entry point.
Then, it places an order with precalculated SL and TP levels.
Pricing and refund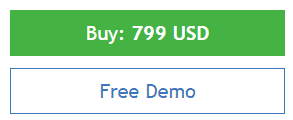 We can purchase a copy of the advisor for $799 and work with it on a real account. The dev removed a subscription option for $299 for three months. It's an unfriendly move.
Trading results
As usual, this developer doesn't provide people with backtest reports. We treat this as a con because it's important to understand how the system worked with the past tick data and what results it could manage to achieve.

We have a real, well-deposited ($10,000) account on RoboForex. The leverage was set at 1:500. The maximum drawdown is 40.7%. The maximum deposit load is 14.9%. The win rate is 78.9%. We have the lowest possible reliability of the system. The account has grown 81.02% since the beginning.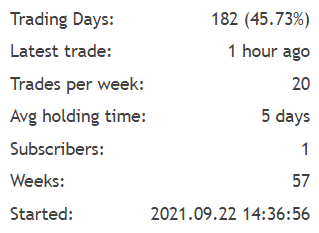 An average trade frequency is 20 orders weekly. The account was deployed to trade on September 22, 2021. There's only a single subscriber on the board.
The system didn't trade at the end of 2021 successfully. So, we have to wait for some months more to be sure this failure won't happen again.

The system applies to Martingale from time to time. It also unites some deals in short Grids.

The system has executed 653 deals. The best trade is $1624.47 when the worst trade is -$770.84. A recovery factor is 6.89 with a profit factor of 1.85. It's a bit higher than average numbers for paid advisors. The forecast numbers are: 4.14% of the monthly growth and 50.23% of the annual one.
People say that Champion EA is…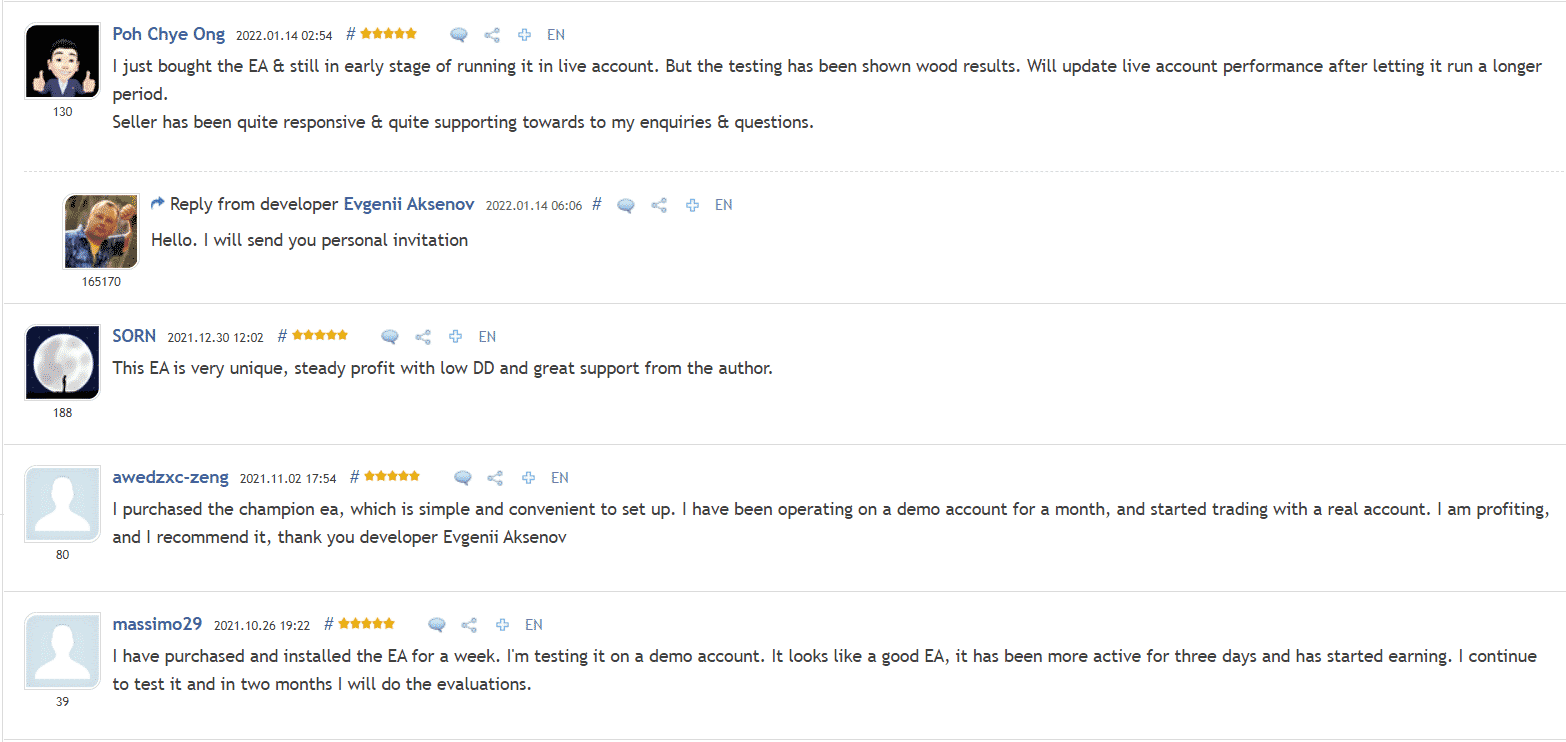 The advisor is an acceptable trading solution. It's hard to believe blindly, so for this purpose, we have a possibility of demo downloading the system.
Verdict
| | |
| --- | --- |
| Pros | Cons |
| Trading results shown | No risk advice given |
| | No settings explanations provided |
| | No strategy details shown |
| | The advisor works with a Grid with Martingale strategies |
| | No rental options available |
Champion EA Conclusion
Champion EA is a trading solution that works on the well-deposited account under real market conditions. The system has been lost since December 2021, so we'd like to check it for some more months to be sure that it's safe enough. The presentation isn't featured by rental options to give it a short-term try.