Forex Cyborg is a trading advisor that trades unpredictably on a real account. The presentation is short and not informative. The devs insisted that "Forex Cyborg robot is one of the most innovative multi-currency Forex trading robots on the market! Trade 18 currency pairs at once on the 15 minute charts." Let's check if it's true.
Vendor transparency
The vendor doesn't have a proper level of transparency that would convince us that everything is good. We have no details provided about the company. The same can be said about their trading experience, years of foundation, and reputation.
How Forex Cyborg works
The robot has some details explained that we retranslated in the following list.
The system can help us to execute orders on our terminals automatically for us.
It works on the MT4 terminal.
The system works with many cross pairs as the devs mentioned.
It can put pressure on the available margin.
The risk can be customized by us.
There are "easy to follow setup instructions, full support, lifetime updates & a money back guarantee."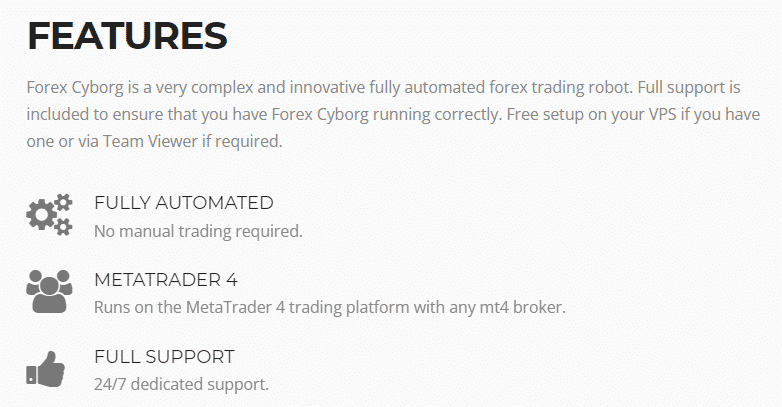 It got tests on 99% of the tick data.
There were real spreads and slippages.
The system calculates trading commissions.
The support should be welcome and reliable.
Devs will help us with setting the system up on VPS via TeamViewer.
The advisor showed a good win rate on tests.
It doesn't use Martingale, Hedge, and Arbitrage trading strategies.
Normal and Conservative are two mods to trade.
The advisor traded a period of 5-00-11-30 p.m. GMT.
Timeframe, currency pairs, deposit
Trading is allowed on various cross pairs.
We don't know details about the time frame.
It works with any account size.
Trading approach
The advisor sports trading opportunities.
It works with risky strategies on the board.
Money management system calculates entry points, take profit, and stop loss levels.
Pricing and refund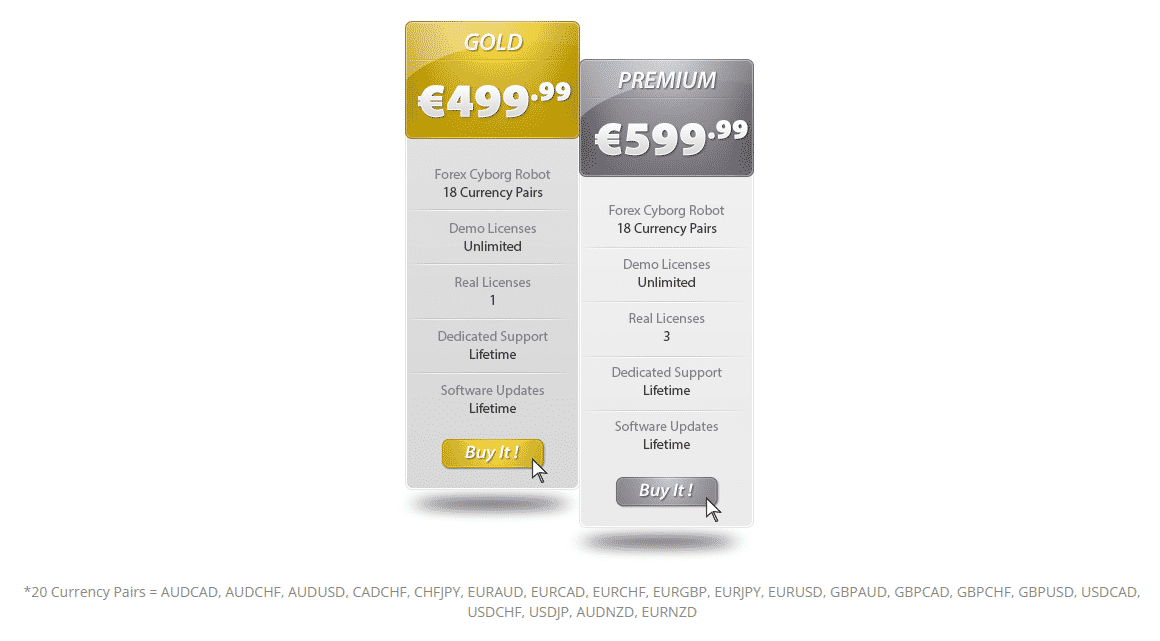 The robot can be bought for €499.99 for a single license. Three licenses will cost €599.99. The pack includes an unlimited number of demo licenses, support, free updates, and automatic trading. We can rely on a 30-day money-back guarantee.
Trading results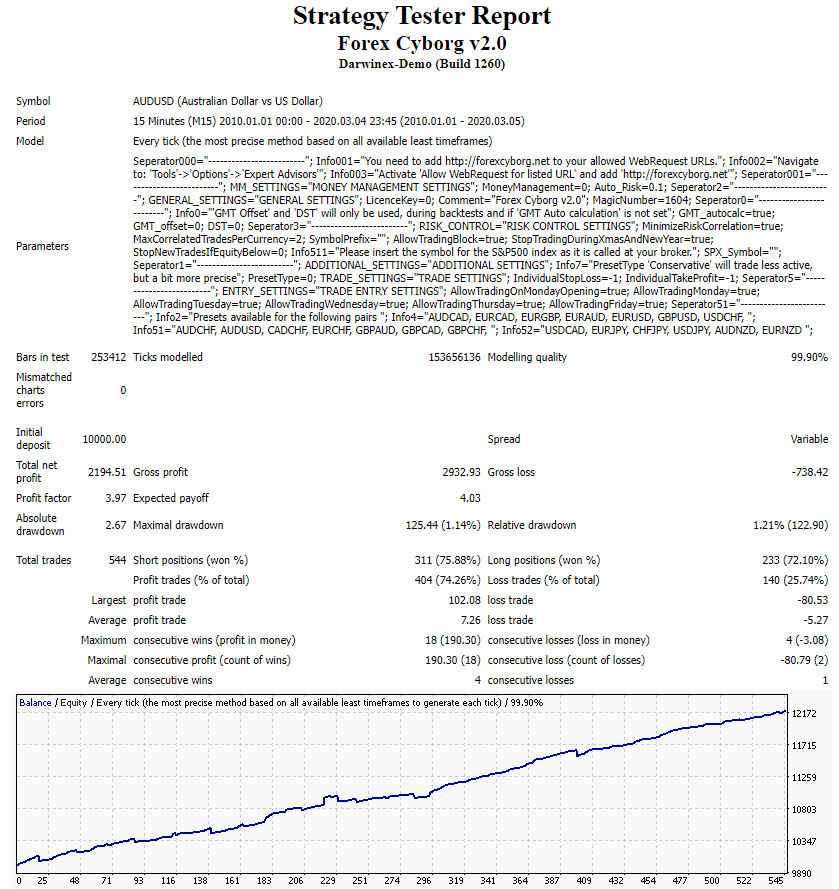 The system was tested on M15 on the AUDUSD pair. The data was chosen from 2010 to 2020. The modeling quality was 99.90% with variable spreads. An initial deposit was $10,000 that has become $2,194 of the total net profit. The profit factor was 3.97. Forex Cyborg traded 544 orders with a 75% of the win rate for shorts and 72% for longs.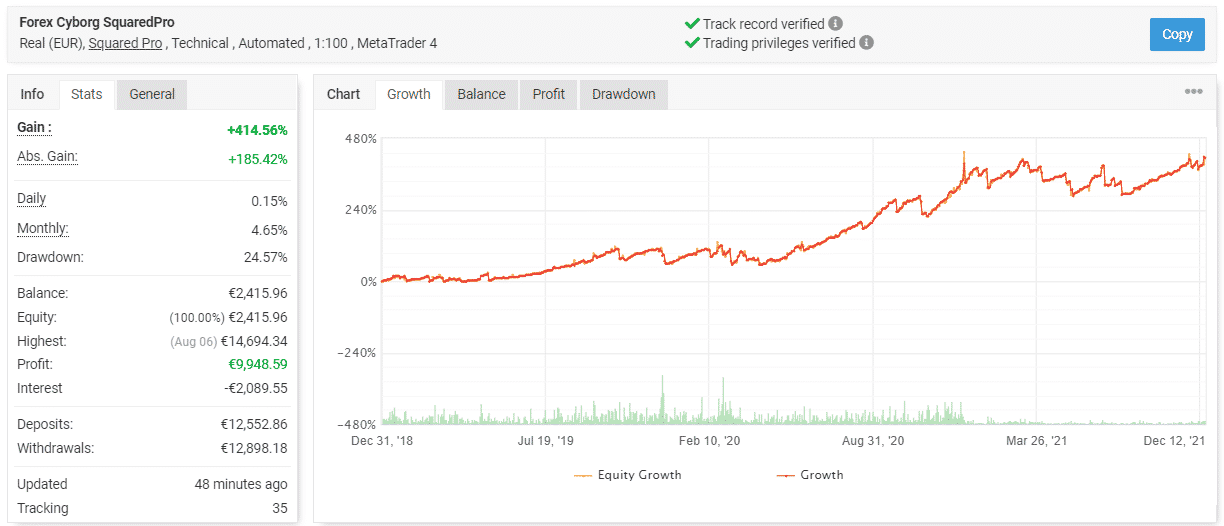 It works on a real account with short leverage of 1:100 on MT4. The account has a verified track record. It was created on December 31, 2018, deposited at €12,552 and withdrawn at €12,898. Since then, the absolute gain has become 414.86%. An average monthly gain is 4.65%. The maximum drawdown is 24.57%. The account is tracked by 35 people. It's a good number. So, the account has some popularity among people.

Forex Cyborg has traded 2365 deals with 5408 pips executed by the system. An average win is 8.67 pips when an average loss is -14.10 pips. The win rate is 72% for longs and 71% for shorts. An average trade length is 10 hours and 33 minutes. The profit factor is 1.27. The good one should be over 1.6.
It trades 19 cross pairs as was mentioned. GBPAUD is ahead of others with 304 deals and €1786.65.

The advisor focuses on trading several hours daily.

Friday is the less traded day with 298 orders.

The advisor executed orders with insane risks. There's a 73.3% chance to lose 10%. It's just losing four orders in a row.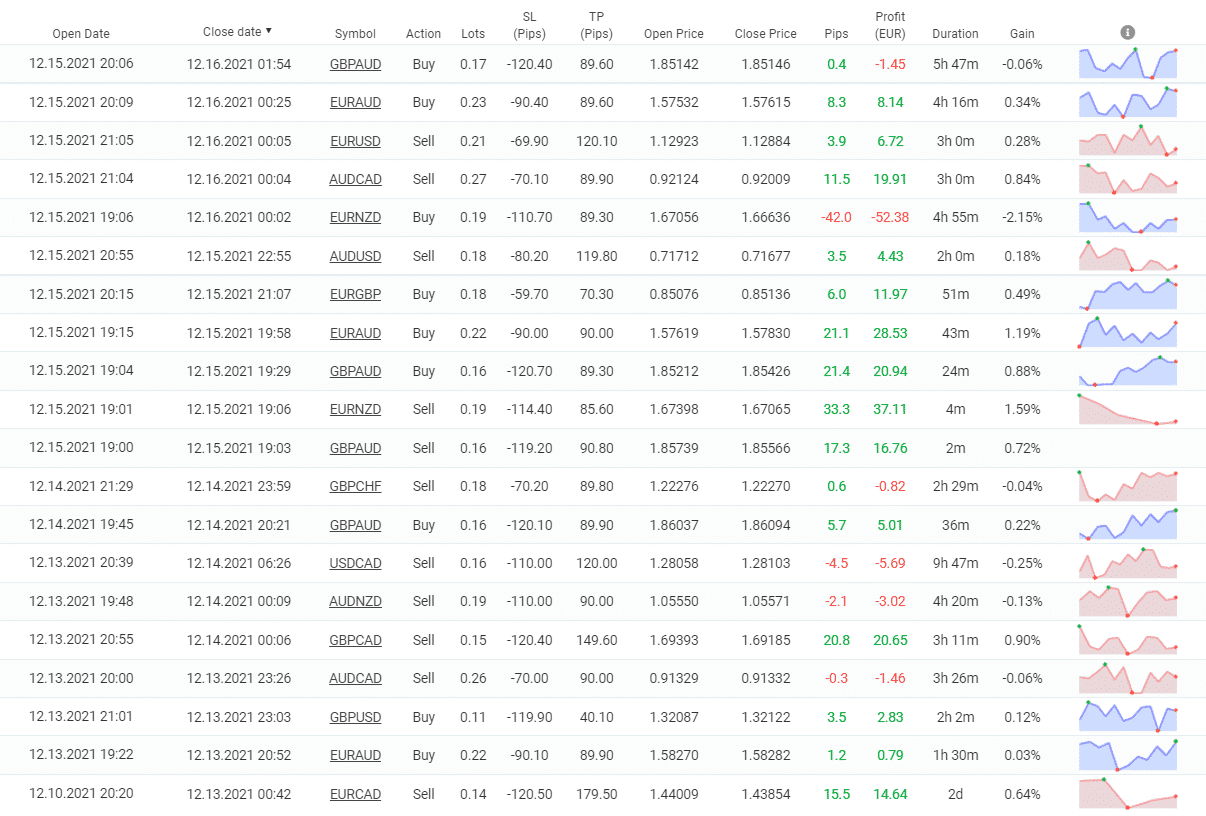 The system works with various lot sizes on different cross pairs.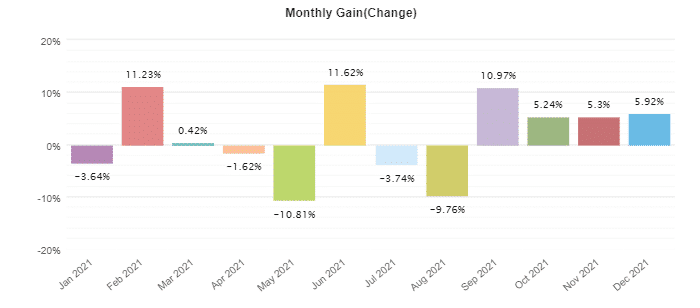 The advisor has lost five months when the last three were profitable.
People say that Forex Cyborg is…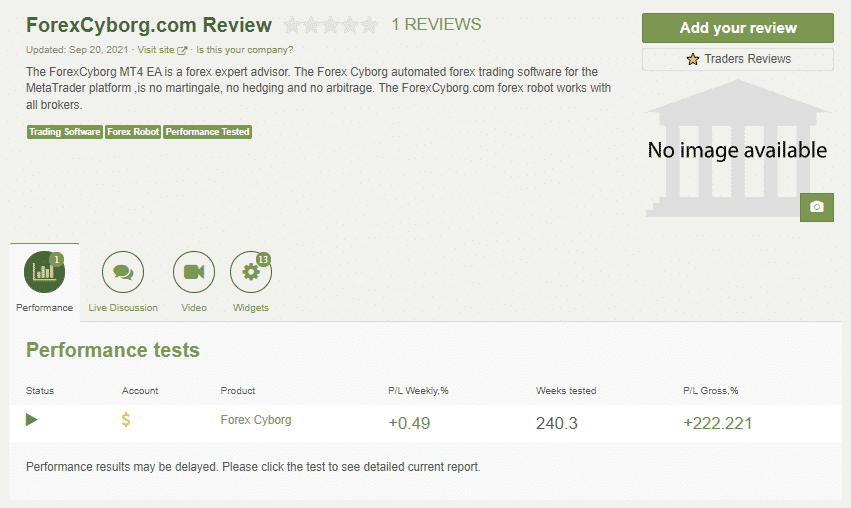 Good. The company runs a page on Forex Peace Army with a single review published. There are no accounts connected.

There's a single testimonial written. We cannot rely on it because no one claimed the same for months.
Verdict
| | |
| --- | --- |
| Pros | Cons |
| Backtest reports provided | No team revealed |
| Trading results shown | No risk advice given |
| | High pricing |
| | The robot has lost many months this year |
| | Lack of testimonials |
Forex Cyborg Conclusion
Forex Cyborg is a trading advisor that works on a real account with insane risks. The system has lost many months this year and can't be treated as the stable and relevant solution.