Forex Pip Shooter is a trading solution that is represented as the smart Forex robot. We have some explanations about the robot and its functionality provided. The devs don't provide us with backtest reports to convince us that the system was tested properly. Also, there is no information about features and settings provided.
Vendor transparency
The vendors have no transparency at all. Everything we have is only trading results. We don't know who they are and if they have proper trading experience to update the robot consistently.
How Forex Pip Shooter works
The presentation is featured by some explanations about what we should expect from the robot.
The system works automatically on a terminal, opening and closing orders for us.
There's a technology called a Pip Shooter.
We don't have any more explanations about it.
This system doesn't require us to do any actions.
We can be profitable when the market moves.
It allows us to remove emotions from trading.
The only terminal to work with is MT4.
We can open and close orders on the same terminal without problems.
It works in the tunnel between support and resistance levels.
The robot receives data from breakouts, rebounds, and correlations.
The advisor is a high-frequently traded solution.
We have a profit calculator designed and published on the site.
It should be a safe trading advisor.
Forex Pip Shooter is able to adapt its performance to our needs.
It provides us with the best possible trading experience.
Timeframe, currency pairs, deposit
The system performs a price action strategy based on trading the tunnel between support and resistance levels.
It places deals on twenty-eight cross pairs that are available on the terminal.
The time frame isn't mentioned.
Trading approach
The robot focuses on calculating Support and Resistance levels.
It looks where the market goes.
It calculates an entry point and places an order.
Pricing and refund
We can purchase a copy of the robot for as low as €800. This pricing is high compared to the similar trading solutions on MQL5. We don't know what features the package includes. The developers don't support our purchase with a proper money-back guarantee.
Trading results
We couldn't find any sign of backtest reports on the site. Without this data, we cannot check whether the robot was tested on the real tick data with relevant spreads. Also, we don't have the final report to check what results the system could obtain.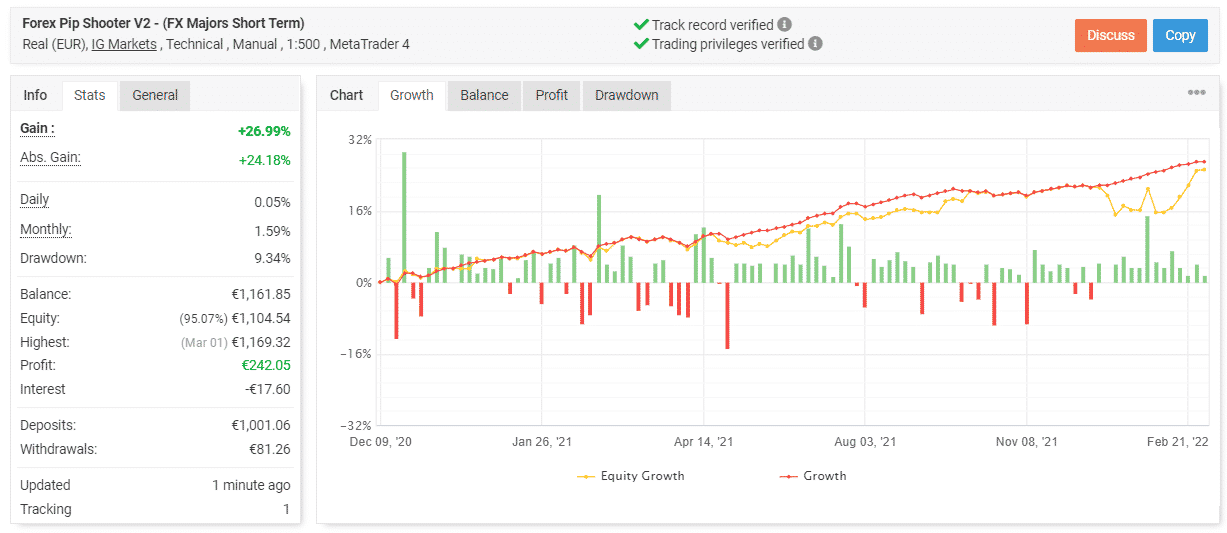 The robot works on a EUR account on IC Markets with average leverage of 1:500 on the MetaTrader 4 platform. The broker is well-known among traders. The account has a verified track record. It was created on December 09, 2020, deposited at €1001.06, and withdrawn at €61.26. Its total gain is 26.99% with an average monthly gain of 1.59%. The maximum drawdown is 9.34%. We have only one person who tracks the trading results.

Forex Pip Shooter has a win rate of 75% for longs (63/84) and 71% for shorts (57/81). An average trade length is six days. The profit factor is 2.28.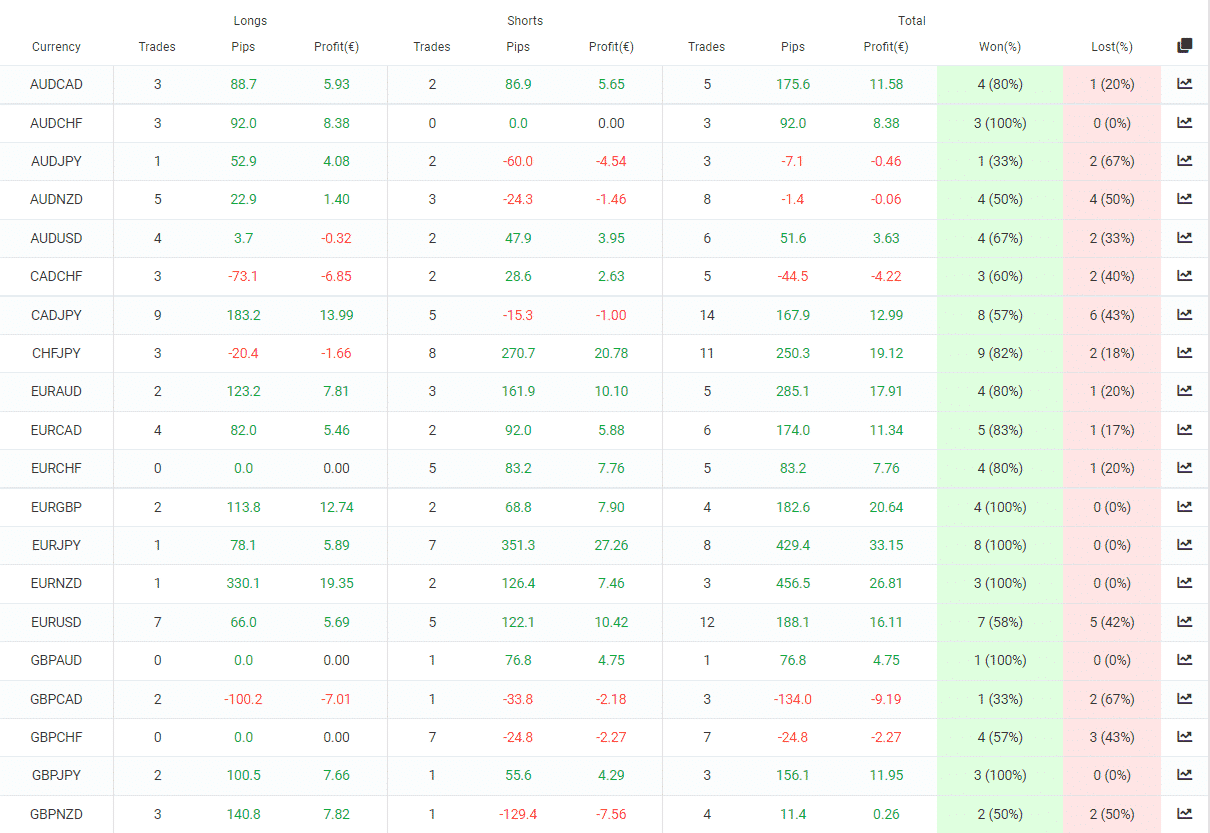 The system tries to work with all pairs available on the terminal. As we can see, some of them have brought significant losses.

The robot works with medium risks to the balance. It has to lose only 24 trades to lose 10% of the balance.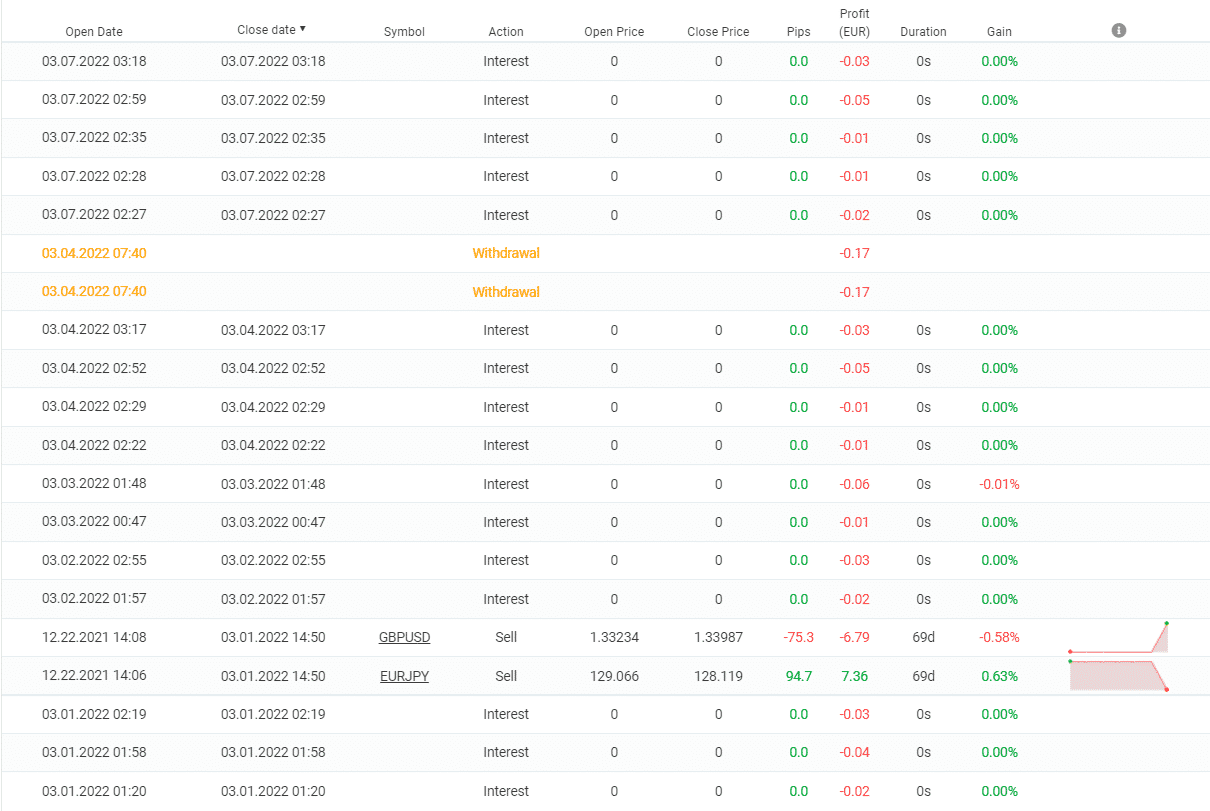 We have two orders from one Grid that were floating on the market for 69 days. This period is too big for conservative traders.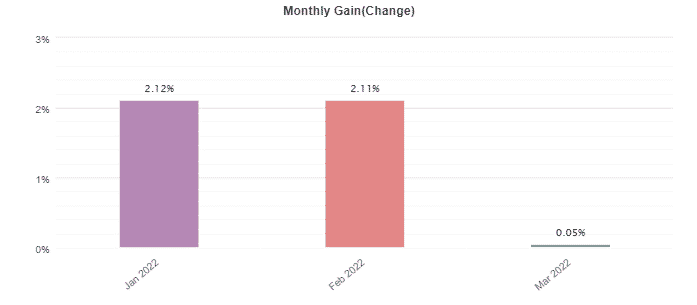 The robot closed January and February 2022 with profit.
People say that Forex Pip Shooter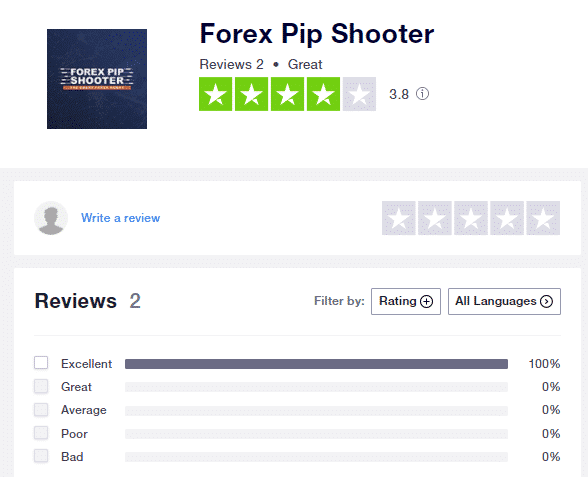 The robot has a page on the Trustpilot site. There are only two reviews written that formed a 3.8 rate.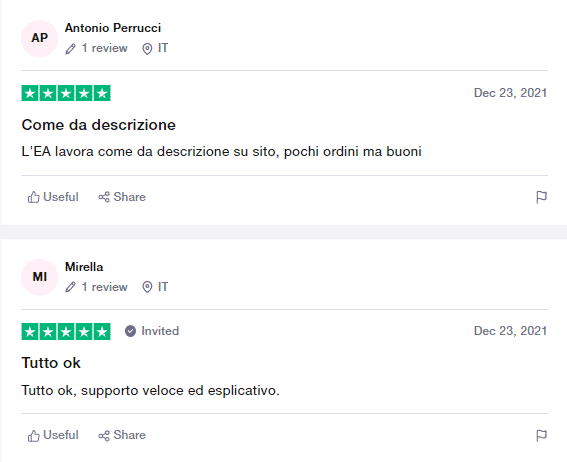 People were satisfied with using this system. However, we cannot rely on 2 reviews that were written the same day. Most of all, they cannot be trusted.
Verdict
| | |
| --- | --- |
| Pros | Cons |
| A strategy explanations shared | No team revealed |
| Trading results provided | No risk advice given |
| | No backtest reports provided |
| | The developers don't support an orders with a refund policy |
Forex Pip Shooter Conclusion
Forex Pip Shooter is a trading solution that works on the real market with medium risks performing a Grid of several orders strategy. It's based on the price action strategy. Trading results showed that the system works with significant drawdowns compared with the profitability it has. Another con is that the developers don't want to support us with refunds if something goes wrong.