Forex Sugar is a fully automated Forex robot that can supposedly sweeten and monetize your trading experience. Unlike humans who are affected by emotions, the vendor says that the robot's decision-making system depends on smart computations and technical indicators. Apparently, this enables it to trade efficiently and profitably. However, we are not moved even a bit by these claims.
Forex Sugar EA cannot be trusted. We have discovered that the vendor keeps info about his skill-sets hidden and his tool is not as effective and profitable as claimed. In fact, it is associated with a high risk/reward ratio. Read this review to find out more.
Vendor transparency
The developer of this robot is known as Brian Jones. Information such as his experience, expertise, skills, and physical address are unavailable. So, his reputation is not known and hence cannot be trusted.
How Forex Sugar works
Forex Sugar has the following characteristics:
Can be set up easily and quickly
Completely user friendly
Applies dynamic SL/TP levels and are hence not fixed
Runs on the MT4
Can be turned on/off for certain weekday(s)
It is able to trade excluding news release duration
It does not conduct trades in volatile market conditions
Can be used with other EAs on a similar account
Is compatible with nearly all Forex brokers who offer the MT4 platform for trading
It works well with all account types such as Micro, Cent or Standard
Is fully-customizable
Time frame, currency pairs, deposit
The system monitors and trades many trading instruments constantly 24/5. However, the most recommended pairs include AUDUSD, XAGUSD (silver), XAUUSD (gold) and EURGBP. According to the developer, the robot can work with all kinds of account leverages but the recommended one is 1:500. Furthermore, it works on the 15 minute time frame and a minimum of $500 is needed to trade.
Trading approach
Forex Sugar utilizes technical indicators. These indicators send trading signals to the EA informing it when to open a trade. The system will then compute several indicators so as to know when to close the trade. The robot also focuses on news events. Depending on the news release, it can continue or stop trading during low impact news, medium impact news and high impact news release. The aim is to avoid or minimize losses associated with high market volatility during news events.
Pricing and refund
Two pricing plans exist for this EA. To get the first one, you will have to part with $99 (down from $375). In return, you will receive a license for 1 real account and for unlimited demo accounts. The second package costs $264 (down from $999) and it comes with 5 real accounts and for unlimited demo accounts. The vendor notes that these prices could rise to their original prices anytime. A money-back guarantee is unavailable for both offers.
We feel that the second package is quite expensive and may be out of reach for many traders. The original prices are also exorbitant. Therefore, we believe that the EA isn't worth your cash.

Trading results 
The vendor has provided images of backtest results from Myfxbook. However, there are no links to this data.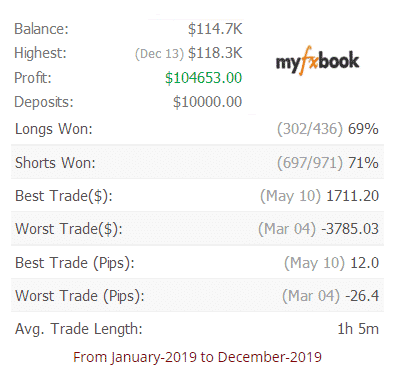 From the image, we can see that the EA was backtested between January 2019 and December 2019. The account was deposited at $10,000 and a profit of $104653 was made. The balance then grew to $114.7K.
It is unclear how many trades were performed. Nonetheless, we are told that the winning rates for long positions were 69% and 71% for short ones. These outcomes were not impressive at all. The worst trade (-26.4 pips) was over 2 times higher than the best trade of 12 pips. Apparently, the robot was struggling to make profits.
Live trading results are available on FXBlue. We have evaluated the data as below: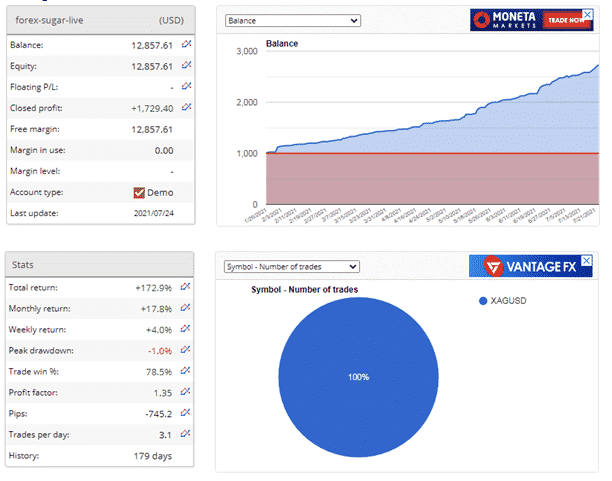 This is a demo USD account that has a history of 179 days. It was deployed on January 26, 2021 and last updated on July 24, 2021. By then, it had attained a profit of $1,729.40 and the new balance is $12, 857.61. So, the total return is 172.9%.
The robot has been making weekly and monthly returns at rates of 4% and 17.8% respectively. The profit factor (1.35) is average and means that the EA does not produce good returns from money invested. The pips are negative (-745.2), an indication that the account has been making losses.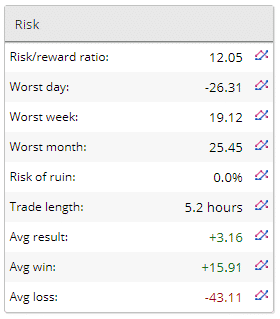 The risk/reward ratio of 12.05 is high. This means that the EA takes high risks and gets small rewards. During its worst day, the account lost $-26.31. The risk of ruin is 0.0%. The average win is $15.91. The average loss is nearly three times higher (-$43.11). Clearly, chances are that the account will make more losses than profits as it makes trades.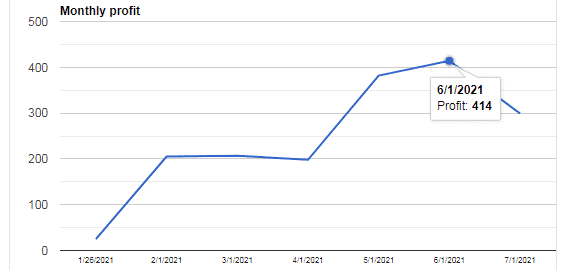 June was the most profitable month as it made 414 trades.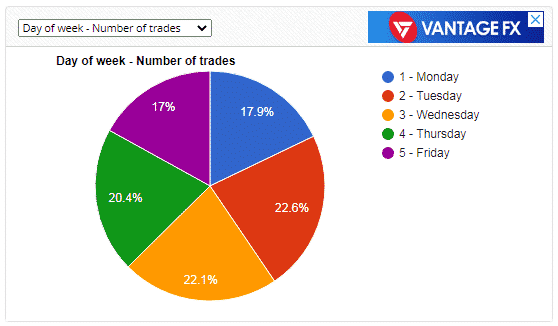 Tuesday was the most traded day (22.6%).
People say that Forex Sugar is…
We do not know what clients say about this system. There are no user reviews on the robot's official website. Customer reviews are also missing on reputable third-party websites like Quora, Trustpilot and Forex Peace Army.
Verdict
Pros
User friendly
Can be customized to meet the individual needs of traders
Cons
Vendor transparency is lacking
No customer reviews
Money-back guarantee is absent
High risk/reward ratio
Forex Sugar Conclusion
Traders should not trust this EA. We have learned that it takes many risks and gets small rewards in return. As a consequence, it loses trades rather often. Even worse, the vendor is someone whose reputation is unknown. Probably, he does not know what he is doing and is only interested in profiting from naïve traders. Lastly, since customer reviews are not there, we may never know if traders have benefitted from this product or have lost their money with it.