Forex Trend Hunter is an automated trading system that is compatible with the MT4 trading terminal. As per the developer, this system has been designed with ordinary traders in mind, however, it is also suitable for professionals. They have also claimed that the EA has the potential to generate several hundred pips in profit for each transaction.
This system is supported by verified live trading and backtesting results. However, the vendor has not clearly explained the trading strategy. From the live statistics, we can see that the EA is prone to losing consecutive trades. Also, it suffers from a lack of vendor transparency.
Vendor transparency 
The parent company behind this robot is known as Automated Forex Tools. There is virtually no background information on this company and we have no idea where it is located. The vendor has not shared the details of the team members. There is an official email address of the support team shared on the website. Other expert advisors from this team include Forex Pulse Detector, Dynamic Pro Scalper, Forex Profit Defender, Forex Trade Cleaner, and Forex Impulse Trader.
How Forex Trend Hunter works 
This is a system that is compatible with Windows OS and MAC computers and there are separate EA versions for these two operating systems. In case you have neither of these two operating systems, you need to download the MAC version.
Forex Trend Hunter is capable of working in a fully-automated mode without requiring any manual interventions. It works with all brokers including those based in the USA. You can customize the system to suit your individual requirements. You must run the EA uninterrupted 24/7 for best results.
Timeframe, currency pairs, deposit 
The currency pairs supported by the robot include EUR/USD, GBP/JPY, EUR/JPY, USD/JPY, and USD/CAD. Although the required minimum deposit is $500, the vendor recommends testing the robot with a demo account first. Before engaging the robot in live trading, you can initiate a demo account by depositing $5000 or $10,000. Although the vendor has not mentioned the leverage that should be used, we have found that the live account on myfxbook uses 1:500 leverage.
Trading approach 
This is a trend-following robot that claims to focus on long-term profits. We don't know how the EA analyzes the trend or how it identifies profitable trades.
Pricing and refund 
The current price of this expert advisor is $129. By paying this price, you can access one real and two demo accounts. Compared to other EAs, this is quite affordable. The vendor offers lifetime updates and a 60-day money-back guarantee.
Trading results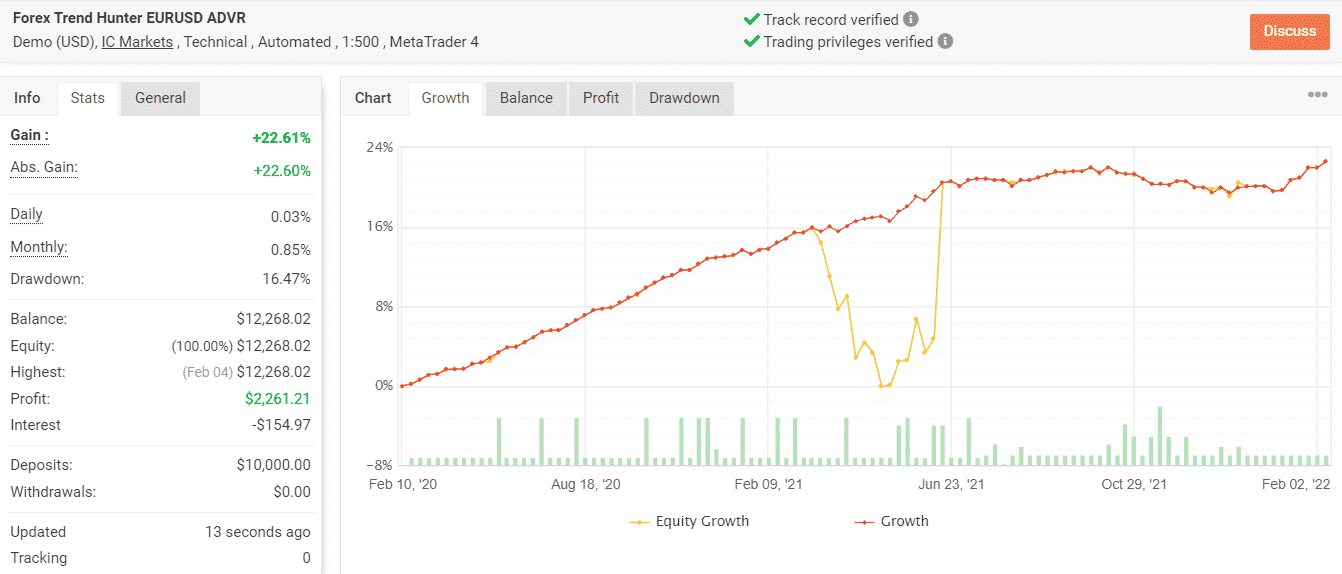 This live trading account on Myfxbook was launched on February 10, 2020. To date, the EA has conducted 131 trades through this account, winning 67% of them. Thus, we can say that it has a steady win rate. At this moment, the total profit generated through this account is $2261.21. It has a time-weighted return of 22.61% and an impressive profit factor of 2.21.
Currently, the daily and monthly gains for this account are 0.03% and 0.85%, respectively, while the drawdown is 16.47%.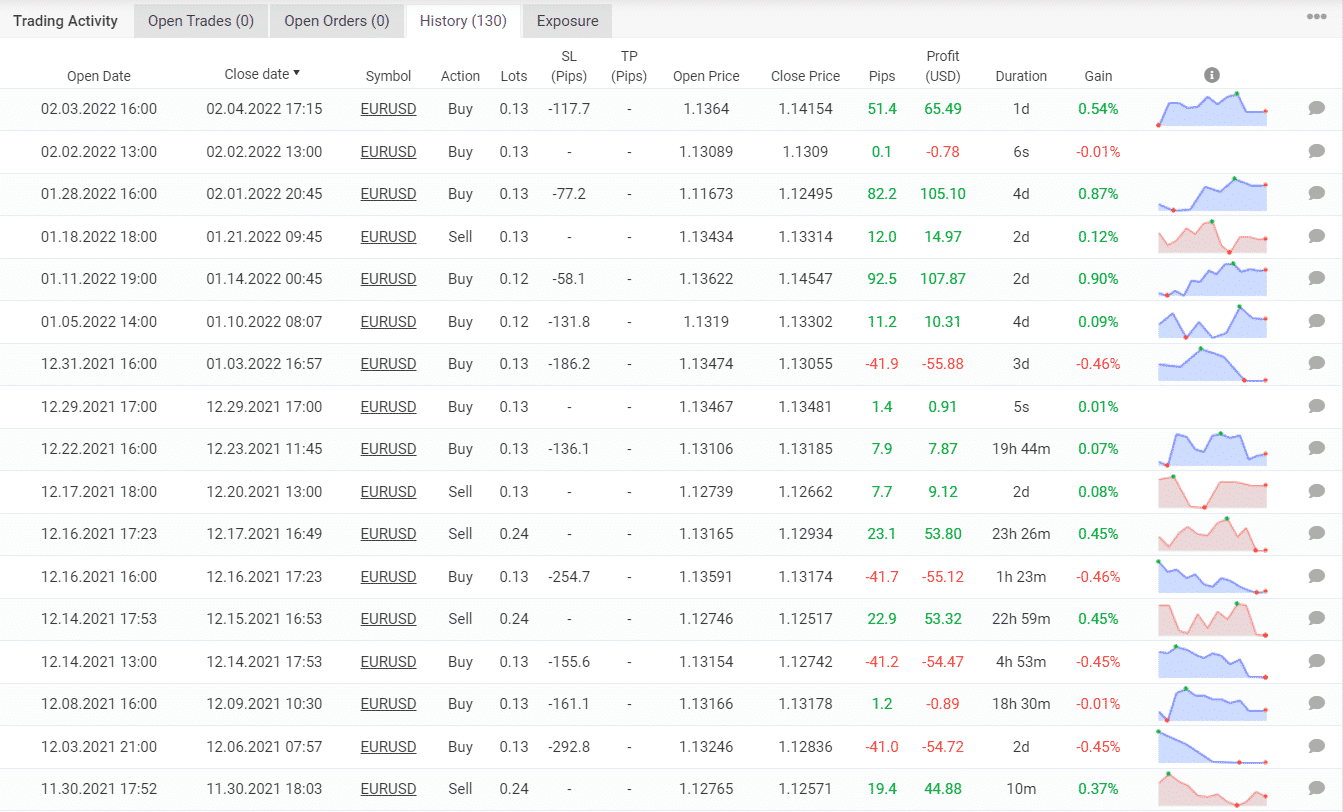 Here we have the recent trades conducted through this account. The robot trades with a lot size of 0.13-0.24, generating small profits from each trade. It can hold a trade for several days, but sometimes it closes orders in a matter of seconds. Also, we can see that the robot is prone to suffering back-to-back losses. The average win and loss for this account are 28.17 pips/$46.96 and -34.58 pips/-$43.51, respectively.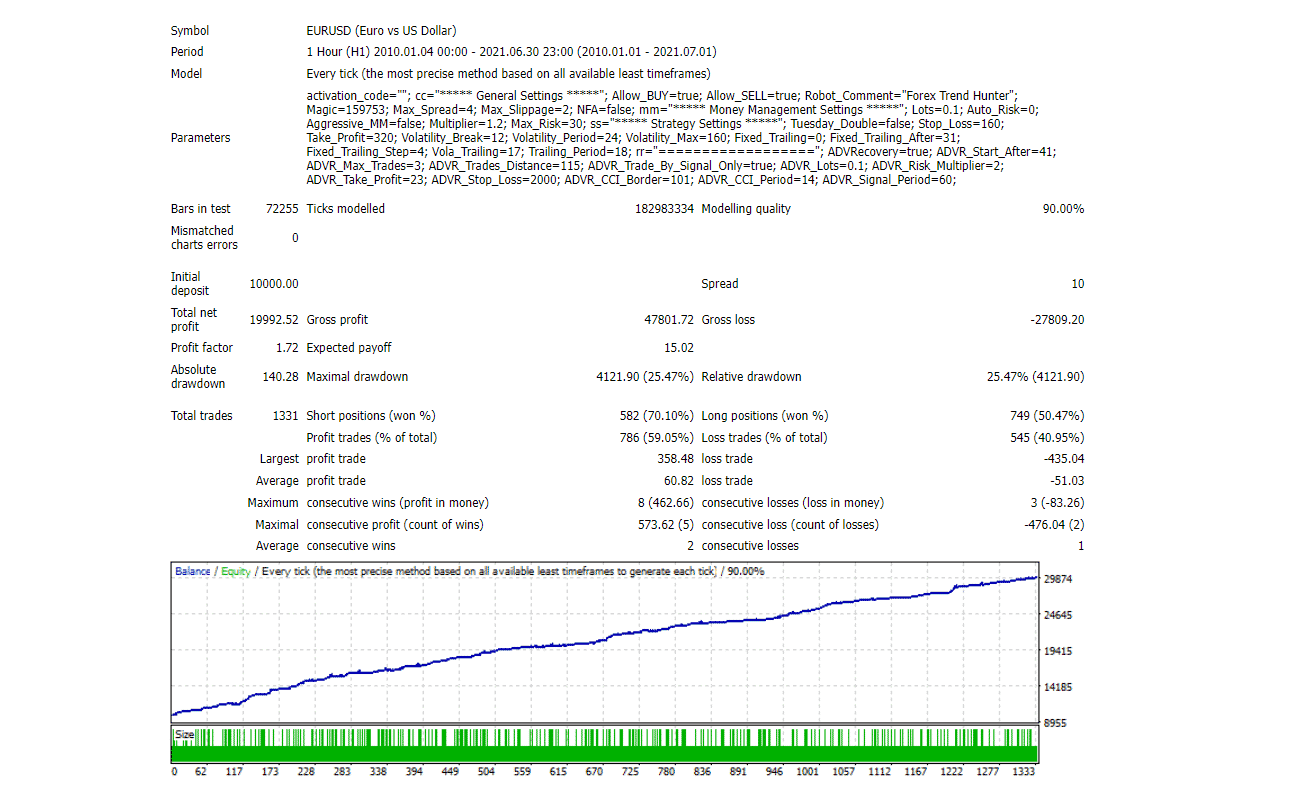 This backtest was conducted from 2010 to 2021 with an every tick model. The EA conducted 1331 trades, winning 70.10% of its trades. This is a bit higher than what we saw in the live statistics. The total net profit generated during this backtest was $19992.52, and the profit factor was 1.71. There were 8 maximum consecutive wins and 3 maximum consecutive losses.
People say that Forex Trend Hunter is…
At this moment, there are no user reviews for Forex Trend Hunter on third-party websites.
Verdict 
| | |
| --- | --- |
| Pros  | Cons |
| Money-back guarantee | Lack of vendor transparency |
| | No user reviews |
| | Lack of strategy insight |
Forex Trend Hunter Conclusion
Forex Trend Hunter is a robot that manages to exhibit a high win rate in the live market. Nevertheless, it is sold by a vendor about whom we don't have any information. We don't exactly know what strategy it uses and there are no user reviews on third-party websites.