FX Rapid EA is a trading advisor that has a simple presentation that doesn't look informative enough. There's a mention that the system is powered by Forex Store. Let's check how good and profitable this system is to be run on the real account.
Vendor transparency
The developers don't have transparency at all. We don't even know if there's a legal company behind this service. So, we have only an email to contact them.
How FXRapidEA works
The presentation doesn't include much information about the robot functionality and features that should help us in trading.
The system works with a trend strategy as the main one.
It places orders in the direction of the trend.
It has a Grid of orders support strategy.
The advisor includes a Martingale feature to recover after losses.
An average trade length can be up to several days.
The advisor works with little TP goals.
There's drawdown control behind the system.
The lot sizes should fit acceptable risks for us.
We can work with any broker that we want.
It follows NFA and FIFO rules.
We should have over $500 on the balance.
The DUE version works with two pairs: EUR/USD and NZD/USD.
The QUATTRO allows trading on EUR/USD, NZD/USD, AUD/USD, and USD/JPY.
If the market goes against open orders, the system closes them.
We can instal the robot for several minutes.
Timeframe, currency pairs, deposit
The main strategy behind the robot is trend trading.
We can work with EUR/USD, NZD/USD, AUD/USD, and USD/JPY pairs.
Trading is allowed only on the H1 time frame.
Trading approach
It spots a trend opportunity.
After checking proper indicators, it calculates lot sizes, TP, and SL levels.
The system palaces orders and closes them automatically.
Pricing and refund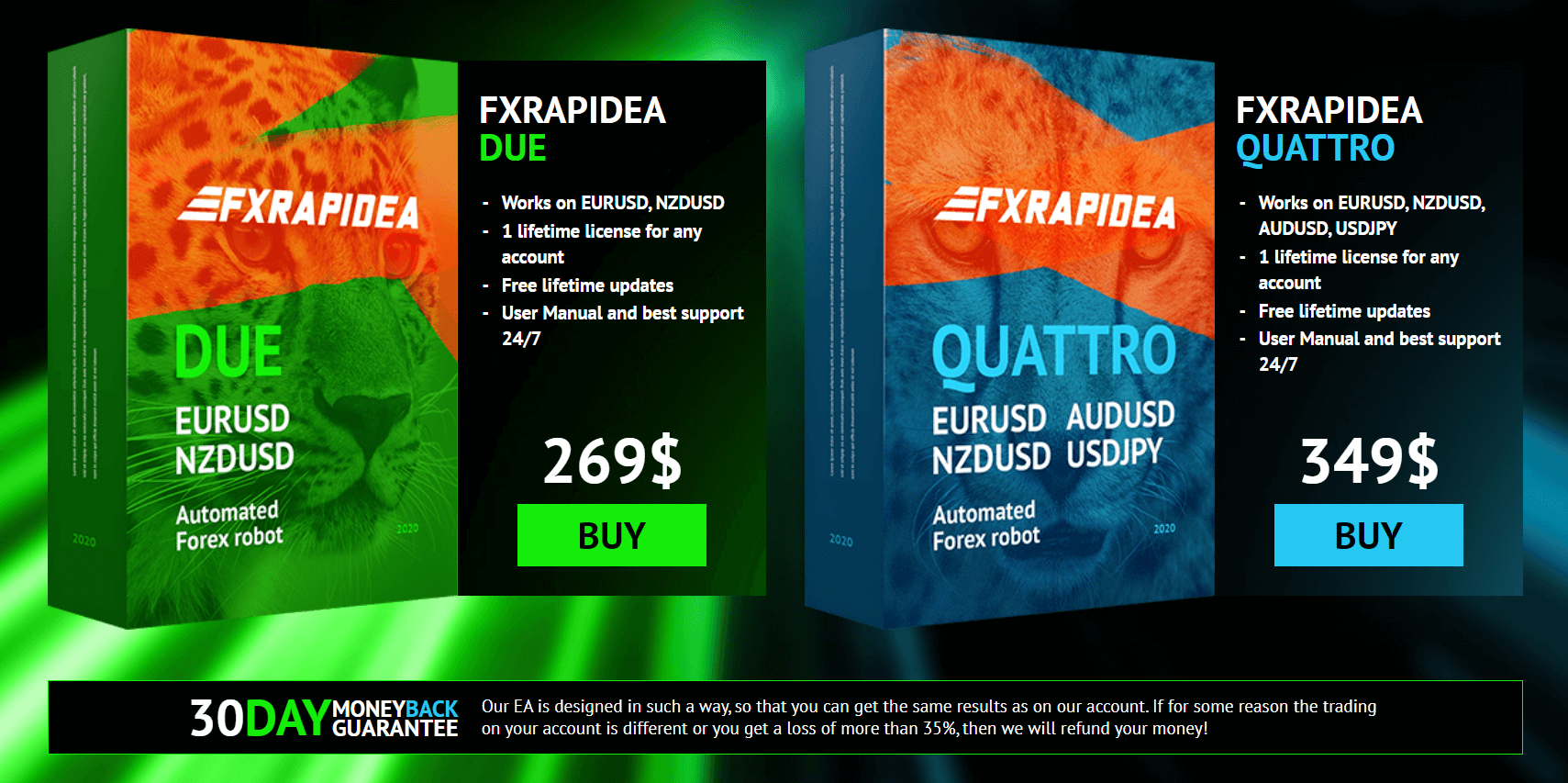 There are two packages available in the offer. The DUE pack costs $269 that allows trading two symbols. The QUATTRO pack costs $349 and provides trading on four cross pairs. We can rely on a lifetime license for a single account, free lifetime upgrades, and welcome 24/7 support. There's a 30-day refund policy.
Trading results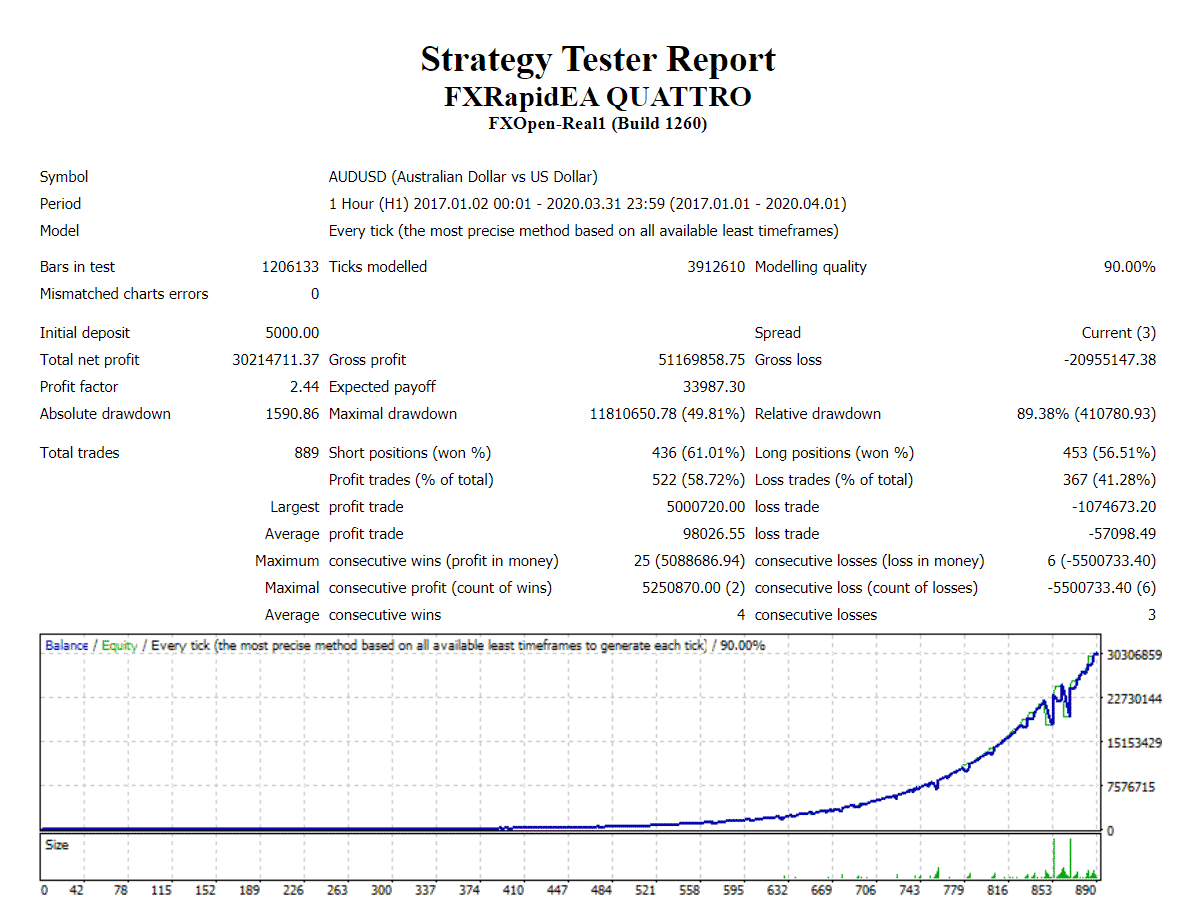 The system was tested on AUDUSD. The time frame was chosen H1 and the data period was three years. The modeling quality was 90% with 3-pip spreads. An initial deposit was $5,000. The advisor has executed orders to make it $30,214,711 in total. The profit factor was 2.44, while the maximum drawdown was 49.81%. It's quite suspicious as for a backtest. There were 889 orders with accuracy of 56-61% performed.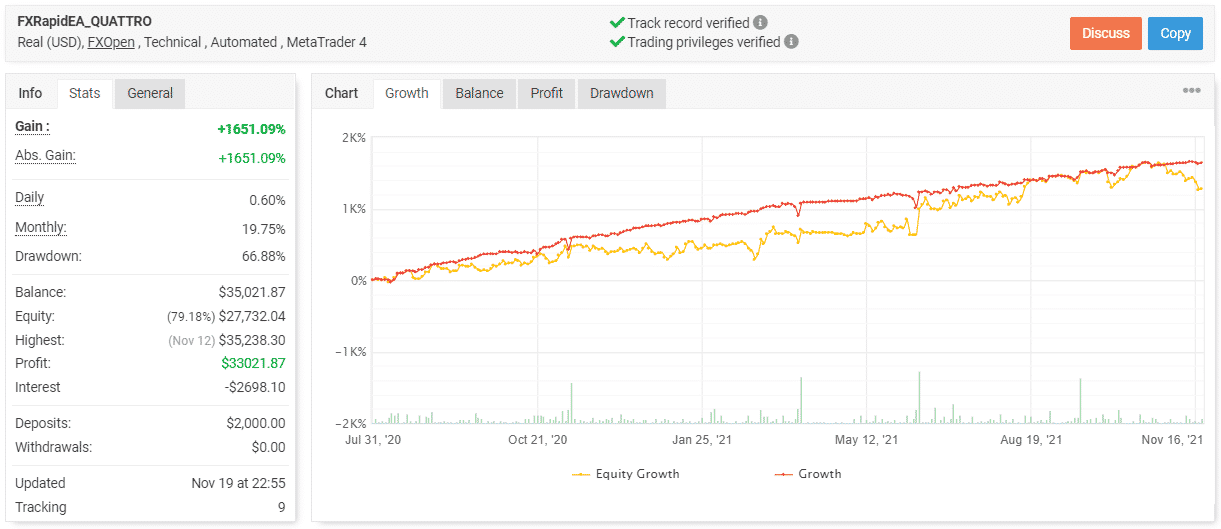 The advisor runs a real account automatically, receding data from MT4. The broker is FXOpen. It's a quite-known one. The account has a verified track record. It was created on July 31, 2020, and deposited at $2000. The absolute gain has become 1651.09%. An average monthly gain is 1975%. The maximum drawdown is 66.88%. It's such a deep number.

The system executed 865 orders with -46.5 pips. So, the trend strategy has fallen. It's profitable only because of Martingale. An average win is 33.92 pips when an average loss is -43.01 pips. The win rate is 58% for longs and 53% for shorts. An average trade length is three days.

The robot works with high risks to the balance. The system can lose 10% of the account in case of 24 losing deals in a row.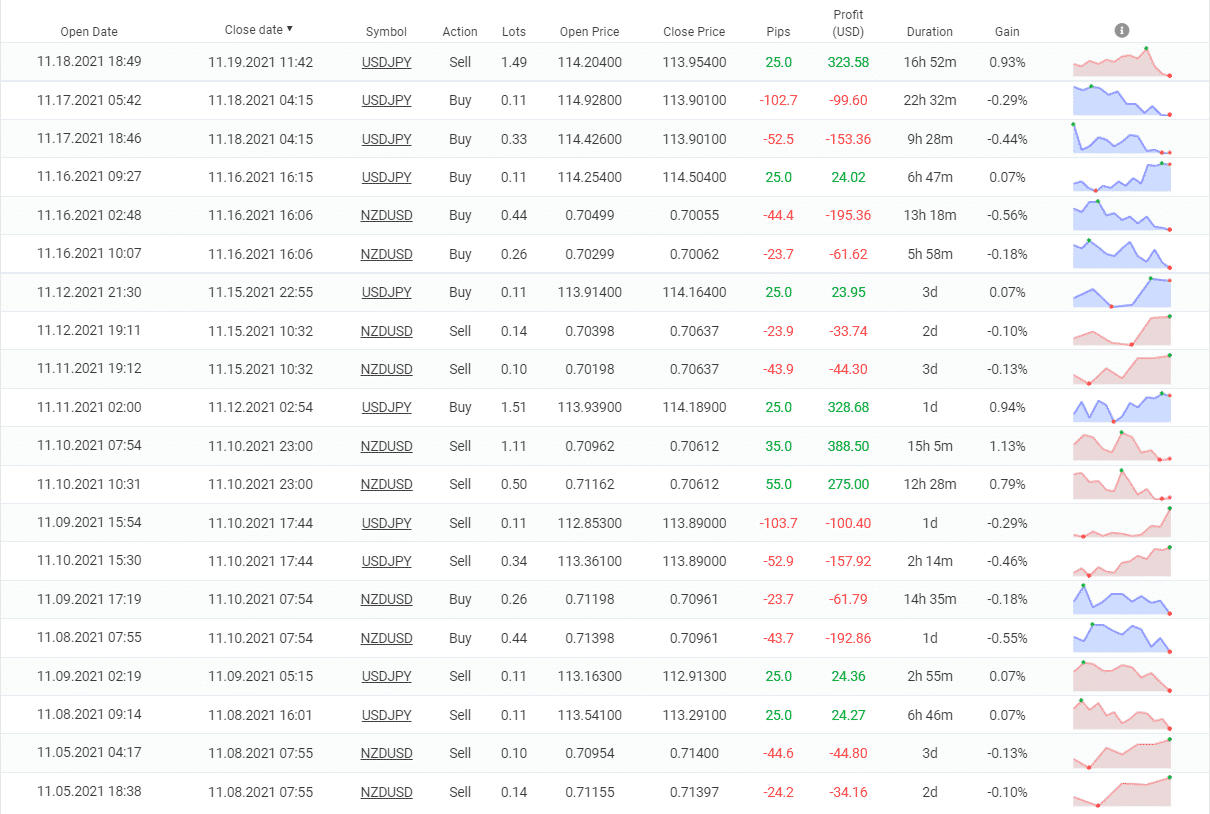 The win rate was too low last time. It trades with different lot sizes ranging from 0.11 to 1.49.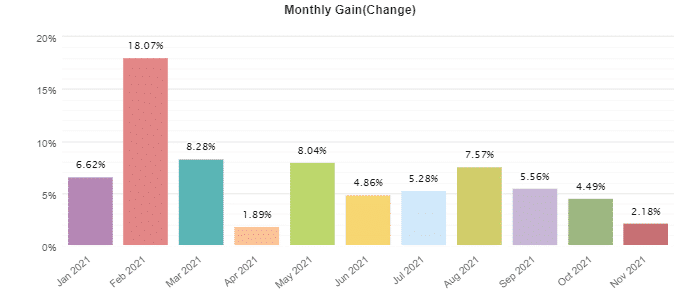 The system has been trading with various monthly profitability this year.
People say that FXRapidEA is…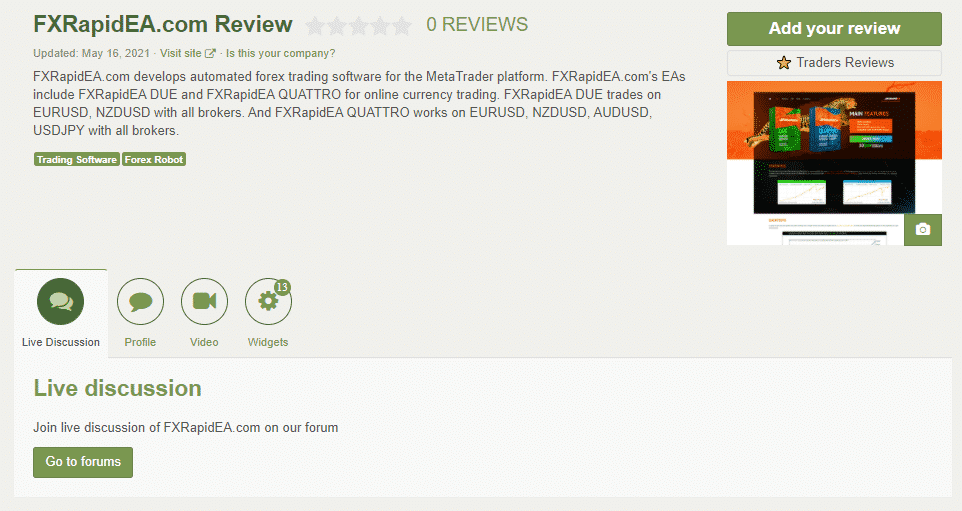 There is a FXRapidEA's page on FPA with no testimonials and accounts connected. It's suspicious.
Verdict
| | |
| --- | --- |
| Pros | Cons |
| Backtest reports provided | No risk advice given |
| Trading results shown | Trading results are horrible |
| A refund policy applied | The trend strategy isn't profitable |
| | The system works with low win rate |
| | No people feedback provided |
FX Rapid EA Conclusion
FX Rapid EA is an expert advisor that works with a trend strategy to open a Grid of orders with Martingale. The trading results showed that the system is dangerous and a trend strategy has fallen. We can't suggest you use this system.