FXCIPHER is a fully automated Forex robot that works on Metatrader 4 as well as Metatrader 5. It trades in multiple currency pairs and promises high profitability and reliability. However, this is something we need to verify at our end.
This Forex EA trades in multiple currency pairs and is based on 2 in-built preset settings. The vendor offers a money-back guarantee and provides 24/7 customer support. But the live trading performance of the robot is not too impressive. It has made several losses in recent times, which makes it a risky investment.
Vendor transparency
There is no information on the parent company behind FXCIPHER. The vendor has not shared the official address or any kind of contact details and the identities of the team members are also kept hidden. We don't know when the company was founded or what kind of trading experience the team members have. Thus, we are not too impressed when it comes to vendor transparency.
How FXCIPHER robot works
FXCIPHER is compatible with FIFO and NFA-regulated brokers. Its first preset has been optimized on backtests since 2010 and according to the vendor, is highly reliable. The second preset has settings optimized since 2017. This one requires a lower initial deposit and follows a high-risk, high-reward approach.
There is a drawdown limiting system in this robot that allows you to specify the maximum drawdown for your account. FXCIPHER keeps a close eye on the drawdown and uses stop loss as a risk-control measure. In case the drawdown exceeds the specified value, the EA can close the trades at the market price.
Timeframe, currency pairs, deposit
FXCIPHER trades in currency pairs like USD/CAD, GBP/USD, EUR/JPY, EUR/USD, and AUD/USD. The vendor has not shared any related to the compatible timeframes or the minimum deposit amount.
Trading approach
We don't have a proper explanation for the trading strategies used by FXCIPHER. The vendor has mentioned two in-built strategies but hasn't described any of them. These strategies are interchangeable and in certain cases, the robot can switch to another.
Pricing and Refund 
You can purchase FXCIPHER at $295, which is not too cheap compared to other EAs on the market. By purchasing the EA you get 1 license for any account type. You can modify the account number online as many times as you like. You get both the MT4 and MT5 versions, along with a user manual. The vendor also offers free updates and a 30-day money-back guarantee.
Trading results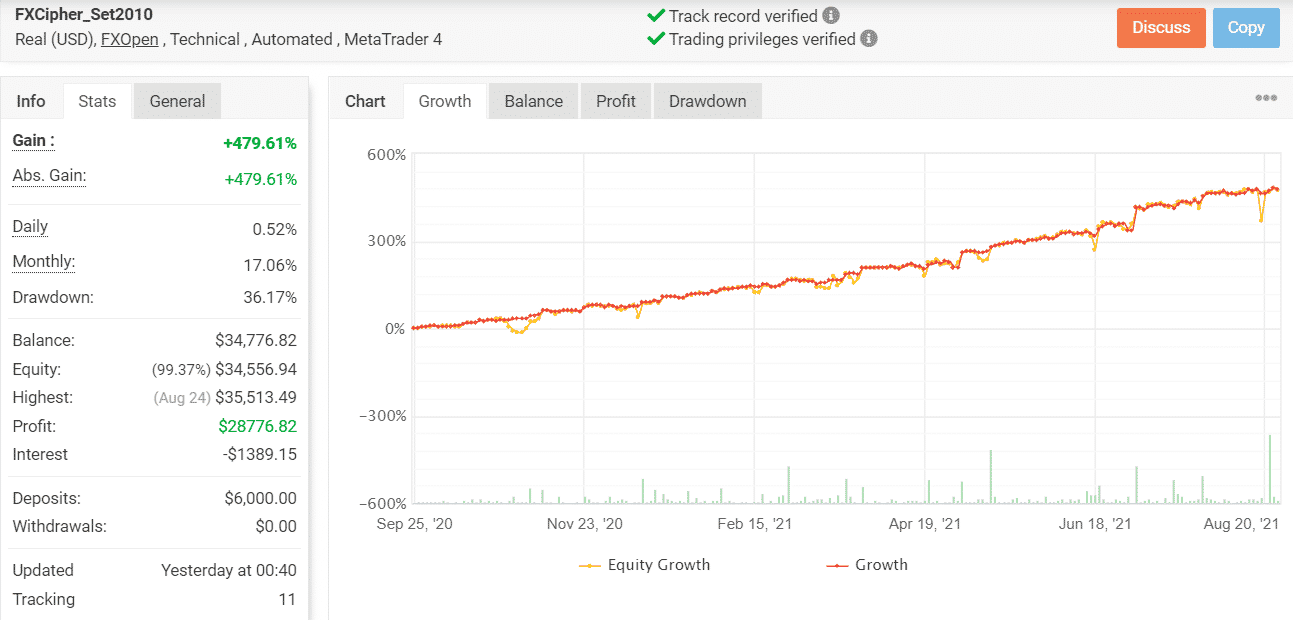 Here we have a live trading account for FXCIPHER on Myfxbook that was launched on Sep 25, 2020. The robot has placed 708 trades through this account, winning only 343 out of them. A win rate of 48% won't impress Forex traders when most of the well-known trading systems have profitability more than 60%.
Another cause for concern is the high drawdown of 36.17%. It indicates a high-risk strategy that can drain your account in case the market is unfavorable. The account has daily and monthly gains of 0.52% and 17.06% respectively and a profit factor of 1.55.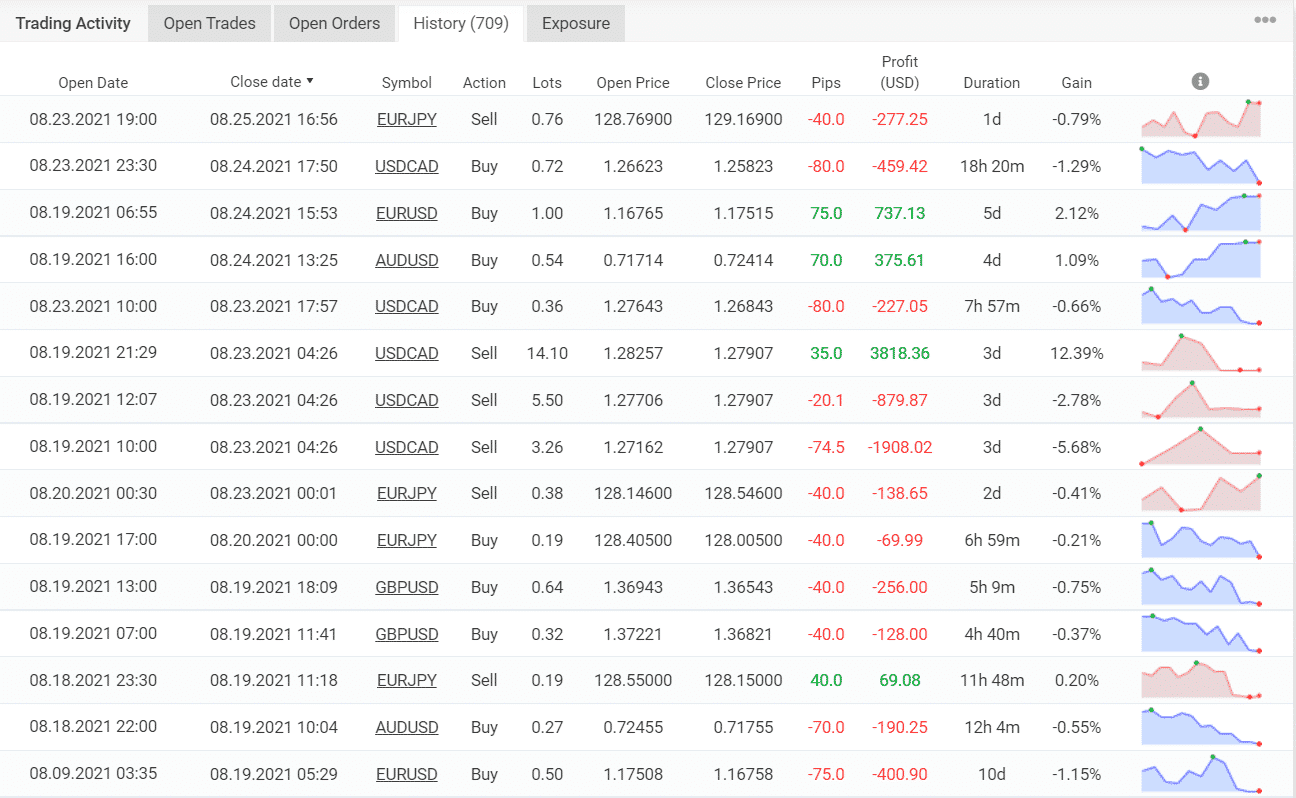 Looking at the trading history, we can see that most of the trades have been closed in losses. This confirms our suspicion that the EA trades with high-risk. This, combined with the low win rate, leads us to the conclusion that FXCIPHER is not a profitable trading system.
The vendor has not shared the backtesting results for FXCIPHER. This means they haven't tested the strategy using historical data. The lack of backtesting results, along with the poor live trading performance will deter any sensible Forex trader from investing in this robot.
People say that FXCIPHER is…
Doubtful. Since there are no user reviews for this EA on third-party websites, we don't know what people are saying about it. It is clear that most traders don't trust this system due to its dismal live trading performance. It is risky to purchase a system that is sold by a vendor that has no reputation whatsoever.
Verdict
| | |
| --- | --- |
| Pros | Cons |
| Verified trading results | Lack of vendor transparency |
| Money-back guarantee | Low win rate |
| | High drawdown |
| | Lack of strategy insight |
FXCIPHER Conclusion
FXCIPHER is an unreliable expert advisor that you definitely should not invest in. It has failed to perform decently in the live market, and there is a general lack of information about it that makes us think it's a scam service. You'd be better off purchasing a reputable EA having a better track record.