FXQuasar's sales pitch is very brief and doesn't reveal much about the EA. All the information is squeezed into one page, and the main promise is that the system can earn you profits. In this FXQuasar review, you will find the information along with the analysis of the robot's present and past stats.
Vendor transparency
FXQuasar is said to be powered by Forex Store, a platform used to market different Forex robots. There's no information whatsoever about the company or the development team that designed this product, though. We have noticed that this lack of transparency is a common practice among untrustworthy vendors.
How FXQuasar works
The EA has a few features, which are highlighted here:
Works on the MT4/5 terminals
Fully automated
Can work on any account type of account
It is entirely compatible with NFA regulated brokers
A detailed user manual is present
Free updates
Customer support
Timeframe, currency pairs, deposit
FXQuasar only supports one currency pair; AUDUSD. The devs do not disclose the timeframe used or the minimum deposit the EA needs to commence trading.
Trading approach
The devs provide generalized descriptions of the trading strategy used. They don't get into the specifics. So, we are left with more questions than answers. For instance, one of the statements is that quotes and internal algorithms are used to assess the present market situation and price movements to know when to trade. We are wondering, under what specific conditions does the system initiate orders? Does it aim to profit from large or small price movements?
Another claim is that FXQuasar works with 6 different sessions. Three of them focus on long positions, while the other three use short positions. Here, it is also not clear what criterion is used to decide when to trade using either of the positions. Finally, there's a special risk system that is applied to decrease losses. Again, we are not told what this special system involves.
Pricing and refund
The price of FXQuasar is $279, and this package affords you a single lifetime license. You can change the account number online if you want. The devs also provide a 30-day refund policy for users. Even then, we don't think that the product is worth it. We have discovered that it works with a lot of risks, which can make your investment useless in the end.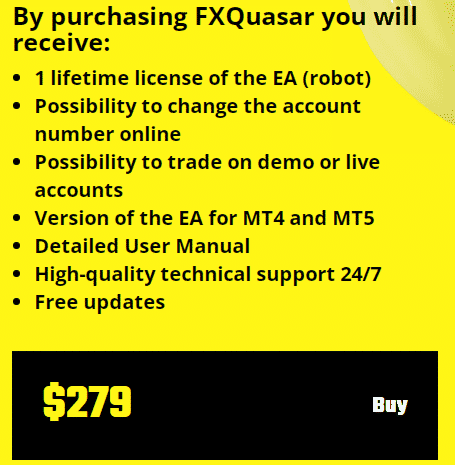 Trading results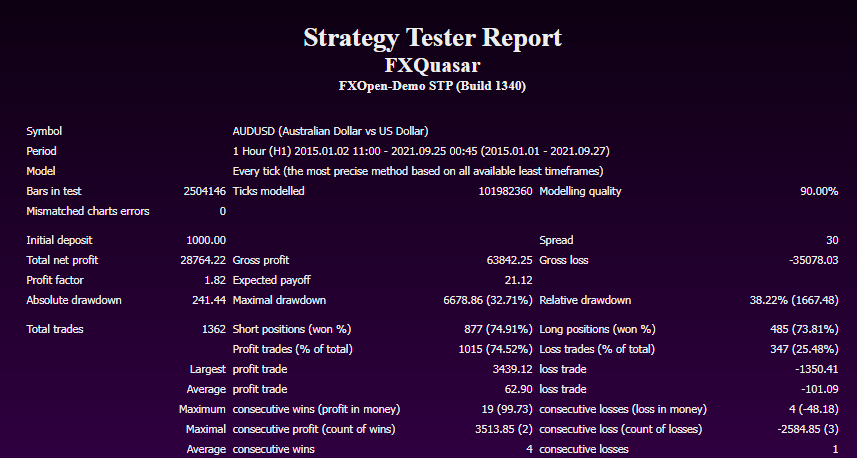 We have the backtest results of the AUDUSD currency pair since 2015. All the tests were done on the H1 timeframe with a 90% modeling quality. By September 2021, the system had earned $28764.22 from a capital of $1000. On average, it made about $4300 annually. Clearly, this amount isn't much. The reason behind this low profitability can be attributed to the numerous losses made, as reported by a huge drawdown of 32.71%. The high average loss trade (-$101.09) compared to the average win ($62.90) further emphasizes our observation.
There's an average profit factor of 1.82 and poor win rates for both short (74.91%) and long positions (73.81%), which are obvious indications of a system that is not fruitful enough.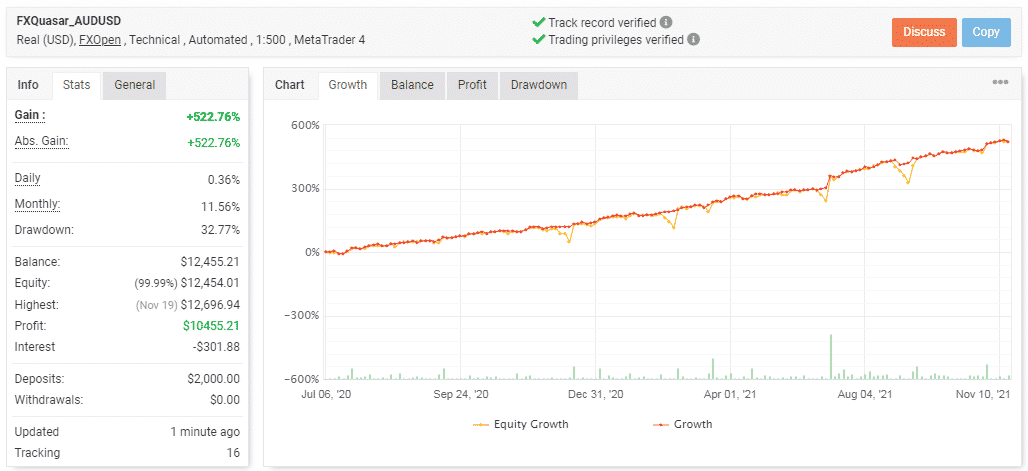 The system began its operations on this account in July 2020 with a $2000 deposit. The end result is a profit of $10455.21 that has caused the balance to increase to $12455.21. A drawdown of 32.77% has been recorded. So, some significant elements of risk are involved in trading.

The EA has executed 323 trades with 76.99 lots. There's a profit factor of 1.80 with win rates of 74% for both long and short positions. Trades are held for quite a long time — 4 days. The average win is 38.86 pips, while the average loss is -101.90 pips.

Going by the statistics on the table above, we are afraid that this account won't be around for long.

Based on these stats, we can tell that the EA mainly makes sell orders.
People say that FXQuasar is…
Unclear. None of the third party sites like Trustpilot, Myfxbook, and FPA have recorded any customer reviews relating to this system.
Verdict
Pros
Has a proven track record
A 30-day money-back guarantee is offered
Cons
Zero vendor transparency
Large drawdown
Vague strategy explanation
FXQuasar Conclusion
FXQuasar can earn you profits, but they cannot be maintained for a long period. This is because based on its live records on Myfxbook, the losses made increase over time. Thereby, the drawdown becomes huge and weakens the account it trades on. So, your investment may be rendered useless within a year or so of trading. All in all, think hard if this is what you want before you purchase the system.