Gold Scalper Pro is an ATS that is designed to work particularly on the XAU/USD pair. As per the vendor, this ATS uses a profitable and successful strategy that involves making entries using market impulse followed by a correction. The vendor claims that this approach has been used successfully for over 15 years.
This FX EA boasts 14 years of backtesting results and proven live performance. While the drawdown is low, we find the system uses a risky approach that can endanger your capital. Further, there are other downsides like lack of vendor transparency and poor customer support.
Vendor transparency
FxAutomater is the company promoting this FX Robot. It comprises a team of professional FX traders with over 15 years of experience in the field. There is no further information on the company like its founding year, location address, phone number, etc. This lack of info raises a red flag for the company and its products. For support, an online contact form is the only method present.
How Gold Scalper Pro works
As per the vendor, the main features of this FX EA that make it a successful trading tool are:
It uses a strong, simple, and pure logic for its approach.
A reasonable TP and SL level, along with an ATR-based algorithm are part of its trading strategy.
Advanced news filters and time management systems are used by the EA.
Protective features for brokers, high spread, and slippage conditions are present.
A low drawdown and effective exit logic are used, including a Friday exit method.
Email and push notifications are enabled for this FX EA.
Timeframe, currency pairs, deposit
This FX Robot uses the M1 or the M15 timeframe and as per the vendor, all timeframes are hardcoded in the system. The XAU/USD is the main currency pair and the minimum recommended deposit for reasonable profits is $1000. The vendor does not reveal info on the leverage used.
Trading approach
According to the vendor, this ATS uses a low-risk approach. It does not use risky methods like grid, Martingale, etc. The market impulse-based approach is used, along with reasonable SL and TP levels. We could not find further explanation of the strategy.
Pricing and refund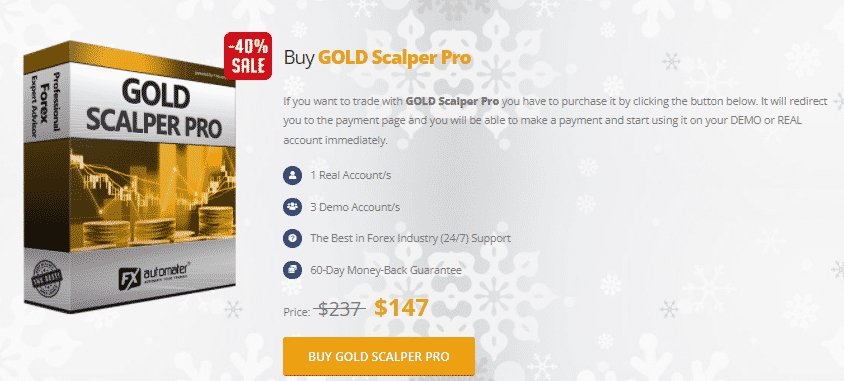 To buy this FX Robot, you have to pay $147. The price includes one real and three demo accounts, 24/7 support, and a 60-day money-back assurance. A detailed user manual and lifetime free updates are also present. When compared to the price of other similar products on the market, we find the price is not expensive.
Trading results
The vendor provides backtesting results for this FX Robot. Here is a backtesting result for the XAU/USD pair using the M15 timeframe from 2004 up to 2018.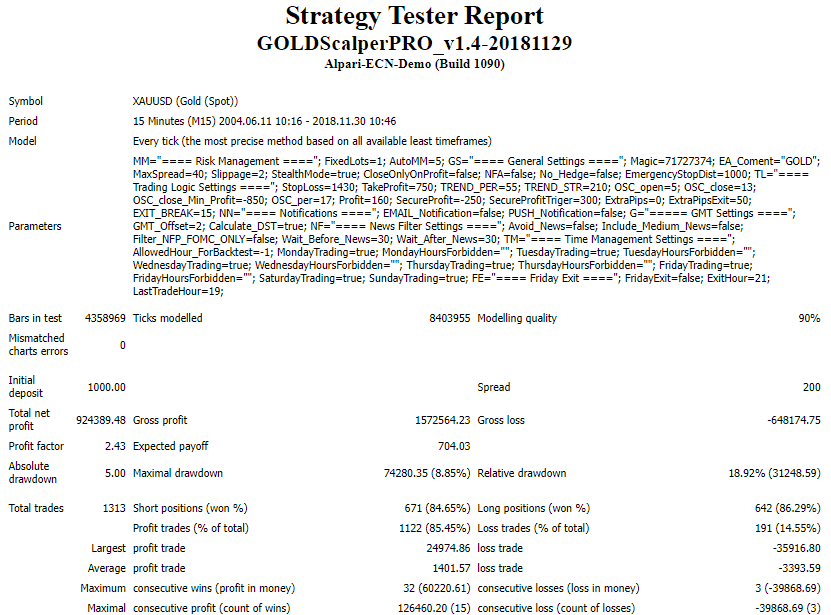 From the above report, we can see a total net profit of 924389.48 was generated for an initial deposit of $1000. For a total of 1313 trades, 85.45% profitability and a profit factor of 2.43 were present. The maximum drawdown for the account was 8.85%. While the profits look good, the results based on historical data cannot assure a similar profit in real trading.
A live demo account for the FX EA verified by the Myfxbook site is present on the official site. Here are a couple of screenshots of the results.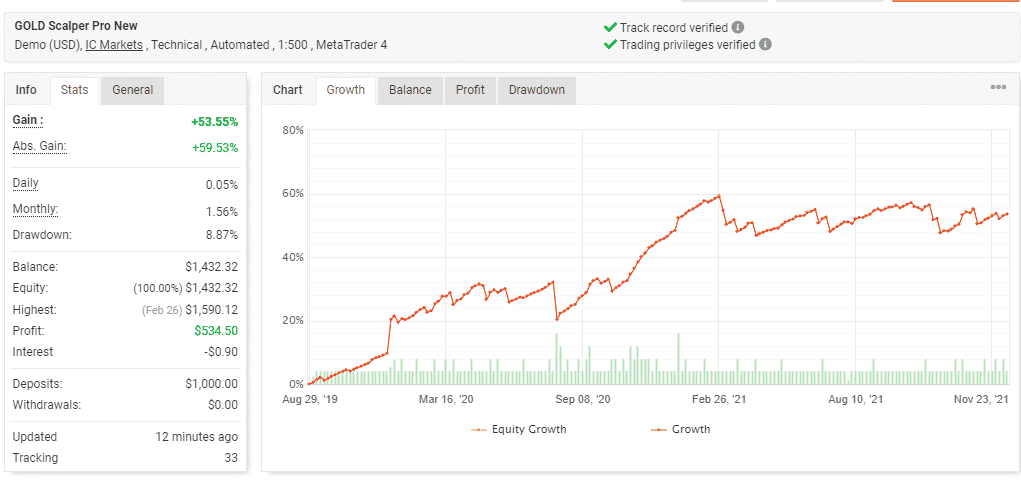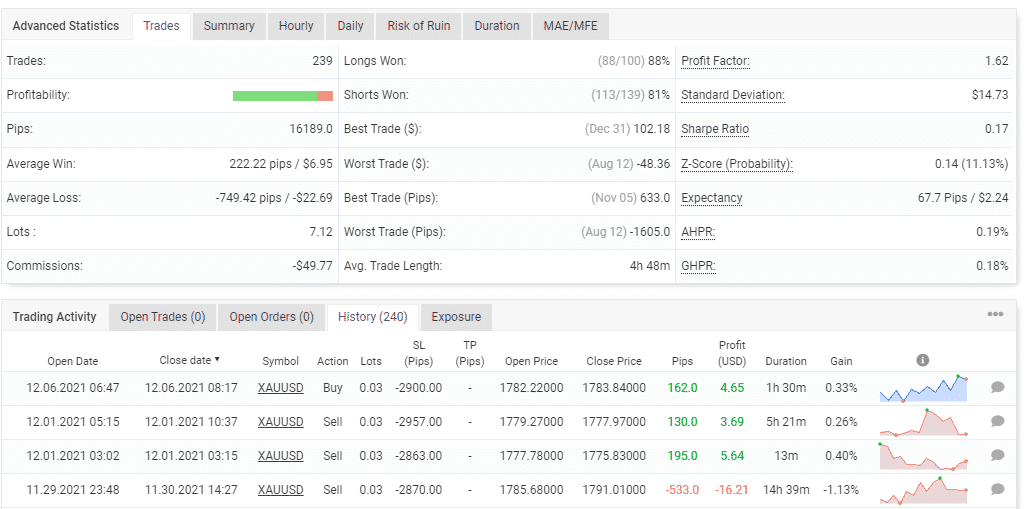 From the above stats, we can see the EA has generated a total profit of 53.55% and an absolute return of 59.53%. A daily and monthly profit of 0.05% and 1.56% are present for the account. The drawdown for the account is 8.87%. For a deposit of $1000, the account that started in 2019 has completed 239 trades with 84% profitability and a profit factor of 1.62.
From the trading history, we can see a lot size of 0.03 is used. The big lot size indicates a risky approach. Comparing the backtests with the demo results, we find the drawdown and profitability are similar, indicating the same level of high-risk approach being used. Furthermore, the vendor does not provide real trading results, which can affect our evaluation.
People say that Gold Scalper Pro is…
Unreliable system. According to user feedback on the Trustpilot site, the customer support is unresponsive and the user feels that this is a scam site. Here is a screenshot of the user review: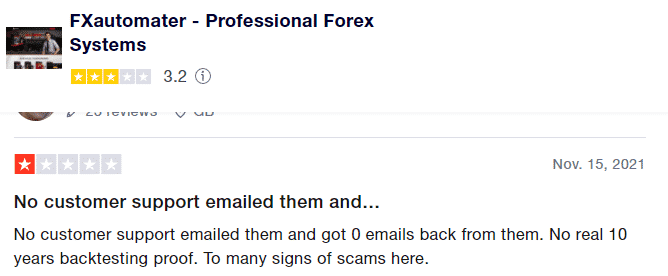 Verdict
| | |
| --- | --- |
| Pros | Cons |
| Fully automated software | Vague strategy explanation |
| Verified trading results | No real trading results |
| | Lack of vendor transparency |
Gold Scalper Pro Conclusion
Gold Scalper Pro fails to provide proper proof for its claims of profitable results. The vendor provides only demo results and they indicate a risky approach. Further, the strategy explanation is vague and there is no vendor transparency. We like that the vendor has shared the live trading results of this trading tool, but it would have been better if it was a real trading account and not a demo one. A real account can be beneficial for traders as it will help them better assess the system's efficacy.