Gratified Long Term Day Trader is a Forex expert advisor that is available for sale on the MQL5 website. You can run the EA on both MT4 and MT5 trading platforms. Both versions of the robot were launched on January 11, 2022.
Compared to other EAs, this one is quite affordable. Also, it is compatible with 14 symbols, which means you have the opportunity to diversify your investment portfolio. However, we have very little information on the developer. They don't have a refund policy and the live trading performance has been quite dismal so far.
Vendor transparency 
The developer, Scott Fredeman, is based in the United States. He has an official website called destroytheodds.com. This developer has been selling products on MQL5 for over five years. We don't know much about his background and it is unclear whether there are other people assisting him. Other EAs from this vendor include Aggressive Grid Sniper, Trend Crusher, Midnight Blitz, Blazing Night Scalper, Market Crusher Pro, and EA Monster Multiple Strategies. There is no contact information available for the developer.
How Gratified Long Term Day Trader works 
The vendor claims that the EA is designed to recover its losses. It takes advantage of the daily price movements for the 14 pairs it is compatible with. The market goes through winning and losing cycles, so sometimes one pair might not be doing so well. This EA was optimized from 2010 to 2021 with 100% tick quality using Dukscopy Real tick data. Since it is not a spread-sensitive system, you can run it on most brokers with no issues whatsoever.
Timeframe, currency pairs, deposit 
After you attach the EA to a EUR/USD H1 chart, you need to set your lot size. Following this, the robot will start automatically trading in other pairs like AUD/CAD, AUD/JPY, AUD/NZD, AUD/USD, EUR/CHF, EUR/NZD, GBP/AUD, GBP/CAD, GBP/NZD, GBP/USD, NZD/CAD, NZD/USD, and USD/CAD. We don't know about the minimum deposit requirement for the robot.
Trading approach 
For some symbols, the EA trades the trend, while for others it follows a counter-trend approach. It sets take profit and stop loss levels based on the volatility level for a particular symbol. For determining the entry of each symbol, it uses moving averages.
Pricing and refund 
The current price of this EA is $299, which makes it extremely affordable. Although there is a free demo version, the vendor does not have a money-back guarantee policy.
Trading results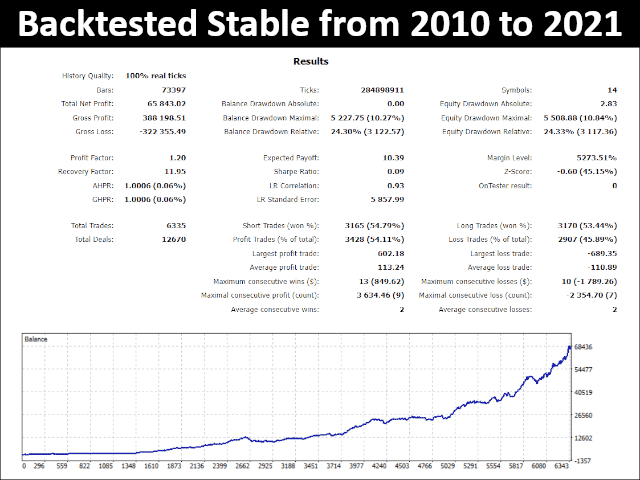 This backtest was conducted from 2010 to 2021. The EA placed 6335 trades, winning 54.11% of them and generating a total profit of $65843.02. Compared to other systems, the win rate was not that high, and the profit factor was only 1.20. There were 13 maximum consecutive wins and 10 maximum consecutive losses during the testing period.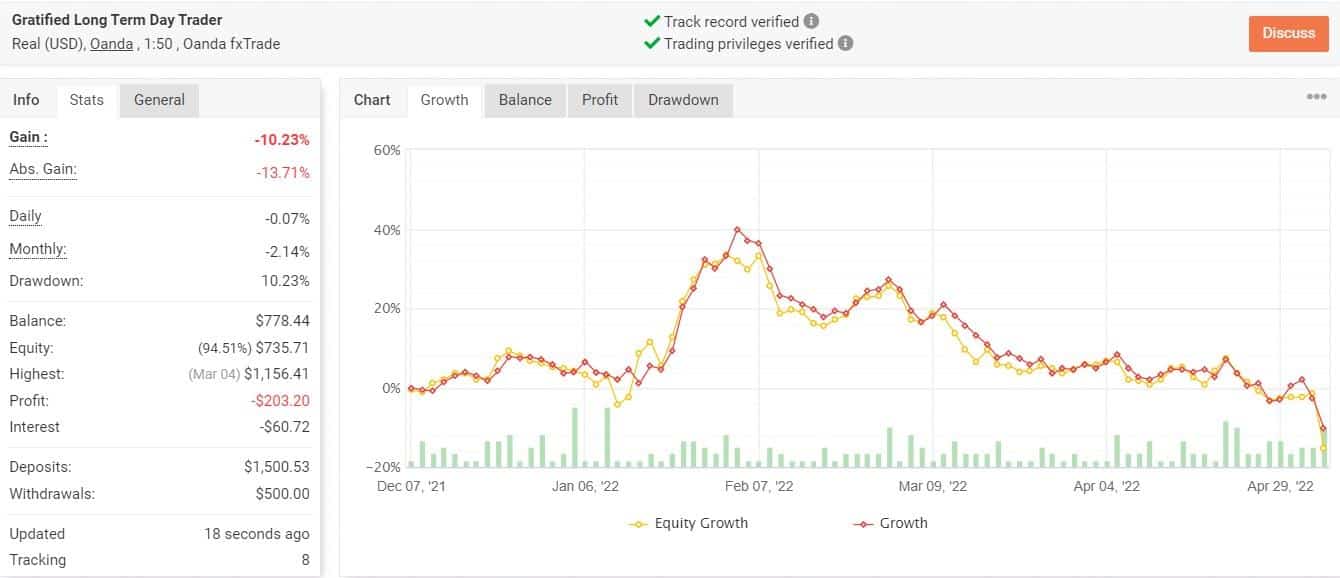 On the MQL5 product page, the vendor has not shared the verified trading results for this EA. After conducting our own research, we came across this trading account on Myfxbook that was launched on December 07, 2021. For the short time it has been active in the live market, the EA has conducted 219 trades, winning only 48% of them. At this moment, the time-weighted return for this account stands at -10.23%. This tells us that the system has suffered heavy losses.
Currently, the daily and monthly gains are -0.07% and -2.14%, respectively. The account is currently running at a loss of -$203.20. It has a very low profit factor of 0.89.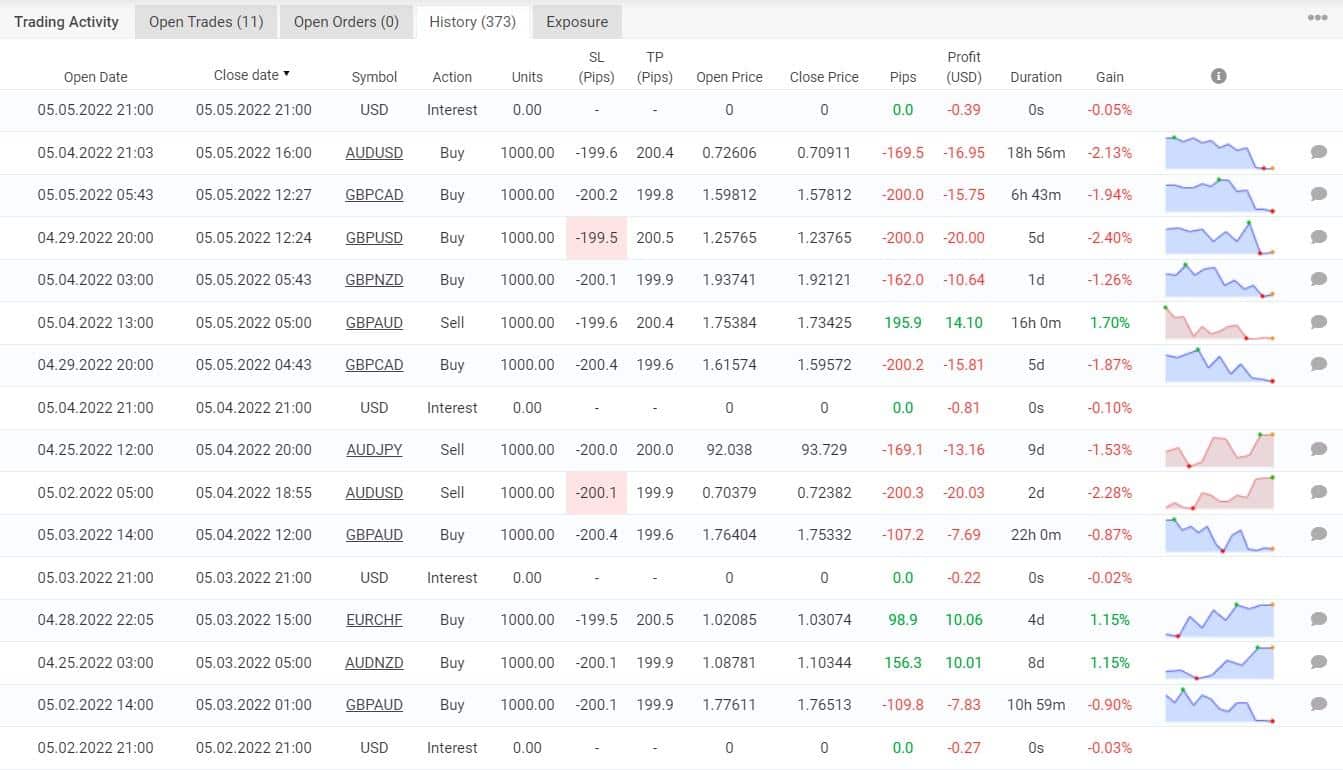 It is evident from the trading history that this EA is prone to suffering heavy losses frequently. On average, it holds a trade for six days. The average win and loss for this account are 135.12 pips/$10.73 and -134.20 pips/-$11.33, respectively.
People say that Gratified Long Term Day Trader is…
Doubtful. At this moment, there are no reviews for this EA on third-party websites.

Although there are some reviews on MQL5, we cannot consider them authentic.
Verdict 
| | |
| --- | --- |
| Pros  | Cons |
| Affordable price | No refund policy |
| | Poor live trading performance |
| | Lack of vendor transparency |
Gratified Long Term Day Trader Conclusion
Gratified Long Term Day Trader does not perform well in the live market. It suffers frequent losses and can drain your account in no team. Although the EA is quite affordable, we have very information on the developer and there is no refund policy.