Crypto trading can be described by many adjectives, but easy is not one of them. To that end, several innovative titans of industry sought to automate the most tedious processes of trading. There is no shortage of these bots, but not all of them are worth investing in. We'll explore Gunbot in detail and find out whether it is legitimate, or an outright scam.
What is Gunbot?
Gunbot is a fully automated crypto bot that features a standard interface and sophisticated trading tools. It is compatible with a wide variety of exchanges, and allows trading of numerous crypto assets. One can utilize its built-in strategies or create their own. It also boasts a wide community of users who interact on their private Telegram channel. Due to its complexity, it is better suited for experienced traders.
| | |
| --- | --- |
| Headquarters | London |
| Founded | 2016 |
| Supported exchanges | 123 + |
| Native token | GUNTHY |
| Support fiat currencies | N/A |
| Trading pairs | Unlimited |
| Minimum deposit | N/A |
| Deposit fees | N/A |
| Withdrawal fees | N/A |
| Customer support | Telegram and email. |
Main features
Unlimited trading pairs
Can trade on multiple exchanges concurrently
Lifetime license comes with free updates
Features reversal trading for bear markets
Has 14 built-in strategies
Is compatible with Windows, Mac and Linux
How does the bot trade?
This bot comes with 14 popular strategies pre-installed. These employ the popular technical indicators Bollinger Bands, Emotionless, Gain, ADX, Ichimoku, MACD, SMA cross, Ping Pong among others. One can choose to execute any one strategy that tickles their fancy. You can also combine the strategies and/or fully customize them to match your personal trading style. These strategies can be executed on any one of the 100+ exchanges Gunbot is compatible with.  It can also operate on several exchanges simultaneously
Trading approaches of Gunbot
Unfortunately, the vendor's official website does not go into much detail on the exact strategies the bot employs. This is unsettling as there's no way to know what you're signing up for. What they do say, however, is that the bot can utilize a bevy of strategies. This could be grid trading, trend following, or using indicators and trailing stops. One can also create their custom strategies and use the bot to trade them autonomously.
Is Gunbot profitable?
On the vendor's official website has a screenshot of what appears to be back-testing results. They show a trade running from June 8, 2021 to July 8, 2021.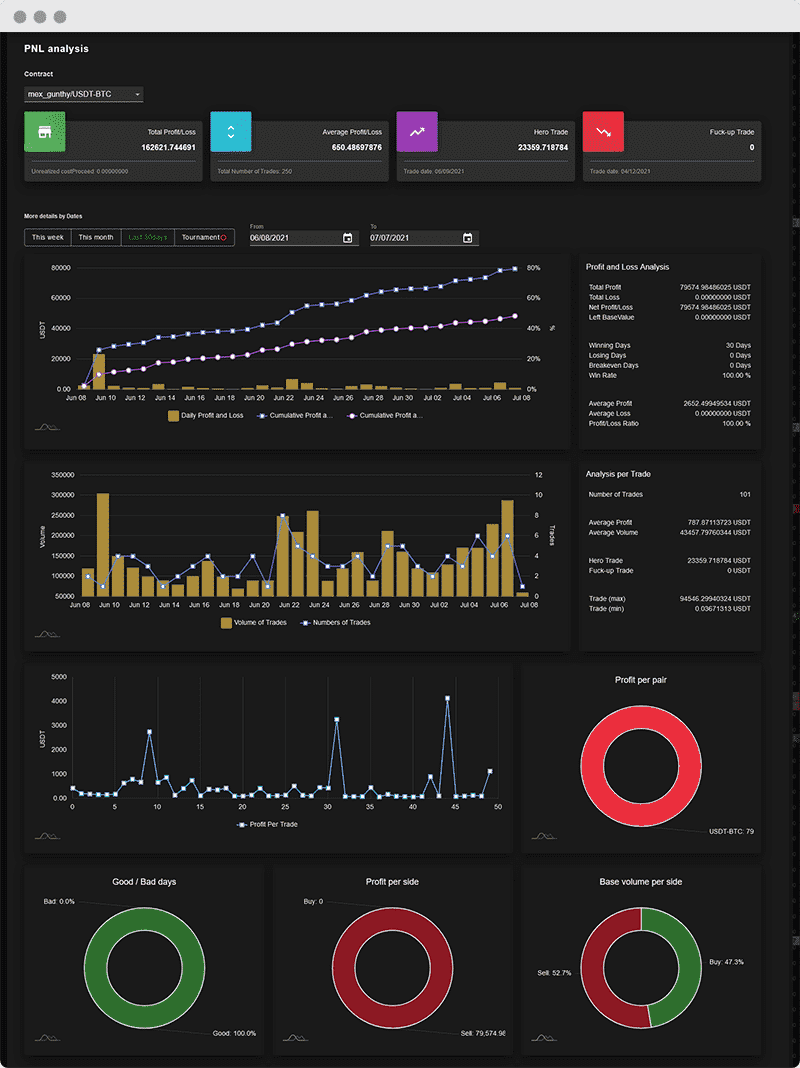 It resulted in a 100% win rate from a total of 250 trades. Unfortunately, the screenshot does not provide any further information, making its findings inconclusive. Combined with the fact that we couldn't find back-test results on authoritative third-party sites, this calls into question the validity of these results.
How to get started on Gunbot
Gunbot is not cloud-based. It is offered as a downloadable program that's compatible with Windows, Mac and Linux. This means the onus of ensuring its security falls squarely on you. The installation file comes in the .zip format. You will need to allow certain settings of this software in the firewalls settings on your computer.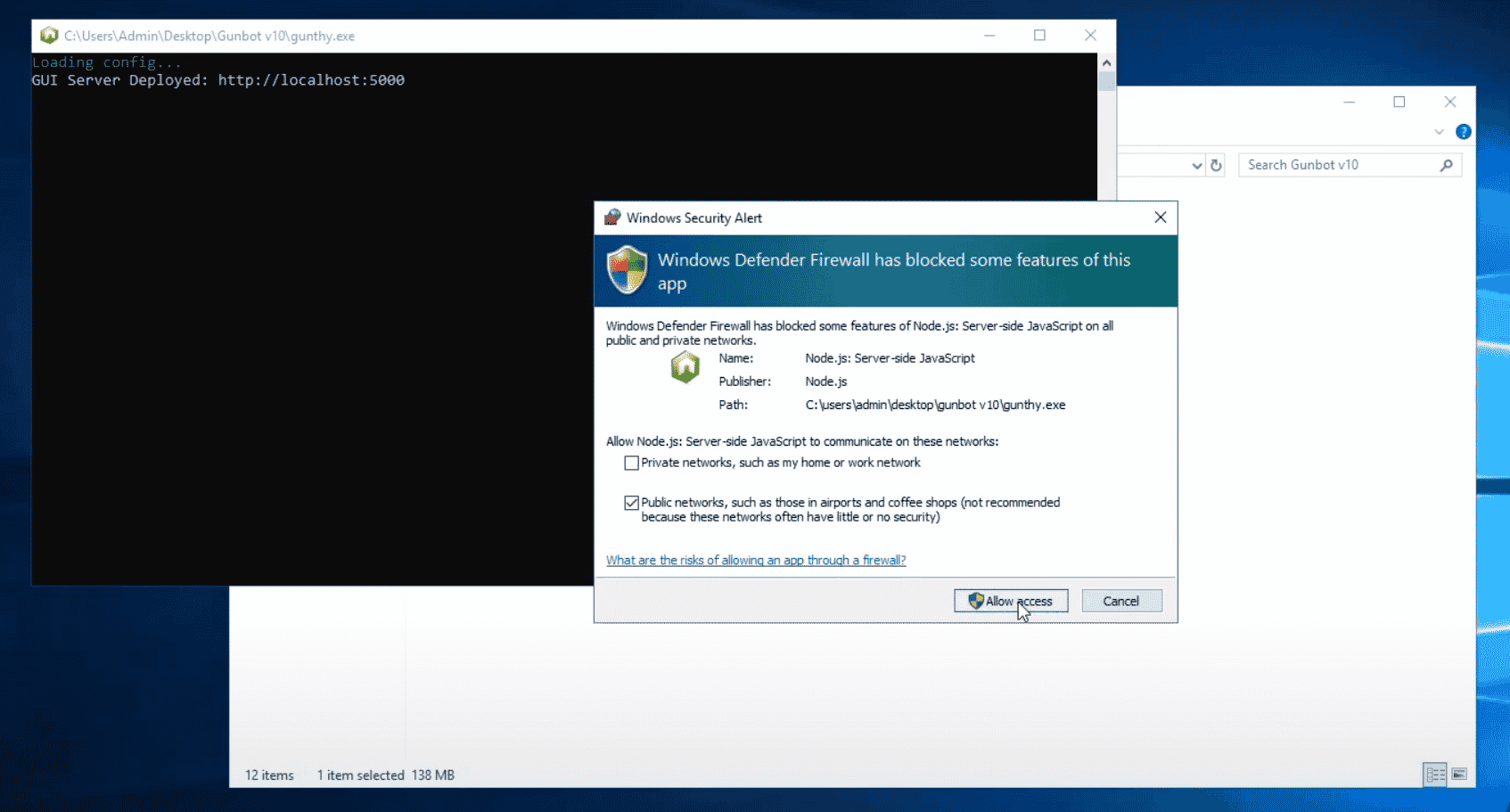 After you install it on your computer, you can access it on your browser. Next, you need to connect your exchange using an API. Notably, you do not need to grant Gunbot withdrawal permissions.
The final step involves selecting your trading pairs and your preferred strategies for each. You can also customize the available strategies, or create a custom one at this step. Once this is complete, the bot will be ready to run.
How beginner friendly is Gunbot?
We would not recommend Gunbot to beginners. Most of the functionalities it offers require a seasoned trader's expertise. Otherwise, you will be stuck in lengthy tutorials before learning the ropes. What's more, creating custom strategies requires some coding knowledge.
Gunbot compatibility – exchanges and coins supported
Gunbot supports more than 100 exchanges. These include popular names like Binance, Bitmex, Coinbase Pro, KuCoin, Kraken and Huobi, among others. This means it is compatible with only those coins listed on these platforms. However, certain features and strategies are not supported on some exchanges. This is very restricting to some users.
Commissions, deposits and withdrawals
Gunbot does not work on a regular subscription basis. It also does not charge any commissions or trading fees. Rather, its users are required to pay upfront for a lifetime license. This seems rather daunting, especially considering there is no money-back guarantee.
Gunbot pricing details
There are five packages of this bot. The first is a Starter, which costs 0.0055 BTC. There's also the Standard package, priced at 0.014 BTC. Both of these can only trade on 1 exchange at a go. The Standard allows spot and futures trading while Starter only offers spot trading.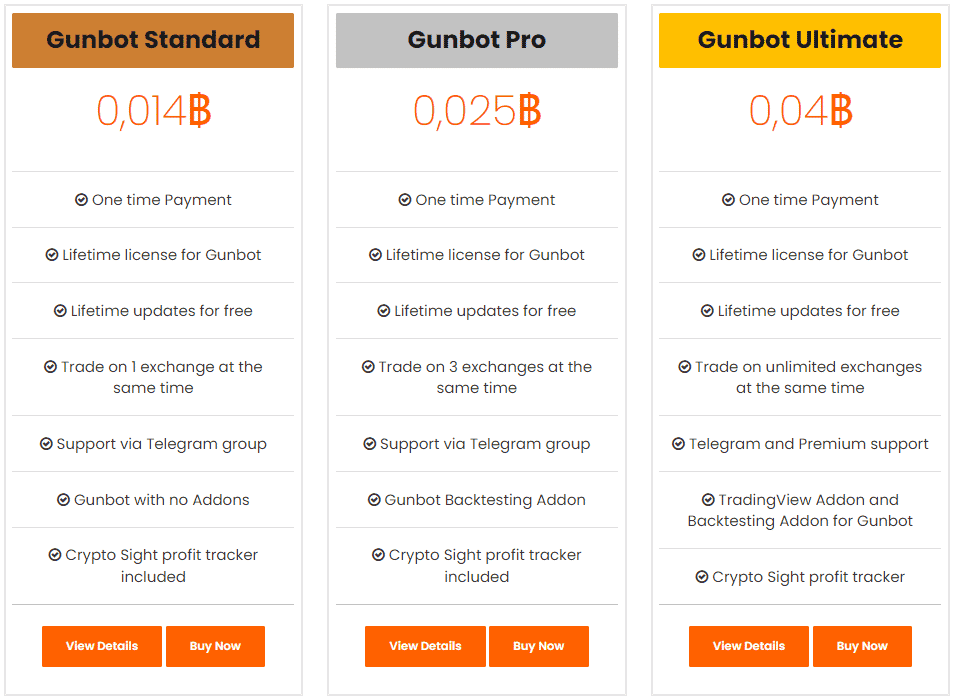 The third package is the Gunbot Pro, which goes for 0.025 BTC. This can trade up to 3 exchanges simultaneously. For 0.04 BTC, the Gunbot Ultimate plan will allow you to trade on an unlimited number of exchanges concurrently.
Finally, there is also the Diamond pack available for 0.036 BTC. You can also purchase add-ons like Premium support, a settings pack and a TradingView lifetime license. Considering they don't offer a money-back guarantee or a free trial, this can be quite expensive.
Security
The Gunbot program requires to be downloaded onto your device. This means it is only as safe as your devices are. What's more, the said device has to be kept on for the entirety of the bot's running time. This is very unsettling to casual traders.
Is Gunbot regulated?
There is not any regulatory body under which Gunbot is licensed. As a software product, it is subject only to the same regulations as your trading account.
Gunbot company reputation
Gunbot is fairly reputable and has an active Telegram community. However, their Telegram group is private. TrustPilot rates it at 4.1/5 stars, which shows that people are generally pleased with its service. And its profile on TrustPilot is claimed, i.e., confirmed.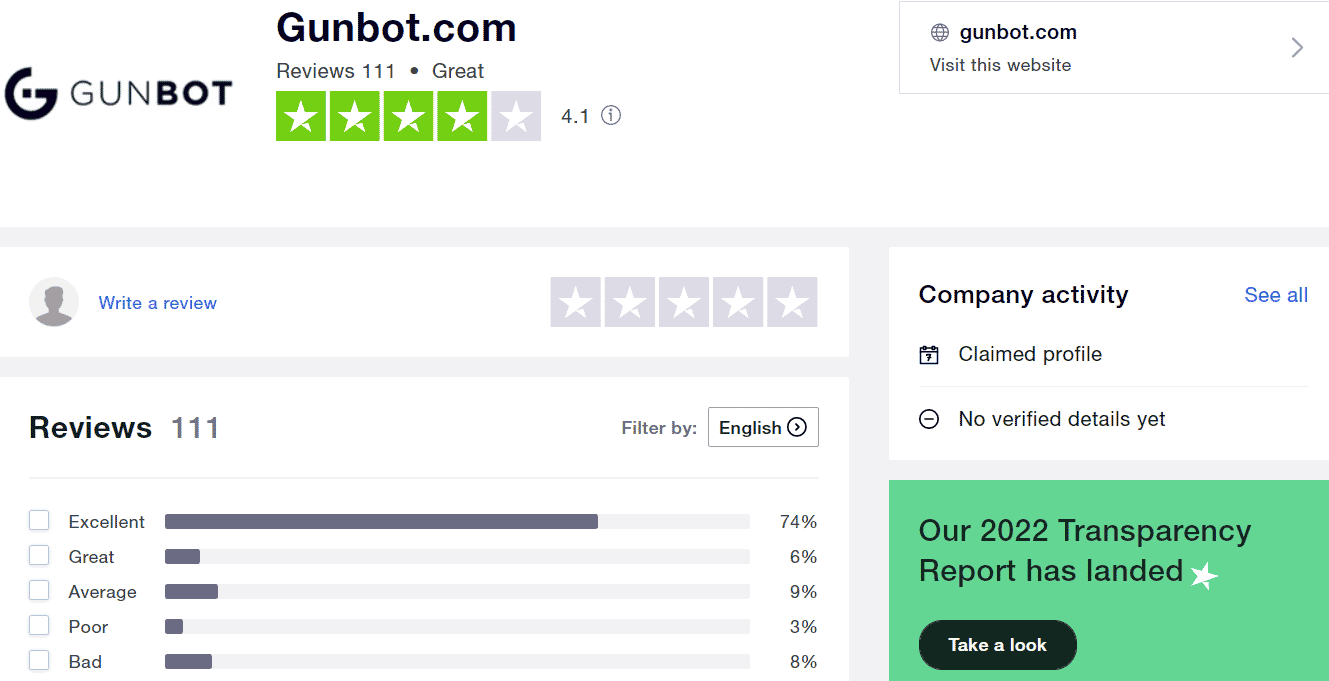 The company behind this bot is SourceForge, which was founded in 1999. It is headed by Logan Abbott and Roger Sheppard.
Customer support
The vendor claims that you can access support through their private Telegram group, or email them for any confidential issues.
Public reviews
This bot has numerous reviews on TrustPilot. Despite the overall 4.1/5 rating, not every review is positive. Some users have raised issues that the vendor does not always respond to.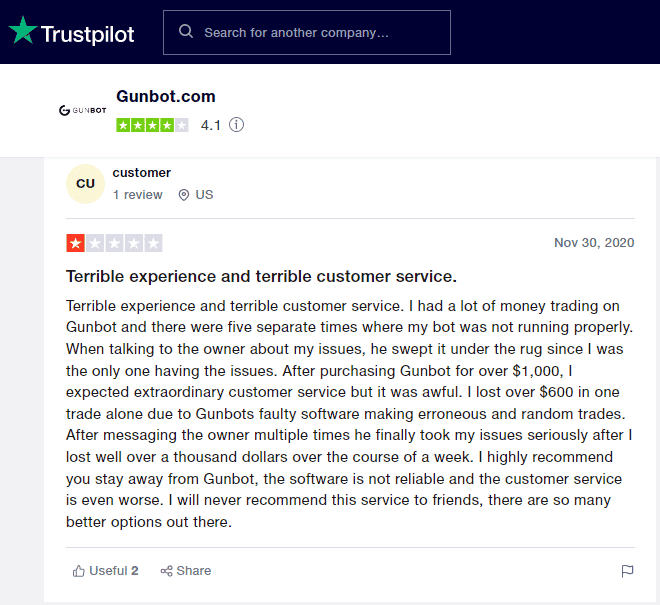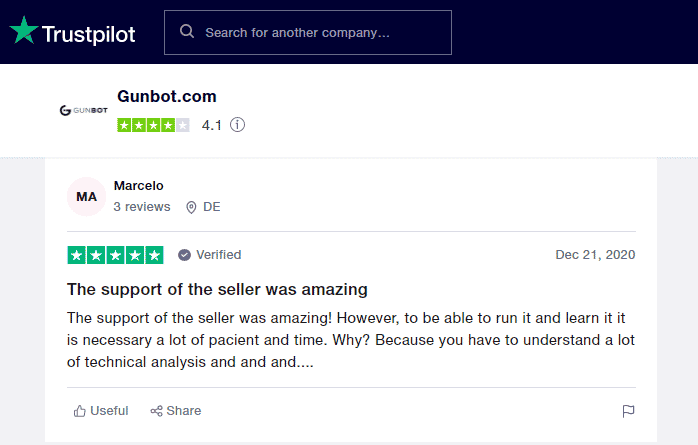 Gunbot review: upsides and downsides
| | |
| --- | --- |
| Upsides | Downsides |
| Supports 100+ exchanges | Only available on desktop |
| Offers lifetime license | Not suitable for beginners |
| | Offers no money-back guarantee |
Gunbot review summary
The vendors of the Gunbot crypto bot emphasize its compatibility with several exchanges and its robust features. However, not all functionalities are enabled with each exchange. Further, its features require a great deal of trading and coding expertise to fully utilize.