Happy Frequency uses a grid, semi-martingale, hedge, and trend strategies on the Metatrader 4 platform. The algorithm is compatible with various currency pairs and uses a news filter to avoid trading in uncertain market conditions. Read our full article to learn more about the algorithm and its possible benefits and demerits.
Vendor transparency
Happy Frequency was developed by Happy Forex, a company founded in 2016 by a group of professional traders and software developers. The vendors have a variety of products available on their websites. Their official website has links to external forums such as Facebook, LinkedIn, Pinterest, Twitter, etc. The product comes with 24/7 customer support as per the developer's claims.
How Happy Frequency works
Happy Frequency comes with the following main features mentioned below:
Auto-quotes detection for up to 4 or 5 digits
Based on Metatrader 4 platform
Compatible with multiple currency pairs
Works with ECN brokers
24/7 customer support
Lifelong upgrades and updates
Easy to set up and install
Unlimited use after purchase
100% automated
The account uses 1:500 leverage
Comes with Live and backtesting records
To start using the Happy Frequency, use the following steps:
Purchase the robot from the vendor's website
Download the expert advisor on your PC
Open Metatrader 4 platform and place the algorithm in the experts' section
Drag the robot onto the chart section
Enable auto-trading
Timeframe, currency pairs, and deposit
Happy Frequency places executions on different currency pairs such as USDCAD, EURUSD, EURGBP, EURJPY, EURCHF, GBPUSD, AUDUSD, USDCHF, and USDJPY. The expert advisor requires a minimum deposit of $4000 to trade on the M5 charts.
Trading approach
The developer states that the robot trades using trend, hedge, and semi-martingale strategies. It is vital to run the algorithm 24/7. The history on Myfxbook records shows us that it uses a grid approach with an average trade duration of 3 days. This refers to a semi swing trading strategy.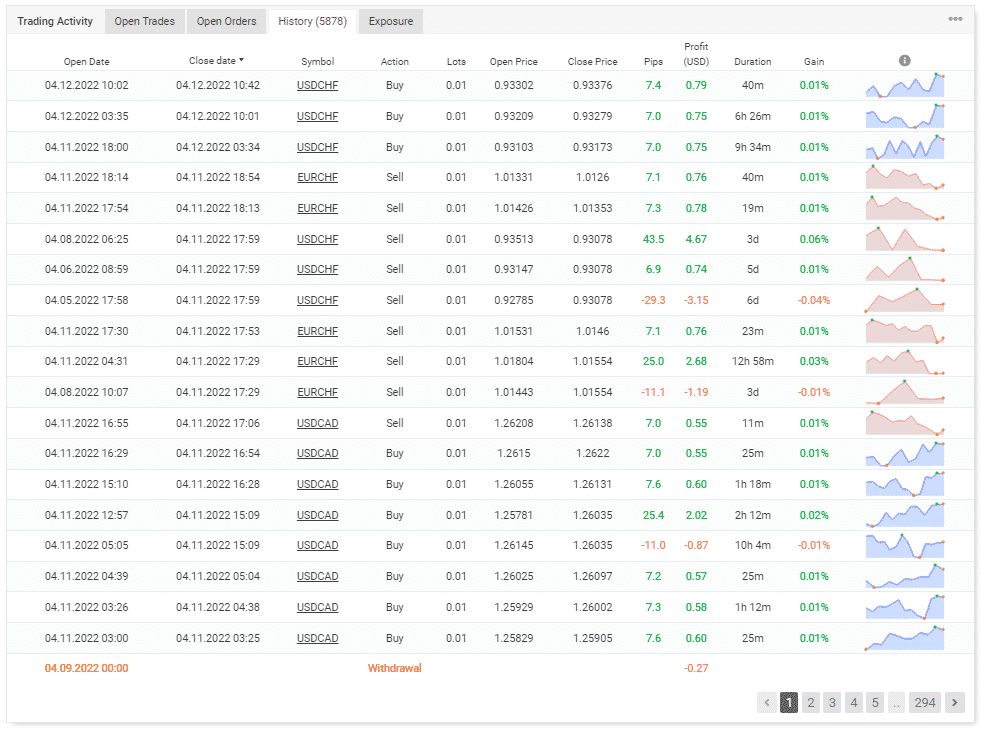 Pricing and refund
Happy Frequency comes with a whole pack of 10 EAs on a single purchase which includes: Happy Frequency, Happy News, Happy Gold, Happy Forex, Happy MartiGrid, Happy Way, Happy Market Hours, Happy Algorithm PRO, Happy Fast Money, and Happy Trend.
The robot comes with two different packages; for an asking price of €299 and €499, traders get 2 and 5 keys, respectively. The developer is offering a limited time 30% discount on all its products. The purchase comes with unlimited demo accounts, complete user tutorial, 24/7 customer support, lifetime updates, and a 30-days money back guarantee.
Trading results
Although the dev does not share a backtest report, they provide a 3-years old trading account, starting from July 2018. The profit was $67988.39 with a drawdown value of 76.83%. The profit factor was 1.99, and the standard deviation was 25.72%. The algorithm participated in 15478 trades with a winning expectancy of 74%.
With a total gain exceeding 2000%, we can see how the algorithm is highly profitable.  The drawdown value can also be reduced subsequently by lowering the lot size while keeping the gains in the promising category.
Happy Frequency comes with live records present from 7 July 2020, till the current date, on Myfxbook. The developer deposited an initial amount of $4000.02. The average gain of the system stands at +103.62%, with a profit factor of 1.86. The robot has a drawdown value of 41.03% and a standard deviation of $4.42. The system participated in 5770 executions with 4687 winning trades.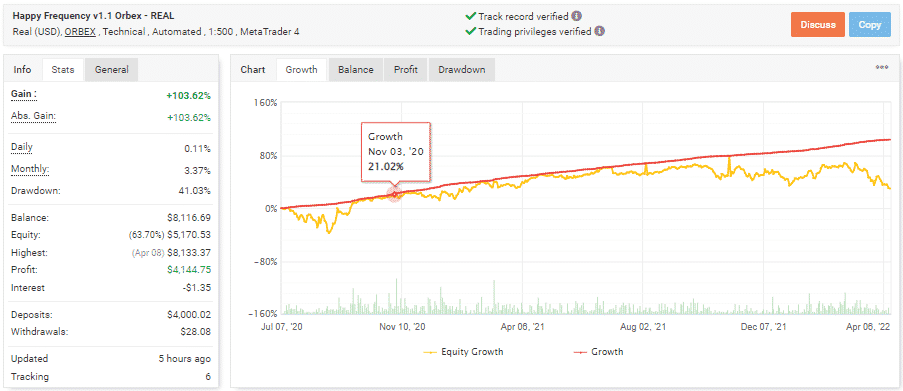 People say that Happy Frequency is…
Satisfying. There are 20 customer reviews present on Trustpilot with a rating of 4.6/5. Unfortunately, there are no reviews about Happy Frequency, but traders have reviewed other products from the same vendor.
One buyer commented that Happy EAS outperformed all the EAs and is satisfied with the vendor.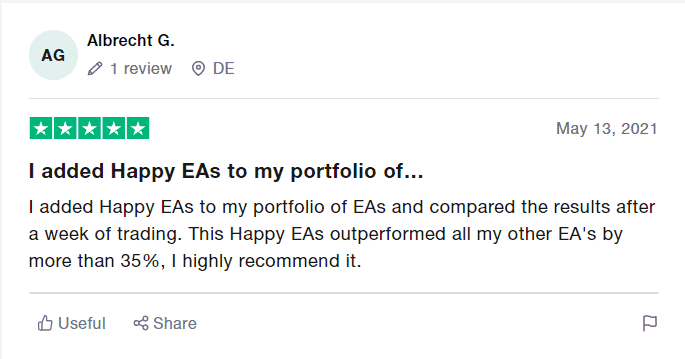 Another trader commented appraising the vendor's customer service and stated that he would have given ten stars.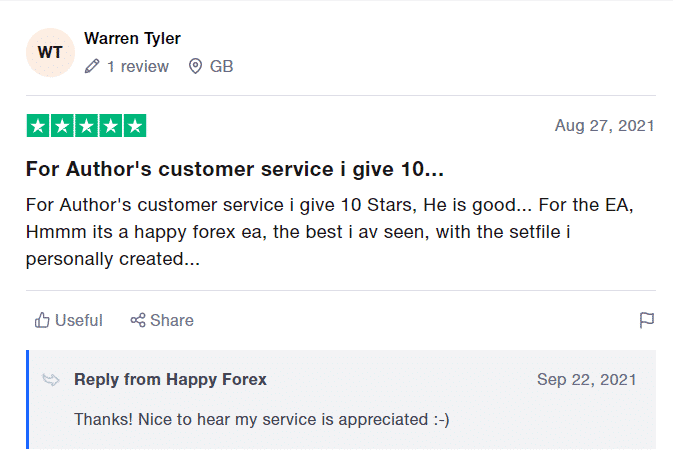 Verdict
Pros
Live records available
Easy to use and install
30-days money back guarantee
Cons
Happy Frequency Conclusion
Happy Frequency is a powerful, fully automated expert advisor compatible with different ECN brokers and accounts. It works on various currency pairs, and the developer claims a one-month money back guarantee. The robot comes with 24/7 customer service and lifetime upgrades with the purchase.