Happy Galaxy is a fully-automated Forex trading system that is compatible with multiple currency pairs. According to the vendor, it is capable of reducing drawdown even in volatile market conditions. They have shared the verified trading statistics for this robot and there is a money-back guarantee to protect the customer's investment. However, the EA trades with a high drawdown and has a very short trading history. Therefore, we don't think it is a good idea to invest in this robot.
Vendor transparency
This is a product from the Happy Forex team, which is based in Germany. We don't know when this company was founded and what kind of trading experience the members have. The vendor has not revealed the identities of the developers and there is no official contact information. We are quite disappointed to see the lack of vendor transparency.
How Happy Galaxy works
This EA supports ECN brokers and is compatible with FIFO rules. It can perform autodetection of 4 or 5 digit quotes. The vendor claims that the EA is compatible with all brokers. You can run Happy Galaxy on different operating systems like Linux, Mac OS, and Windows. The robot has built-in methods for gauging the direction of the trend and recovering losses. However, the vendor has not elaborated on these methods. Happy Galaxy also has a news filter for reducing volatility, but as we can see from the live statistics, it is not able to maintain a low drawdown.
Timeframe, currency pairs, deposit
HAPPY GALAY is best suited for the H1 timeframe. It supports currency pairs like EUR/USD, GBP/USD, USD/CHF, EUR/GBP, and EUR/CHF. Although the minimum deposit is $1000, the vendor recommends making a minimum deposit of $2000. For the live trading account, the EA uses 1:500 leverage.
Trading approach
Unfortunately, there is no information available on the trading strategy used by the expert advisor. The vendor has not explained how the system determines the direction of the trend. Experienced Forex traders usually look for strategy-related information, and this will surely disappoint them.
Pricing and refund 
Happy Galaxy is available for a one-time price of 299 Euros. By purchasing this robot, you get the Happy Forex Full Pack containing 10 EAs, free of charge. In case you have already purchased the Full Pack EAs, you will need to pay a discount of 30%. The vendor offers a 30-day money-back guarantee for this product. You pay for the license only for the first month, and after that, it is automatically renewed for lifetime.
Trading results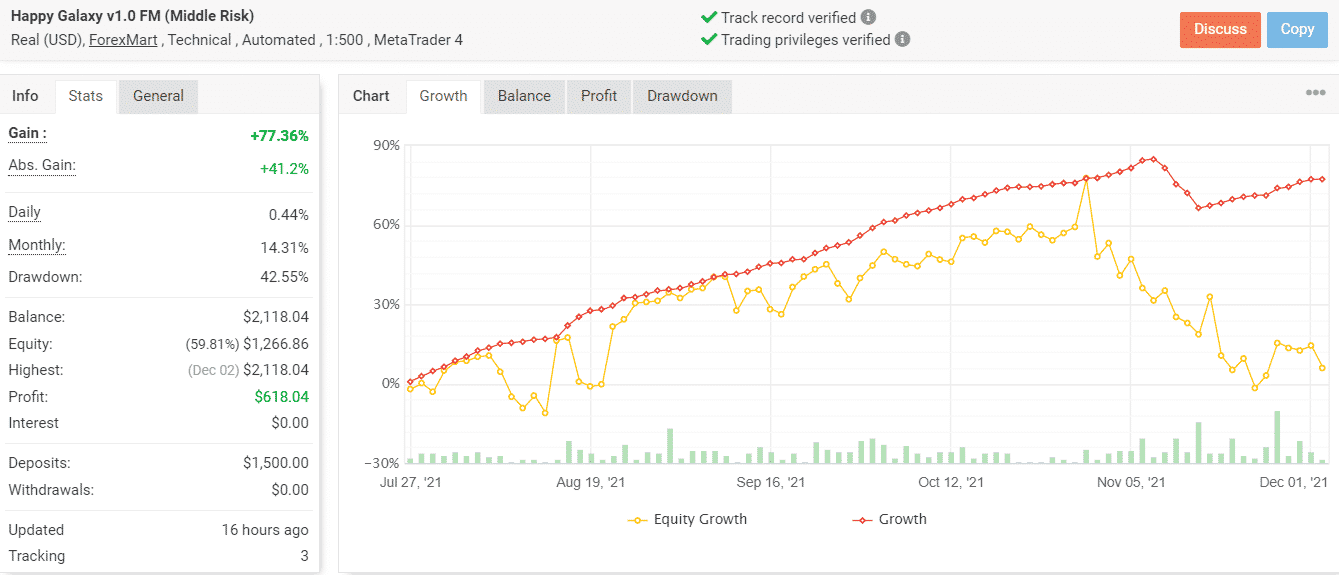 This live trading account was launched on July 27, 2021. After conducting 526 trades, the win rate for this account currently stands at 82%. It has average daily and monthly gains of 0.44% and 14.31%, respectively. However, due to the short trading history, it is difficult to gauge the profitability, seeing as the system has not been exposed to different market conditions. The account has a profit factor of 2.17 and a drawdown of 42.55%. Looking at the high drawdown, we can say that this is a high-risk trading system.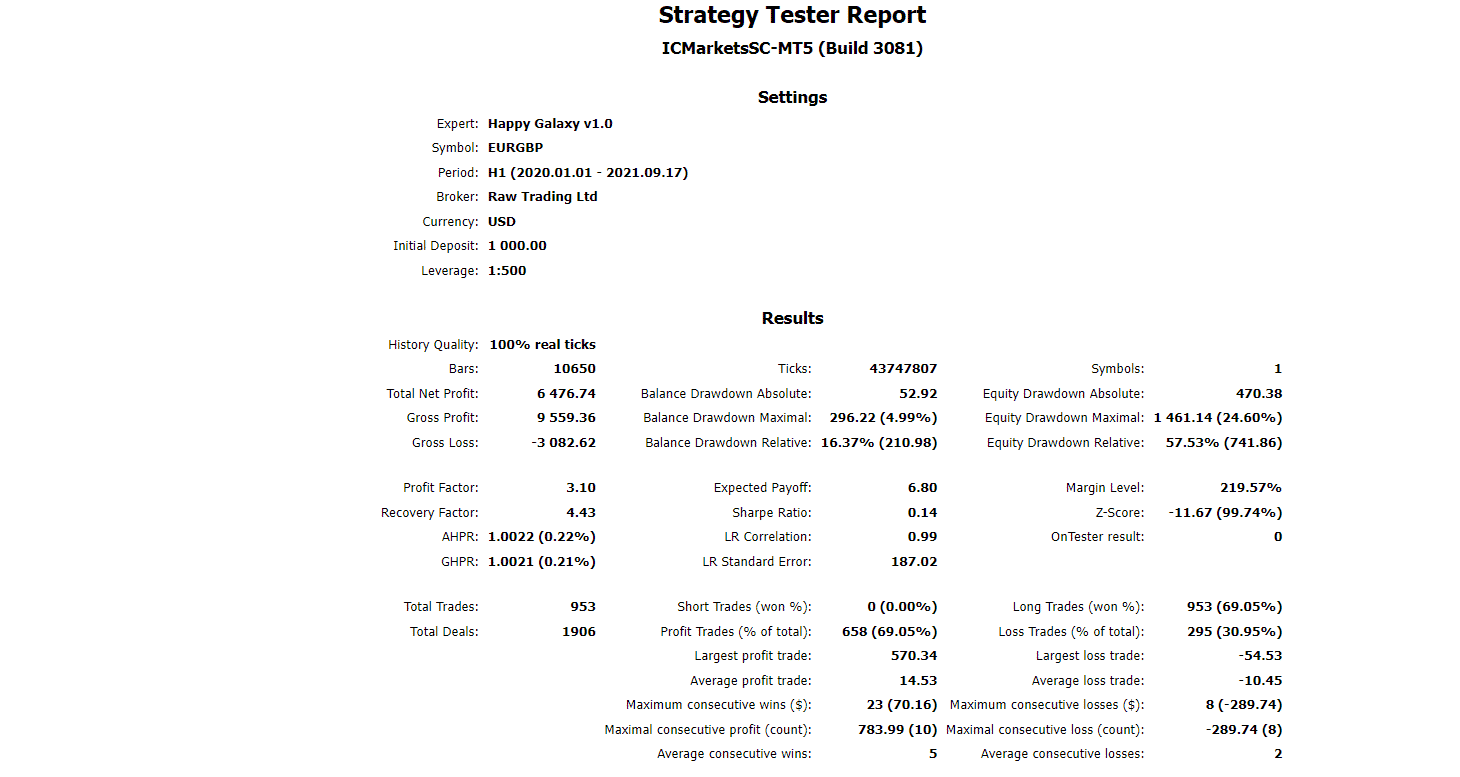 This backtest was conducted on the EUR/GBP pair for the H1 timeframe with 100% real ticks. The EA carried out 1906 trades from January 2020 to September 2021. It had a win rate of 69.05%, which is significantly lower in comparison to the live statistics. The total profit generated during the backtest was $6476.74, while the profit factor was 3.10. Here also, we can see a high drawdown of 57.53%. It is dangerous to trade with a system that follows such a high-risk strategy.
People say that Happy Galaxy is…
Doubtful. At this moment, there are no user reviews for this EA on trusted third-party websites. Clearly, not many people trust this system because of its short trading history. Happy Galaxy trades with drawdown and thus can drain your account overnight. Furthermore, there is a lack of vendor transparency surrounding this robot.
Verdict
| | |
| --- | --- |
| Pros | Cons |
| Verified trading results | Not enough information about developers |
| Money-back guarantee | Extremely high drawdown |
| | Short trading history |
Happy Galaxy Conclusion
Happy Galaxy is an extremely risky investment. We know little or nothing about the development team that has built this system. This expert advisor follows an unknown strategy that leads to a high drawdown. The system lacks reputation since there are no reviews from authentic users. As such, it is better to stay away from it.