Happy News is a Forex robot that works on the Metatrader 4 platform and claims to let traders take advantage of the market momentum by closely monitoring financial news related to the Forex market. This is a fully automated system that has multiple live trading accounts on various third-party websites. However, it has a fairly large drawdown, which might make some investors cautious.
Our first impression of this robot is not too positive, since the presentation on the official website is a bit chaotic.
Vendor Transparency
This EA has been developed by the Happy Forex team. It is a company based in Germany that has designed systems like Happy Power, Happy Neuron, and Happy Breakout. Happy Forex has a page on Facebook, and you can get in touch with the team via the contact form provided on the website. However, we don't know anything about the developers and traders who work for this company.
How Happy News Works?
No matter the outcome of the Forex news, Happy News lets you trade them all. It follows a safe approach where pending orders are placed in both directions. This lets you capitalize on the market momentum, in case the news heavily impacts the price of currencies. You can use this EA with different operating systems, like Linux, Mac OS, and Windows 7, 8, 10.
The EA collects the news from reputable sources, after which a screening process is carried out to deliver a personalized experience for the traders. You can adjust the preferences and only view the news that you consider relevant for a particular currency pair. There are several filters here that give you a high degree of freedom while trading. For example, if you only wish to place a trade when Forex news impacts the price in a certain way, you may set the condition using a filter.
Timeframe, Currency Pairs, Deposit
This robot trades in four different currency pairs, namely AUD/USD, EUR/USD, GBP/USD, and USD/JPY. The vendor recommends using a minimum deposit of $100 and an ECN account for this robot.
Trading Approach
We have little or no information about the trading strategy on the official website. This no doubt makes it more difficult to gauge the system's profitability since technical information related to the strategy can reveal important details about the same. We hope the vendor decides to include this information in the future.
Pricing and Refund
Happy News is currently being sold at a discount of 30%. If you wish to buy 2 licenses for this robot, you need to pay 299 Euros, whereas the price of 5 licenses is 499 Euros. Happy News is sold as a part of the EAs Happy Forex Full Pack, so you will also get 9 other EAs you can try out.
A 30-days money-back guarantee is offered by the vendor for this product. Compared to other service providers on the market, 299 Euros for 2 licenses is pretty standard.
Trading Results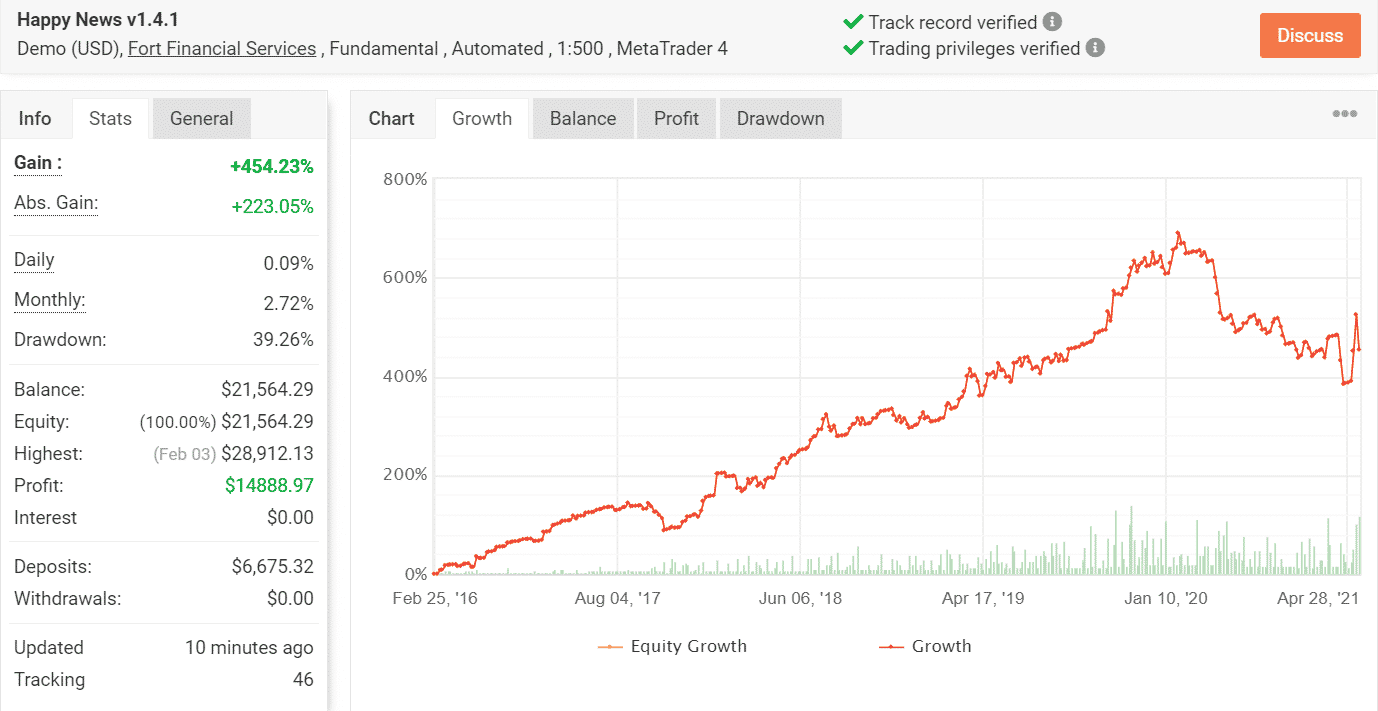 Here we have the live trading results for a Happy News account on Myfxbook. This account has been active since 25th February 2016 and has placed a total of 767 trades to date. It has a healthy win rate of 85%, and a net accumulated profit of $14888.97. While the gain figures look quite impressive, we believe the high drawdown of 39.26% is a cause for worry.
The vendor hasn't shared the backtesting data for this EA, which is disappointing. Backtests are based on historical data, and hence they test the system against a variety of market conditions. Decent backtesting results are taken as an indication of robustness, and many traders refuse to invest in robots without them.
People say that Happy News is…
Doubtful. This is based on the fact that there are no reviews for this Forex robot on websites like Quora, Myfxbook, Forexpeacearmy, and Trustpilot. It is therefore quite obvious that Happy News does not have much of a reputation right now. We know nothing about the strategy used by this robot, and the high drawdown indicates a sizable risk of suffering losses.
Verdict
Pros
✓ Verified live trading results
✓ Money-back guarantee
Cons
✘ Lack of strategy insight
✘ No customer reviews 
✘ High drawdown
Summary
Features: 5/10
Strategy: 4/10
Price: 6/10
Performance: 4/10
Feedback: 2/10