Happy Way is a program that automates the trading processes on the MT4 platform. You can easily set it up on your device and begin earning income with a few clicks. The system is designed for both experienced and inexperienced traders. Happy Way is able to trade on any big accounts with the Metatrader application.
Vendor transparency
Happy Forex is the vendor of this trading tool. The company, which was formed in 2016, has created numerous trading systems for the market. Some of these products are Happy Neuron, Happy Galaxy, Happy Breakout, Happy Gold, Happy, MartiGrid, and others. Unfortunately, info on contact details, names of developers, trading experience, location, etc., is missing.
How Happy Way works
The robot has the following characteristics:
It conducts trades 24/7
It has Auto-quotes detection 4 or 5 digits
It's fully automated
The robot supports ECN brokers
It is designed to run on the MT4 platform
The supported operating systems are; Windows 7, 8, 10, Linux, and Mac OS
Timeframe, currency pairs, deposit
The working timeframe is H1
Happy Way supports 5 main currency pairs, which include the USDCAD, CADCHF, AUDUSD, AUDCHF, and AUDCAD symbols
The recommended deposit amounts for micro, mini, and standard accounts are $1000, $10, and $100, respectively
Trading approach
As stated by the vendor, the system trades in the direction of the market and doesn't use any indicator. It also applies reinsurance positions (grid strategy) with no martingale. So, it doesn't increase the lot sizes.
Pricing and refund
The vendor offers 2 different packages. To get two licenses that can trade on 2 real accounts, you need to pay €299. The asking price for 5 licenses is €499, and with them, you can trade 5 real accounts. Both packages feature an unlimited number of demo accounts. Other features you will get include a user guide (in the English version) and free updates and upgrades.
Trading results
The vendor doesn't show us how the robot performs under simulation. So, its long-term performance is not known. Fortunately, the system's live results can be found on Myfxbook.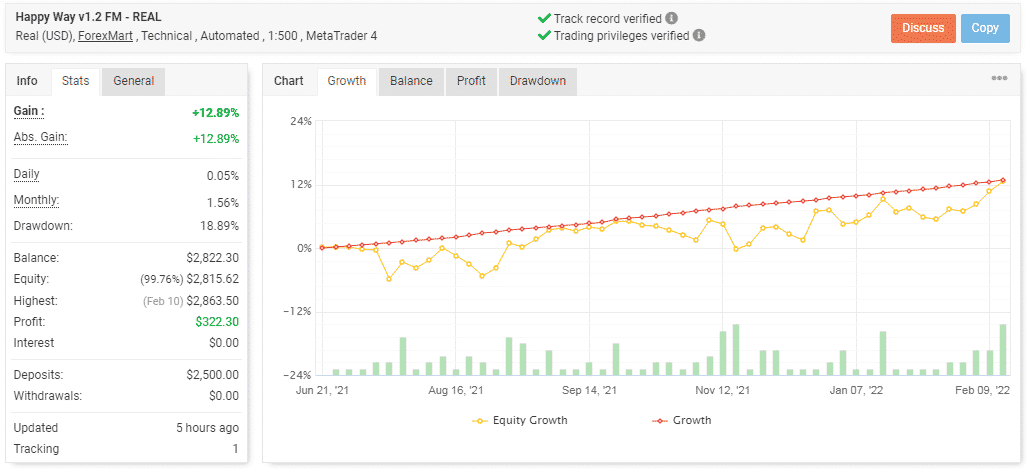 Happy Way has been running this account since January 2021 using a deposit of $2500. To date, it hasn't returned the money invested, seeing that the profit made is only $322.30. This can be attributed to its low return rate as it only makes 0.05% profits daily and 1.56% monthly. Unfortunately, the losses made are more as the drawdown is now 18.89%. Therefore, we have an undesirable risk/reward ratio of 12:1. There is a current account balance of $2822.30.

Happy Way is not a frequent trader and can stay for days without placing any trade. As you can see above, the average trade length is 21 days. So, it has only managed to complete 130 trades within a year of trading. The system also struggles to identify lucrative opportunities since we have mediocre win rates for both long (65%) and short positions (71%). The average win is 87.26 pips, whereas the average loss is -97.19 pips.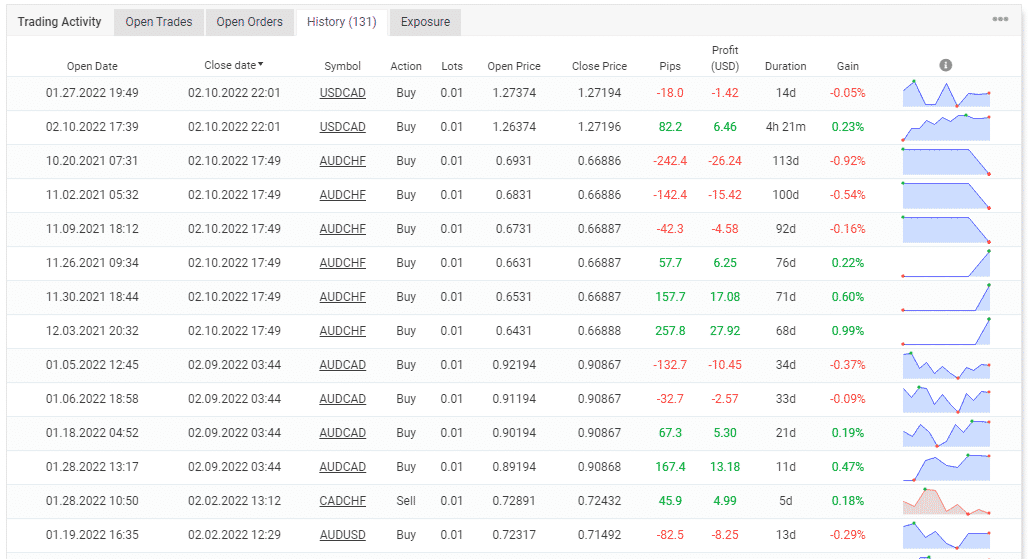 Grids of orders were placed, and substantial losses have been recorded as a result.
People say the Happy Way is…
It seems people have not used this robot, given that nobody has come forward to narrate their experiences with it. In this regard, we cannot determine if the EA can work efficiently on traders' accounts or not.
Verdict
Pros
Fully automated
Easy to use
Supports all account types
Cons
Poor risk/reward ratio
Zero customer feedback
The grid approach is used
Trades irregularly
Happy Way Conclusion
Happy Way is user-friendly, fully automated, and can work on any account of your choice. Unfortunately, the robot can stay for long periods without trading and works with a dangerous approach. The poor risk/reward ratio produced shows that you are likely to experience more losses than wins with the tool.