Hedge Forex Robot is a trend trading MetaTrader 4 compliant EA that can work across all types of currency pairs. The company states that the robot has made 56,542 USD in profit in the last 30 days and has produced stable performance over the last 10 years. This review will cover the positive and negative aspects of this system to help traders make a well-informed purchase decision.
Vendor transparency
Forex Trader Robot (FRT) is the parent company behind this EA. Don Steinitz is the owner and founder of this entity who is based in the USA. He claims to have worked in the accounting and casino industry but fails to show any authentic proof. He works with a team of developers who are well-versed in MQL coding.
The brand FRT has a low rating of 2.251 on Forex Peace Army. Lack of transparency is evident because the vendor fails to provide information about their whereabouts, contact address, telephone, email, etc. Customers can only reach them through a query form present on their website.

How Hedge Forex Robot works
The robot has the following features:
It trades on the MT4 platform.
The system is hghly compatible with all brokers.
It works well with all types of stocks, and currencies.
It's very easy to set up and operate.
It can trade across 8 timeframes.
To go ahead with this system, follow the following steps:
Purchase the robot from the seller's website
Download the EA files onto your desktop
Launch MT4
Drag the system files onto the charts section and enable auto-trading
Timeframe, currency pairs, deposit
The seller states that this EA can work with 8 timeframes simultaneously. Also, all sorts of currencies work well with the algorithm. There is no information about the leverage that can be used with this robot.
Trading approach
The developer comments that the robot can trade on multiple instruments and use multiple time frames to get further confluence on executions. It will determine the trend over several charts.
The history on the custom track records on the website shows us that it uses a stop loss and take profit of around 10-20 pips for most trades. There is no fixed time when the EA is active.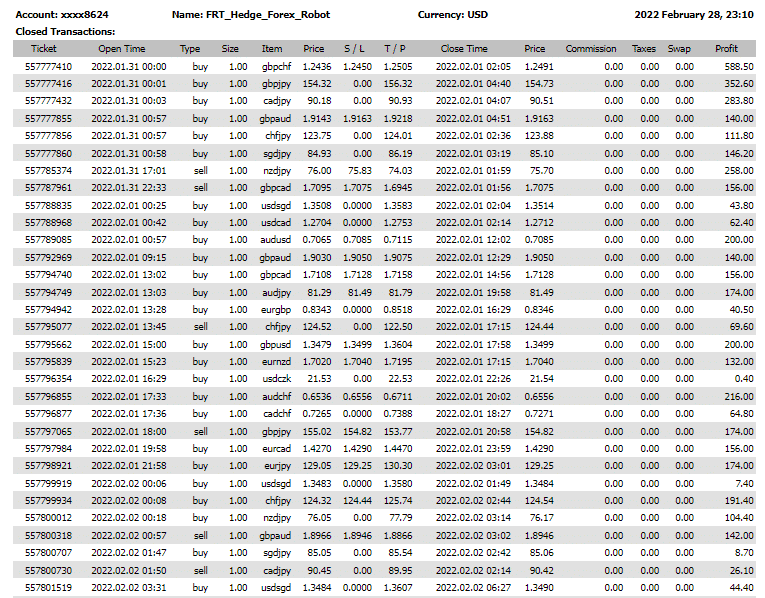 Pricing and refund
The robot is sold for 49 USD, which has been slashed from 199 USD. This seller only accepts payments through credit cards or PayPal. But there seems to be no online transaction security service to assure customers of a safe and fraud-free transaction.
Information regarding the money-back guarantee, post-purchase updates, and detailed user manual is missing. This points towards a bad sales presentation by the company.
Trading results
Unfortunately, the backtesting records of this system are not available on the website. This makes us blind to knowing the past performance of the robot in critical metrics like drawdown value, profit, deposits, profit factor, spread, etc.
Although live trading results for Hedge Forex Robot have been provided on the website, credible authorities like Myfxbook, FXStat, or FXBlue do not verify these results. So, it would be wise not to take numbers at face value.
These results were in the USD currency pair where the deposits stood at 0 USD. The balance is stated as 5,510,137.33 USD and the gross profit is mentioned as 56,542.20 USD. All drawdown values were expressed as 0, which is quite unrealistic. Floating P/L was shown as 240.10, with a margin of 4162.30. The robot made a total of 408 trades in which the largest profit trade had a value of 1331.70 USD. The expected payoff was reported as 138.58.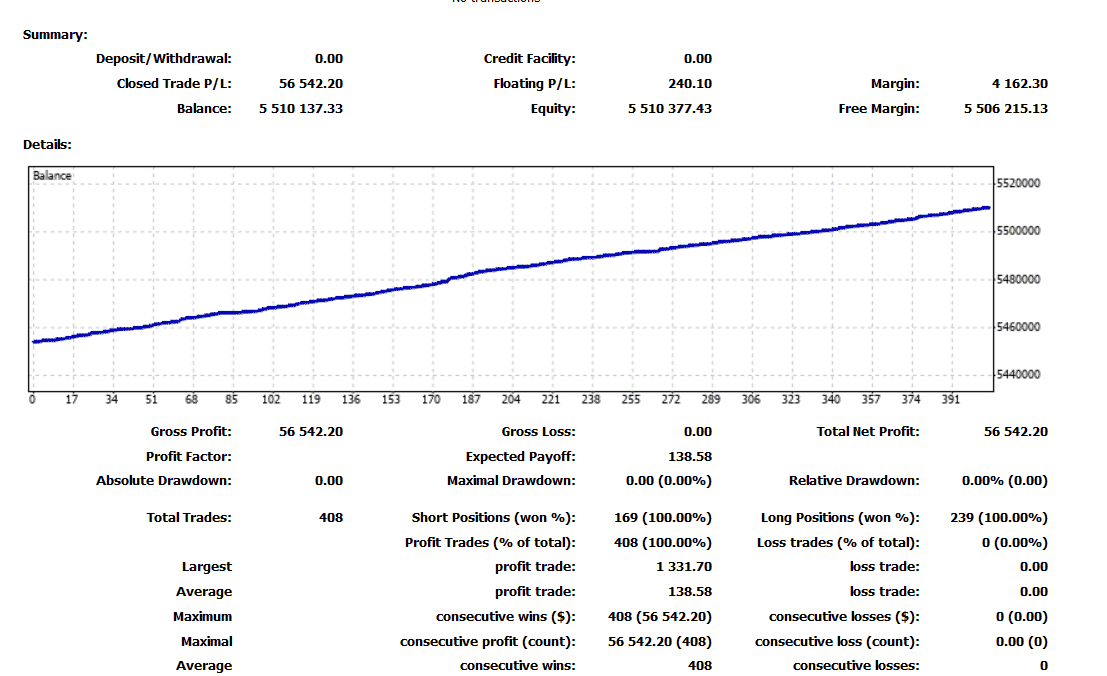 People say that Hedge Forex Robot is…
Doubtful. Although we could not find direct customer feedback for Hedge Forex Trader Robot, we were able to locate some negative customer reviews about the parent company, Forex Robot Trader (FRT), on Forex Peace Army.
One angry customer blamed the robot for its weak performance, due to which it blew the trading account. They also highlighted the unprofessional attitude of the seller and how he blamed the customer without making a refund.

Verdict
| | |
| --- | --- |
| Pros | Cons |
| Provides live trading results | No backtesting records |
| | Negative customer reviews |
| | Lack of transparency by the seller |
Hedge Forex Robot Conclusion
Hedge Forex Robot does not provide transparent information about its developer. Furthermore, the seller does not offer verified trading results for their products. All of this, combined with the negative customer feedback on third-party sites, paints a very unconvincing picture for this EA.