Hippo Trader Pro is an expert advisor that works based on a trend strategy. The system requires many customizations to set the advisor properly. We have written a presentation for you to help you understand if the system will work well on your trading account.
Vendor transparency
The company has a mediocre level of transparency.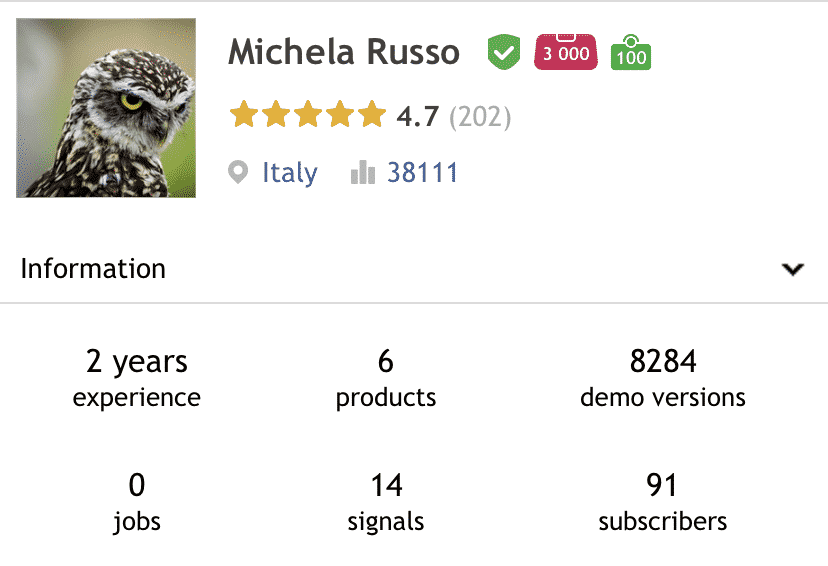 Michela Russo is a developer from Italy. His products have an average rate of 4.7 based on 202 reviews. Michela has two years of MQL5 registration. His portfolio includes six products and 14 signals (only 4 of them are sold on the market).
How Hippo Trader Pro works
We have managed to write a list of all available features and their explanations on the following list.
The robot works fully automatically.
The advisor is available for a discount price of $299.
The final price will be $599.
It works on the Asian and European sessions.
The system was tested well on 17 years of tick data.
The system follows FIFO rules.
"It analyzes the market without using obsolete indicators and patterns, looking for the main trend, entering the market based on volatility (ATR Filter) and some Trend Pattern to predict the likely future trend."
The advisor can work on MT4 and MT5 terminals.
The system isn't sewed to any broker.
Timeframe, currency pairs, deposit
The advisor focuses on opening orders based on a trend strategy.
EURUSD is the only pair to work with.
It works on the H1 time frame only.
It requires $1000 for trading with 0.01 lot sizes.
Trading approach
The robot opens an order when the market starts trending.
It calculates stop loss and take profit levels for us.
It decides when it's time to close an order.
Pricing and refund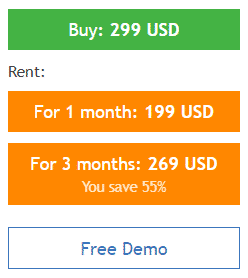 We are allowed to purchase a lifetime license for $299. A monthly subscription costs $199 when a three months subscription is available for $269. There's 55% OFF. We can download the system for demo usage.
Trading results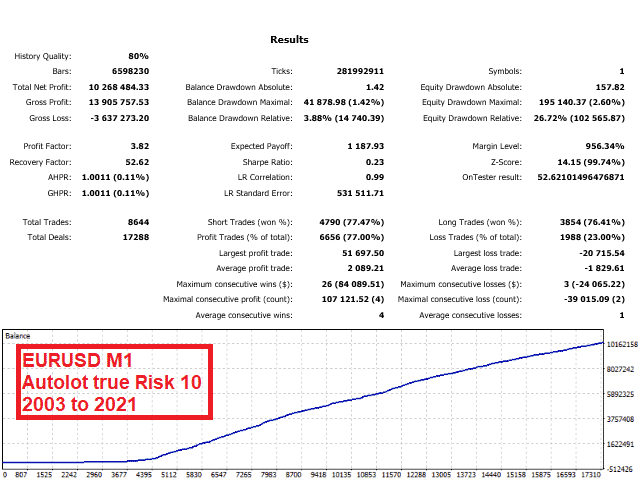 There's a backtest of EURUSD on the M1 time frame. We don't know details about a broker. The modeling quality was 80%. The profit factor was 3.82 when the recovery factor was 52.62. The maximum drawdown was 3.88%. The advisor has closed 8644 orders. An approximate accuracy rate was 77.47% for Shorts and 77.47% for Longs.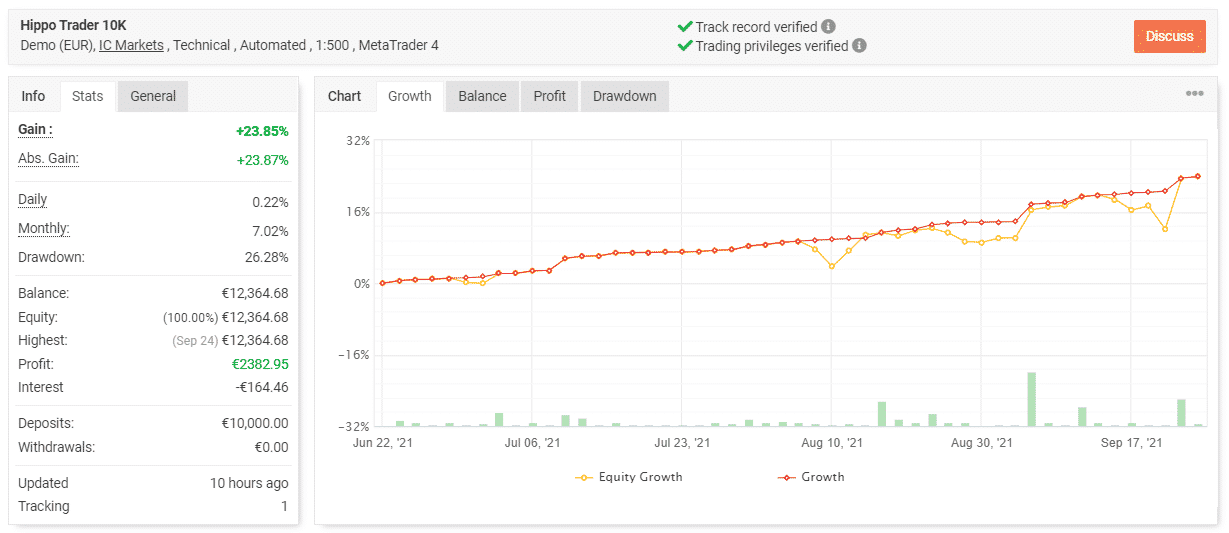 It's a good sign that the devs decided to provide us with relevant and actual trading results. They help us to understand if the system can handle current market conditions and be profitable. The system was set to trade on IC Markets. The leverage is 1:500. The advisor receives data from technical indicators from MT4. The account has a verified track record. It was created on June 22, 2021, and deposited at €10,000. Since then, the absolute gain has become 20.26%. An average monthly gain is 7.02%. The maximum drawdown is 26.28%. We have one person who checks trading results.

The advisor performed 124 orders with 628.5 pips. An average win is 19.74 pips when an average loss is -26.91 pips. The accuracy rate is 64% for longs and 71% for shorts. An average trade length is two days. We remember when it was three times less. The profit factor is 2.51.

The system works in both directions almost equally. It focuses on trading the Asian session over others with the most frequently trading activity on Wednesday.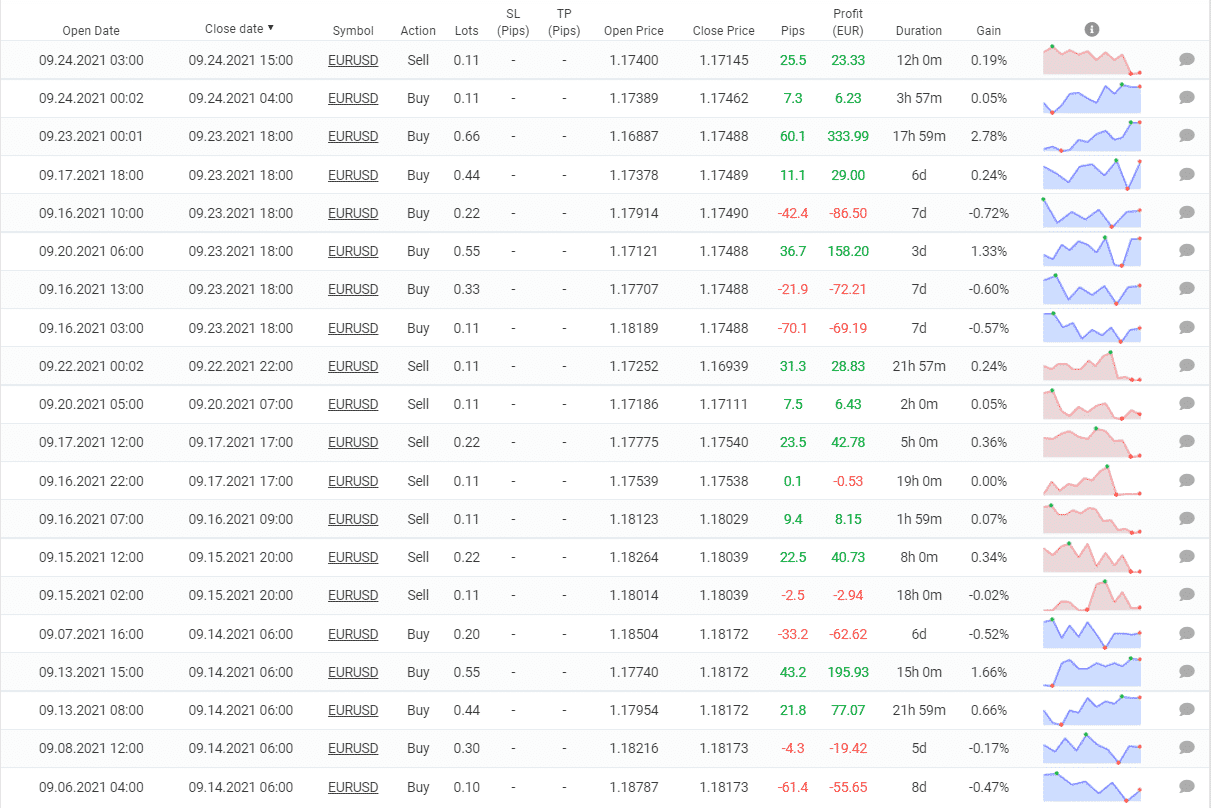 The advisor uses a Grid of orders to make more profits.

We may note that a grid of orders is floating on the market.
People say that Hippo Trader Pro is…

Good. We have several testimonials about the system written. There are three positive and one negative pieces of feedback.
Verdict
| | |
| --- | --- |
| Pros | Cons |
| Backtest reports provided | No risk advice given |
| Trading results shown | No settings explanations provided |
| | No refund policy provided |
Hippo Trader Pro Conclusion
Hippo Trader Pro trades mostly at night, making little profits. The system works with a risky strategy - Grid of orders. We don't know if it's possible to repeat these trading results on our accounts. The devs don't support the offer with a refund.