Forex signal is a process to copy other people's trade without any analysis and trade management effort. The signal provider will say what to do with the trade, and the signal follower should follow it.
It seems like an exciting way to earn money from forex trading. However, making money with less effort always has some risk. Technology has become so available recently that individuals and small businesses frequently join this market, and the FX marketplace is a place of opportunity and hope for all participants.
Doing forex business requires research and skill, so participants start to follow signal services. Signal services can be a scam, or you can lose your money despite following a good signal service provider. There are some factors you must know before following signal services. This article will discuss the aspects you should be aware of when you decide to take any forex signal services.
How do forex signals work?
FX signals are profitable trading ideas that experts create by observing various factors of any currency pair. Any human analyst or an automated robot can be the signal provider. When the price movement matches their strategy or calculation, the signal provider sends alerts to their clients. Signal providers use various platforms to send alerts such as SMS, email, MT4 integration, etc.
Signal providers have two types of clients:
One is following signals or suggestions and putting their trades manually.
On the other hand, clients who follow automated signal services or robots don't have to take manual trades.
In some cases, expert advisors (EA) or robot services allow traders to customize the currency pair you wish to trade, spread, lot size, etc.
Manual FX signals come from professionals or experts. They usually observe the price movement with technical factors alongside fundamental situations of the specific currencies or currency pairs. Then they make potentially profitable trading suggestions for their clients and send alerts.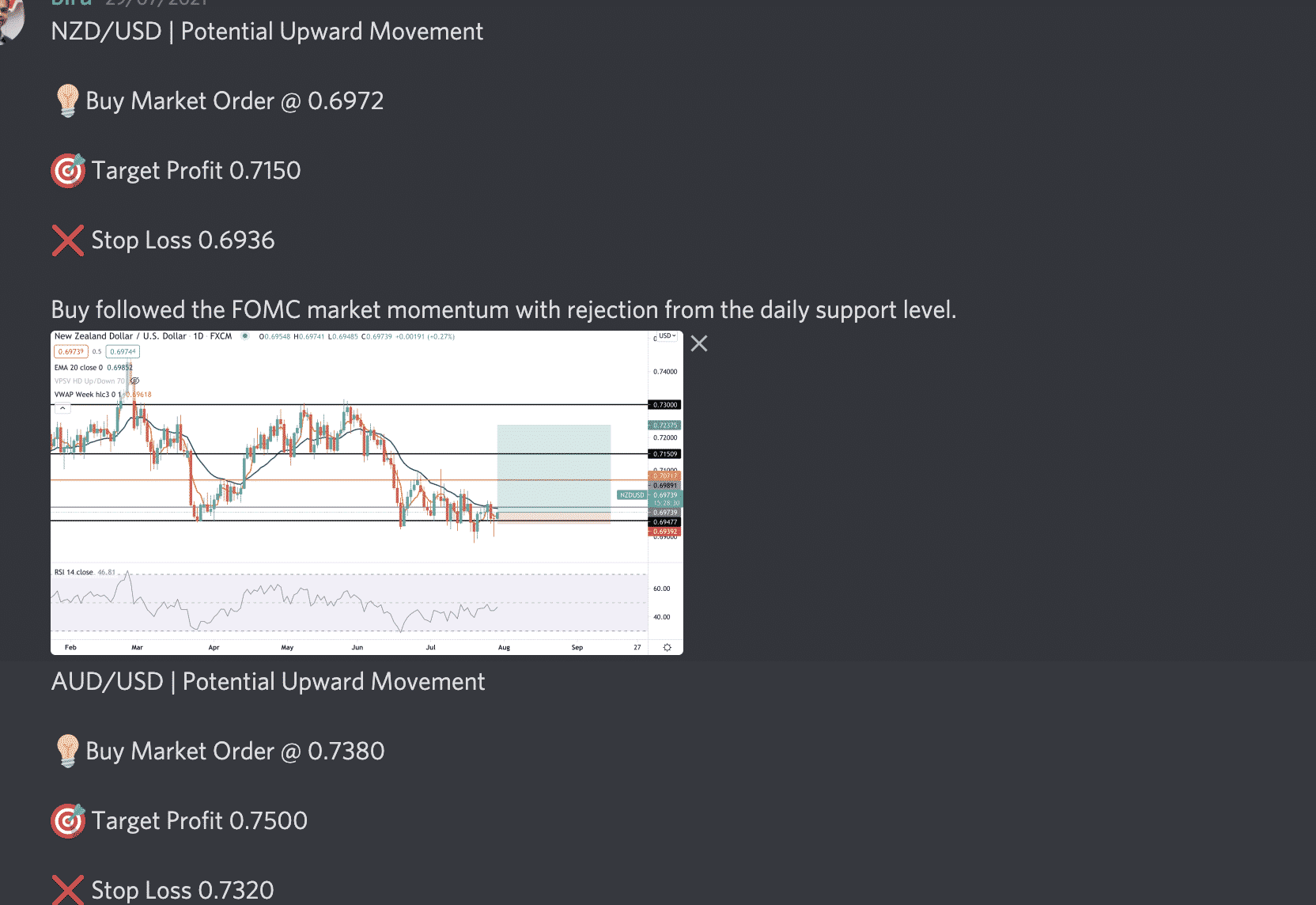 The above image shows a sample of forex signals through the discord platform, including exact trading points, stop loss, and "take profit" levels.
On the other hand, EA or robots work with the asset's historical price movement, depending entirely on technical indicators. This type of signal provider doesn't allow any human intervention, generates trading signals by analyzing historical price movement, technical factors, and price action. Expert advisors allow automatic trade executions.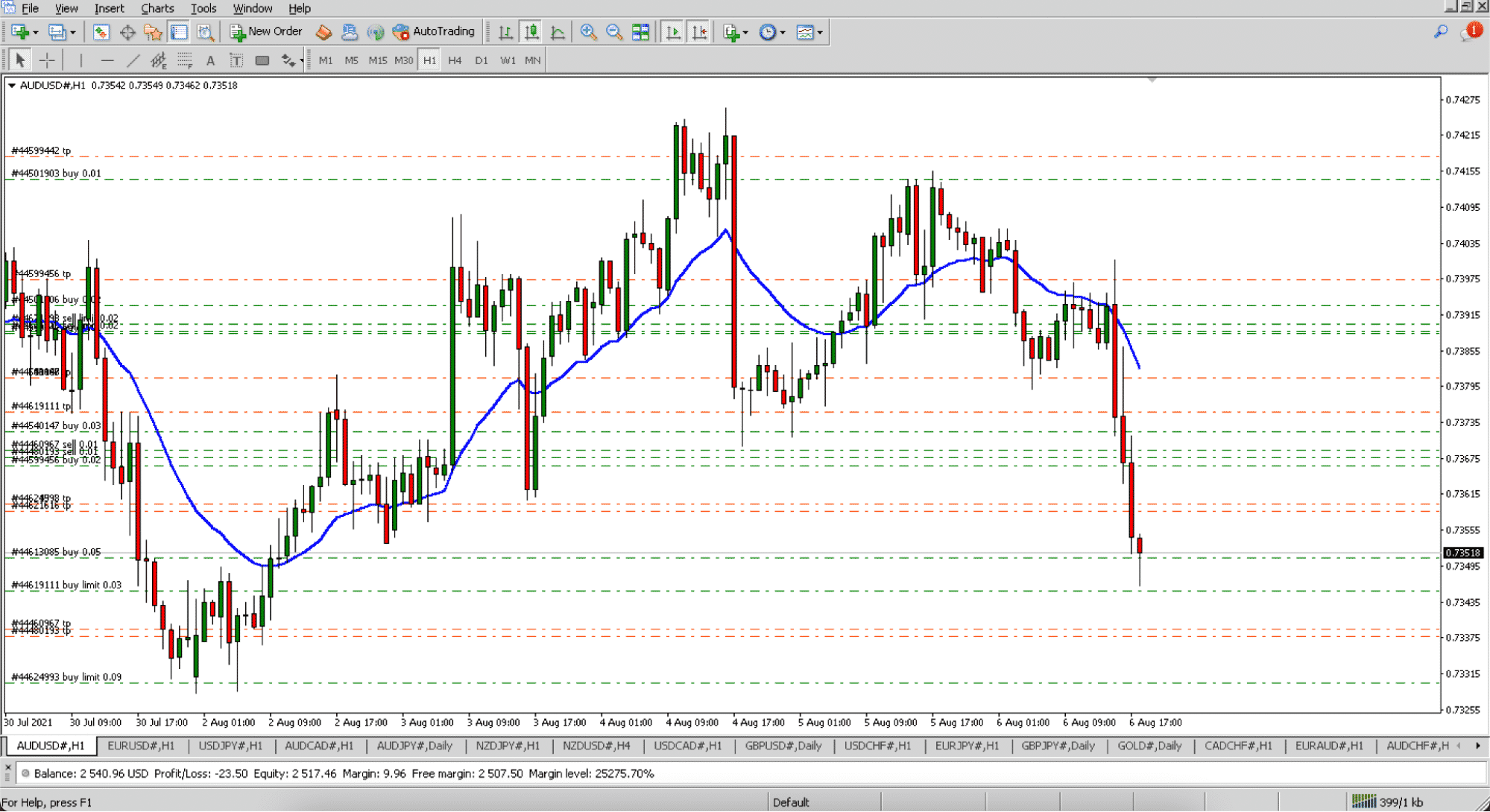 The above image shows an example of automated trading using a specific parameter. In this approach, the EA takes several trades with a 21 pips gap and manages them automatically.
Why is forex signal service risky?
The FX market is a decentralized marketplace in which the main participants are the central banks and major financial institutes. In the past, doing forex business was only meant for banks and financial institutes, requiring huge research and money.
Forex signal service providers come with the availability of technology and increasing demand. More individuals and firms start to become participants in the forex market. Many major financial institutes, banks, brokers, firms, or even professional traders provide forex signals.
When someone follows forex signals blindly, that may cause losing money. They can end up losing capital as there are some drawbacks to following the forex signals. In this part, we will discuss the risk factors of forex signals.
Regulation
Forex signal providers analyze the market from various angles to make future price predictions. ASIC has some regulations on trading signals such as binary options trading, forex signal trading. In that case, they require Australian Financial Service (AFS) license.
The UK's Financial Conduct Authority (FCA) also made conditions for forex signal service providers, such as no manual intervention, investment discretion, etc. If you wish to follow forex signal services manual signals or expert advisors, check these factors. Without any regulation, signal providers you wish to follow can scam you, and you can lose your fund by observing them.
No physical existence
Manual or EA signal provider, there is no physical existence for any of them. In most cases, they are software, websites, and so on. So it is risky to follow some notifications blindly. You must check the profile of the signal provider carefully before starting to follow. Many of them provide free signals for a certain period as proof of their potentiality. You can easily check on the accuracy and potentiality by checking before paying any subscription fee.
Multiple profit takings
Another risk for following foreign exchange signal providers is the income target. The provider issuer may also offer low-chance alerts for an account with $ 5000. However, you can have $1000 funding on your buying and selling account. So the chance ratio will now no longer be the same.
Check on those elements earlier than beginning to follow alerts from any sign issuer. The signal issuer may also send a sign for 200 pips benefit for any pair, which begins to move in the proper direction.
After reaching 100 pips, the market movement may start to reverse or move in the opposite direction. In that case, you should take the profit of 100 pips and exit from that order or shift your profit target that may decrease your risk. So having multiple profit targets and practical trade management ideas can help you to decrease your risk factors.
Timing

Another most critical risk factor to following signal services is timing. The smart and successful traders are very punctual. The FX market is a 24 hours market, and the price movement creates opportunities for the major participants to take action. So the timing is an essential factor for trading forex.
For example, your signal provider may send you a signal to execute at the Asian session, and you try to implement that suggestion at the US session. That can lead you toward losing your capital. It would help if you were punctual to be a successful trader.
Final thought
Finally, the concept of forex signals and risk factors are clear. We suggest not to follow any signal service blindly and check on the risk factors before starting to subscribe. There is no alternative for gathering knowledge and developing skills for making money from forex trading.
We don't discourage you from following forex signals. Moreover, we suggest you do it properly as the smart traders do. Smart traders don't generally follow any trading signal blindly. They check the risk factors before choosing any signal service. Check the service, backtest it and match it with their strategy before entering any trade.