Forex swing trading signals show the exact buying and trading on a currency pair. As a result, investors can earn money from swing trading even if they don't have strong knowledge of the market.
Thousands of traders have become millionaires by following swing trading systems. However, this method is vast, where finding an exact methodology of buying and selling is essential.
You cannot rely on a signal service without knowing the accuracy and transparency of the system. If you want to follow swing trading signals, the section is for you.
First, let's look at the seven techniques of becoming a profitable trader using FX swing trading.
What are forex signals?
They are an exact buying and selling indication of a currency pair that includes an appropriate risk and reward. These signals come from a proper understanding and observation of the price behavior. Investors often use technical tools, indicators, price action weapons, and fundamental events to anticipate what the price may do shortly.
Generating a forex signal needs deep knowledge about financial market analysis that a trader can learn from any forex learning institution. Moreover, some groups of people or institutions provide signals with an exact buying and selling level.
How to find the best forex signals?
If you can generate forex signals, you can trade for yourself or work as a signal provider. In that case, you can earn money by selling services that you do not know how to trade.
What if you don't know how to generate forex signals?
Finding such services is not easy as it requires enough precautions before taking service. Remember that there is no regulating authority to observe forex signal providers. Therefore, there is a huge possibility of getting scammed.
People may attract you by offering excessive profits within a short time through their services. In that case, you should follow the other person's suggestion that tells the exact point of buying and selling with proper risk management. However, in reality, the situation is different. You may end their services by blowing your trading account.
Finding perfect forex swing trading signals is crucial for new traders. Let's discuss the top seven rules that a trader should follow in finding forex swing trading signals.
Rule 1. Take a look at the time zone
As the forex market is open for 24/5, you can trade any time you want. However, it does not mean you have to sit in front of your trading chart all the time. Moreover, you cannot follow signals if the timing does not match. Like, the service provider might send you signals at midnight when it is impossible to follow.
Therefore, in finding swing trading signals, make sure to remain active in the London and New York session. Most of the profitable signals come at that time, and you should follow them as soon as the signal gets released.
Rule 2. Sign up for a trial period
There is no way to follow a signal service without knowing their performance. Therefore, before taking a swing signal, you should open a trial account to understand how they provide signals by risk management. Make sure to focus on taking calls that have a maximum return with a minimum risk.
Rule 3. Take a look at the track record
Knowing the exact track record is essential before taking service. Make sure to check the last six months' performance and match them in the past price chart to justify the accuracy. Some signal providers may scam you by providing fake results, so check everything.

Rule 4. Compare the FX signal services
Always find multiple sources in taking signals so that you can compare the service to get the most profitable sources. Make a list of signal-providing websites and reduce the list to 5-6 best services providers. Now you are capable of comparing services between multiple sources.
Rule 5. Go for the total package
Signal providers usually offer multiple packages to meet traders' requirements. Some service providers might give you less money, but you will not get the same services. Therefore, always try to take at least monthly services to have signals through emails or messaging platforms.
Rule 6. Make sure the style of the signals fits your trading needs
In swing trading, forex signals come from the swing low and high. Here the time frame does not matter as the call may go in now H1 to daily time frames. The market moves with a zigzag formation where swing happens in both daily and intraday charts.
If you follow signals on the higher time frame, you might use broader stop loss and take profits. On the other hand, lower time frame swing trading needs additional attention to trading sessions and market context.
If you are available to follow signals at any time, make sure to take services in the lower time frame. Otherwise, focus on higher time frame trading where the trading result comes after 2-5 days. Moreover, if the signal provider offers multi time frame analysis, you can rely on them.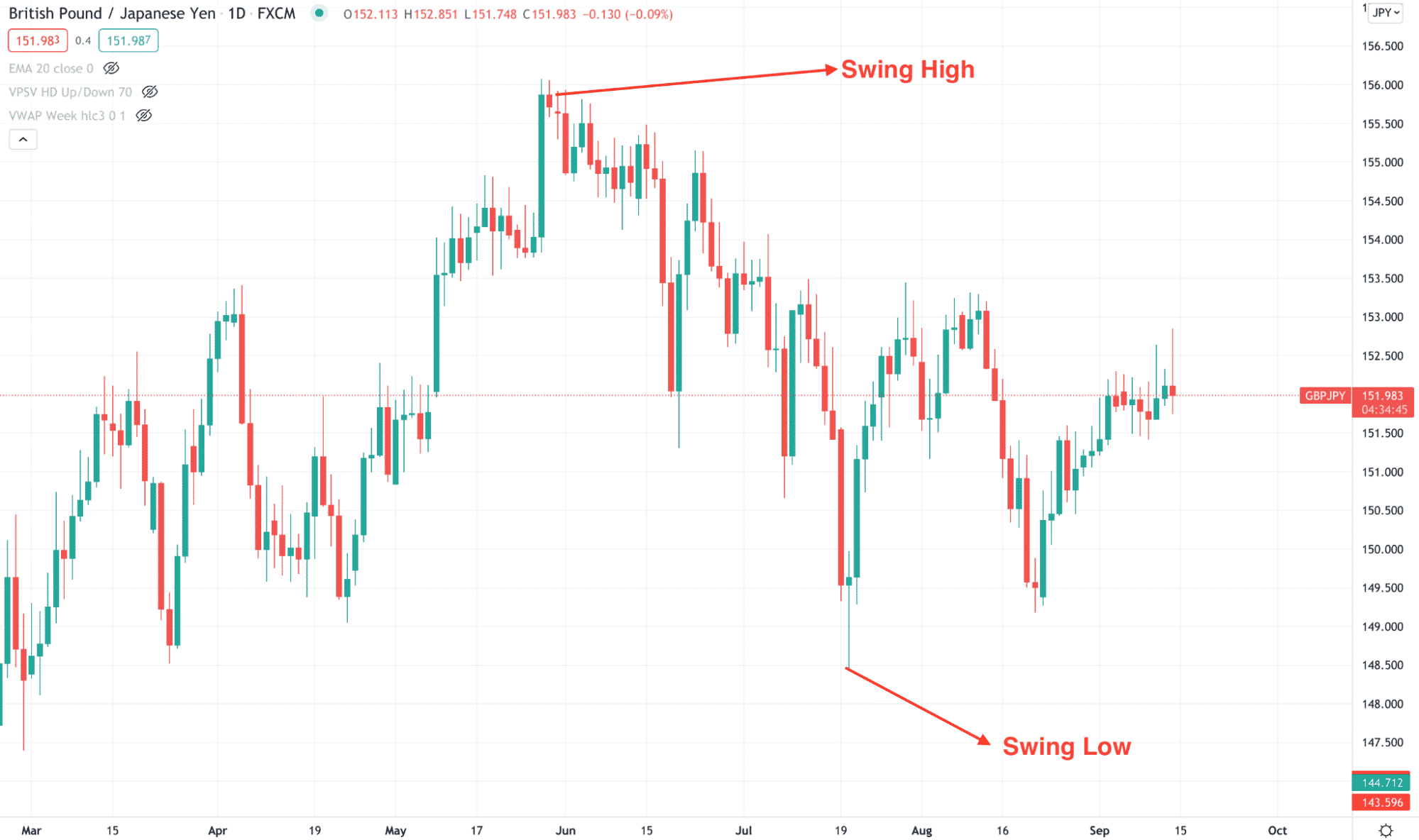 The above image shows how the price form swings low and high. The signal provider should provide services to buy from the swing low and sell from the swing high.
Rule 7. Choose a provider that offers additional services
Following a forex signal is not the ultimate goal of trading. Today or tomorrow, you have to learn to trade, and you should start learning from the very beginning.
Following a forex signal is a great source of learning the trade at the beginning of the trading journey. In addition, some signal providers offer additional services like the logic behind trading the trade. Therefore, followers can learn and practice themselves besides earning money from following signals.
Final thoughts
We have seen what a trader should do in finding the best FX swing trading signal service. In forex trading, our ultimate goal is to make money. No one will ask whether you followed a signal or you have traded yourself.
If you don't have time to trade, forex signals would be a great source of earning money without knowing how to trade. Therefore, any wrong decision on choosing the perfect service may cost you money. The seven steps that we have seen in the above section might be a game-changing event for your trading career if you follow them strictly while choosing forex signal services.