So, what do we know about the Super EZ Forex product called Simplicity. It's a common BUY/SELL indicator. The presentation doesn't tell us why we should treat it like something outstanding.
Vendor Transparency
There's no transparency at all. The system doesn't have backtest reports or trading results. The developers don't disclose themself. There's no real company behind the service.
How Super EZ Forex Works
The presentation has a few information and much less useful intel that can help us to pick the product wisely:
The system is a semi-automatic trading solution.
It's designed to work only on the MT4 platform.
We don't have any information about the strategies behind it provided.
Most likely there's Price Action with Trend trading.
It is designed to trade with any symbol that's available on the terminal.
We don't know what accuracy we can expect on each symbol on each time frame.
There should be different deposit requirements for trading on M15 and D1 time frames.
We can apply the indicator to Forex, Indices, Metals, Stocks, and cryptocurrencies.
We can receive these signals on the charts, pop-ups, email, and messages on mobile.
The indicator has "customizable smiley faces for noise-canceling trend filtering."
There's a "name personalization."
These two claims aren't proved. We don't know their details.
The indicator confirms BUY or SELL signals in the Hot Zones.
The system isn't sewed to a single device.
We're free to use it on any after activation.
The signals don't require us to change our trading style.
We can receive signals during all trading sessions.
Timeframe, Currency Pairs, Deposit
We may trade on any time frame, currency pair. The developers didn't disclose details about the deposit requirements.
Trading Approach
We don't know details about strategies, but most likely, there's a trend and/or a price action strategy.
Pricing and Refund
There's a one-time fee offer for $323.67. The pricing is weird because it requires you to pay $299 and 8.25% tax. Why do we have to pay for it? At the same time, in order to buy an indicator, we have to fill out all personal information. We aren't sure our data will be safe and stored well. The package includes the Simplicity system, access to a VIP channel on Telegram, an easy to use user guide, Access to Uncle-P's "LIVE CLASSES" (we haven't seen any lesson or the list of classes), trade tracking journal, the list of high impact news, two guides for Price Action and Chat Pattern. Every additional license will be cheaper for us. We have to pay only $149 for it. In general, it's too much as for an indicator. There are many of them on MQL5 that cost much cheaper.
Trading Results
The presentation doesn't include backtests and trading results. If we talk about backtests, they have to help us with understanding how the system handled the most data and what results we can expect.
Actual trading results would give us much more. Usually, we gather much information about a broker, leverage, verifying trading results, growth, accuracy rate, drawdowns, monthly gain, an average win or lose, accuracy rate, profit factor, directions, symbols, and so on.
People say that Super EZ Forex is…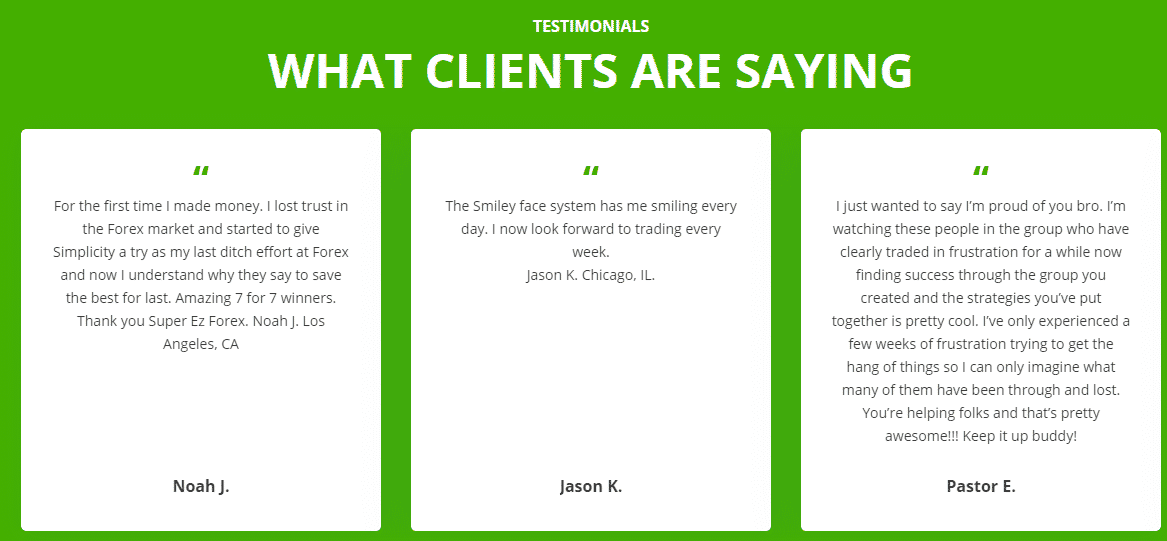 Good. However we cannot trust testimonials written on the dev's official website.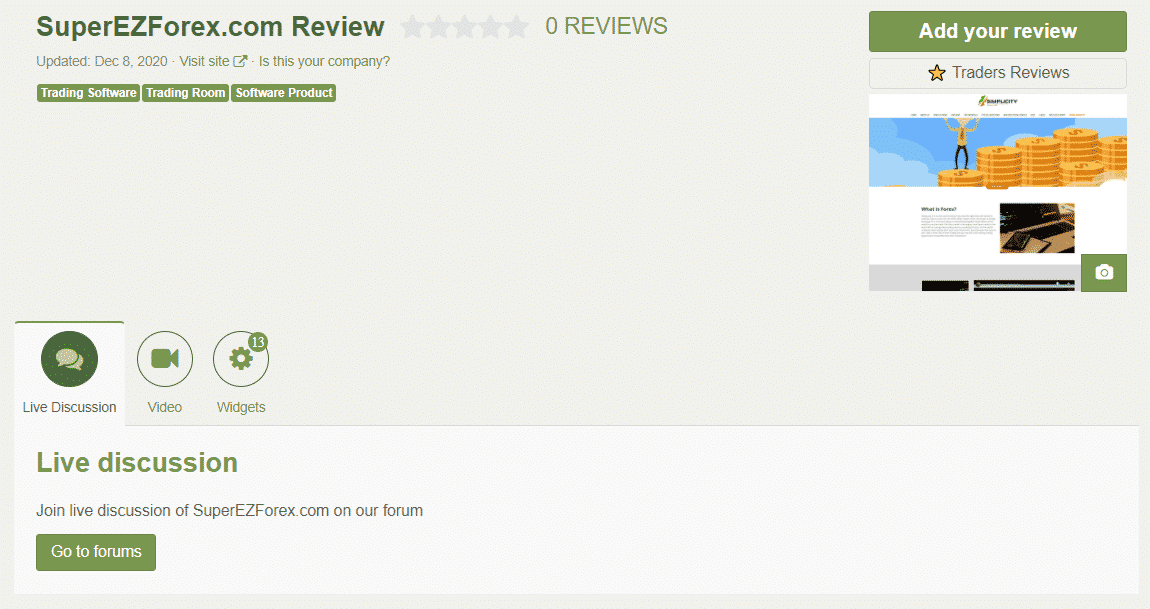 Super EZ Forex has created a company page on Forex Peace Army. There's no feedback or rates provided. We wouldn't trust an indicator that no one uses—there are many of them on MQL5 with a dozen comments published.
Verdict
| | |
| --- | --- |
| Pros | Cons |
| Simple presentation | No team revealed |
| | No settings explanations provided |
| | No risk or money management advice given |
| | No backtest reports provided |
| | No trading results provided |
| | No people feedback published |
| | Weird pricing |
| | No refund policy provided |
Summary
Super EZ Forex released a Simplicity indicator. They don't disclose how it was tested. So, we have no backtest reports provided. The same situation is with real or demo account trading results. It seems the developers don't make money by using their product. There's no feedback on the Forex Peace Army website. The offer is several times overpriced. It doesn't have a money-back guarantee.
4/10