Night Hawk is a trading advisor that was designed by DaVinci FX Group several years ago. The presentation looks closely to be professional, but the number of ads on the page with paid software seems awkward.
Vendor Transparency
The developers revealed themself, having provided information about name, position, experience, and social network links with actual emails.
How Night Hawk Works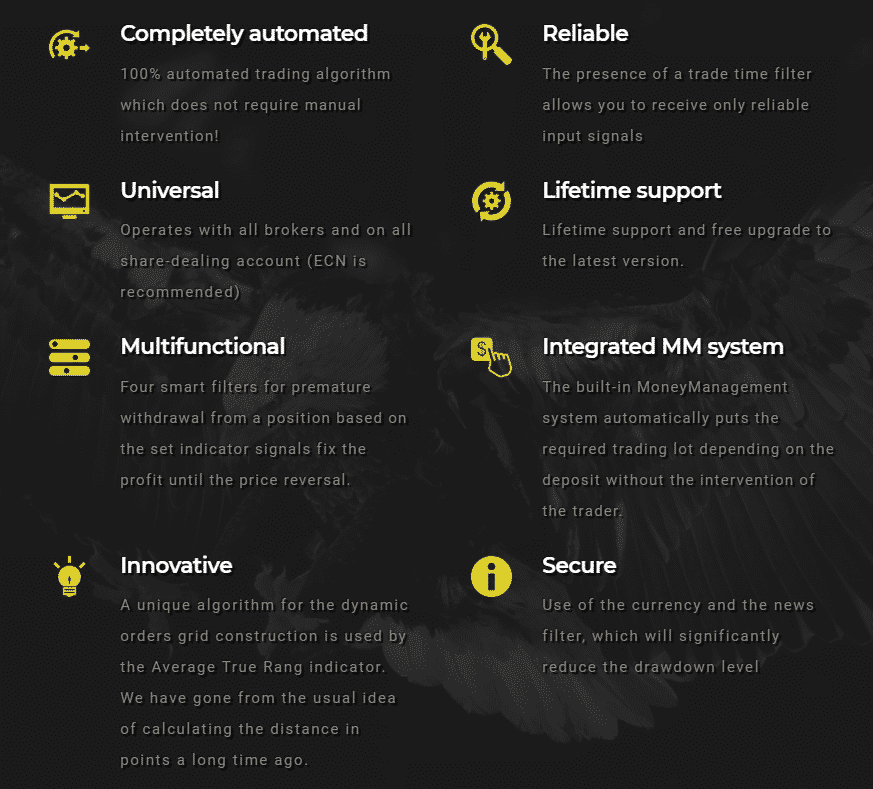 There are many explanations and other details like strategy, settings, advice provided:
Night Hawk is designed to run the charts completely automatically.
It can work only on a single platform – MT4.
Provided backtest reports were executed on the tick data obtained from many brokers.
We may use any broker we want.
The system should be applied to the ECN account only.
The robot is able to calculate Lot Sizes based on the balance.
There are some useful filters available.
The time filter allows skipping trading during determined hours.
The News Filter allows skipping trading during high-impact news periods.
The system is delivered with 24/7 support.
Timeframe, Currency Pairs, Deposit
The advisor opens orders on the nin currency pairs where AUDCAD is the most traded symbol.
If the backtest report showed correctly, the system works on the M15 time frame.
Trading Approach
It executes two risky strategies: Grid and Martingale to make profits.
The robot uses the following indicator data: Bollinger Band, Commodity Channel Index from MT4.
It uses the Average True Range Indicator for finding precise Entry Points.
Pricing and Refund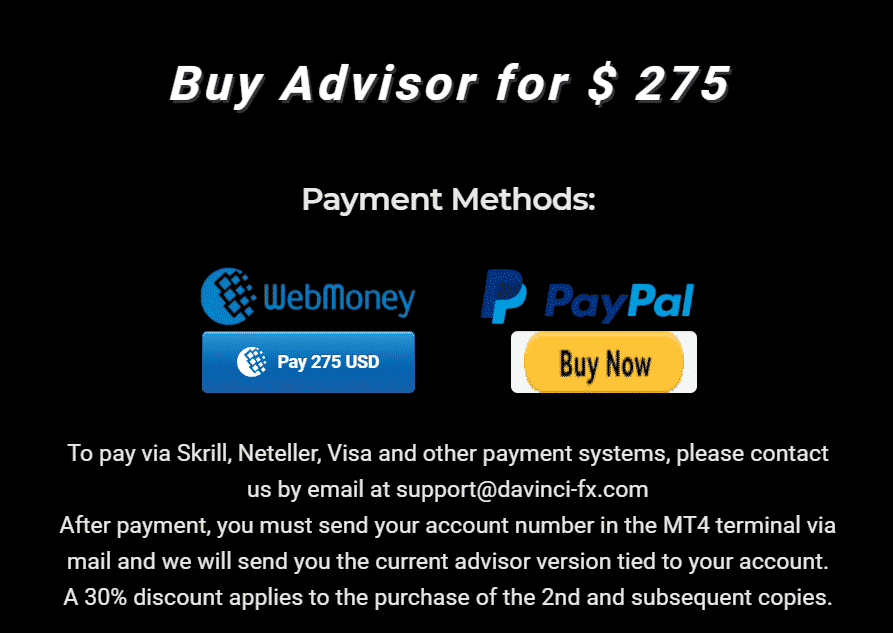 The system is available for $275 for a lifetime copy. The package includes some features: free updates, support, a discount for additional copy, and so on. There's no money-back guarantee provided.
Trading Results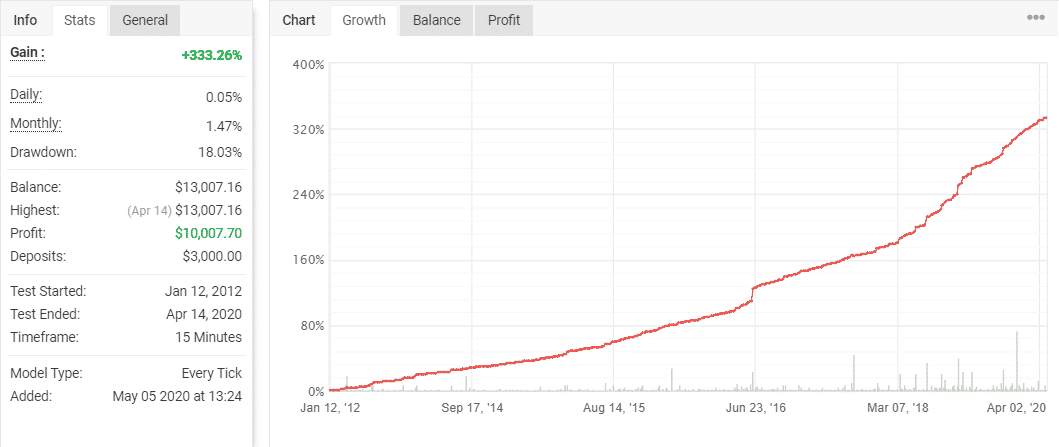 It's eight years backtest report of GBP/CHF on the M15 time frame. The absolute gain was +333.26%. An average monthly gain was +1.47%. The maximum drawdown was 18.03%. The highest balance was $13.007.

The advisor has executed 1042 deals with 9277.7 pips. An average win was 20.93 pips when an average loss was -36.82 pips. The win rate was 76% for Longs and 75% for Shorts. An average win was over eighteen hours. The Profit Factor was 3.13.

The system traded both directions almost equally.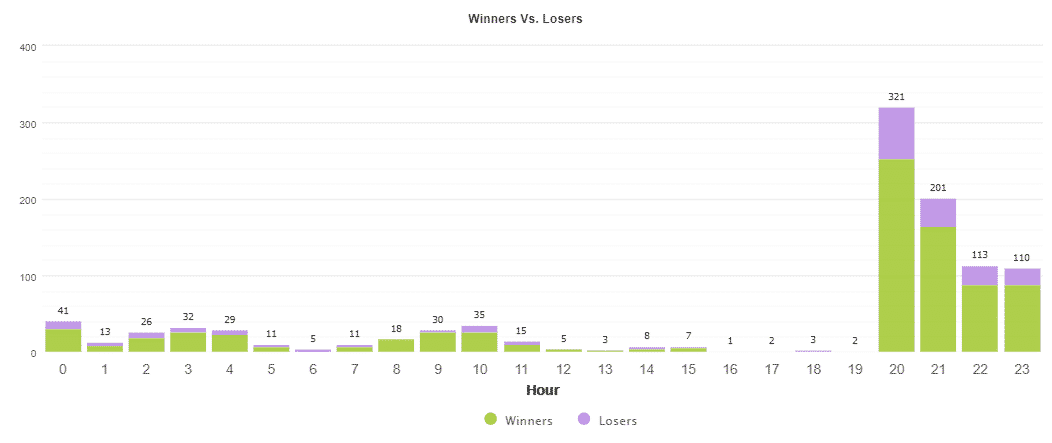 The system acted as a night scalper.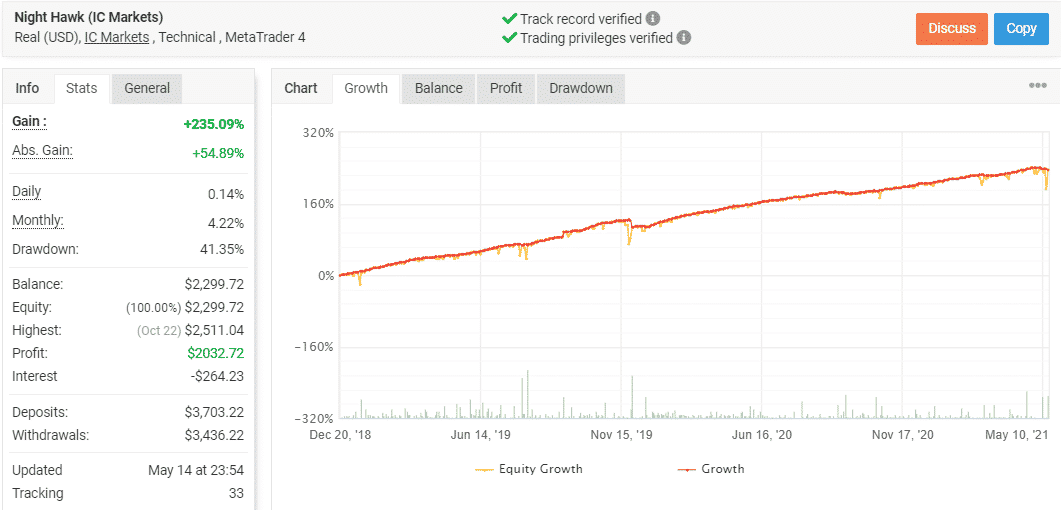 Night Hawk keeps working on the account deployed on IC Markets. It trades automatically, but this is not mentioned. It receives data from technical indicators from MT4. We don't know what leverage system works with. The account has a verified track record. It was created on December 20, 2018, deposited at $3,703.22, and withdrawn at $3,436.22. The absolute gain is 235.09%. An average monthly gain is +4.22%. The maximum drawdown is 41.35%.

The advisor has traded 1741 deals with 7711.1 pips. An average win is 23.93 pips when an average loss is almost three times bigger -54.31 pips. The win rate is 75% for Longs and 74% for Shorts. An average trade length is two days. The advisor has traded 31.19 Lots. The Profit Factor is 1.66.

The only significant lost symbol is AUD/NZD with -$18.15. The most actively traded symbol is AUD/CAD – 460 deals and $563.47.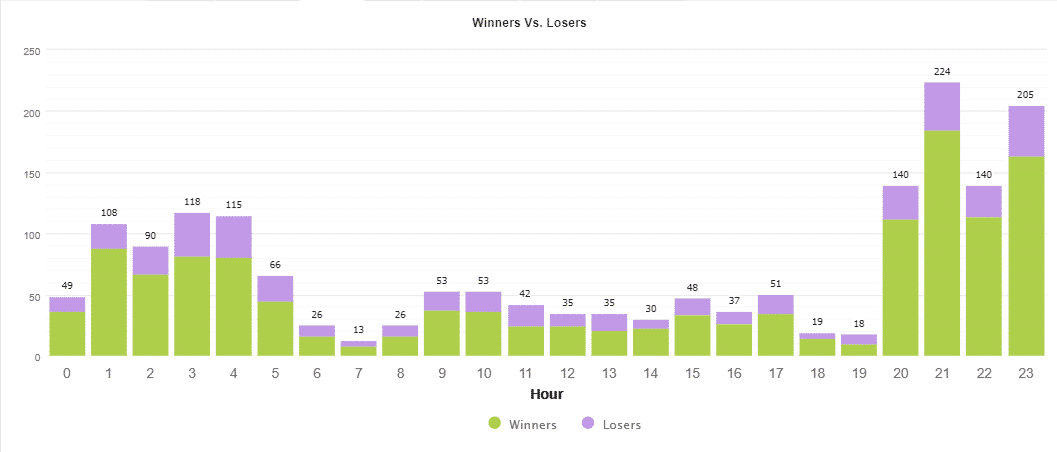 The system focuses on scalping during the Australian and Asian sessions.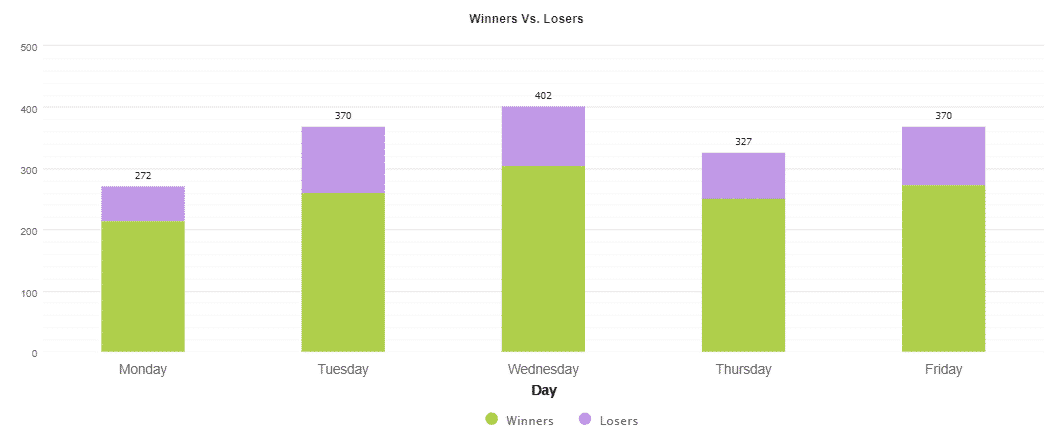 Wednesday is the most frequently traded day, with 402 deals.

The system works with acceptable risks to the account balance.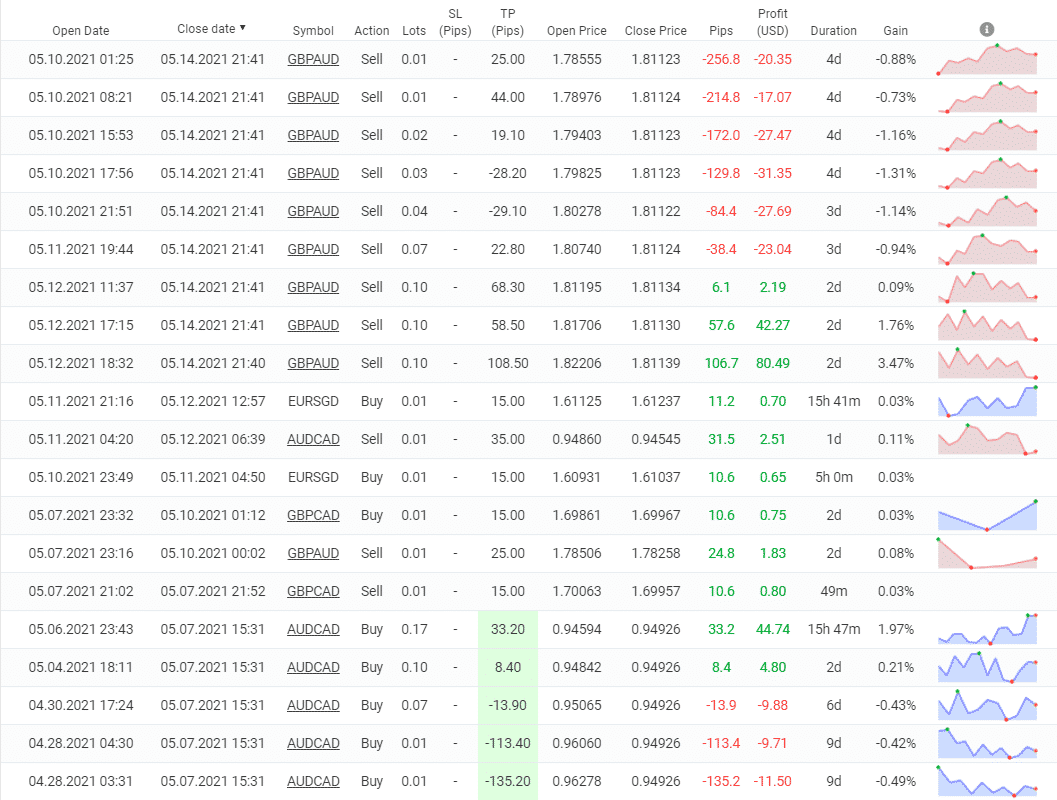 As we can see, the system requires tuning asap. The last Grid of orders was closed with solid losses.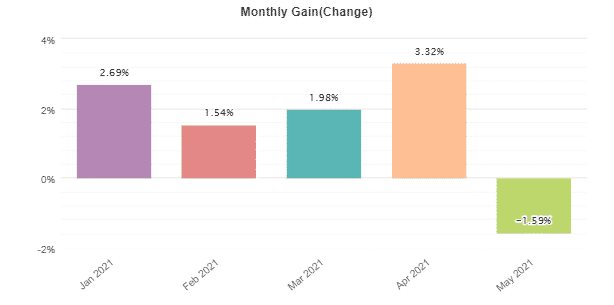 The advisor is going to lose its first month in 2021.
People say that Night Hawk is…
Great.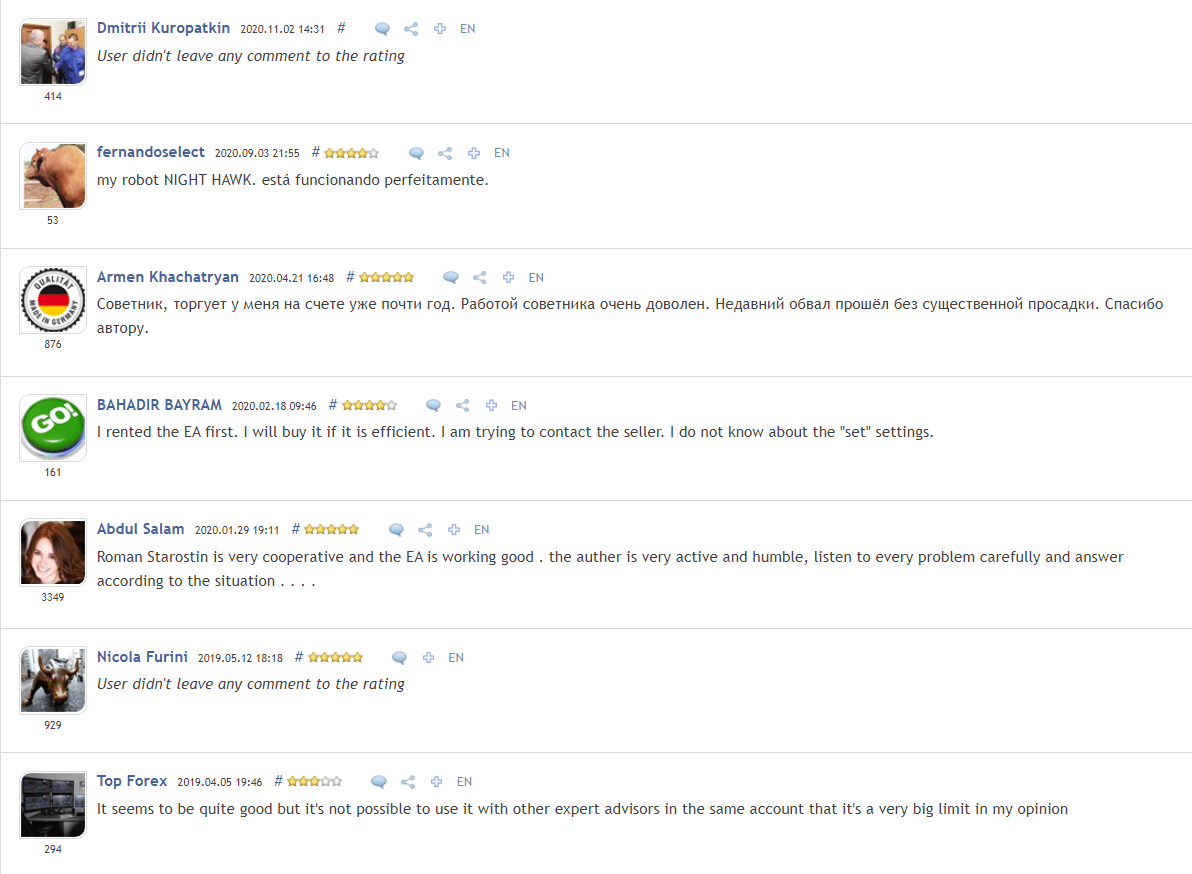 Most of clients are happy to use it. Some of them work with it for a year. The only con is that the EA can't be used with other advisors on the same account.
Verdict
| | |
| --- | --- |
| Pros | Cons |
| The presentation is designed well | No settings explanations provided |
| Backtest reports provided | No risk and money-management advice given |
| Real-account trading results provided | May 2021 trading results are far from being great |
| | There's no money-back-guarantee provided |
| | Switching accounts is not allowed |
Night Hawk EA
Night Hawk is a system that uses a common mix of Grid and Martingale. Trading results showed that May 2021 is not that good as previous months were. So, we have to wait for updates and keep checking trading results for several months more.