The Fund trader is a forex signal service that copies the trades of a successful trader into your account automatically.
Its developer claims that the software has managed to make over 29,000% in profits on his trading account for the last five years. He states that he started off with a balance of $1000, and right now the account reads over $290,000.
Because of this big returns, its developer invites traders to copy his trades in their accounts so that they can "enjoy his future high yield" returns with low risks. The developer affirms to have five years of data to back up the performance of this trading tool.
Its developer states that the signals are based on up to 18 currency pairs including Gold. The developer acknowledges that he comes up with the trade signals without using Grid and Martingale as well as hedging strategies.
The developer continues to say that copying his trades using this software is safe and profitable for traders who don't have time during the day or those who want an extremely easy, low risk, high reward service.
The developer entices the traders by saying that if they would have invested $1000 back then, they would be talking about $290,000 now.
This trade signal service cannot be trusted. The developer in his presentation sounds desperate and uses sweet words to lure traders to buy the software.
Vendor Transparency
The Fund Trader was developed by Gordon Francis, a full time trader who used to work with a forex proprietary trading firm in London. He claims to have done very well while working with the firm.
He sells his software through Leapfx, a platform that partners with experienced providers that can help traders make money in the forex market without having to worry about the legitimacy of the service. According to Leapfx, they thoroughly investigate to determine that a system is real and confirmed as profitable on live trading.
The vendor asserts that he has turned around the fortune for dozens of people and can do the same for you. He adds that he is sharing this trading tool with traders risk-free so that they can prove it to themselves without worry.
This vendor is more of a motivational speaker judging by his words and how he sounds. Instead of providing the right and useful information about his product, he is busy telling traders how they will be rich if they copy the signals.
The support can be contacted through the "Contact Us" page on the vendor's website. Customers can still send direct emails to [email protected].
How the Fund Trader Works
Here is how to use the Fund Trader:
Install customized software to your forex broker account.
You set the trade size or maximum risk you want.
It will then run 100% automatically placing trades directly from the developer's account into yours. (Opening and closing the trades exactly like the main account).
You will watch your account grow.
You will withdraw profits from it.
You are in control of your money and it never leaves your account.
The developer however confirms that his software won't give you 100% success adding that its win rate is about 82%. He further explains that no matter how good a trader is, there will be losses which according to him is normal in this business.
Other features include:
The software is fully automated
It trades 18 pairs plus Gold
It has third party verified proof
It is beginner friendly
It works with small accounts
It does not use Grid and Martingale strategy
Timeframe, Currency Pairs, Deposit
The software works on any timeframe. It can run on account with a balance of $250 and above. The signal service trades 18 currency pairs and Gold as shown in the screenshot below.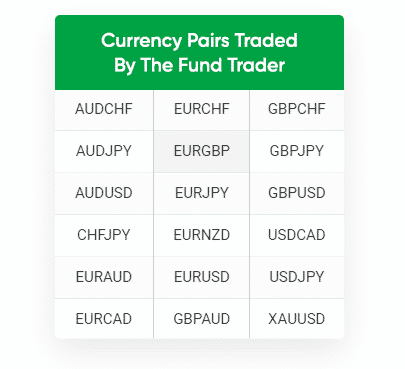 Trading Approach
According to the developer, he employs a dualistic (2-step) approach to the markets by first analyzing market fundamentals and technical levels for each currency pair to determine trade direction and entry points.
He then implemented a proprietary semi-automated/multi-phase software to monitor and apply a predefined exit for each trade.
From his past performance, the average trade lasts for 5 hours – 24 hours.
Pricing and Refund
The Fund Trader signal service has two packages which traders can choose from. There is a three month membership that costs $297 and one year membership going for $597.
Both packages come with auto software, free updates, customer support and best recommendations.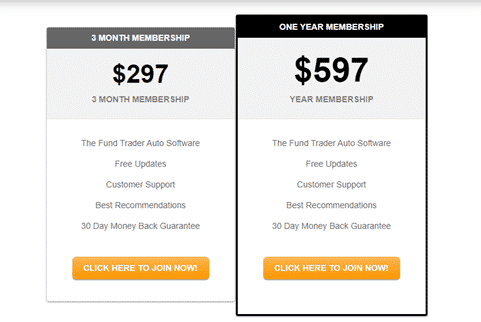 The vendor offers a 100% 30-day money back guarantee. In his own words, he states that "if after 30 days, you're not at all happy with the returns you wouldn't have otherwise made yourself, simply send an email and you will be honored with a quick, fast, refund."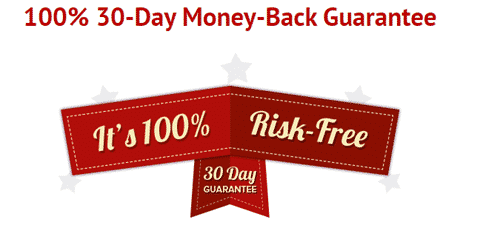 We believe the pricing of this signal software is way too high compared with other signal providers with the fact that it is subscription based. Most providers of such service charge approximately $49 a month, $90 for three months or $120 a year.
With the mentioning of "only 100 spots available", we can clearly tell that the developer is up to your money. His sweet-talking character is just meant to lure traders to take action immediately. Why would he have limited spots if the software is really working and can give one success as he claims?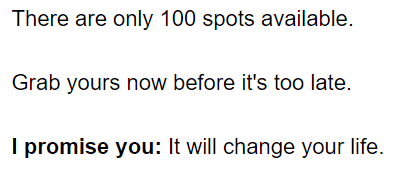 Trading Results
There are no backtest reports provided on the vendor's website. However, let's dive into these trading results and see how the Fund trader signal performed.
According to the screenshot attached, this signal software has achieved a gain of 63,830.84% representing a profit of $114,010.53 from initial deposit of $39,542.86. There is a drawdown of 46.81%. A total of $99, 003.47 has been withdrawn from the account.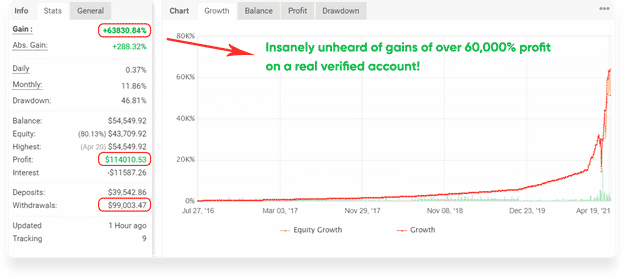 The results were achieved in a period of about five years (27th, 2016 – April 19th, 2021).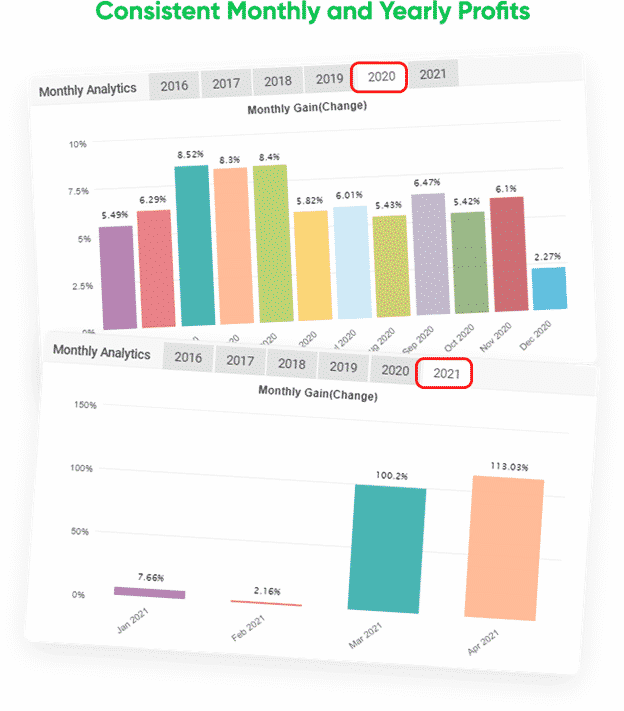 We can't say much about this result as it's a screenshot provided on the vendor's website. The developer didn't share the link to Myfxbook for this particular report or another for us to analyze it live.
People say that the Fund Trader is…
Doubtful. We couldn't find any customer feedback from the vendor's website. But in our search on FPA and TrustPilot, we found that Leapfx has a page on both platforms. It has a 3.7/5 from 5 star rating on TrustPilot and a rating of 2.944/5 from 14 reviews.


However, when we looked into the reviews on both platforms, we couldn't find a specific one that talks about the Fund Trader signal service.
The general reviews hint that systems sold through Leapfx platform don't work. We have attached screenshots of some of them below.
A signal service without any customer feedback may be risky because we can't tell whether any one has used it successfully.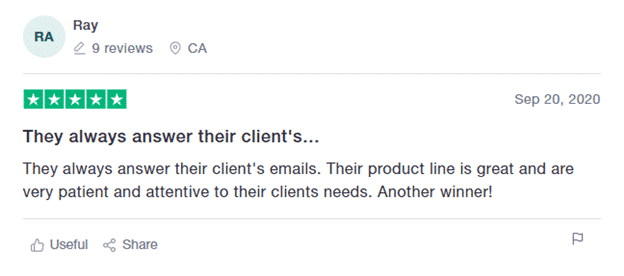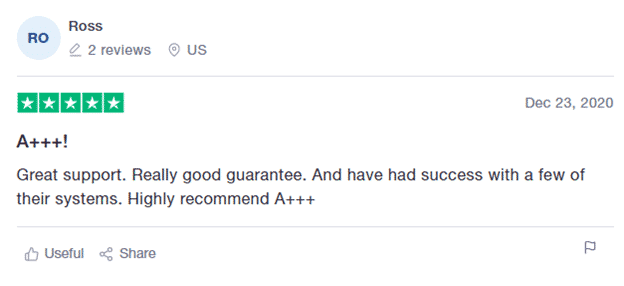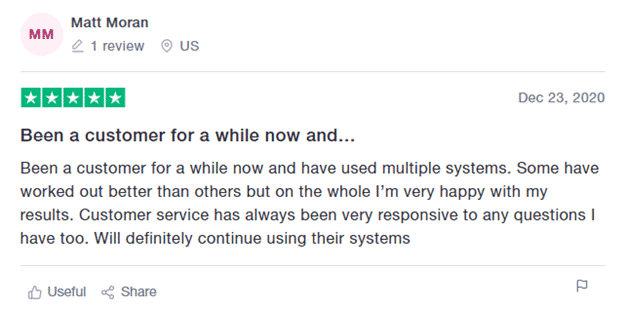 Verdict
Pros
Easy to install
Easy to use
Cons
Too costly
User manual not provided
Subscription based service
No specific feedback talking about the software
There is no backtesting and live trading results provided
The Fund Trader Conclusion
When we take a look at what this signal software provides, we can't see any reason why we would subscribe for it. Its disadvantages outweigh the advantages. The tone used to present the product is more of seduction and this leaves us with many questions without answers. We therefore don't recommend the use of this trading system.