MATALINO FOREX EA is a robot that claims to generate steady profits on a monthly basis without suffering from any losses. According to the vendor, this is a high-performance system that utilizes tried and tested strategies to stay one step ahead of the market.
We can see the vendor making a professional presentation on the official website. Live trading results have been shared by the seller and the price does not look too expensive. We are not able to find any backtesting data or any real information related to the vendor, which is disappointing. At this point, we are wary about investing in this robot.
Vendor Transparency
We do not have any information about the vendor on the website, and we don't know anything about the company's service history and year of foundation. It is not known whether this company has built similar robots in the past and we are unsure about its reputation. The only way you get in touch with the vendor is by using the contact form provided on the website.
How MATALINO FOREX EA Works
This is a 100% automated system that allows you to sit back and relax while it gathers profits. You simply need to install and run the software without getting tangled up in complicated functions. It has advanced risk management features that allow it to handle your account in an intelligent manner. The robot requires no manual intervention and you don't need to keep an eye on it the whole time.
You just need a brokerage account and a device with internet access in order to work with this system. There is no need to conduct complex technical analyses or go through charts.
Timeframe, Currency Pairs, Deposit
This Forex EA deals in the GBP/USD and EUR/USD pairs. It uses the 15m timeframe for placing its trades. The vendor has not mentioned the recommended leverage for this robot.
Trading Approach
This robot uses a trading strategy that is based on the Commodity Channel Index (CCI), Bollinger Bands, and other indicators. It monitors the current market price and identifies profitable trading occasions along with entry and exit points. We are not provided with any further details about the strategy.
Although the vendor mentions the indicators used by the robot, we have not provided a proper strategy insight. Some Forex traders are very particular about technical details, and they might take the lack of information surrounding the strategy as a red flag.
Pricing and Refund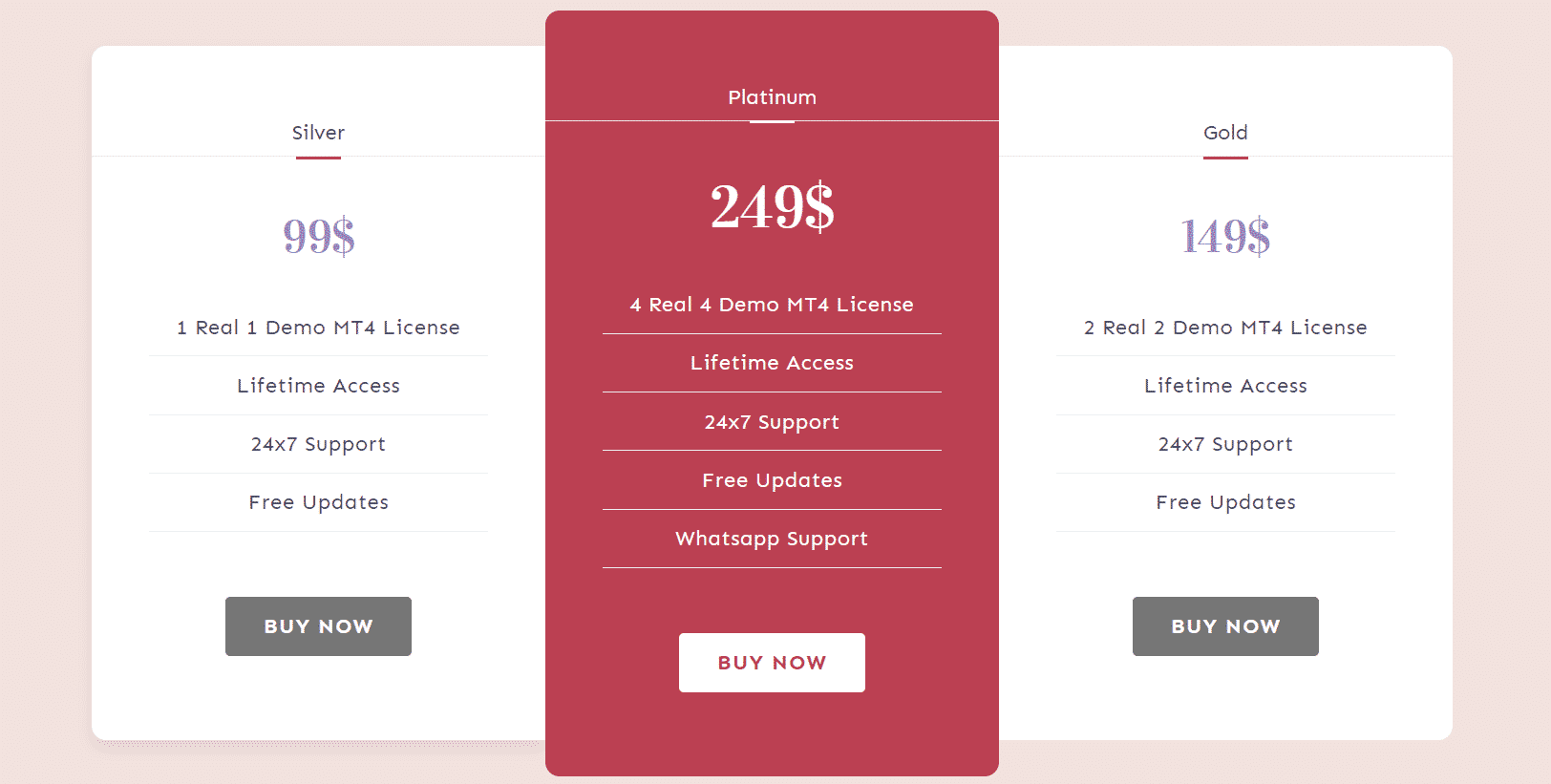 There are three distinct pricing plans for MATALINO FOREX EA, and these are named Silver, Platinum, and Gold. While the Silver and Gold plans give you access to 1 and 2 real demo accounts respectively, with the Platinum plan you can access 4 real and 4 demo accounts for MT4.
These plans are priced at $99, $249, and $149, respectively. If the Forex EA does not work for you, you can get a full refund based on the 30-day money-back guarantee. The prices are not too expensive compared to other providers.
Trading Results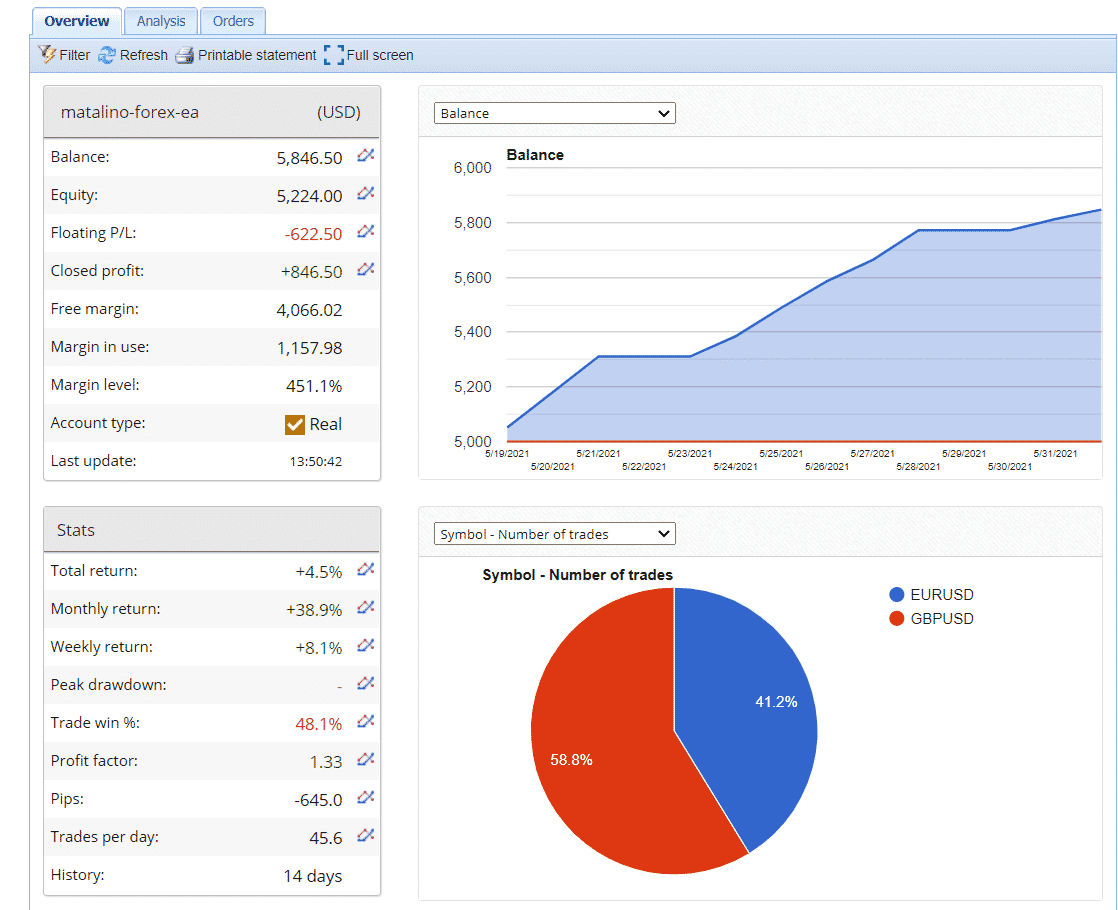 Experienced traders always look for robots that have several months of live trading history. Since MATALINO FOREX EA has a short trading history of 14 days, we cannot take the results too seriously. To date, a profit of $846.50 has been generated through this account. It has monthly and weekly returns of 38.9% and 8.1% respectively. Nevertheless, the trade win percentage is not too high at 48.1%.
A total of 628 trades have been placed through this account, out of which 318 were lost. In monetary terms, this represents a loss of $2559.50. Backtesting data is not provided by the vendor for this robot.
People say that MATALINO FOREX EA is…
Doubtful. We were unable to find any customer reviews for this robot on websites like Quora, Myfxbook, Trustpilot, and Forexpeacearmy. Clearly, it is a newly-launched system that not many people know about yet. It may take several months of successful live trading before traders worldwide start to notice this Forex EA.
Verdict
| | |
| --- | --- |
| Pros | Cons |
| Verified live trading results | Lack of vendor transparency |
| Money-back guarantee | Short trading history |
| | Backtesting data not available |
Matalino Forex EA
We would like to conclude by saying that MATALINO FOREX EA is an extremely risky investment prospect. It is a new system that has only been live for 2 weeks. We know nothing about the vendor and it is not exactly clear what kind of strategy the system uses.