Managed Forex With Us provides services based on managing our funds to let us be profitable. The presentation looks awkward because the developers avoid providing information about advisor activities like risks, win rate, deposit load, profitability, trade length, and so on.
Vendor Transparency
There's a low level of transparency provided. We have only the faces of potential traders. The presentation doesn't provide us with verified trading results published on Myfxbook or Fxblue.
How MFWU Works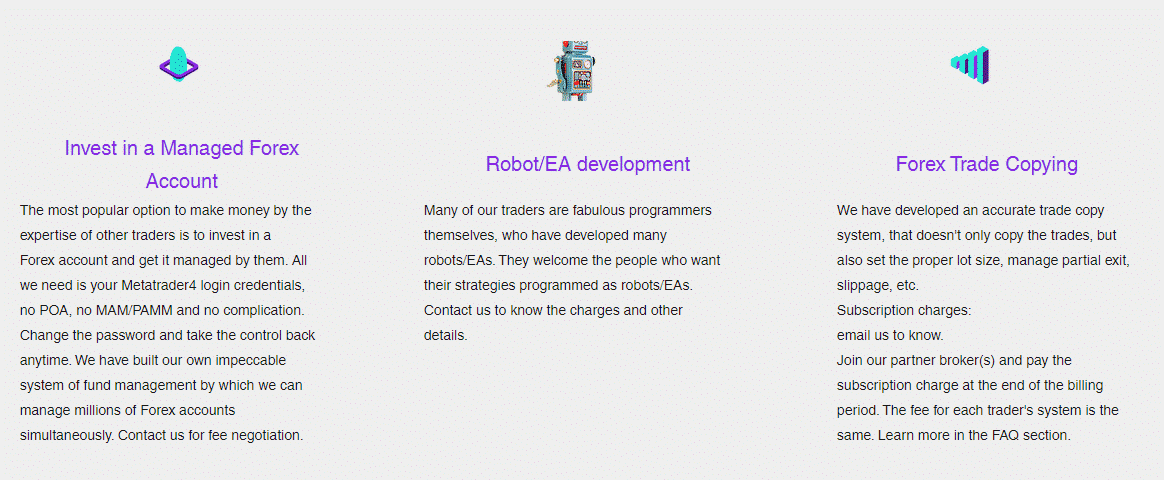 The presentation doesn't include extra explanations about what strategies are behind the account from which we will receive our signals.
Norbert Zoltan Nagy introduces himself as a company owner.
We couldn't find any registration documents about the company's existence.
The developers focus on improving the service all the time.
We can't trust it without proof.
The vendor wants us to create an all-new account using their referral link on the proper broker.
Other services offer an annual subscription if we do this.
We have to share with them data about our account, such as login and password.
We can copy provided signals from several accounts.
It can diversify risks, the developers mentioned.
We don't know if the service is provided with updates, support, and other kinds of help the other companies provide.
Timeframe, Currency Pairs, Deposit
Everything about the time frame, currency pairs, and deposit requirements is hidden. We have no idea what we should be prepared for.
Trading Approach
The same can be said about the trading approach. The developers do their best to hide intel about the strategies they use to make profits. It's risky to copy them blindly.
Pricing and Refund
We can subscribe to each account for $50 a month.
There's no refund policy if the quality of the signals doesn't fit our expectations.
Trading Results
The presentation doesn't include backtest reports from their advisors that they use on real accounts. If they don't own them, it can be a rough case when the system requires an update, and developers won't be able to do this. We are sure that the backtests are a must for this type of service.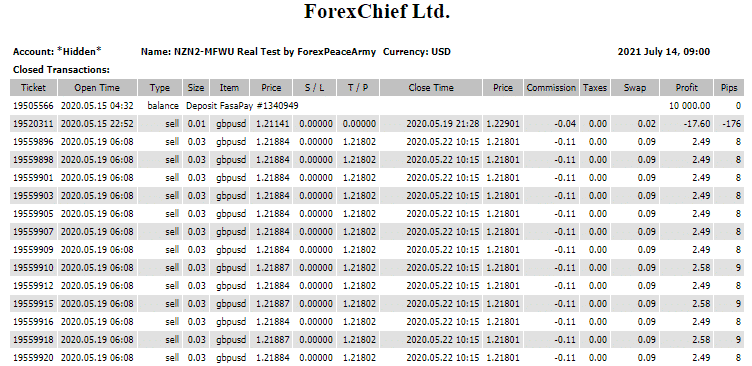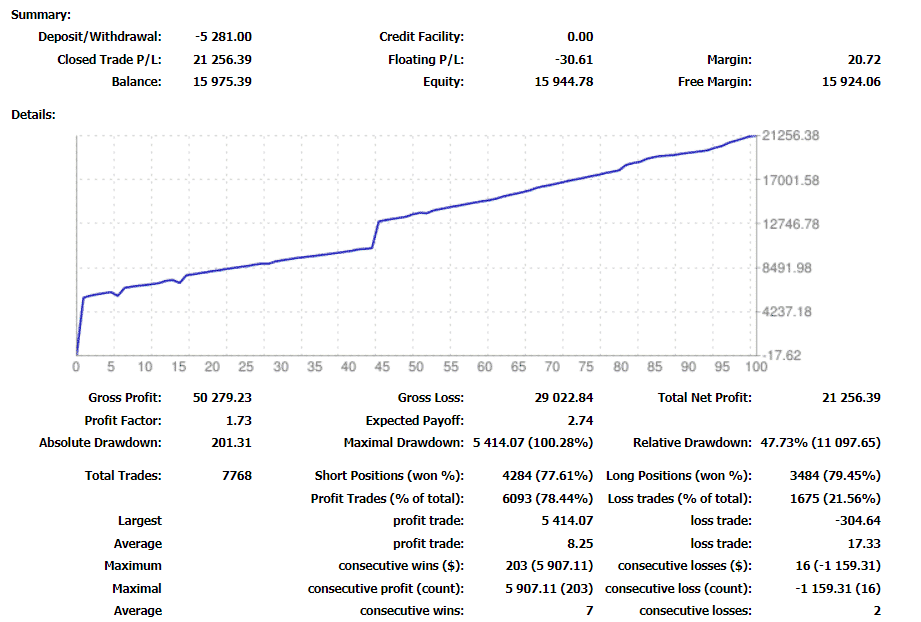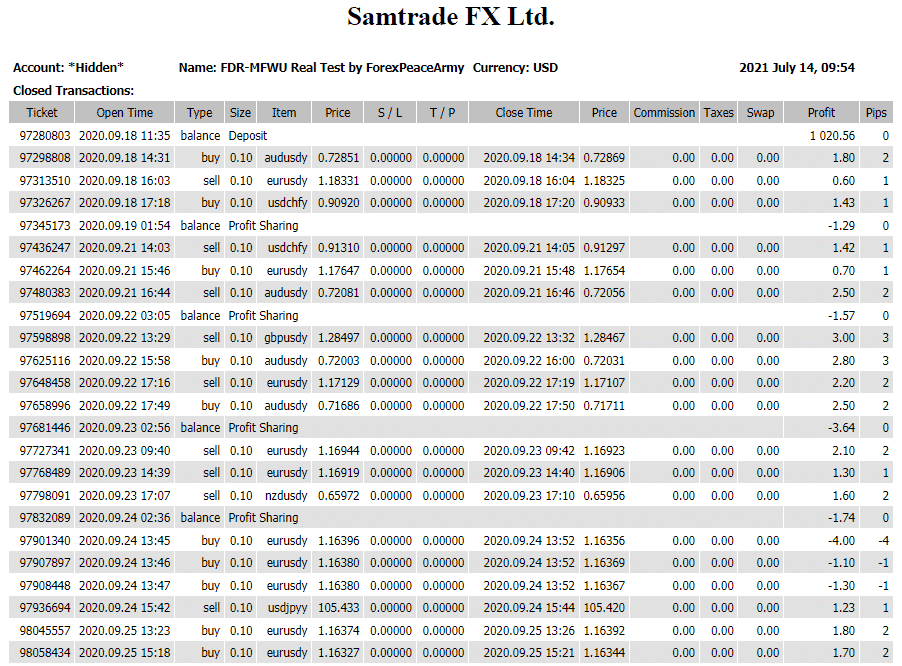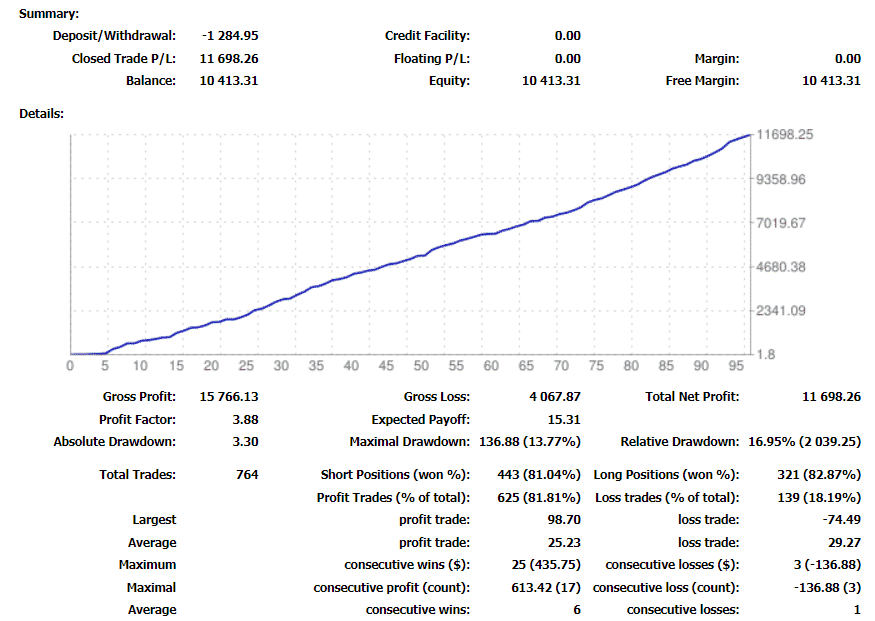 We have unverified trading results from hidden accounts. If the number of accounts is not revealed, they can be demo ones, so the developers risk nothing if something goes wrong.
If we treat these results as real ones, we can notice that the profit factor is 3.88, the maximum drawdown is 13.77%, there were 764 orders traded with an 81-82% win rate. An average win streak is six orders.
Another account showed that at the beginning, there was much high-risk trading with huge lot sizes. That's why it rocked quickly. If these orders were lost, it would blow half the account. It has a 1.73 profit factor, the maximum drawdown was insane, scam-like deep – over 100% to the balance – $5,414. The robot has traded 7768 orders with a 77-79% win rate.
Copying orders from both accounts is a horrible idea. MQL5 has many traders that provide copy-trading services for $30-$100 monthly with much better and more stable results.
People say that MFWU is …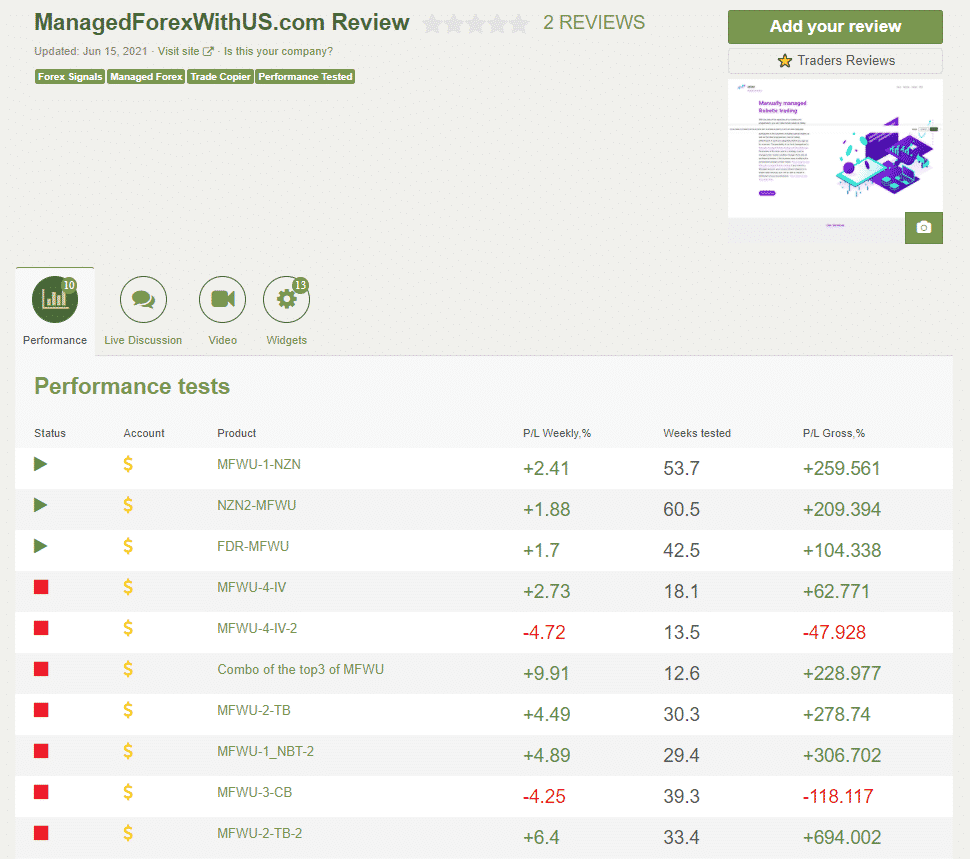 Good. MFWU has a profile on Forex Peace Army with many accounts connected. We don't know why most of them were stopped. We may note all accounts provided less than 10% of the monthly profits.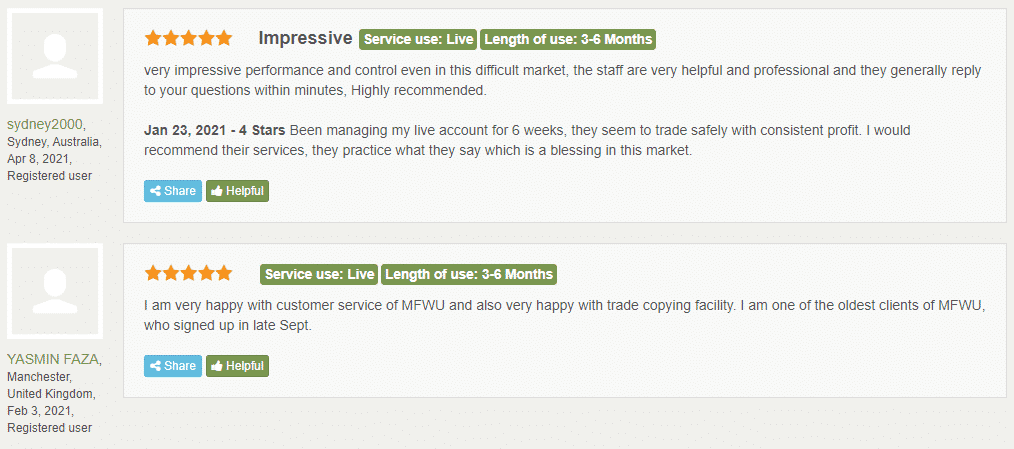 There are only two reviews published. They don't look trustworthy because it's ridiculous to make a post about support instead of profits that the company helped to make. It's ridiculous.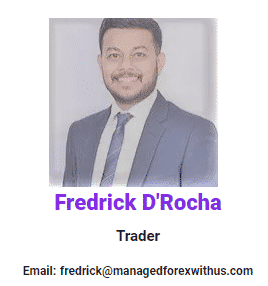 We have photos of possible traders and owners. Alas, all these men don't have Facebook or MQL5 profiles to convince us that they are real.
Verdict
| | |
| --- | --- |
| Pros | Cons |
| Affordable pricing | No strategy explanations provided |
| | No risk or balance advice given |
| | No backtest reports provided |
| | No verified trading results shared |
| | Insane drawdowns are on the one account when high-risk trading on another one |
| | No refund policy supported |
MFWU Conclusion
MFWU is a weird company that provides PAMM and MAM services for everyone who needs it. The presentation doesn't include strategy explanations. We have no real sign that these robots can make profits on real accounts. It's an absolute cat in the bag service when the MQL5 forum has every account connected to the verified demo or real trading results.