Mr. Martin is a robot that was developed to manage orders on the Forex market. The developer provides us with information about the system, details, settings, and parameters. So, we have decided to check if it fits our expectations.
Vendor transparency

Vasiliy Kolesov has a common level of transparency as for MQL5. He is from Russia with a 3465 rate. It's not that much compared with other developers. He has ten products and seven signals in the portfolio that were rated as 4.4 from 5 based on 9 reviews.
How Mr. Martin works
The presentation includes information about the system and how it's going to work on our account. We have systemized all available information in the list, prioritizing it by importance.
We can expect that the system will work completely automatically for us.
It includes features: an unique input system, several filters, and the deposit protection system.
There's cost averaging. So, the system can overage unprofitable positions.
The default settings are properly customized.
It has to work on GMT Offset +2.
We can work with conservative or aggressive settings.
The robot opens and closes trades on a "closed bar."
Trading is possible on every broker house.
The spreads can be 10 pips or less.
We have to work on the Hedge account type.
So, that's it. We have no more details provided.
Timeframe, currency pairs, deposit
We have to work on the M1 time frame.
The only cross pair to open orders is EURUSD.
The balance has to be over $1000.
Trading approach
We don't know the details about how the system spots trading opportunities.
Most likely it's a Grid of orders strategy if a Hedge account is required.
Pricing and refund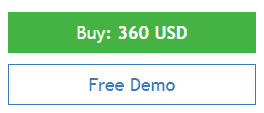 The robot is available only for $360 for a single account copy. Alas, no subscription options are provided. So, we have to pay $360 for it. We'd like to note that this offer is overpriced. A demo copy of the system is available, as usual.
Trading results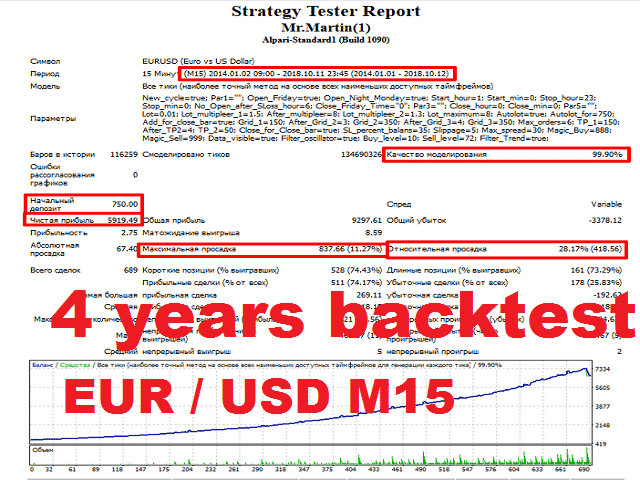 The advisor worked with the data from 2014-2018 on EURUSD. The time frame was M15 instead of M1 mentioned before with a modeling quality of 99.90% with variable spreads. The initial deposit was $750. It has turned into $5919.49 of the total net profit. It worked with a 3.75 profit factor and 11.27% drawdowns. The robot executed 689 orders with accuracy of 74% for short and 73% for long trading directions.

Mr. Martin works only on a demo account on RoboForex. The leverage was set as 1:300. The maximum drawdown is 46.1% when the maximum deposit load is 89.5%. Both parameters are high. The win rate is 73.1%. The absolute growth has become 375.58%.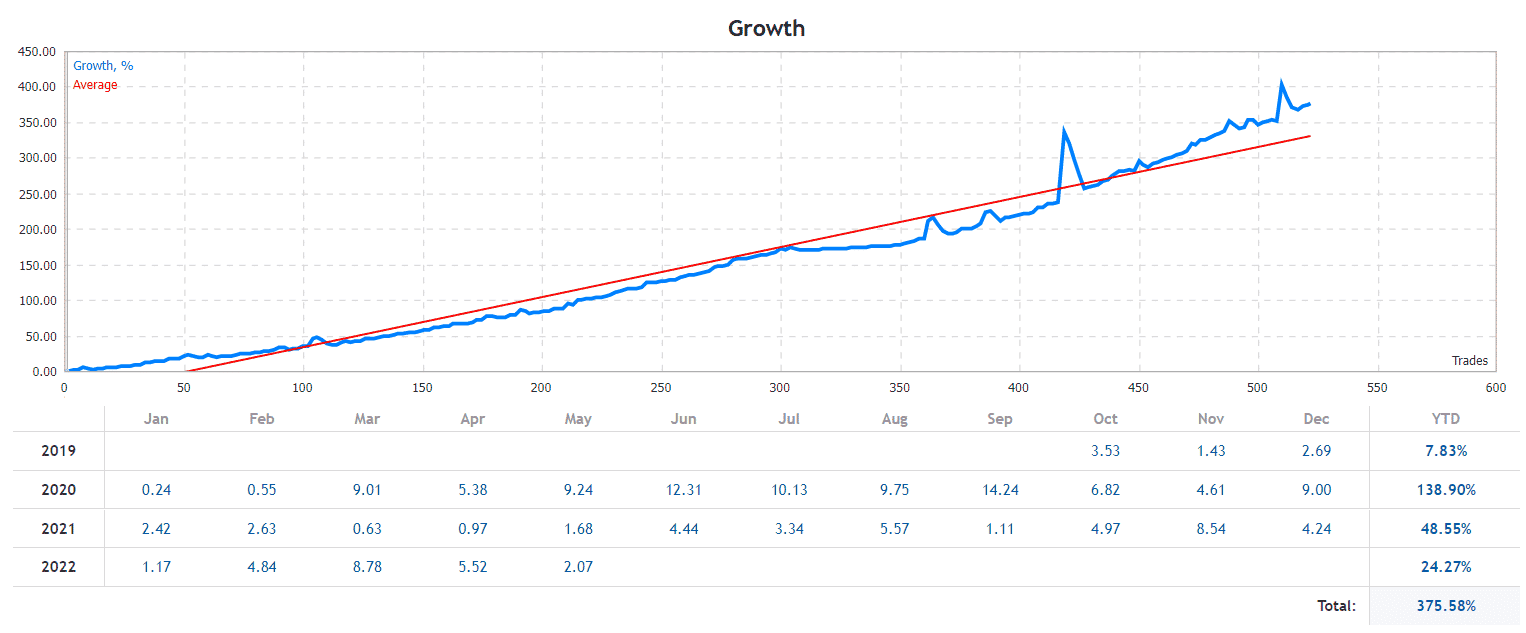 The robot hasn't lost any month since the beginning. It's rare to see.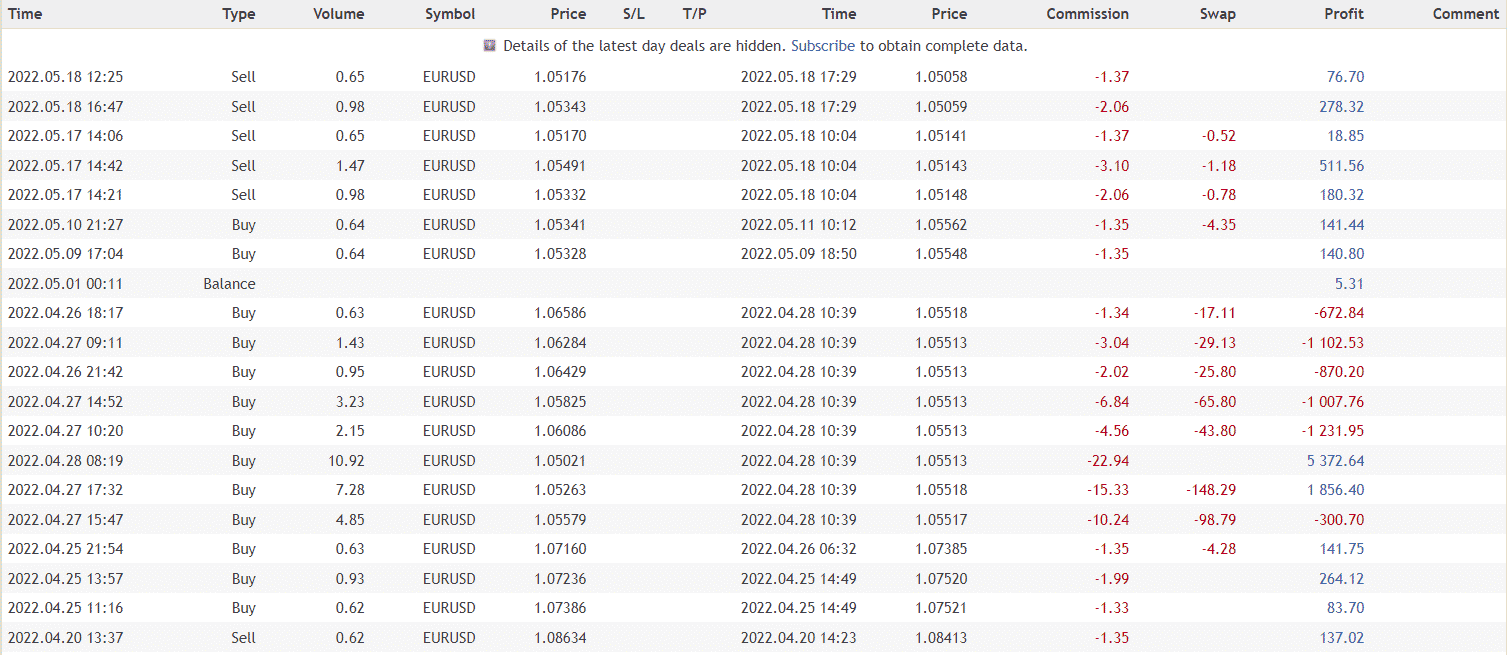 The system works with insanely aggressive Martingale on Grids of orders. It increases lot sizes from 0.65 to 10.92.

The system has executed 513 deals. The best trade was $13,308.71 when the worst trade was -$2,306.05. It has a recovery factor of 4.70 when the profit factor is 2.47. An annual forecast is only 70.05%. An average monthly growth is 5.63%.

It works with EURUSD only.
People say that Mr. Martin is…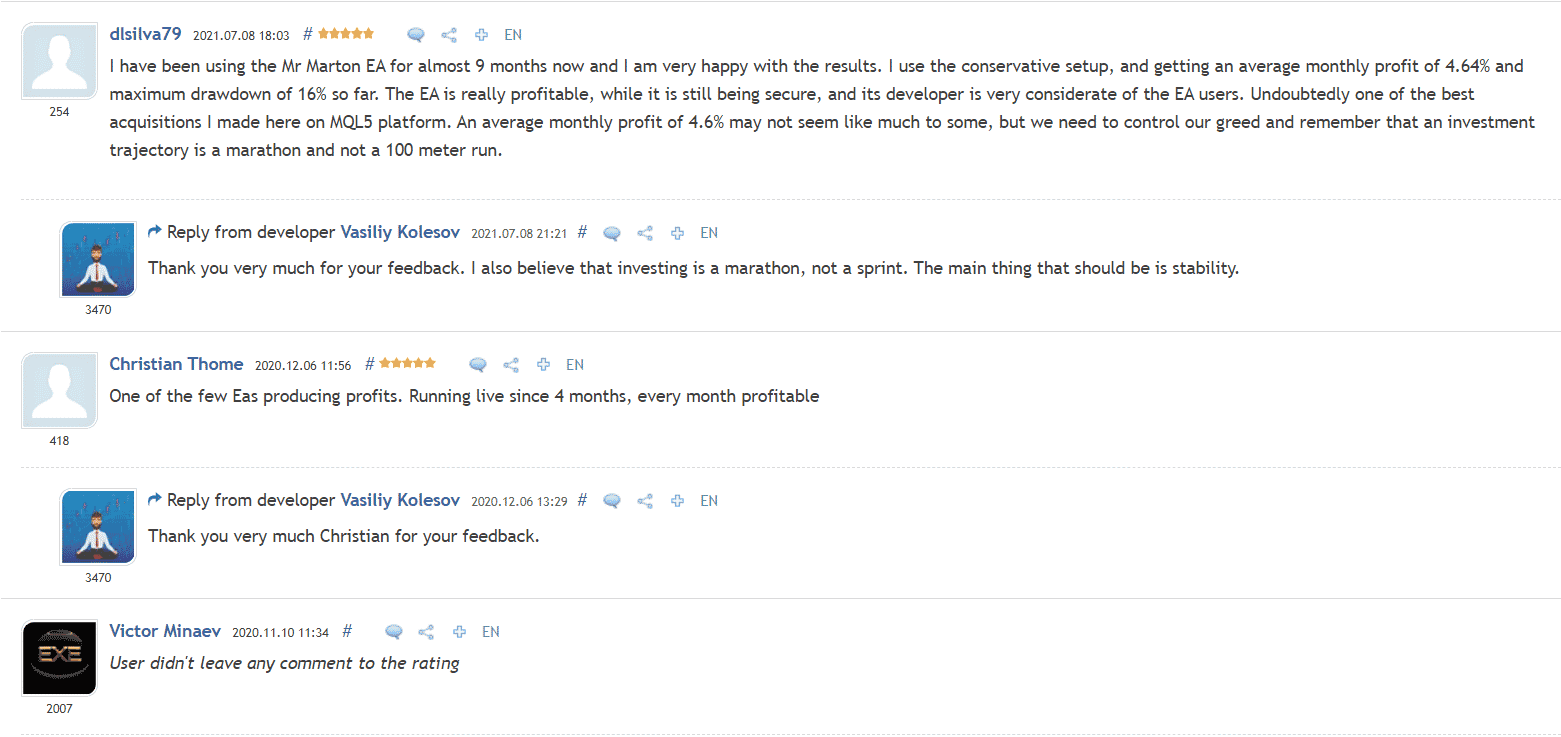 There are positive reviews where people mentioned their positive experience of working with this solution. We also have a negative review without details.
Verdict
| | |
| --- | --- |
| Pros | Cons |
| Trading results shared | No risk advice given |
| A backtest report provided | No settings explanations provided |
| | No strategy details revealed |
| | Aggressive Martingale on Grids applied |
Mr. Martin Conclusion
Mr. Martin is a robot that works on a demo account with aggressive Martingale. The lot sizes are invaded up to 15 times. So, the risks of using this advisor is truly high.