Night Hunter Pro is an automated trading system that works with a hedge account. It trades 8 different currency pairs on a single chart and includes auto GMT detection. According to the vendor, only a strict rule-based approach is applied to trading, enabling the system to optimize returns while controlling risks. Although it sounds good, we can't trust it blindly. Therefore, we have analyzed this system and prepared an unbiased Night Hunter Pro review to help you decide whether it is a worthy investment solution or not.
Vendor transparency
This product was created by Valeriia Mishchenko. She is also the developer of Waka Waka EA. We are not sure if she works alone or with other programmers.
How Night Hunter Pro works
The key features of the robot are outlined below:
It is compatible with FIFO and FTMO.
The system comes with an advanced news filter and a negative swap filter.
It does not utilize the grid or martingale strategies.
It only enters a trade with pending orders and utilizes a stop loss for every trade.
The robot runs on a VPS continuously.
It needs good brokerage conditions such as low slippage and spreads during the rollover time, so the advice is to use ECN brokers.
Timeframe, currency pairs, deposit
The EA supports multiple currency pairs, which include GBPUSD, EURUSD, EURCHF, USDCAD, USDCHF, CHFJPY, AUDCAD, EURCAD, and EURAUD symbols. It works with the M5 timeframe, but the vendor doesn't provide any info on the amount of deposit you need to trade with it.
Trading approach
Night Hunter Pro uses the advanced scalping strategy that applies smart entry/exit algorithms. It also uses refined filtering techniques to help it spot the safest entry points during the calm periods of the market.
Pricing and refund
The EA is available on MQL5 at $999. This pricing is exorbitant.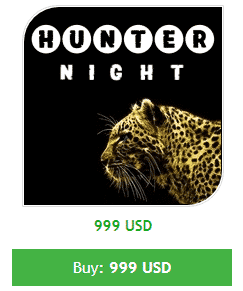 Trading results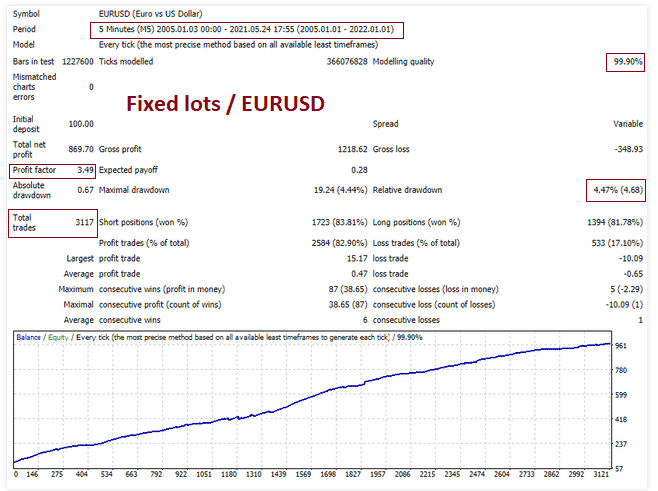 This test was done on the EURUSD currency pair using fixed lots. The EA traded between January 2005 and May 2021 using the 5 minute timeframe. A total of 3117 trades were carried out, leading to a total net profit of $869.70. The resulting win rates for short and long positions were 83.81% and 81.78%, respectively. Low risk trading was involved as we only had a low drawdown of 4.44%.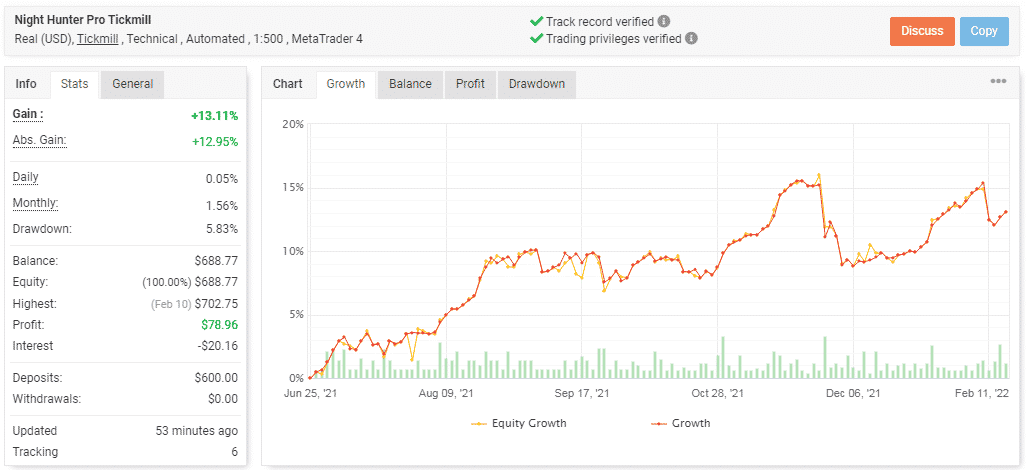 Night Hunter Pro has worked on this account for eight months now. So far, it has turned a deposit of $600 into a $78.96 profit. This revenue is very small, considering that it has been earned from 451 trades the EA has carried out. The daily (0.05%) and monthly profitability rates (1.56%) further illustrate the system's low return rate. The drawdown rate, which is 5.83%, proves that the strategy being used is safe.

The win rates for short positions (69%) are poorer compared to long positions (80%). To date, the reported profit factor is 1.38 and mediocre. The system makes an average win of 3.39 pips and an average loss of -4.43 pips. In general, the robot held a trade for 8 hours and 23 minutes.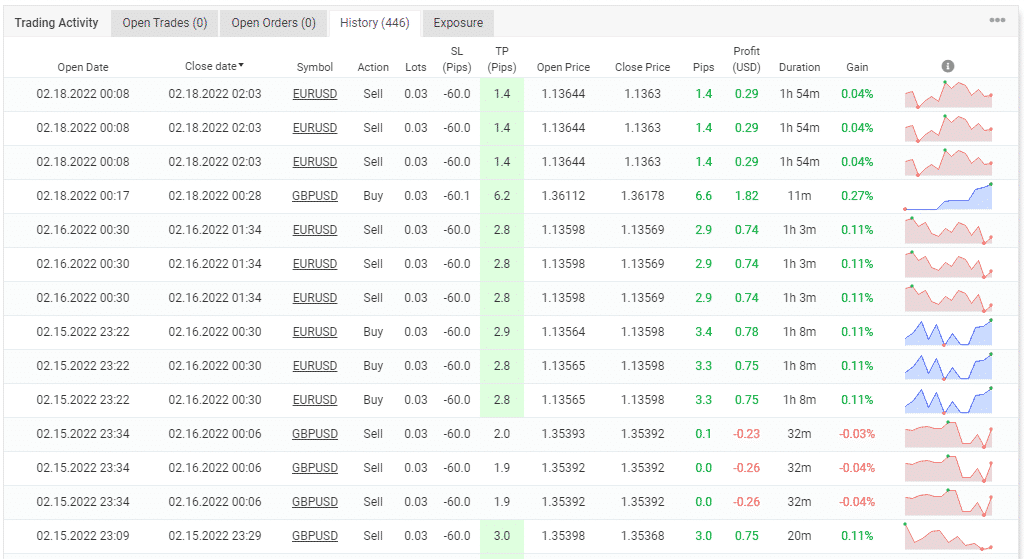 The EA worked with the scalping approach and a grid of orders. SL and TP were attached to every order. The resulting profits were small.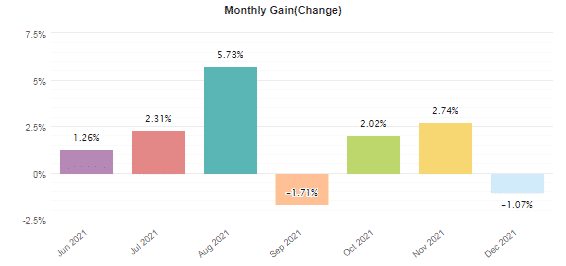 August was the most lucrative period with 5.73% recorded profits.

The robot has traded safely to this day.
People say the Night Hunter Pro is…
Excellent. Users describe Night Hunter Pro as an excellent EA that really works, provided you follow the developer's recommendations. However, there is one client claiming that the system blew up his $3000 account within the first trading day. He also warns that the backtesting results are not similar to live trading stats.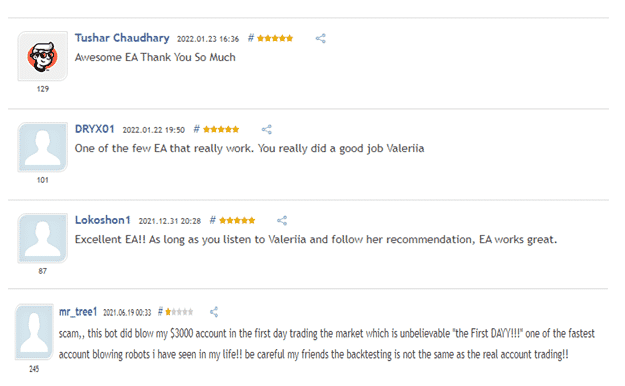 Verdict
Pros
Strategy explained
Multiple currency support
Cons
Low return rate
Costly
Works with the grid strategy
Night Hunter Pro Conclusion
The EA generated low drawdowns in its simulation period and in the live market. It has also managed to keep the viability of the account it is trading on intact. In any case, anyone planning to invest in this tool should be aware that it generates small earnings. The grid strategy is also part of the algorithm, which may increase an account's risk of loss.