Omega Trend EA is a robot that belongs to the FXAutomater family. The presentation is jolly good as usual. We have much intel about how everything works. We decided to figure out if the system will work for us.
Vendor transparency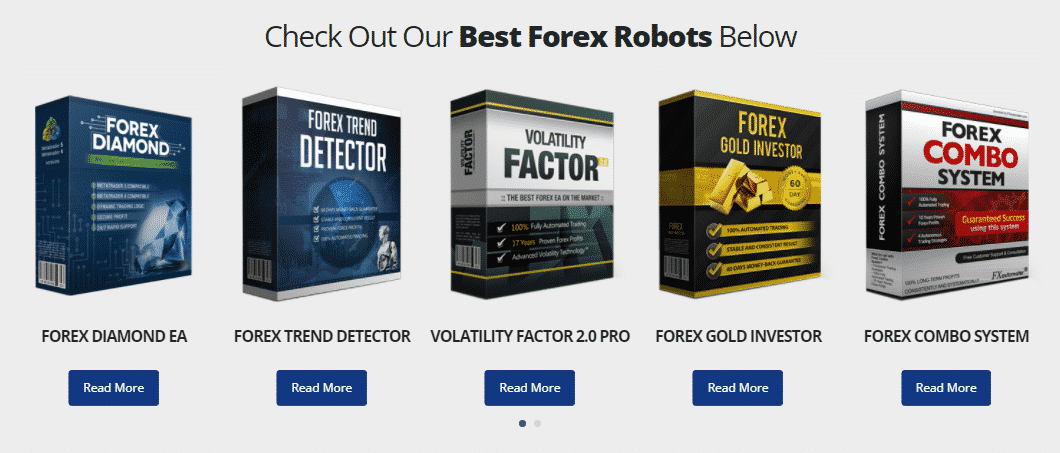 FXAutomater is a well-known company on the Forex market. It's probably in the top 5 outside of the MQL5 developers. They have many products on the board where some of them are already scams.
How Omega Trend EA works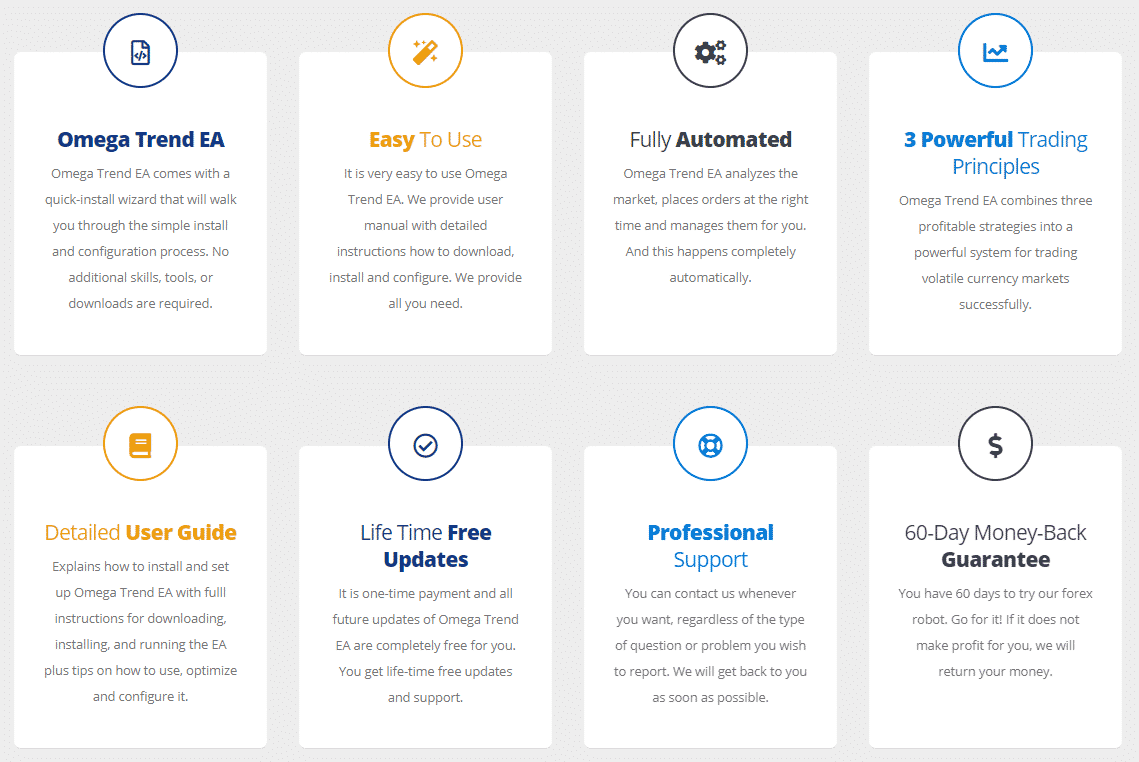 The developers provide us with all required intel about the system to make a wise decision. We cut out the less important adding the key intel in the following list.
We can execute orders completely automatically on the terminal.
It trades on the MT4 platform only.
It works based on various indicators that helps system to spot trend opportunities
The system works with dynamic Entry and Exit levels.
We can work on the H1 time frame only.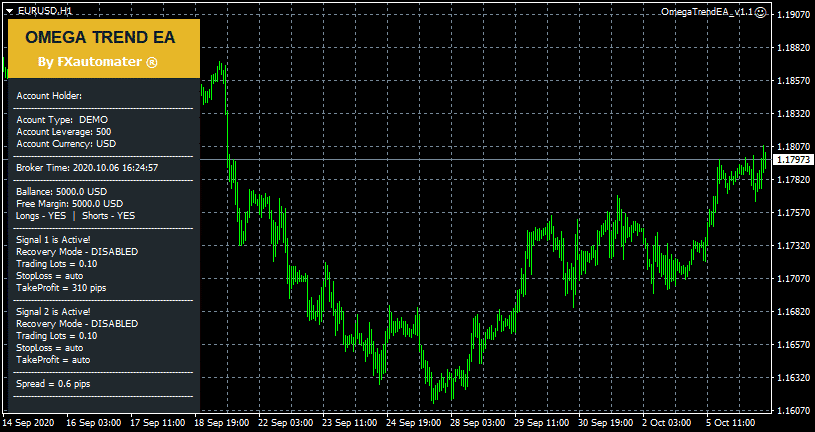 The developers showed how the robot looks on the terminal.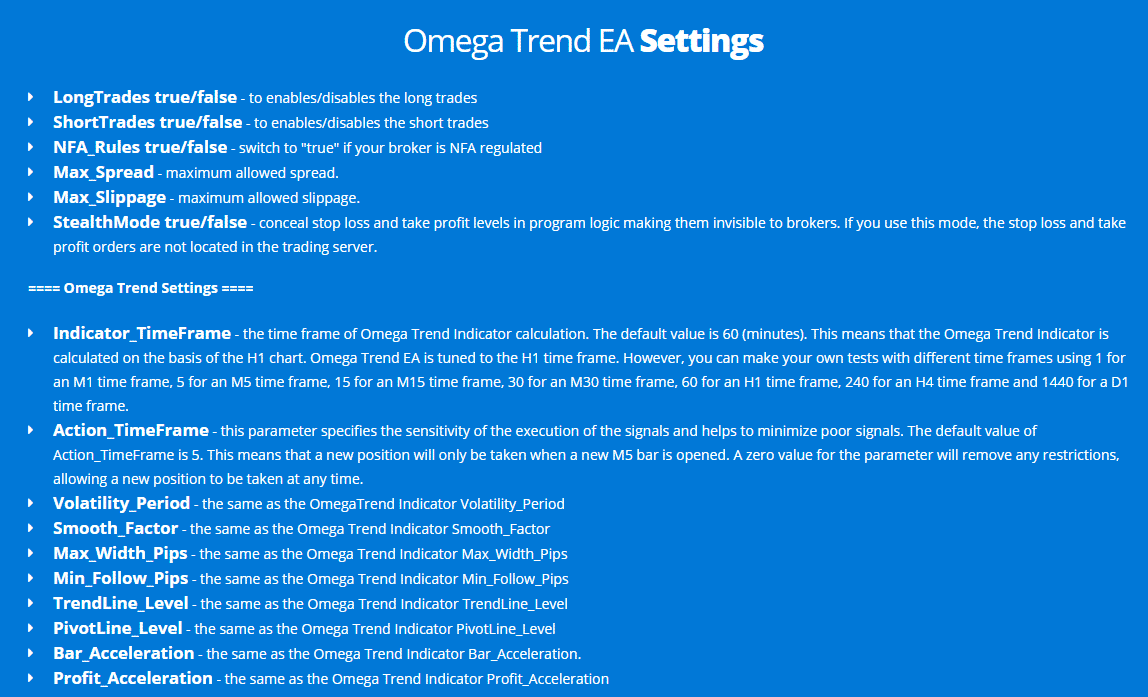 We can check all settings that the system has.
There's a money-management feature that cares about drawdowns.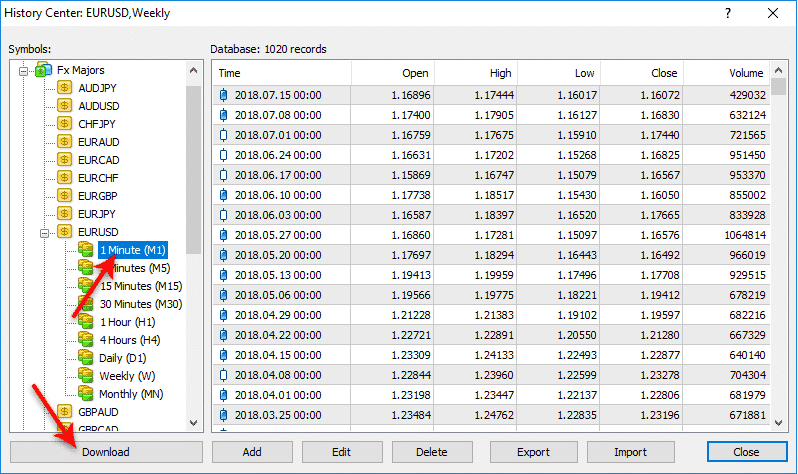 Timeframe, currency pairs, deposit
The robot works on the H1 time frame.
We can trade GBPUSD, EURUSD, and EURJPY.
The default settings are good for EURUSD.
It can be used on 4 and 5 digit brokers.
The deposit level isn't mentioned.
Trading approach
It looks at the trading indicators to spot the trade opportunities.
Then, it opens and closes orders for us.
Pricing and refund
The advisor can be bought for $97. This price was discounted from $147. The package includes a real and three demo account licenses, the best in Forex industry support, and a 60-day money-back guarantee.
Trading results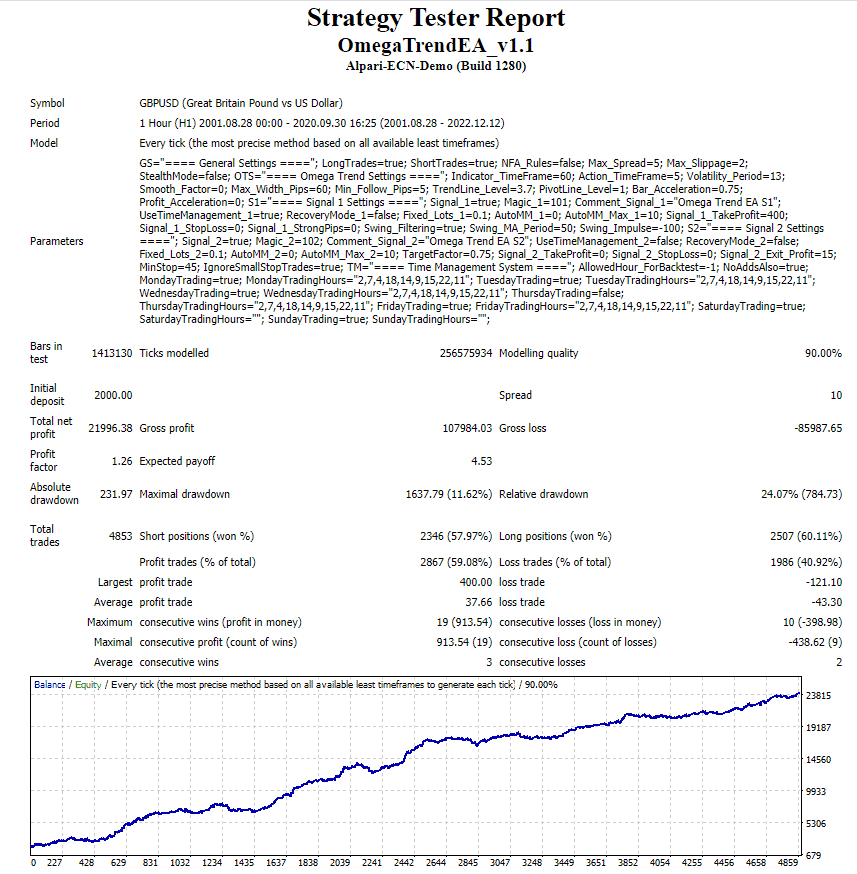 Let's talk about a GBPUSD report on H1. The data period was from August 2001 to September 2020. The modeling quality was 90.00%. The spreads were 10 pips. An initial deposit of $2000 has grown to $21,996 of the total net profit. The system traded 4853 orders. The maximal drawdown was 11.62%. The winning percentage was 57.97% for shorts and 60.11% for longs.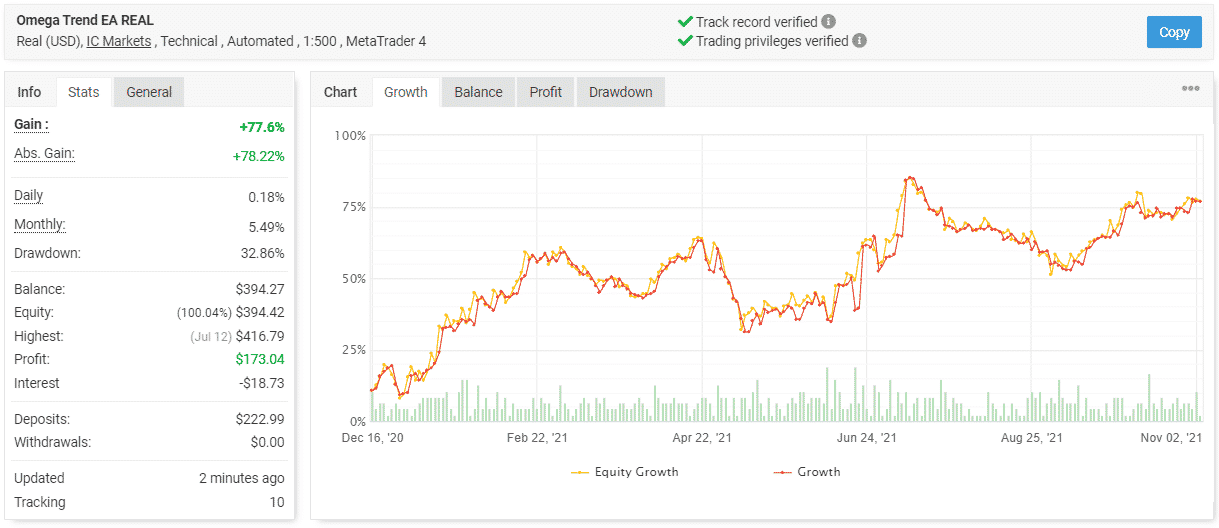 We have verified trading results that is a good sign ast the devs care about how the system looks in our eyes. Omega Trend EA works on a real USD account on IC Markets with leverage of 1:500 on the MT4 platform. The account was created on December 16, 2020, and deposited at $222.99. Since then, the absolute gain has amounted to 77.6%. An average monthly gain is 5.49%. The maximum drawdown is 32.86%.
There were 589 deals with 1703.9 pips executed. An average win is 22.92 pips when an average loss is -28.37 pips. The accuracy is 58% and 62% for short and long trading positions. An average trade length is 23 hours and 3 minutes. The profit factor is 1.23.

EURUSD is the most traded pair, but it brought -$31.43 of losses. GBPUSD is the most profitable pair with $107.99.

The advisor focuses on two hours a day in trading.

It trades almost equally and as it should be during a week.

The drawdowns are high. There's a 35.68% chance to lose 10% of the balance.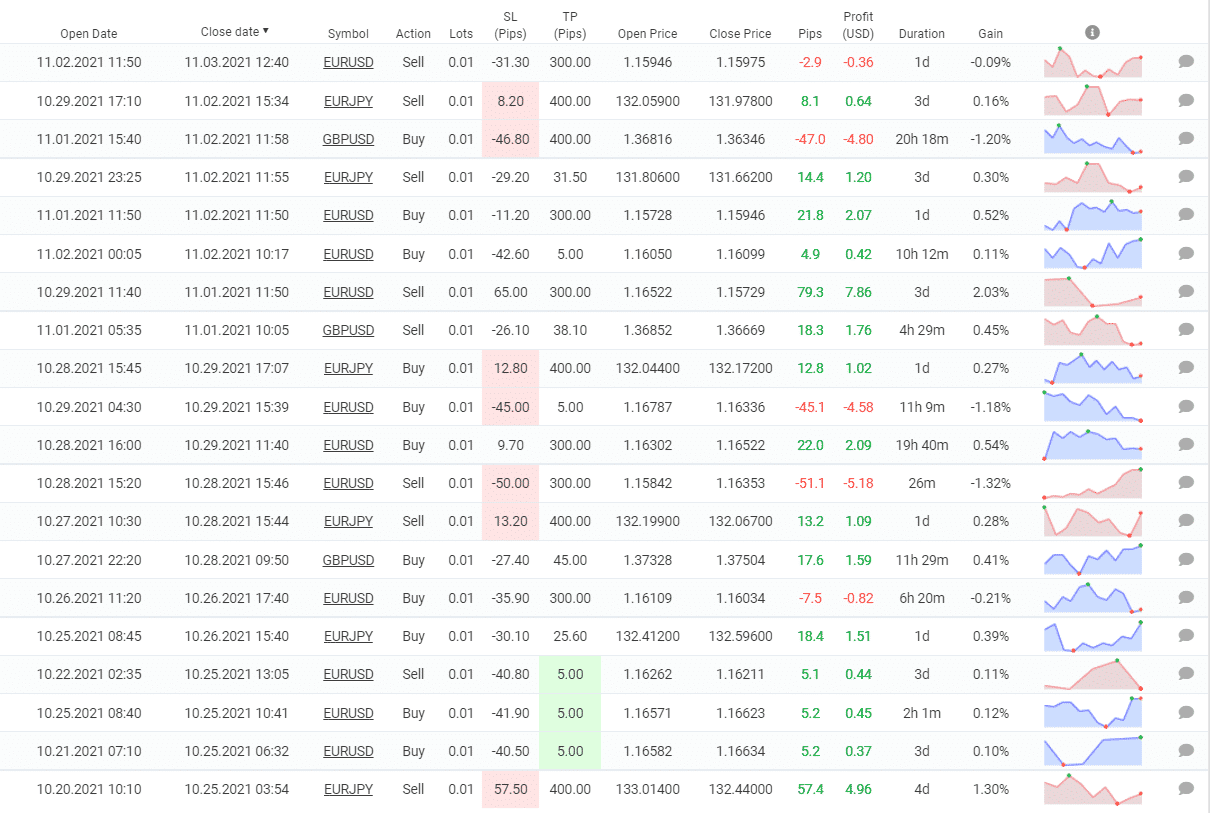 Omega Trend works with deep drawdowns.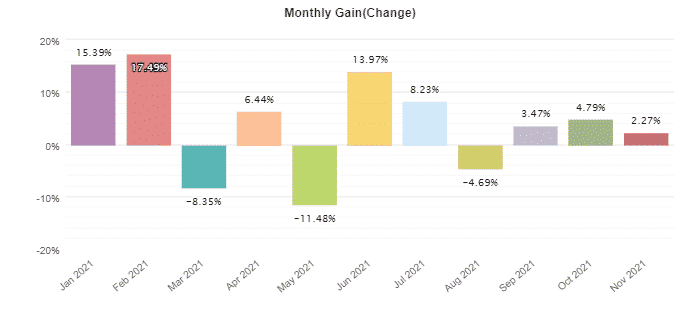 The profitability doesn't look predictable and stable.
People say that Omega Trend EA is…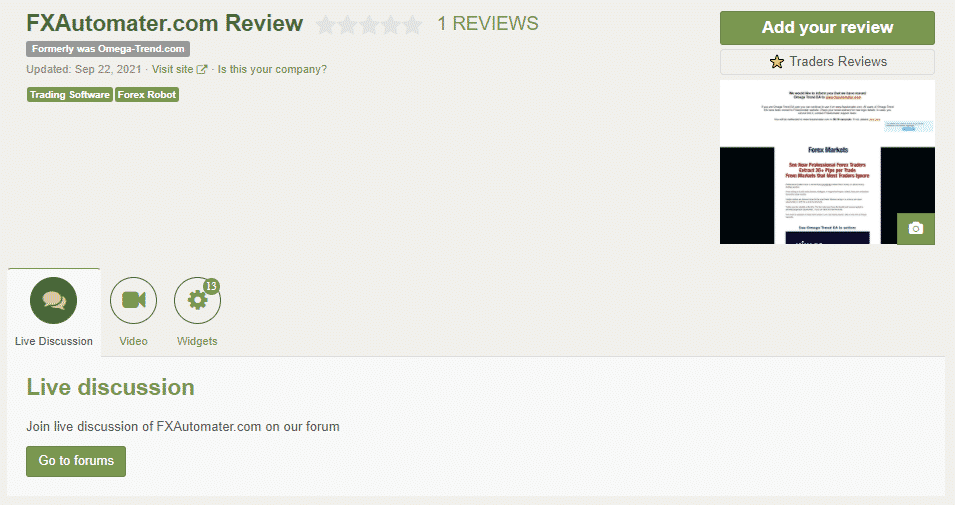 Worth a try. We have found a FXAutomater's page on Forex Peace Army with a single three-starred review.

This comment informed us that the trader gave it a try and kept testing. 
Verdict
| | |
| --- | --- |
| Pros | Cons |
| Backtest reports shared | No risk advice given |
| Trading results revealed | No developer team shown |
| A refund policy applied | Trading results don't look great |
| A well-known developing company behind | Lack of customer reviews |
Omega Trend EA Conclusion
Omega Trend EA is an expert advisor that works with trends on a real account. Trading results showed that the system must be updated to work more predictable and smooth. Now, it seems to be a random trade. We can't suggest you use this advisor.