Today there are hundreds if not thousands of different expert advisors on the Forex market, each based on different Forex indicators. Expert advisors offer a hands-off approach to trading the Forex market using a trading system. However, being ATS does not mean being the best trading tool. Many factors determine a system's efficacy, reliability, and safety, like built-in mechanisms that can cope with unpredictable ups and downs in terms of drawdown performance, safe but effective trading approaches, and so on.

In this Perfect Score review, we will be talking about one such system that enters the market at the opening of the London Stock Exchange. Its dev claims that it does not use indicators, grid, martingale, or arbitrage. Instead, it has protection against high spreads, which allow traders to trade with fixed or automatic Lot size. After our analysis, we've concluded that the price tag is simply too high for a system that has such a high drawdown that can easily ruin your trading account.
Vendor Transparency
Perfect Score is sold by Russian trader Sergei Riebin. He tells us that he's a longtime professional algo trader who has a 3,4 rating for all the products he sells. His MQL5 page tells us that Sergei has developed other Forex robots in the past: To The Moon EA, SharkEA, Golden Bot, RocketEA, Boss EA, and a free trading tool known as History Shifter. This vendor has already sold over 1000 products.
The vendor also provides a link to his Telegram channel where he discusses and compares his trading systems, provides daily news, and shares other Forex-related information.

How Perfect Score Works
Every trade that this EA places is protected with Stop Loss. The robot works at the opening of the London Stock Exchange. The dev points out that it uses the 'tendency of FX prices to move toward their average value during the LSE session'. It is not a broker-sensitive robot, so you can use it with any broker you want. The EA was designed to work either on MT4 or on the MT5 platform and run on the M5 timeframe. As per the vendor's claims, the robot also offers good resistance to unexpected market events. This ATS was stress tested with 99.90% tick data using variable spread.
The vendor also provides a detailed list of the various system settings on the mql5 page where the robot is sold. Finally, yet importantly, the EA is easy to set up and can be used even by an inexperienced trader.
Timeframe, Currency Pairs, Deposit
The robot mainly trades EUR/USD pair in the M5 timeframe
Its default settings are optimized for EURUSD M5
The minimum required deposit to start trading this EA is $50
The dev tells us nothing about the recommended leverage but provides a link to his signals, where we can see that the robot trades with a leverage of 1:300
Trading Approach
According to the vendor's claims, the EA does not use indicators, grid, martingale, or arbitrage for trading
It has high spreads protection system, which allows you to trade with a fixed or automatic lot size
The system has an optional grid system, which is not used in his signals, as no dangerous money management techniques are used
Pricing and Refund
Perfect Score is sold on MQL5 and costs a sky-high price of $1499, which is extremely high compared to the market average. Traders can also choose a rental option available for $399 for a 3 months period. Many FX EAs cost half of this price and offer good and stable trading results. Thus, we think that the Perfect Score robot is overpriced. There is a free Demo version of the software offered. Thus, you can easily test the EA before moving to the real trading account.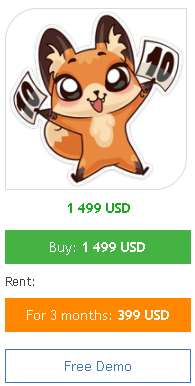 As usual, a money-back guarantee is not included. It is a one-way ticket.
Trading Results
We have a Real (AUD) account that works under the recommended by the dev brokerage – IC Markets. It uses technical indicators and trades with a 1:500 leverage on the MT4 terminal. Being created on July 06, 2020, the EA's gain has grown to 85, 33% with an average daily and monthly gains of 0, 19%, and 6, 12%.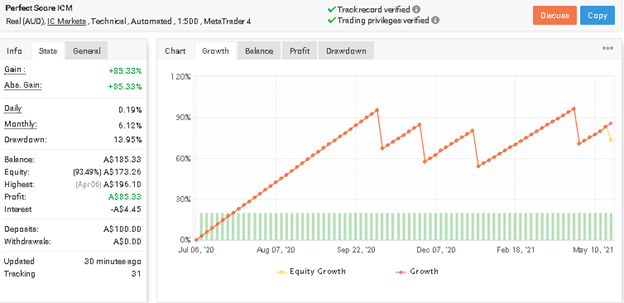 Although the robot does not trade with high drawdowns, its drawdown chart looks dangerous and unstable: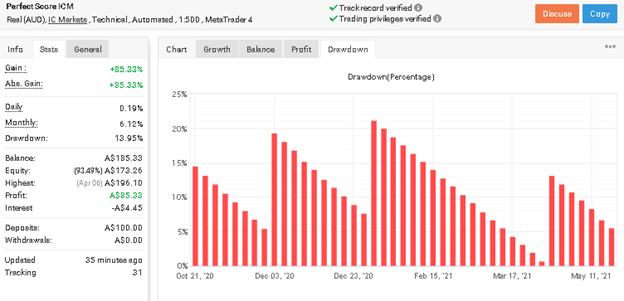 With a deposit of A$100, the EA generated only A$85,33 of the total net profit having performed 43 deals with the EURUSD currency pair. As for a 10 months trading history, the result is unimpressive.

It opens trades during the European market opening and trades daily from Monday to Friday: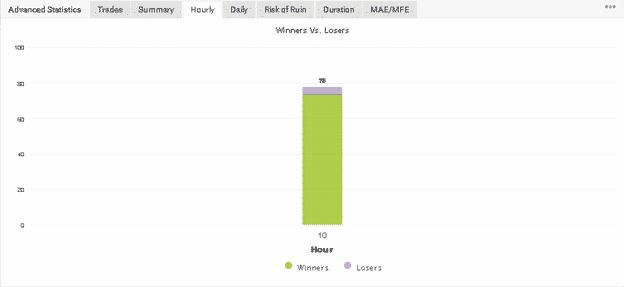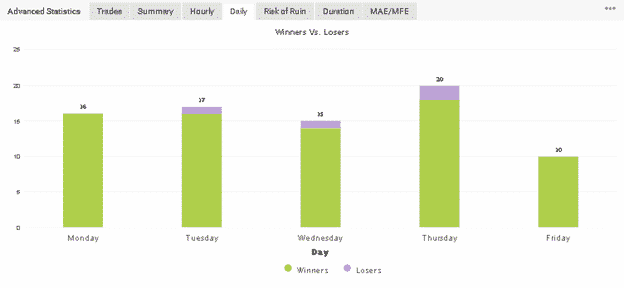 Although the win rate of this EA is set at 95%, the robot trades with sky-high risks to the account balance. In the case of 5 losing deals, 80% of the balance will be lost.

The good thing is that the robot does not use Martingale. However, the EA is a scalper that works with that deep, not dynamic Stop Losses. To recover after 1 single loss, the system has to win at least ten deals in a row.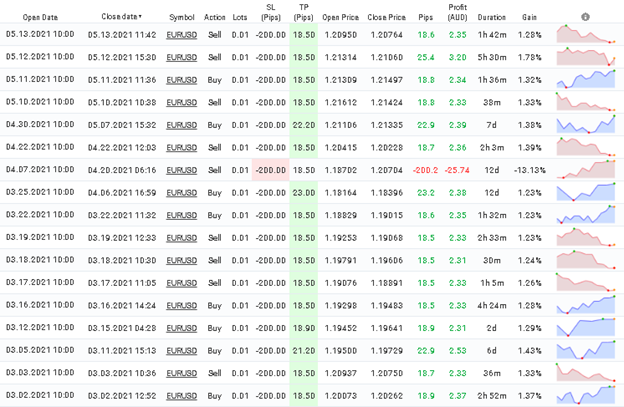 Its average loss is x13 times higher than the average win (-200.10 pips/-A$26.82 and 20.06 pips/A$2.60). The profit factor is 1,80 and the average trade length is 1 day.
This backtesting report is based on the 20 years of trading EUR/USD pair on the M5 timeframe.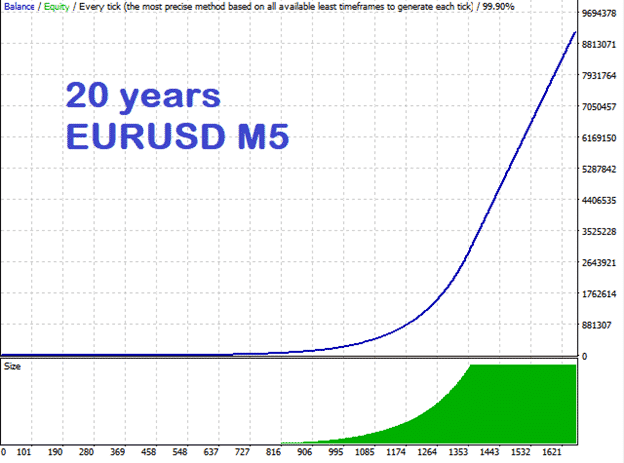 There were 125875 bars in the test. The account was deposited at $300 and generated $9138280.82 of the total net profit. For this trading account the relative drawdown was pretty low – 7, 04%. There were 1655 trades traded and all of them were winning ones. Sounds impossible and too good to be true. Taking into account that the dev provided simple screenshots of backtesting results that are not verified by myfxbook.com, we have no reason to rely on the data we see on the screenshot below.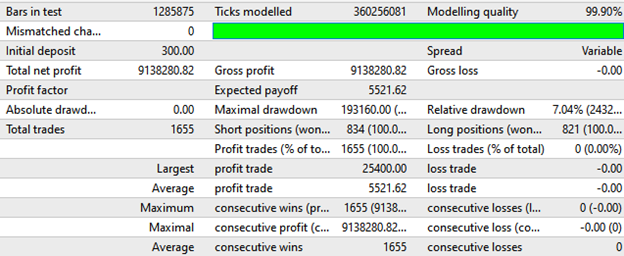 People say that Perfect Score is…
Good EA when others claim that it is a risky trading tool. Most traders are dissatisfied with the trading performance of the robot.

Last deals were closed with huge losses:


Some traders claim that live trading results are very different from the backtests.

Verdict
| | |
| --- | --- |
| Pros | Cons |
| Backtest report provided | Undisclosed trading approach |
| A settings list provided | The EA trades with deep SL compared to TP levels |
| The rental option is available | Live trading results are different from BT |
| | The robot trades only 1 currency pair and high risks to the account balance |
| | No money-back guarantee |
| | Sky-high pricing |
| | Negative reviews from customers |
Summary
Although Perfect Score is not a scam service, that does not mean that it's a reliable one. Taking into account its live trading results, the robot looks overpriced. High trading risks, high SL, large losses, and unpredictable drawdowns are one of the drawbacks of this ATS. Paying $1500 to get $80 for 10 months is nonsense.
Rating 5/10