Pinpoint EA is a Forex robot that is based on more than 17 years of backtesting data and that, according to the vendor, has a win rate of 94%. It is further claimed that it has never lost more than 2 trades back to back during its 17 years of trading history.
According to the vendor, this EA has the potential to earn a monthly profit of 2.5%. Although the presentation on the official website is quite professional and all the necessary information seems to be present, we are a little wary because of the fact that this robot has not been trading live for too long.
Vendor Transparency
Pinpoint EA has been developed by Ryan Brown, an American trader with several years' worth of experience in the Forex market. Apart from this robot, he has also developed other systems like Ranger EA and Vigorous EA. This EA was published on the MQL5 website on 29th October 2020, but it is a product of thorough development carried out for a long time period.
How Pinpoint EA Works
Pinpoint EA is a FIFO compliant system that trades better than most human traders. It trades every week and only follows the bigger trends. It has a smart recovery system that allows it to recover losses quickly. You don't need to carry out a large number of trades to make up for the losses.
With every trade, Pinpoint EA uses a stop loss. According to the vendor, it can win more than 50 trades in succession.
Timeframe, Currency Pairs, Deposit
This Forex EA only deals in the EUR/USD and GBP/USD pairs. It uses a leverage of 1:500 while trading. This is the standard leverage used by most Forex EAs. While the minimum deposit amount has not been mentioned explicitly, for both backtest and live trading, a deposit of $1000 was used.
Trading Approach
Pinpoint EA looks for scalping entry points in the market to take advantage of small price differences. It does so with the help of the Relative Moving Index (RMI) indicator. This is not the only indicator used, however, but it is not mentioned what the other indicators are. It aims to enter and exit trades in the quickest amount of time.
We don't think the vendor has provided sufficient information about the trading strategy. It is still unclear how exactly the RMI indicator is used in combination with others.
Pricing and Refund
Pinpoint EA is sold for the price of $397, which is quite expensive in comparison to other Forex EAs on the market. A couple of rental options are also available for this EA. You can rent it for 1 month at $30 and for 3 months at $90. The vendor also provides a free demo version of the software for testing purposes. There is no money-back guarantee for this robot, which makes it a risky investment prospect.
Trading Results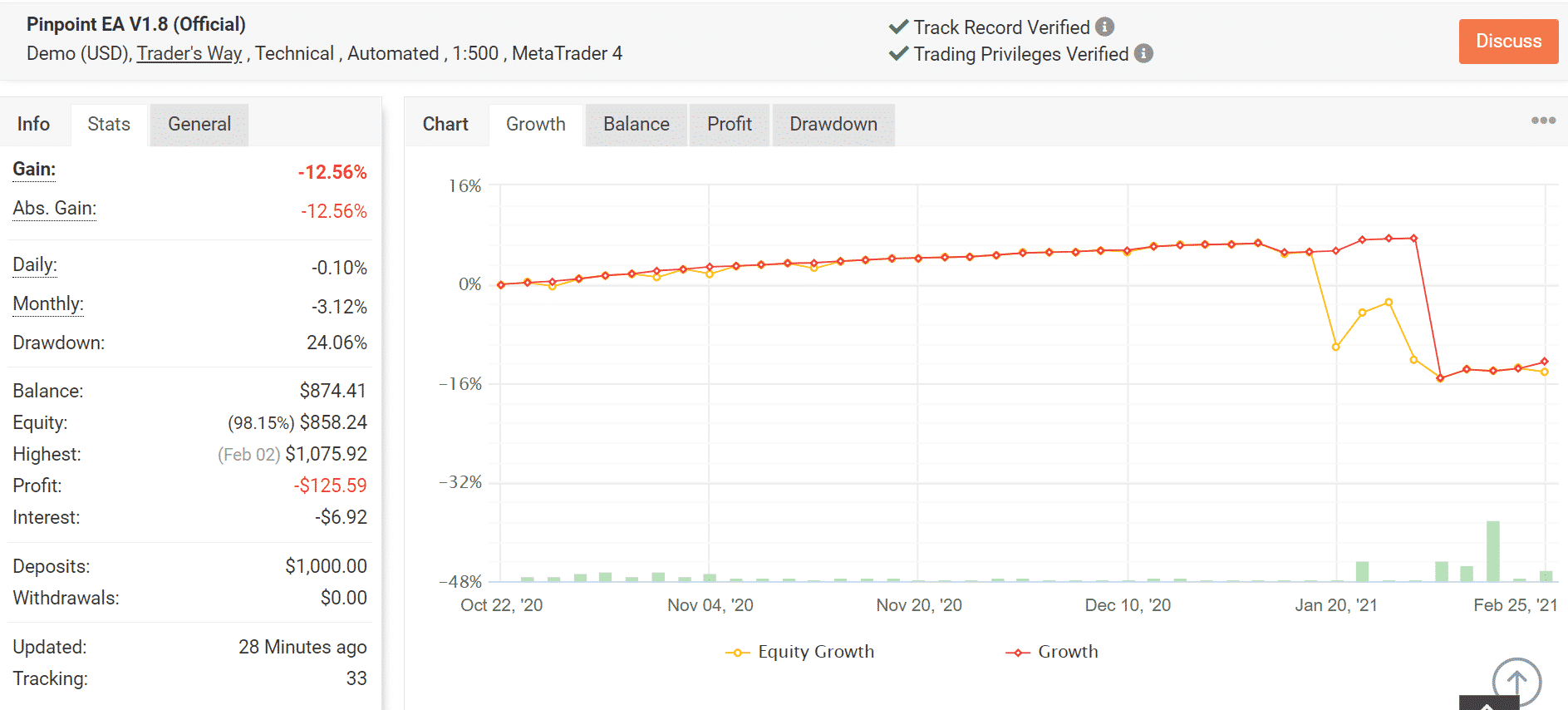 This is a live trading account for Pinpoint EA that is verified by Myfxbook. As we can see, it has not been too successful during its short trading history, accumulating a total profit of -$125.59. Currently, the daily and monthly gains are -0.10% and -3.12%, respectively, and this tells us that it suffers from losses rather than winning profits.
The trading history shows most of the trades being closed in profit. In fact, the account has a high win rate of 95% after placing 106 trades. But the losses have been quite heavy, and evidently, the robot was not able to recover them in spite of winning several successive trades.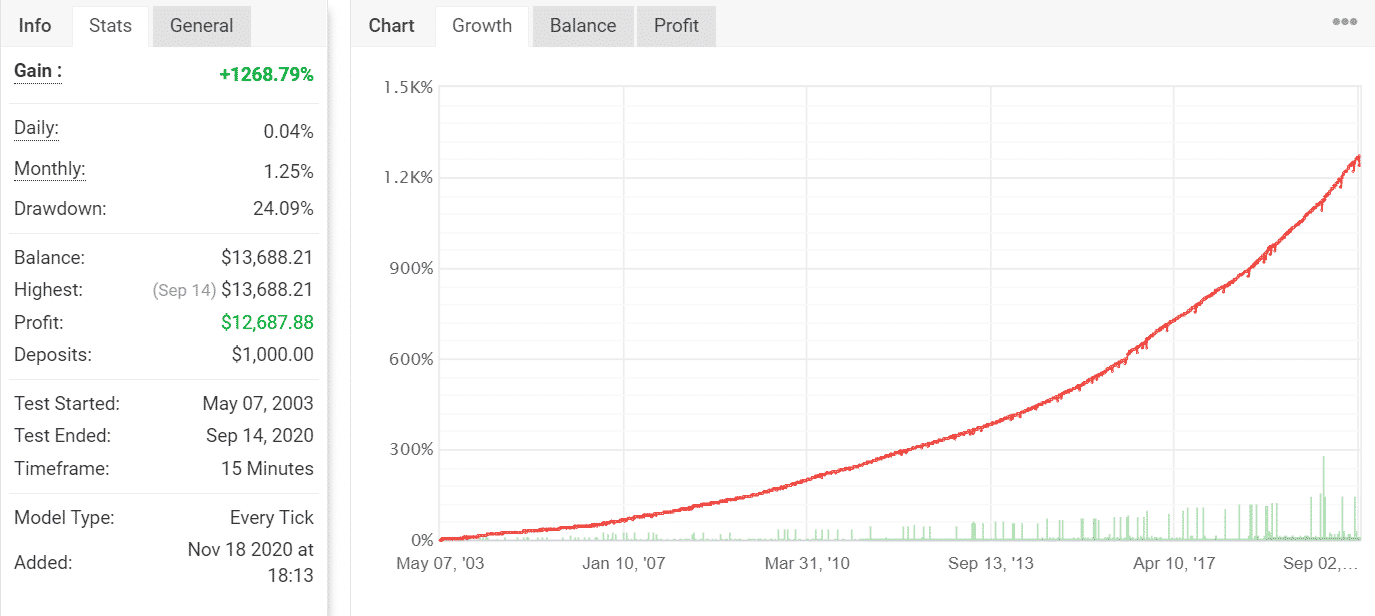 This backtesting data shows the robot making a profit of $12,687 from 2003 to 2020. It had a win rate of 94% during this backtest, which is similar to the live trading result. The losses, however, were not nearly as large as they are for the live trading account.
People say that Pinpoint EA is…
Doubtful. Since we don't have any user reviews on reputable third-party websites, we can say that this robot does not have much of a reputation in the market. This could be because of its short trading history, and it might take some time before traders start to pay attention to it.
Verdict
| | |
| --- | --- |
| Pros | Cons |
| Verified live trading results | No refund policy |
| | Huge losses in live trading |
| | Short trading history |
Features: 4/10
Strategy: 3/10
Price: 2/10
Performance: 2/10
Feedback: 2/10
Pinpoint EA
After thoroughly analyzing every important aspect of the system, we have reached the conclusion that Pinpoint EA is not worth your money. It is a pricey robot with a short trading history. Besides, it hasn't been too successful in the live market, suffering some huge losses along the way.