| | |
| --- | --- |
| Headquarters: | N/A |
| Founded: | 2019 |
| Supported Exchanges: | Pionex |
| Native Token: | N/A |
| Supported Fiat Currencies: | Multiple |
| Trading Pairs: | N/A |
| Minimum Deposit: | $50 |
| Deposit Fees: | 0.05% (from winning trades) |
| Withdrawal Fees: | N/A |
| Customer Support: | Email |
Pionex is a platform that provides access to the crypto market and shares some download-free robots with its clients. It allows us to be in touch with the market opportunities 24/7. So, we should check this out to be sure that the system is good.
What is Pionex?
Pionex is a system that has various bots on the board that can help us with managing our orders on the crypto market. It has been existing for almost 1000 days. It's a good term for any crypto service.
Main features
The presentation is featured by many details, explanations, settings, and other parameters.
Pionex can provide us with automatic trading solutions.
It knows when the right time to get in the market with an order.
It can generate more Bitcoin than HODL.
We can be stable even after market rough moves during high-volatile periods.
The system is able to manage an arbitrage strategy.
It seeks trading opportunities during the periods of active trading on the market.
The APR can be from 15% to 50% with low risks.
It works with a grid of orders strategy either.
There's a claim that the Grid strategy is the best for trading Bitcoin.
We can enjoy 16 strategies implemented.
The system can be updated from time to time.
Upgrading time is six hours long.
We have to pay 0.05% fees from every winning trade.
The robot works with a price range.
It manages the market 24/7.
It's possible to manage only crypto deposits.
The risks were set medium as default.
The system can lose over 20% of the balance within a short period of time.
The leverage can be up to x125.
Arbitrage trading can provide us with 15-50% APR.
It works in several steps: we may hold a short position in the perpetual futures market. At the same time, we can buy the same amount in the spot market, hedging the total investment.
Our position is market neutral and we receive funding rates with our short position in the perpetual futures contracts that slows us to be protected from the market fluctuation.
How does the bot trade?
The system works automatically managing sixteen strategies. It picks the best one for every moment.
Trading approaches of Pionex
Its crypto bots look for the market 24/7. They seek trading setups that can allow them to make some profits with medium risks. If we decrease risks, the bots will trade with another frequency.
Is Pionex profitable?
It's hard to claim this for sure. Anyway, there are many positive reviews about people's trading experience.
How to get started on Pionex?
We have to register on the Pionex site. Then, we have to download a system and customize it according to our needs. After this, we should attach it to the exchange.
How beginner-friendly is Pionex?
The system looks like a beginner-friendly solution. We can use it without previous trading experience.
Pionex compatibility–exchanges and coins supported
Pionex' partners are Circle, Binance, Sumsub, Simplex, Coinfirm, and Banxa. We can work with Bitcoin, Ethereum, Solana, BNB, Litecoin, and others.
Commissions, deposits & withdrawals
The developers charge 0.05% fees from winning trades. We have to work with the balance of $50.
Pionex pricing details
The robots are used for free.
Performance and security
The system works with the market through API keys. So, it can manage orders for us but withdrawing the account is not allowed.
Is Pionex regulated?
Pionex has been granted by the U.S. FinCEN's MSB License. It's the same license that Binance, Huobi, and multiple top exchanges applied for. So, the company focuses on preventing money-laundering and other criminal activities.
Pionex company reputation
There's a Pionex PTE LTD behind the service. It was created in 2019.
Customer support
The developers provide welcome support within several hours. So we can expect to receive help when needed.
Public reviews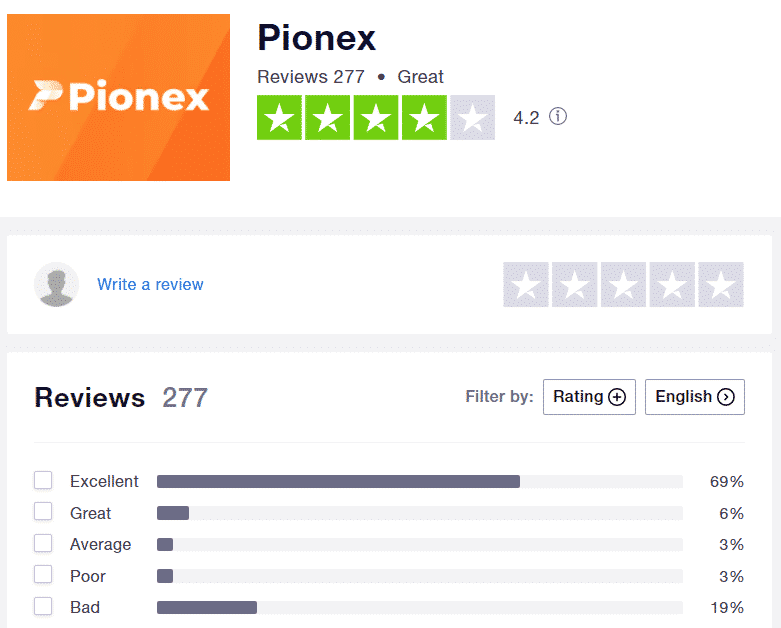 Pionex runs a profile on Trustpilot. There are 277 testimonials published about the system from real clients.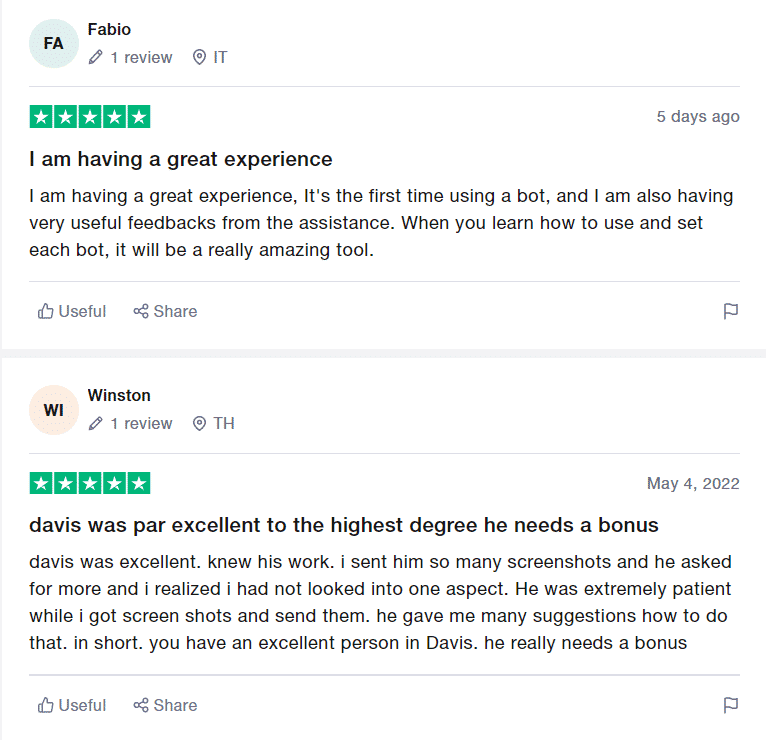 People mentioned profitability and support as the core features.
Pionex review: upsides and downsides
Upsides
The company doesn't charge an immediate price.
We can try on a welcome support
There are many positive reviews written
Downsides
No team revealed
Trading results weren't provided
Pionex Crypto Bot Conclusion
Pionex is a robot that works on the crypto market. The system will trade for us and we can expect it will keep our portfolio profitable. We have explanations about features and strategies provided. Although we don't have trading results, the service has many positive testimonials written on Trustpilot.