Promax Gold EA is a robot that promises 20-48% monthly profits. As per vendor claims, this is the first gold trading robot that uses a smart filter. The expected monthly profit is something that we need to verify at our end by analyzing the trading results.
While the vendor has shared the verified live trading results for this robot, we have no backtesting data where we can check the historical performance. Moreover, the refund window is open for only 14 days, which we feel is not enough time to test the performance of the system. Overall, our first impression of this robot is not positive.
Vendor Transparency
This EA has been developed by the Sinry Advice team. This is a Malaysia-based company with industry experience of more than 5 years. The vendor has provided the physical address for the company headquarters and shared the telephone and email addresses as well. Apart from this EA, the company has built other systems like Forex MG Pro EA, Swing VIP Forex Robot, and Trend Reversal EA.
We don't know anything about the trades and developers working as a part of the Sinry Advice team. Therefore, we are not sure whether they have the required expertise to build and manage a system like this.
How Promax Gold EA Works
This is a fully automated EA that can analyze fundamental and technical news. It comes with an installation guide and default settings. The vendor provides future updates free of cost.
Promax Gold EA has money management and lot selection functionalities. This means that the EA can automatically calculate the lot size based on your balance.
Timeframe, Currency Pairs, Deposit
You can use this EA for trading in the M5 timeframe. It works on the MT4 trading platform, and you can use a Standard or an ECN account type. The vendor recommends starting with a balance of $1000 while trading with Promax Gold EA. In your MT4 platform, you need to add the EA to an XAU/USD chart to get the alert error. For its live trading account, the EA uses leverage of 1:500.
Trading Approach
We don't know what kind of trading strategy this robot uses. The vendor has provided no explanation for the same on the official website. In the absence of strategy insight, many traders might not feel confident about investing in Promax Gold EA.
Pricing and Refund
Promax Gold EA is sold at the price of $198. This gives you access to 1 Demo and 1 Live account. The vendor provides a money-back guarantee, but there is a small window of 14 days during which you have to test the performance of the EA. The majority of Forex EA vendors offer at least a 30-day money-back guarantee.
Trading Results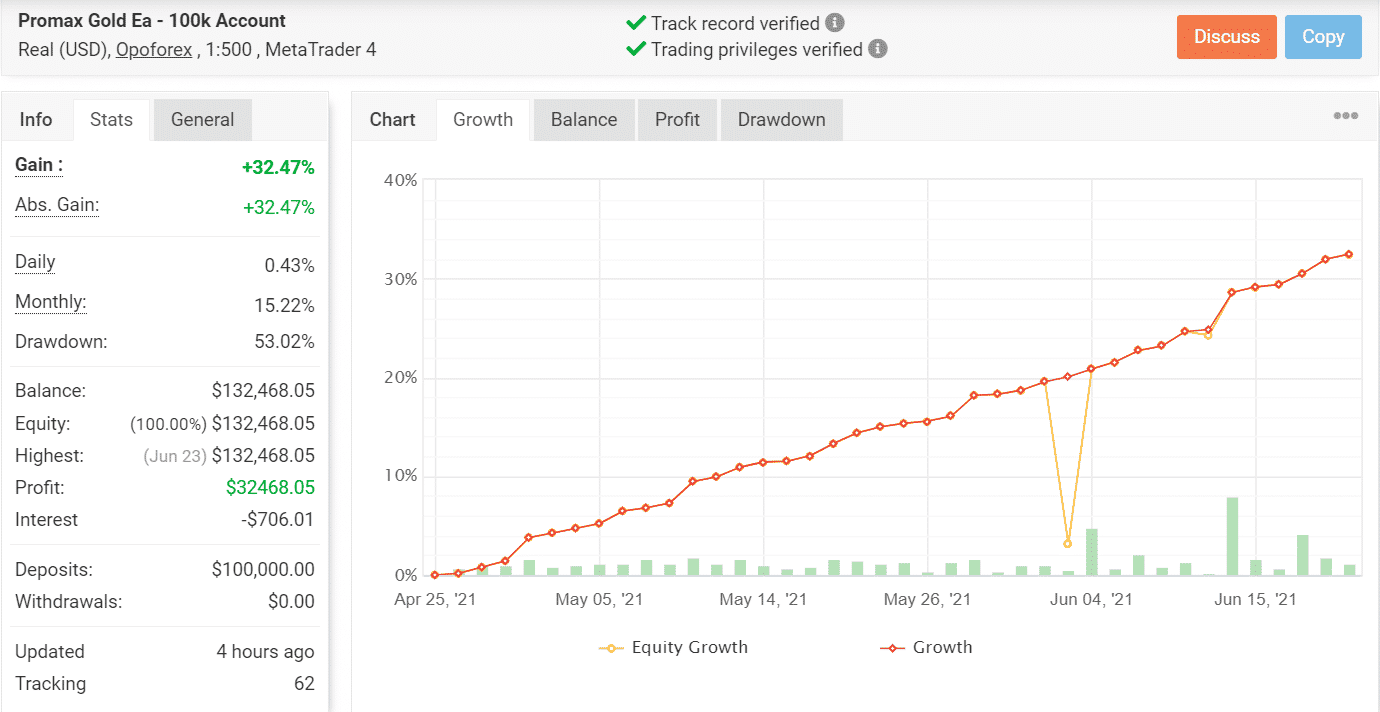 This is a live trading account on Myfxbook that has been active since April 25, 2021. The EA placed a total of 226 trades during its short trading history, winning 181 out of them. This represents profitability of 80%. Because the robot has not been trading live for too long, it has not been exposed to different market conditions, so we cannot place too much importance on the win rate.
Currently, the daily and monthly profits for this account are 0.43% and 15.22%, respectively. Therefore, the monthly profit is significantly less than what the vendor claims on the website. It has an extremely high drawdown of 53.02%, which tells us that the EA uses a risky trading strategy. The account has a profit factor of 1.79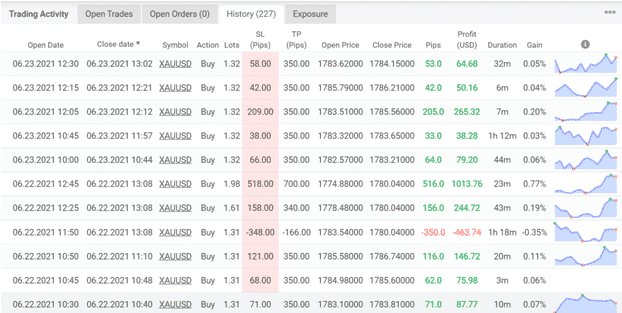 Looking at the recent trading history, we can see that the EA executes a Grid of orders with Martingale. Only small profits are made from these trades, which makes the robot unsuitable for long-term traders.
We don't have the backtesting results for Promax Gold EA. This means the vendor has not tested the system using historical data, which is quite odd. Backtesting data is something that all Forex traders look for in an EA, and the lack thereof might deter them from investing.
People Say That Promax Gold EA is…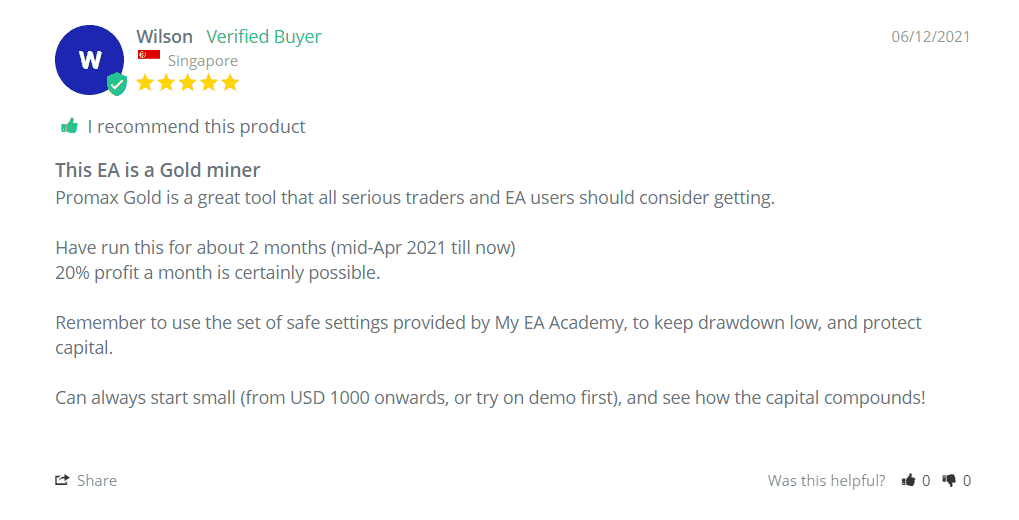 Doubtful. We were unable to find any user reviews for Promax Gold EA on trusted third-party websites. There are several customer reviews on the official website, but these are most probably manufactured by the vendor. In the absence of verified reviews, we assume that the EA does not have much of a reputation as of now.
Verdict
| | |
| --- | --- |
| Pros | Cons |
| Verified live trading results | Short trading history |
| | High drawdown |
| | Lack of strategy insight |
| | EA uses Martingale + Grid combo |
Promax Gold EA Review Conclusion
Promax Gold EA is definitely not a trustworthy expert advisor. The live trading results of this robot are not too promising and exhibit a high drawdown. Additionally, we don't know what kind of strategy this system uses, which makes it even riskier to invest in it.