Prop Firm EA is designed for funding firm challenges, but it also supports personal accounts. The devs boldly claim that the system can make desirable profits and keep the drawdown level low. As a result, traders using it can qualify to get a heavily funded trading account. However, we are not convinced. Read this review to know the reasons behind our misgivings about the vendor's assertion.
Vendor transparency
This EA was authored by My Ea Academy, a part of SinryAdvice Company. Aside from indicating that the firm is based in Malaysia, nothing else important about this vendor is presented. Therefore, questions about the professionals involved, their experiences, skill-sets, and reputation remain unanswered.
How Prop Firm EA works
The system has several features that define its inner workings. They include:
Spread control to avoid trades in volatile markets.
A step by step installation guide and video.
Auto lot management that chooses lot sizes automatically based on the trader's capital.
The EA works on FTMO and other funding firms
Stop loss is not used.
Client support that is provided via 'email, live support and social media'.
Timeframe, currency pairs, deposit
The devs have not highlighted the time frames used by this robot, but based on the trading stats, it focuses on long timeframes. The EA works with 25 different currency pairs. However, the recommended deposit is not stated. Instead, we are told that it works on 10k, 50k, 100k, and 200k USD accounts.
Trading approach
Prop Firm EA applies a top-bottom reverse trading strategy alongside grid, internal smart indicator signals and news filter as its trading strategies. The dangers associated with grid approach cannot be emphasized enough. As you will see in the 'trading results' section, this approach has lived up to its reputation and ravaged the capital of an account being run by this EA.
Pricing and refund
To get this system, you are required to pay $388 for the 6 months license key or $588 for the 1 year license key. Both options also come with a 14-day money-back guarantee. This policy period is a joke. How on earth can a trader determine the effectiveness of the system in just 2 weeks? The vendor needs to extend this refund period.

Trading results
We could not find any backtest data on the presentation. Our suspicion is that the EA must have recorded poor results during its testing period since the grid approach is incorporated into its algorithm. That's why the vendor has kept these stats hidden because showcasing them could damage the bot's reputation.
The above chart is proof that Prop Firm EA has an active account on Myfxbook.com. It has attained a gain of 47.78% from a $1000 deposit since its opening on August 1, 2021. As such, it has been making a monthly profit of 24.11%. The drawdown, which is 57.59% is sky-high, and an indication that the system has eaten away more than half of capital already. This is obviously not good.

The EA does not engage in trades daily as the average trade length is 2 days. So, it has managed to complete 313 trades to date. It is also likely to lose these deals often. The average loss of -63.38 pips against an average win of 57.37 pips is proof of this. The poor win rate results (75% for longs and 76% for shorts) further attest to the poor performance of the system.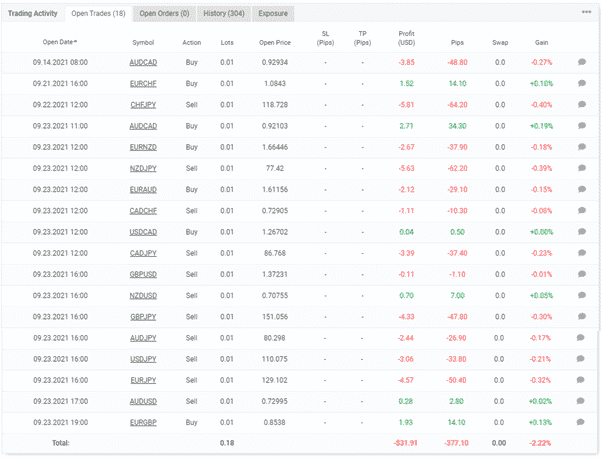 The results of open trades above paint a harrowing picture of the EA's bad choices. Out of the 18 currency pairs traded, only 6 were successful.
People say that Prop Firm EA is…
Good. However, the testimonials of these clients are misleading. The trading results clearly tell us that in addition to being unprofitable, the EA trades carelessly leaving a trail of losses in its wake. At least some of the customers concur with us. One of them says that the system is trash. The other one confesses that the system exceeds drawdown limits and fails to meet profit targets. He thus believes it needs work.


Verdict
Pros
Fully automated
Offers customer support
Cons
High drawdown
Vendor is not transparent enough
Backtest results are not presented
Unsatisfactory performance
Prop Firm EA Conclusion
From our analysis, it is as plain as day that Prop Firm EA can hardly give you an edge in the funding firm challenge. It has low winning rates and a high drawdown which can easily disqualify you from receiving any funding from prop firms. That being the case, you are better off without this system.